by Texas Homesteader ~
We all love our slow cookers, right? I mean, what's not to love??! You plunk ingredients into the vessel and walk away. The slow cooker does all the work!
You only have to walk in tired from a day at work and smell the delicious aroma of supper ready & waiting to serve!
Yeah, we love our slow cookers here at the Homestead, and we use them a lot. Oftentimes for preparing our supper.
Sometimes I use it for overnight cooking when making Homemade Applesauce or simmering bones for a delicious Homemade Broth. I know a slow cooker is more energy efficient than using the oven or even the stove top in many cases.
But I've found a way to speed along the cooking times while keeping it on set to an energy-sipping 'Low'. Check out today's Homestead Hack.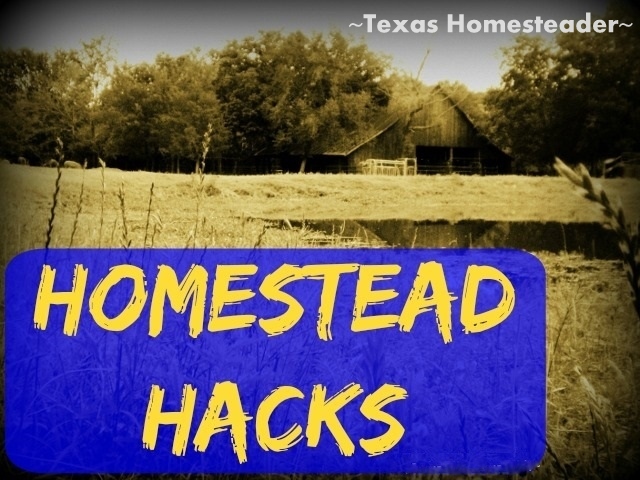 No matter what I'm cooking I want that slow cooker to do its job with the least amount of time & purchased energy possible. Whether my slow cooker uses a glass lid or one of those plasticy-looking ones, insulating that top will help my slow cooker work more efficiently. And it oftentimes cuts the cooking time drastically, even though the dial is set to 'Low'
What's this big secret? Lean closer. (shhhhh….)
I simply lay a clean kitchen towel over the top.
Easy? Yes.
Simple? Yes.
WHY DIDN'T I THINK OF THAT BEFORE?? Perhaps!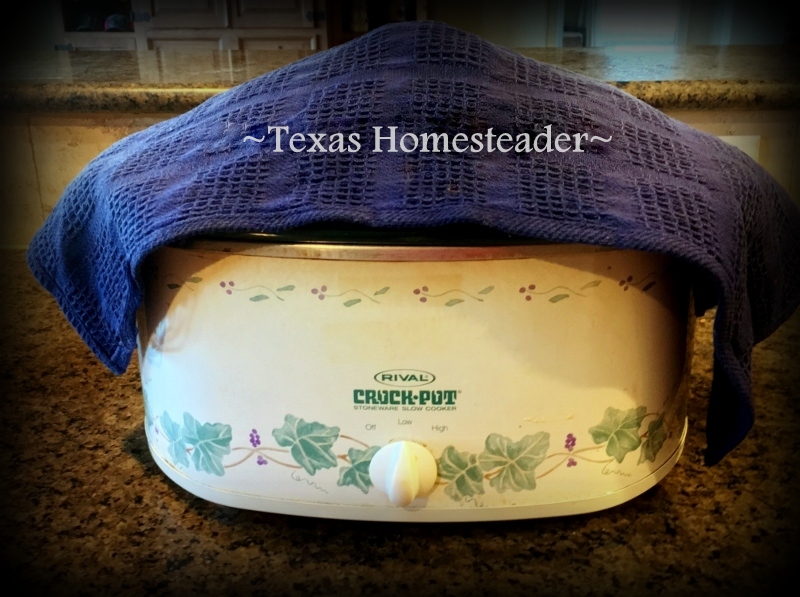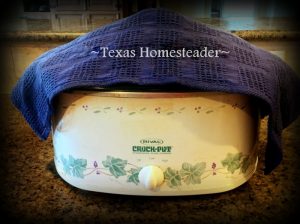 Give it a try next time you're running a little short on time in preparing your next slow-cooker meal – you'll be amazed at how quickly it'll cook.
~TxH~
Other Kitchen Hacks


C'mon by & sit a spell! Come hang out at our Facebook Page. It's like sitting in a front porch rocker with a glass of cold iced tea. There are lots of good folks sharing!
And you can also follow along on Pinterest, Twitter, Instagram
If you'd like to receive an email when a new blog post goes live,
subscribe to our Blog!
Save