by Texas Homesteader ~
We've all probably done it – rinsing out remaining fat and letting it go down the drain. A quick flip of the garbage-disposal switch and the greasy problem is gone. Right?
I've written before about how I've discovered how the problem Is NOT Gone when we flush things through our kitchen sink pipes.
I'm not casting stones here. I spent plenty of my younger years flushing things down the sink, from plate scrapings to burnt-on food. And yes, the fat too. I figured if I used hot water it would simply flush that fat away safely.
But I've learned a lot since then. I now know you should never flush grease or fat down the sink.
The question is… how do you dispose of it? Don't worry, it's easy – check out this Homestead Hack.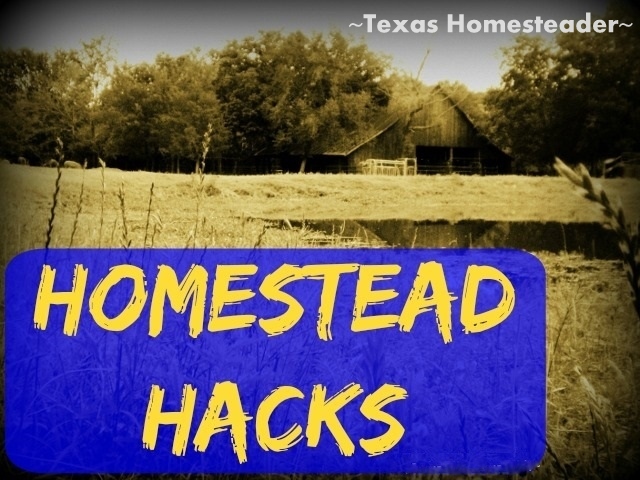 Clogged Pipe Disaster
I've learned that fat & grease flushed through your sink's water pipes is a recipe for disaster waiting to happen.
This fat solidifies over time and can easily clog your pipes. That will necessitate hiring a plumber to come rectify the problem you've inadvertently created.
Since moving out here in the boonies and having all our plumbing going through a septic system, it's even more important to me to treat our water pipes right. There's even more financial hardship on the line!
Save The Pipes!
Now I scrape dishes to get the small bits & pieces off the plates before loading into the dishwasher instead of rinsing it down the sink.
Vegetable peelings are now added to my compost instead of being shoved down the sink drain and chopped with a garbage disposal.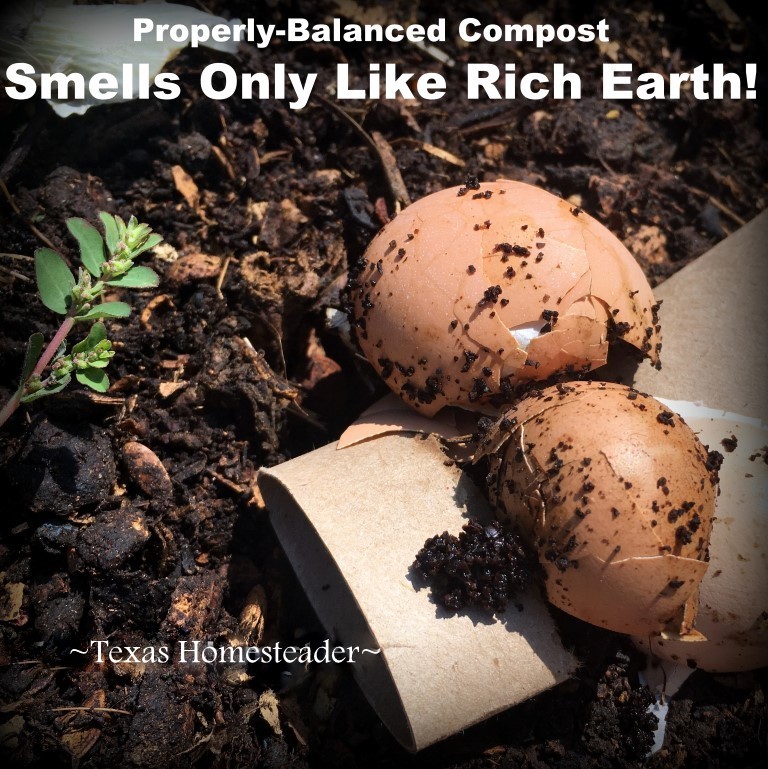 But what about that fat? What about the grease?
Well, although there are some who keep it to use where purchased fats such as oils, butter or lard would be, I throw it away.
But our tiny wastebasket only gets emptied every couple of weeks. Isn't that a stinky opportunity for unpleasant aromas in the kitchen? Not the way I do it.
I save a plastic peanut butter jar and label it for just this purpose. When I scrape out my skillet after frying food or cut the fat away from a roast, I simply place it in this properly-labeled fat jar.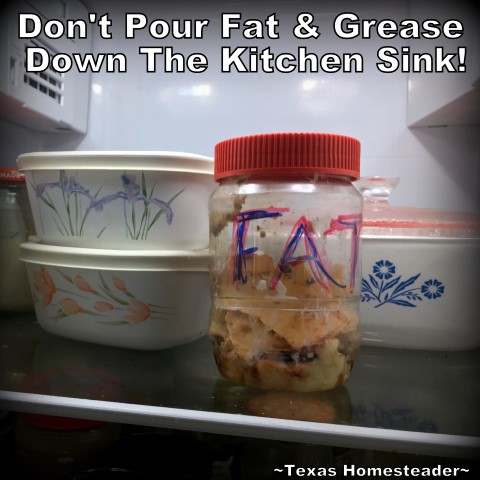 I keep it in the refrigerator to keep things cold and solid. When our trash is ready to be emptied I toss this sealed jar in the trash and pipe-clogging fats are kept safely away from our water pipes & septic system.
~TxH~
Other Kitchen Homestead Hacks


C'mon by & sit a spell! Come hang out at our Facebook Page. It's like sitting in a front porch rocker with a glass of cold iced tea. There are lots of good folks sharing!
And you can also follow along on Pinterest, Twitter, Instagram
If you'd like to receive an email when a new blog post goes live,
subscribe to our Blog!