by Texas Homesteader ~
Don't risk your recipe turning out poorly by using baking powder that's not fresh and active.
If you find baking powder in the back of your spice cabinet and wonder if it's still got any ooomph, this is a quick & easy way to find out using just water.
So don't chance inactive baking powder ruining your recipe. Do this simple test first.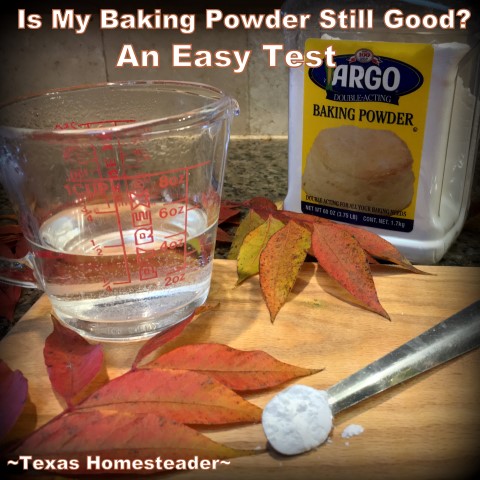 Finding An Old Container Of Baking Powder In The Pantry
I was baking some Beer Bread recently. As I pulled out the ingredients for my bread I noticed I was dangerously low on baking powder. I wasn't sure there was enough left for my recipe.
But wait, didn't I see a large container of baking powder stashed way in the back of the pantry just the other day?
I dug around until I found it. Wow, it's apparently been in the pantry for quite some time. But it's a very large container. It seems such a waste to just throw it away.
I wonder if it's still good…
So I decided to run a quick test.
How Do You Test Baking Powder To See If It's Still Active?
There's an easy test for baking powder to make sure it's still active before using it in your recipe.
Heat ½ cup of water until it is very hot.
Measure ¼ teaspoon from the older container of baking powder.
Stir into hot water.
Watch reaction.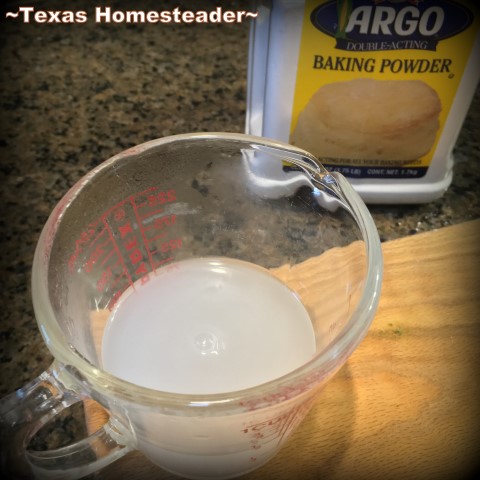 Hummm… Not much reaction at all with this old container of baking powder.
What Should Baking Powder Look Like When Fresh?
I wonder how that lack of reaction compares to the reaction I'd get with my current (albeit nearly empty) container of fresh baking powder.
So I repeated the experiment, this time with ¼ teaspoon of fresh baking powder and very hot water.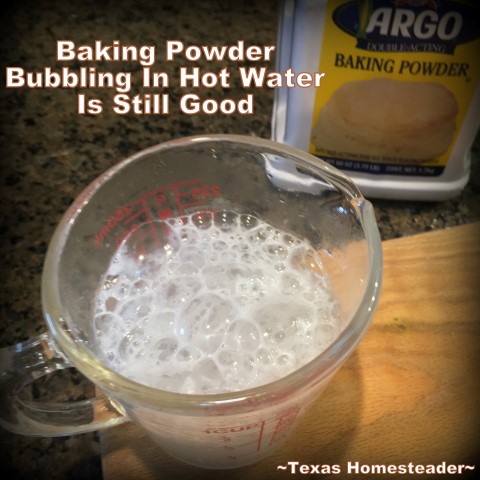 Wowser! The reaction was much more dramatic, immediately bubbling like crazy!
Sometimes It's Best To Just Throw It Away
So although I hate to waste this huge mammoth container of baking powder I'd found in the pantry – out the door it goes!
Yes I hate food waste, but I've just saved myself the time, expense & heartache of a flopped recipe in the future.
I've also heard you can do this same experiment with baking soda if you add a splash of vinegar to the hot water.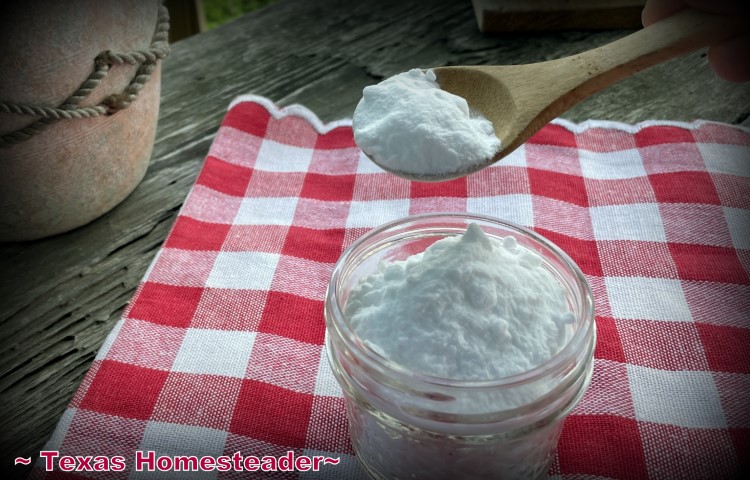 But heck, baking soda is used so often around our homestead whether Cleaning our Coffee Mugs or just general Non-Toxic Scrubbing Power when cleaning our home, it never has a chance to get old here. LOL.
~TxH~
Other Kitchen Hacks
Low Waste Kitchen Tips
Food Tips
Kitchen Efficiency Tips
Cleaning/Organizing Tips
…and many MORE!


C'mon by & sit a spell! Come hang out at our Facebook Page. It's like sitting in a front porch rocker with a glass of cold iced tea. There are lots of good folks sharing!
And you can also follow along on Pinterest, on Twitter, or on Instagram.
If you'd like to receive an email when a new blog post goes live,
subscribe to our Blog!