by Texas Homesteader ~
Need to make boiled eggs for egg salad or potato salad? See how to cook them in an Instant Pot WITHOUT the shells. It's never been quite so easy!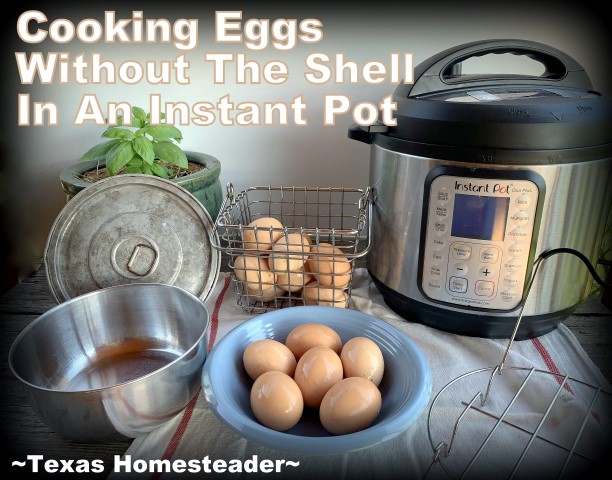 Are Very Fresh Eggs Harder To Peel?
Boiled eggs are enjoyed often here on the Homestead. But super-fresh eggs are harder to peel.
You see, when eggs are very fresh the membrane of the shell clings tightly to the egg. That means when you're peeling, the membrane doesn't want to separate.
We use very fresh eggs from our own hens, so peeling those eggs can be tricky.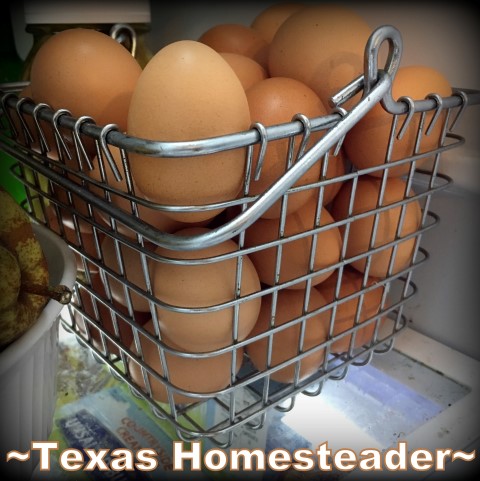 What I end up doing is picking and picking at the shell. It takes way too long to peel and I end up with an ugly hacked-up boiled egg. How frustrating!
Cooking Eggs Without A Shell In A Pressure Cooker
But I recently read about a way to cook your eggs in an Instant Pot similar to boiled eggs. But the eggs are cracked and poured into a pan before being cooked. I've seen it called an 'Egg Loaf'. Well color me intrigued!
How much more efficient would this be? No boiling eggs, dunking in an ice bath. And no more struggling to peel eggs and grumbling as you try to get all the shell off without taking off all the egg white.
How Long To Cook Eggs In A Pressure Cooker?
I've read you can cook up to 10 eggs at a time for your egg loaf. But I typically cook 6 at a time. Cooking more eggs may require a slightly longer cook time.
And I've heard that the vessel you use inside your Instant Pot liner could affect the cooking time as well. I use stainless steel, it's very efficient with heat. But a thicker glass heat-proof bowl might perhaps need a little longer cooking too.
And a smaller diameter vessel might take a few seconds longer to cook vs a larger diameter vessel due to the same volume of egg being thicker in a smaller pan.
But here's what I did while cooking half a dozen eggs in a 7″ heat-proof vessel: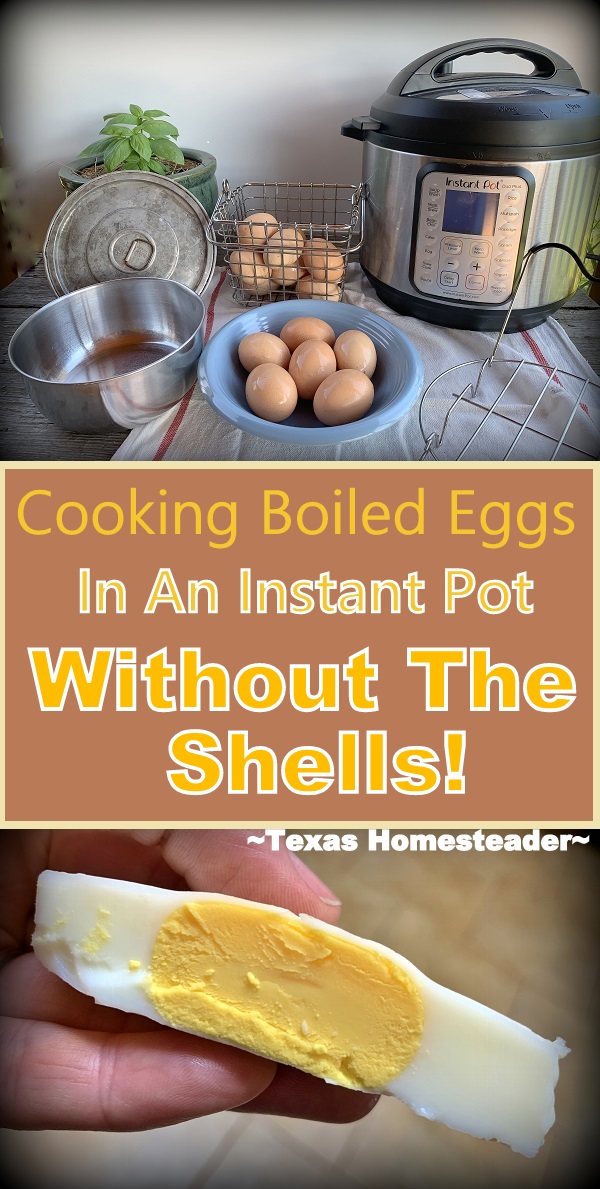 Preparing To Cook Eggs In An Instant Pot
I used a pastry brush and about a teaspoon of olive oil and coated the bottom and sides of the bowl. You could also use non-stick spray.
Then I carefully cracked half a dozen eggs into the bowl.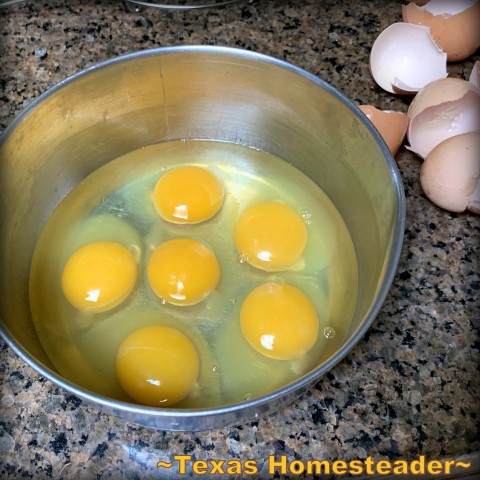 I covered my bowl with a flat pan lid the same as I do when I make Instant Pot Cheesecake. This is an optional step. It just keeps condensation off the top of my eggs as they cook.
Of course you can blot the condensation away with a paper towel instead when you bring the bowl out of the pressure cooker.
Instructions For Cooking Eggs Without The Shell In A Pressure Cooker
Cooking those eggs in my Instant Pot electric pressure cooker was easy:
Add a cup of water to the Instant Pot's inner liner

Coat bottom & sides of 7″ heat-proof vessel using 1 teaspoon oil.

Crack 6 eggs into oiled pan, careful not to break the yolks

Cover vessel and place onto handled trivet.

Lower the trivet into the Instant Pot and latch the lid, making sure the lever is on 'Sealing"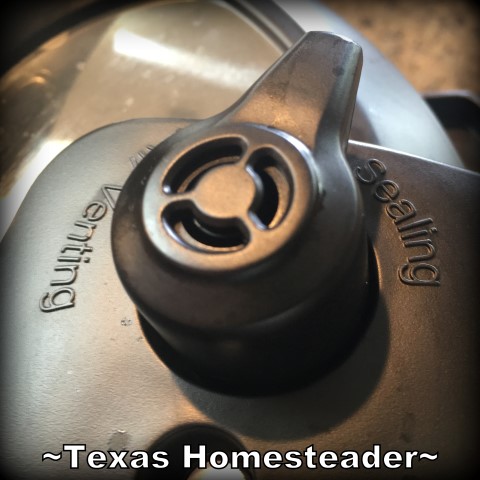 Pressure cook on high. (I like 6 minutes, see below)

After cooking allow a few minutes natural release before releasing remaining pressure. (I like 10 minutes, see below)
How Long To Cook Eggs In A Pressure Cooker?
The length of cooking depends upon how you like your cooked eggs to be, your cooking vessel and how many eggs you're cooking at one time.
People like to cook their eggs in their pressure cooker for:
5-Minutes Cook / 5 Minutes Natural Release? – Egg white softer and yolks slightly undercooked.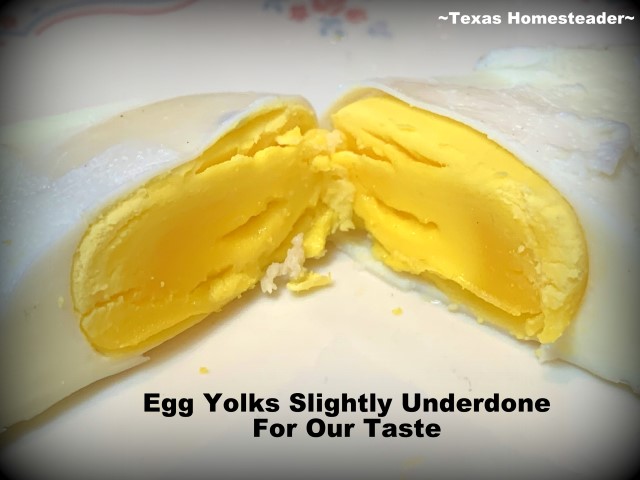 6-Minutes Cook / 6 Minutes Natural Release?

Firm whites but yolks still seemed undercooked.

6-Minutes Cook / 10 Minutes Natural Release?

This is our preference – a nice firm white and a uniformly-cooked, creamy yellow yolk. Perfect!
Removing The Egg Loaf From The Pressure Cooker
When the eggs were cooked I carefully pulled out the trivet and bowl, allowing it to cool for a few minutes.
If you didn't cover the vessel you used to cook the eggs you'll blot moisture with a paper towel now.
Then I ran a spatula around the exterior of my egg loaf to finish loosening it and inverted the bowl of cooked eggs over a cutting board to remove them.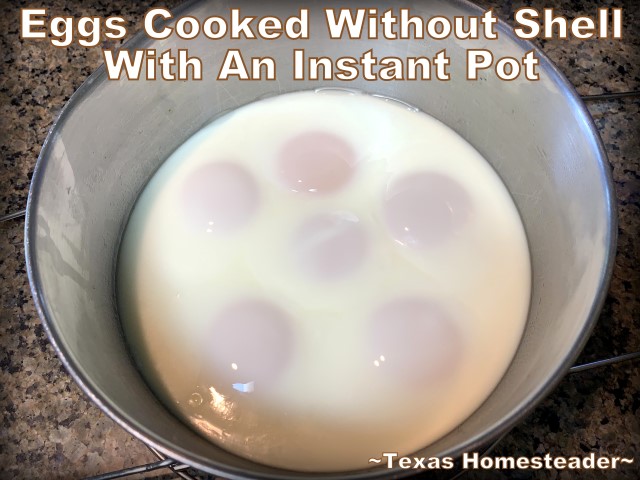 Guys, this is game changing. Our hen's eggs are REALLY fresh. There are tricks to help make peeling extremely fresh eggs a little easier, but none quite as easy as this!!
How To Use Instant-Pot Cooked Eggs
There are lots of ways we enjoy these handy boiled eggs:
A protein-rich addition to crisp salad (We like this Creamy Salad Dressing (filled with probiotics) or Thousand Island Salad Dressing .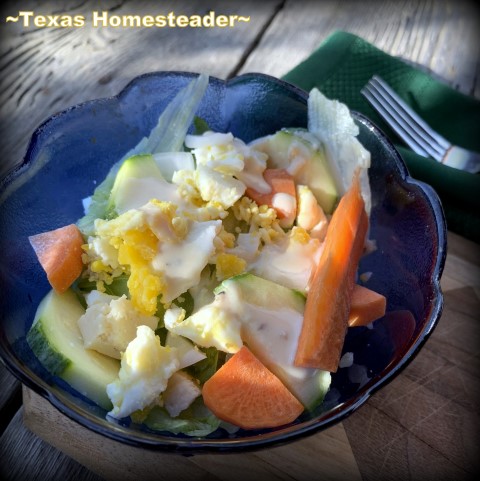 Since the eggs are already prepared and chopped, we just sprinkle the amount of boiled egg we want added to our own salads. So easy!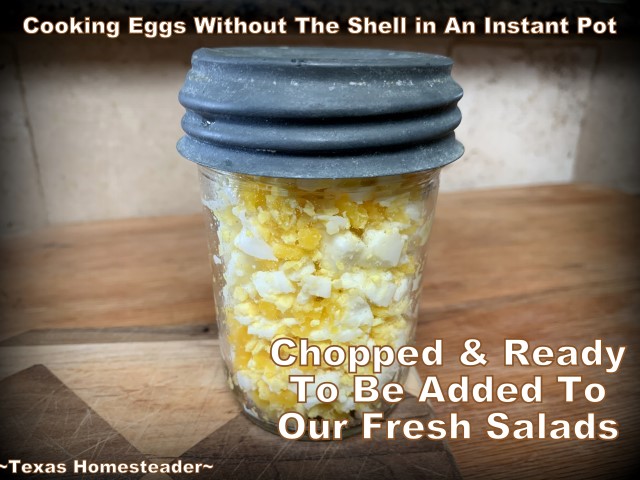 Easier Egg Salad or potato salad. So simple.
Just bring out your cooked egg loaf and chop it into the sizes you want to use. This is so much faster than trying to peel, rinse, then slice & chop all those eggs.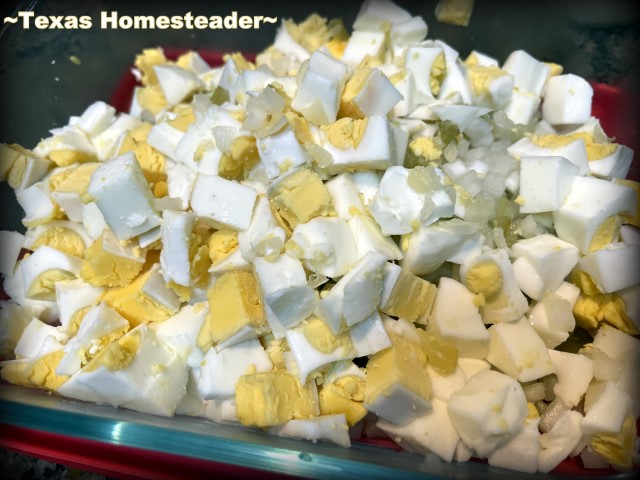 Or heck, just enjoy them as RancherMan does, as a healthy protein-rich snack.
I'd assume these cooked eggs will store covered in the fridge just fine for about a week or so.
Did you try these pressure cooker no-shell eggs? Please rate the recipe in your comment below!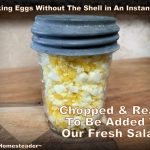 Instant Pot 'Boiled' Eggs - Without The Shells!
No need to peel those boiled eggs for salads or sandwich spreads. I use my Instant Pot to make the eggs without the shells. This really couldn't be easier and is espcially wonderful when peeling many boiled eggs such as when making egg salad! #TexasHomesteader
Natural Release Time
10
minutes
Ingredients
6

Fresh eggs

1

Tablespoon

Oil

(or use non-stick cooking spray)
Instructions
Add 1 cup of water to the inner liner of the Instant Pot.

Oil or spray the inside of a 7" diameter heat-proof baking dish.

Crack each of the 6 eggs into the oiled bowl, careful not to stir. Place lid or piece of foil over the bowl to keep condensation drips out of the eggs as they cook.

Place covered bowl on long-handled trivet and lower into inner liner of the Instant Pot. Close the lid, locking into place. (Make sure lever is set to 'sealing')

Cook on high pressure for 6 minutes, then allow 10 minute natural release. After that time carefully remove remaining pressure by moving the lever to 'venting' and bring trivet holding the eggs out.

Carefully run rubber spatula around the edges to release from bowl. Invert the bowl of cooked eggs onto a plate to release. Then separate into individual eggs if desired, or chop cooked eggs to use in recipes, sandwich spreads or add to salads.
~TxH~
This post categorized in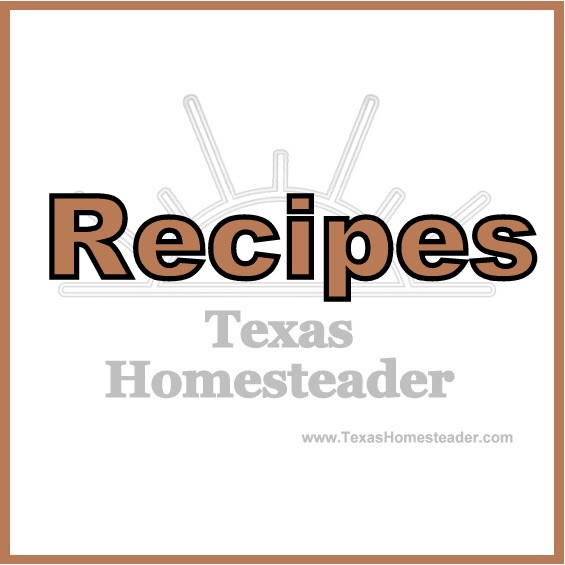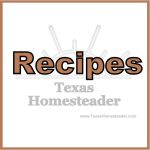 Other Instant Pot Recipes:
Air Fryer Recipes
Favorite Condiments
…and MUCH more


C'mon by & sit a spell! Come hang out at our Facebook Page. It's like sitting in a front porch rocker with a glass of cold iced tea – lots of good folks sharing!
You can also follow along on Pinterest, Twitter or Instagram.
To receive an email when a new blog post goes live it's EASY to
Subscribe to our blog!