by Texas Homesteader ~
RancherMan's not much of a salad guy. But he knows I'll be pushing the fresh veggies on him every chance I get. LOL!
Recently I came by a larger quantity of carrots. So in an effort to make sure they didn't go to waste I blanched & froze quite a few. I also steamed others for supper sides.
Oh, and I also sliced up some raw ones as well. In a sneaky sneak-in-more-veggies move I have a glass container that I keep in the fridge with these sliced carrots. While I'm preparing supper I'll bring it out for him to snack on.
But he's not one to snack on carrots without dipping them into a sauce of some kind. And his sauce of choice is Thousand Island dressing.
But then the unthinkable happened – we ran out of the dressing.
(In my best southern belle voice) "Oh gracious, what evah shall I do??"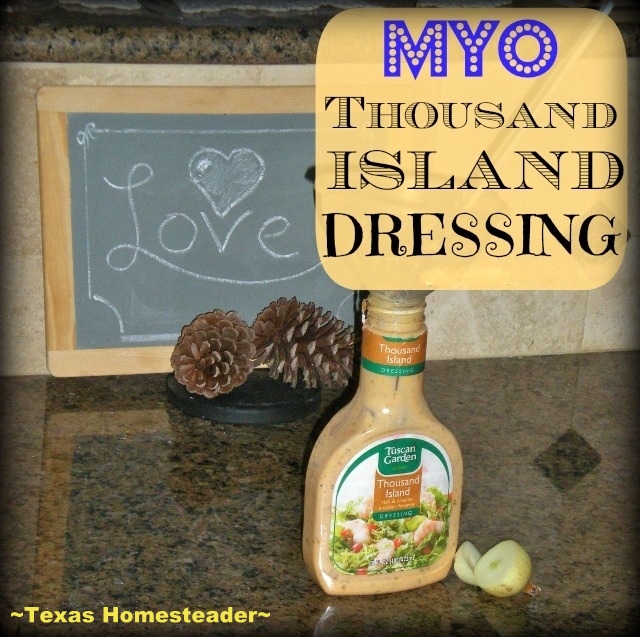 Well thankfully, Thousand Island dressing is ridiculously easy to make. I stir in equal parts of homemade sweet pickle relish and homemade mayonnaise, and 1/2 measure of ketchup.
Since RancherMan doesn't typically eat salad I don't want to make a huge quantity. So today the quantities I mixed up were 1/2 cup each relish & mayonnaise and 1/4 cup ketchup along with a little salt & pepper.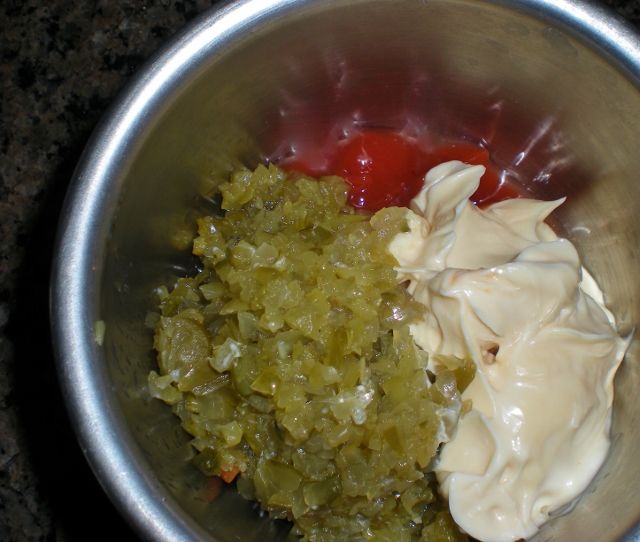 Not being genetically able to leave a recipe alone I also minced up about 1/4 teaspoon of garlic and about a tablespoon of onion and a minced dill pickle slice.
Hey, the more veggies I can sneak into everyday foods for him the better, right??
I also like to stir in a small amount of prepared mustard since it adds some zing and cuts the dressing's sweet flavor a bit.
Then I just poured it into the empty Thousand Island dressing bottle.
The salad dressing was replenished, balance was restored and peace reigned once more in our homestead kingdom, with RancherMan happily munching on raw carrots.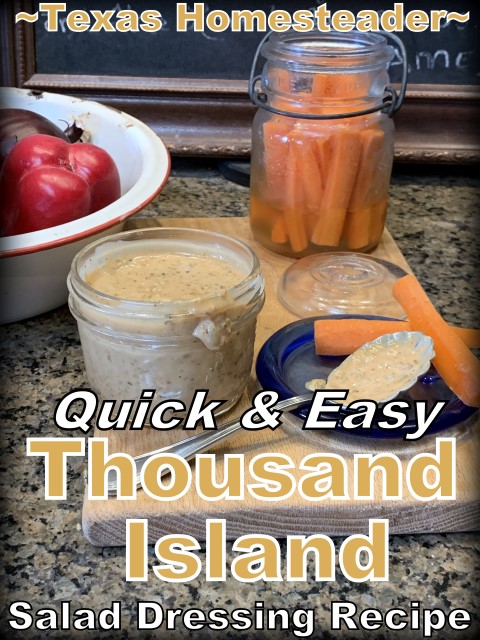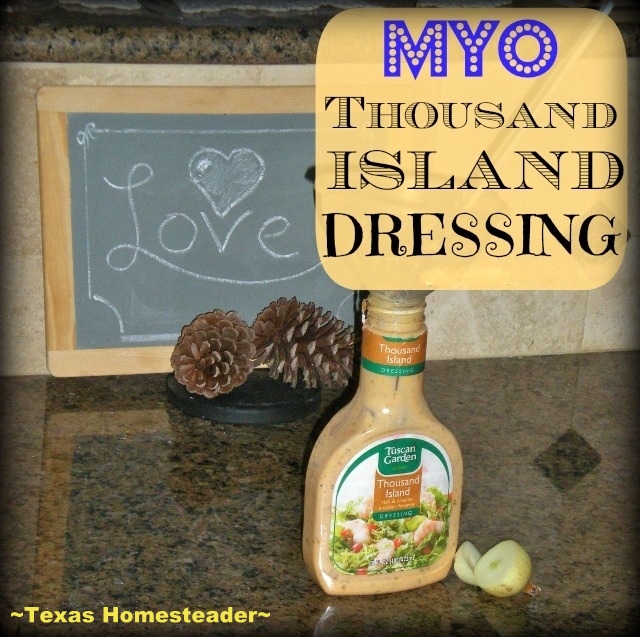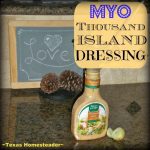 Thousand Island Dressing
Out of Thousand Island Dressing?  No problem, this recipe only has THREE ingredients (although you can add minced onion, pressed garlic or other flavorings if you like.)  Just stir the ingredients together & you're done! #TexasHomesteader
Ingredients
1/2

cup

sweet pickle relish

1/2

cup

mayonnaise

1/4

cup

ketchup

salt & pepper to taste
Instructions
OPTIONAL INGREDIENT OPTION(S):
1/4 teaspoon minced garlic

1 Tablespoon minced onion

1 finely-minced dill pickle slice

1/4 teaspoon prepared mustard cuts the sweet & adds some zing, if desired
Mix all together & pour into repurposed container - ENJOY!
~TxH~
Other Favorite Condiments
…and MUCH more


C'mon by & sit a spell! Come hang out at our Facebook Page. It's like sitting in a front porch rocker with a glass of cold iced tea – lots of good folks sharing!
You can also follow along on Pinterest, Twitter or Instagram.
To receive an email when a new blog post goes live it's EASY to
Subscribe to our blog!
Save
Save