by Texas Homesteader ~
I've made our mayonnaise from scratch for years. An egg, some oil, lemon juice and salt is all it takes.
But RancherMan also sometimes asks me to flavor it with garlic for even more flavor. There's so much flexibility when you're making it yourself.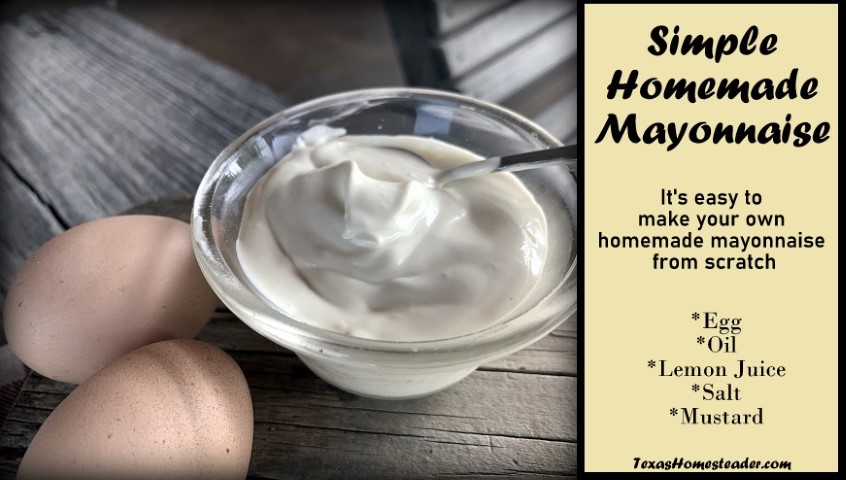 Miracle Whip or Mayonnaise?
It's an age-old question: Miracle Whip or mayonnaise? I never really cared for either one but RancherMan loves real mayo.
And when I make my homemade smoked ham salad or Fresh Egg Salad from all the hens lay, well it all requires mayonnaise to be used as a binder.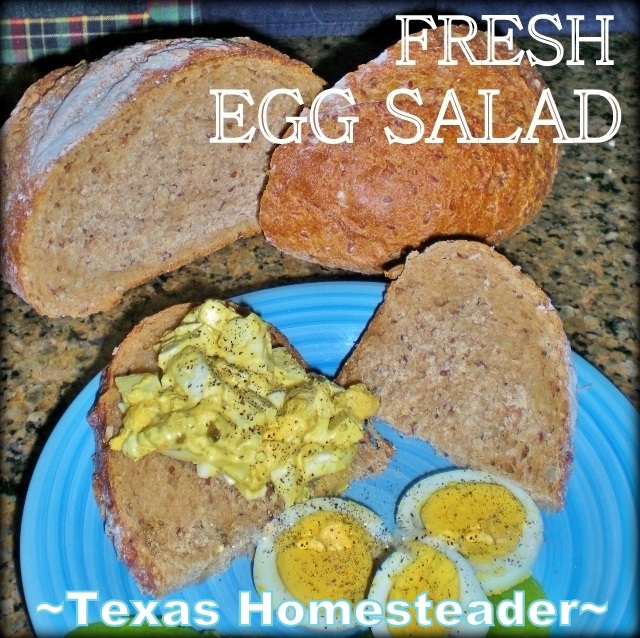 So reluctantly I'd purchase those expensive plastic jars for those few purposes. Have I mentioned lately how much I HATE PLASTIC? LOL.
But the same question rambled through my head that always does in these circumstances: "I wonder if I can make that?"
Learning To Make Mayonnaise
Turns out not only can I make it quickly & easily, but very cheaply as well – with NO ARTIFICIAL PRESERVATIVES!
Yep, this one's a keeper and it satisfies both my environmental drive as well as RancherMan's palate. Check it out!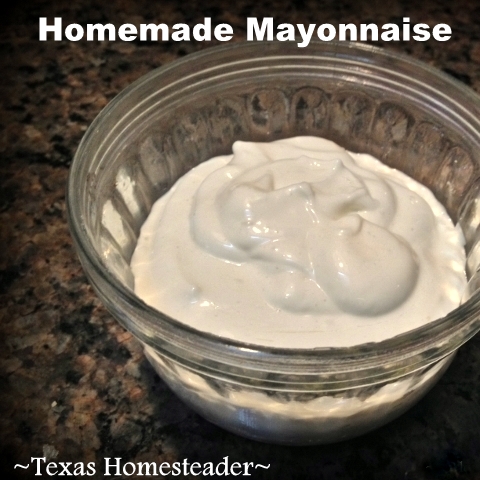 I've read that homemade mayonnaise lasts only a few days before it goes off. But Janine over at My Lamp Is Full informed her readers that you could add just a little bit of whey as a natural preservative.
I make my own Homemade Yogurt so whey is never in short supply so I decided to give it a go. I used Janine's recipe as a base but of course I always amend recipes to suit our tastes.
RancherMan and I love garlic so I opted to try for garlic-flavored mayo. It was delicious!
Making The Mayonnaise
Here's what I did: I cracked the egg and added the lemon juice and stirred it all in. Then I let the mixture sit about 5-10 minutes to become room temperature. (I think maybe the ingredients being room temp is some sort of secret to successfully making mayo)
Then I sprinkled in a bit of salt and the mustard powder (although sometimes I use a tiny squirt of prepared mustard instead). I dropped in the pressed clove of garlic.
Then I brought out my immersion blender. I pushed the blade all the way to the bottom of the jar before turning it on. Then I slowly added my oils.
Sometimes the oil I use is room temperature bacon grease. It makes Baconnaise!
Sometimes I just make it with canola oil for simplicity's sake. Other times I'll combine olive oil with another oil.
This time I'd opted for part olive oil and part vegetable oil. (I previously tried 100% olive oil but it was a bit too strongly flavored for us. Maybe a small amount of melted coconut oil as part of the mixture in the future?)
Important Step In Emulsification
With the immersion blender going I slowly poured my oil in a very thin stream into the mix.
This is important! You want your oils and the egg mixture to emulsify so you have to pour it in 'glacier slow'! Pouring the oil in too quickly will may your mayonnaise fail to properly emulsify.
Pouring in the oil took about 3.5 – 4 minutes to add in such a slow stream. But it worked like a charm and the ingredients emulsified beautifully. Actually emulsification took place before I finished drizzling in the oil but I continued blending until all the oil was added.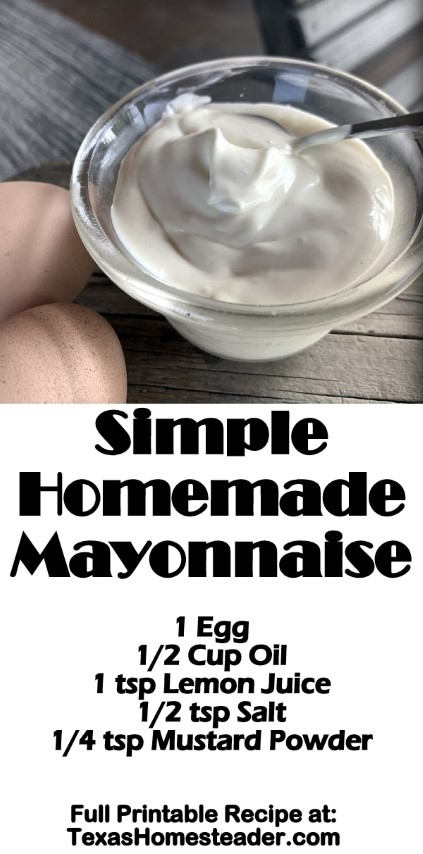 Lastly I stirred in a couple of tablespoons of whey because it's said to make the mayonnaise last longer in the fridge. I'll say the mayonnaise turned out great.
Want the recipe? Why certainly – here ya go!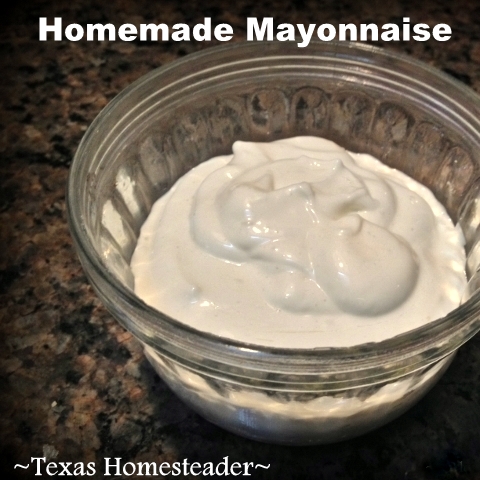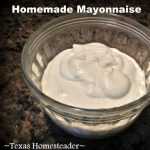 Homemade Garlic-Flavored Mayo
Homemade mayonnaise is easy to make. I sometimes flavor it with garlic - something RancherMan loves. #TexasHomesteader
Ingredients
1

large

Egg

(at room temperature)

1

teaspoon

lemon juice

(at room temperature)

1/2

teaspoon

salt

¼

teaspoon

mustard powder

¼

cup

vegetable oil or other lightly-flavored oil

Maybe melted coconut oil?

¼

cup

extra virgin olive oil

1

clove

garlic, pressed

Optional for flavored mayonnaise

2

Tablespoons

whey from yogurt

Optional, said to make mayo last longer
Instructions
Crack the egg into a wide-mouth canning jar and add the lemon juice. Whip together and let sit until it gets close to room temperature - about 5-10 minutes.

Add the salt, pressed garlic (if making flavored mayo) & mustard powder.

With an immersion blender at the bottom of the jar start blending, then in a VERY THIN STREAM and very slowly pour in the oils. The ingredients will emulsify about halfway through but keep pouring slowly until all oil is incorporated. This should take about 3-4 minutes total.

Finally add in the whey and blend together. Store in the refrigerator.
Recipe Notes
We go through our mayo pretty quickly so I don't really know how long it will keep, I've read that by adding the whey the mayo will keep several weeks in a closed container in the refrigerator. But we use it fast enough that I've never had occasion to test that. Let me know how long your mayonnaise lasts!
~TxH~
Other Favorite Condiments
Sauces/Dressings
Relishes/Dairy
Flavorings/Seasonings
Kitchen Shortcuts & Misc
…and MUCH more


C'mon by & sit a spell! Come hang out at our Facebook Page. It's like sitting in a front porch rocker with a glass of cold iced tea – lots of good folks sharing!
You can also follow along on Pinterest, Twitter or Instagram.
To receive an email when a new blog post goes live it's EASY to
Subscribe to our blog!
Save
Save
Save