by Texas Homesteader ~
Every year RancherMan & I host a fun family gathering we've always called 'RanchFest'. It's actually celebrated on the anniversary of the date we purchased this little piece of paradise. But we consider it a mini-family reunion.
Back when the kids were young (but before we actually lived here) we'd bring our kids and my siblings would bring theirs. We'd have a big celebration & bonfire. Oh how much fun it was to get together, and the kids loved hanging out with their cousins.
But they're all grown and most have children of their own now. So every year at RanchFest we get together to relive those fun times. This year we'll be serving pulled-pork sandwiches using meat from the wild hogs RancherMan's harvested. He'll smoke the meat, but we needed a BBQ Rub & Mop Sauce. And he certainly found a good one!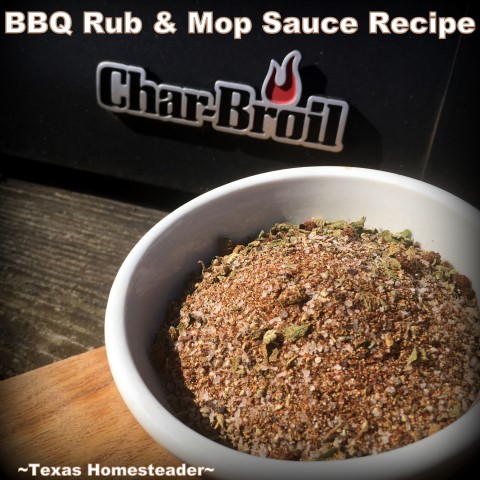 He was looking online for a rub/mop sauce that appealed to him and this one sounded pretty good. It's got beer and coffee – perfect! He found this one on the Barbeque Bible Newsletter and decided to gave it a try.
Mixing Up The Dry Rub
First he whipped up the dry rub using salt, chili powder, pepper, garlic powder, oregano, cumin & cayenne. He stored it all in a 1/2-pint canning jar with a handy Repurposed Parmesan cheese lid. How excited I was to find out those  handy lids fit any size regular-mouth canning jar.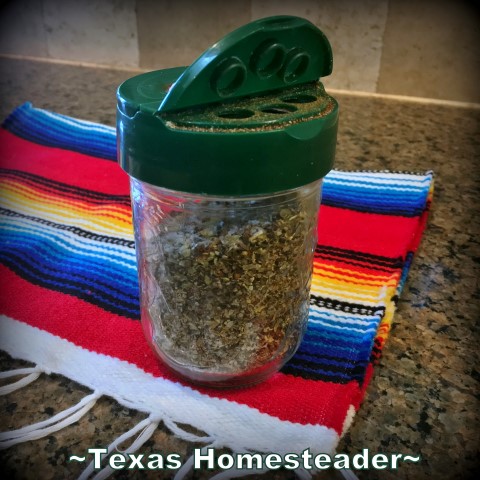 He rubbed a generous amount of the mixture onto all surfaces of the meat. Then he placed the meat in the refrigerator while he prepared his grill.
Mop Sauce
When all was ready he mixed up the mop sauce using a bit of dry rub, beer, coffee & vinegar. Now let's do this!
He brought out the roasts and laid them on the hot grill, cooking it low & slow. As the meat was smoking he rotated the roasts every hour, coating the meat each time with his homemade mop sauce. This helps keep the meat moist and also offers quite the delicious flavor infusion too.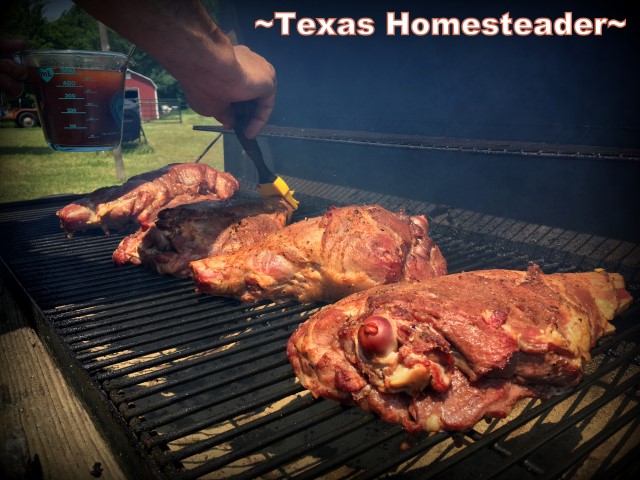 He smoked 4 wild hog roasts for a total of 11-15 hours using this rub & mop sauce. But if you're going to smoke more than 2 roasts you might go ahead & make a double batch of the mop sauce to make sure you have plenty.
Right before the internal temps of the roasts reached 145 degrees he also added some of my homemade BBQ sauce to the last coating on the meat. We both think this was a nice touch.
Pulled Pork BBQ Sandwiches
After the meat was smoked I shredded it all in preparation of serving our pulled-pork BBQ sandwiches. (I found an easier way to shred all this meat, y'all!)
I typically like to make Jalapeno/Beer Buns for the sandwiches. On the day of our gathering we'll pile on the pulled pork and add some rings of fresh onion & a spoonful of my Homemade BBQ sauce. It doesn't get any better than that, y'all!!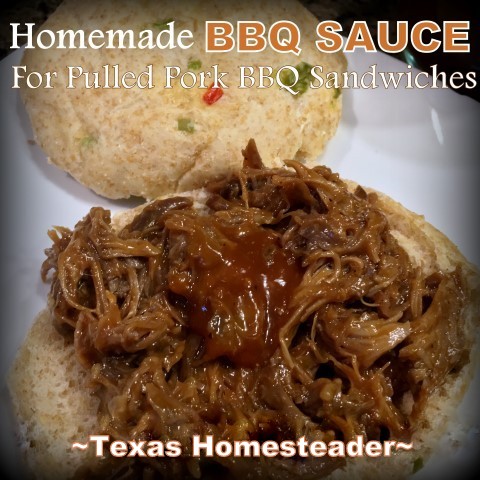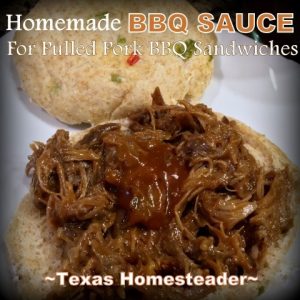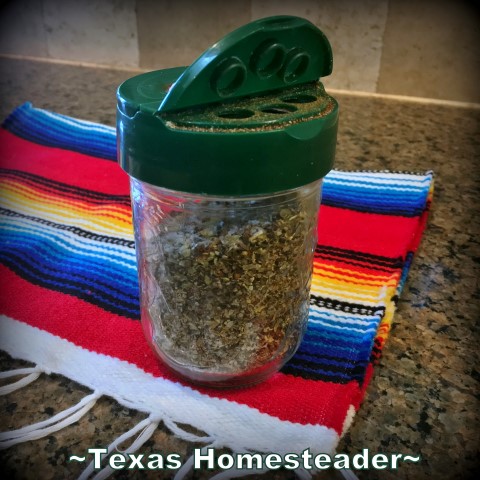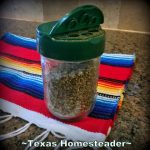 Coffee / Beer Rub & Mop Sauce
Ingredients
FOR THE DRY RUB:
2

tablespoons

coarse kosher salt

2

tablespoons

chili powder

1

tablespoon

coarsely-cracked black pepper

2

teaspoons

garlic powder

2

teaspoons

dried oregano

1

teaspoon

ground cumin

1

teaspoon

cayenne pepper powder
COFFEE / BEER MOP SAUCE (makes 2 Cups)
1

12-oz bottle

lager-style beer

1/2

cup

distilled white vinegar

1/2

cup

brewed coffee

2

tablespoons

dry rub (from above)
Instructions
Coat meat with dry rub, rubbing into the meat with your clean fingertips.


Grill the meat to your cooked preference, coating all sides with the mop sauce.


If you're smoking the meat, turn the meat & coat with mop sauce about every hour until meat is cooked to the proper internal temperature.

~TxH~
Links Included In This Post:
Recipes with Leftover Pork Roast:
New Meals Remade With Leftovers
…and MUCH MORE!


C'mon by & sit a spell!  Come hang out at our Facebook Page . It's like sitting in a front porch rocker with a glass of cold iced tea.  There are lots of good folks sharing!  And you can also follow along on Pinterest, Twitter & Instagram
If you'd like to receive an email when a new blog post goes live,
subscribe to our Blog!