by Texas Homesteader ~
I needed to shred leftover roast for pulled-pork enchiladas. Instead of using two forks to shred the meat by hand, I used my KitchenAid to compete the task in seconds!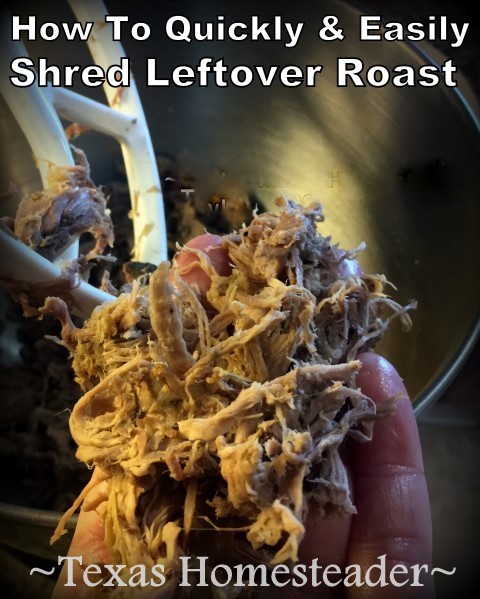 Shredding Cooked Roast
Y'all know RancherMan keeps our freezer stocked with harvested wild pork during the winter months. That pork is our main source of protein for several months until the pork coffers get lean!
So I'm often cooking up several pork roasts at a time as part of my Cook-Once, Eat-Twice method of cooking to use the leftovers for subsequent meals. It's an easy way to get supper on the table fast since the meat's already been cooked!
Recently I was turning some of that cooked roast into Pulled-Pork Enchiladas. I brought out some of my leftover cooked pork roast, grabbed a couple of forks and got to shredding. It took so long I started to get frustrated and thought there had to be a better way. And there was!
Although this is not a new idea, it's one I hadn't considered until I got tired of trying to shred my roast by hand. Using only two forks. Ugh…
The light bulb came on – let's make this easier! I should try something I'd heard others doing to simplify shredding meat.
KitchenAid Mixer to the Rescue!
I brought out my KitchenAid mixer and added the paddle attachment. I cut some of the pork roast into smaller pieces so my shredded meat strands wouldn't be too long for the homemade enchiladas I was planning on cooking.
Then I tossed those roast chunks into the KitchenAid bowl and set the speed to 1, and then 2 for maybe 15-20 seconds.

EUREKA! That KitchenAid shredded the roast beautifully in just seconds!
I decided to go ahead & shred lots of that pork roast to store pre-shredded in the freezer. That way next time I decide to make something with shredded meat, it's already been both cooked AND shredded!
Yep, talk about homemade convenience food at its finest!
~TxH~
Other Pork Roast Recipes:
Recipes with Leftover Pork Roast:
New Meals Remade With Leftovers


C'mon by & sit a spell! Come hang out at our Facebook Page . It's like sitting in a front porch rocker with a glass of cold iced tea. There are lots of good folks sharing! And you can also follow along on Pinterest, Twitter & Instagram
If you'd like to receive an email when a new blog post goes live,
subscribe to our Blog!