RancherMan's quite the accomplished hunter. As such, we always have a freezer stocked full of pork roasts and I enjoy finding different ways to cook them. I often use my slow cooker to prepare those roasts. Most of the time I'll flavor it very generically so I can remake the leftover cooked meat into whatever we're in the mood for. I've made Carnitas Tacos, or Pulled-Pork Enchiladas, or even BBQ Sandwiches & more.
But today I'm in the mood for an Italian-style roast with diced tomatoes, chunky onions,  crushed garlic & minced fresh herbs.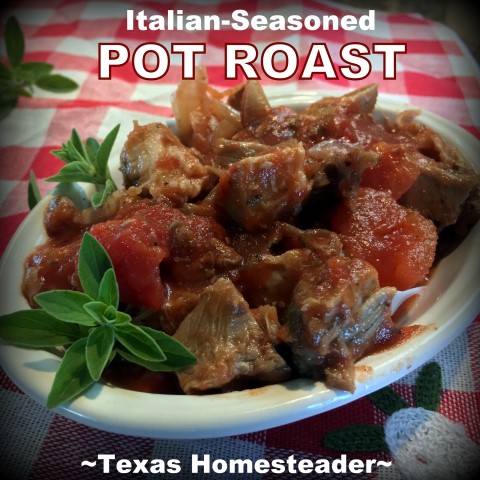 I looked around the internet for inspiration for an Italian-flavored roast, but they all had too many steps for me. And too many ingredients too. I'm a lazy eerrrrrrrr, I mean busy cook!
I needed something I could just chunk into the slow cooker, season it up & forget about it until suppertime. Maybe you're looking for something easy with few ingredients or hands-on steps too? Well then, you're gonna love this…
Easier Italian-Seasoned Pot Roast
Since this slow cooker is large and my roasts were relatively small I decided to go ahead & fill it up. I'm a Cook-Once, Eat-Twice kinda cook ya know.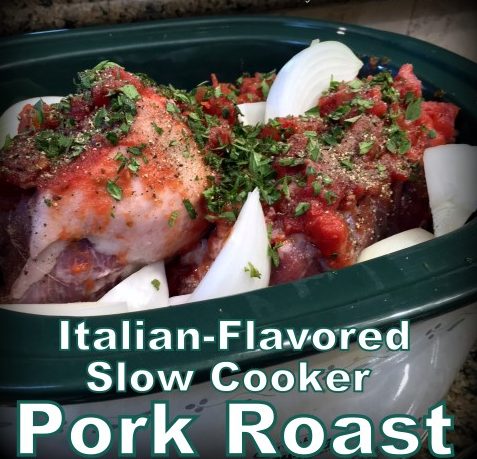 So I thawed & rinsed 3 small pork shoulder roasts (I'm guessing about 5-6 lbs total) and crammed them into my slow cooker. Then I added a can of Italian-seasoned diced tomatoes. I sprinkled 1/2 teaspoon each of salt & pepper evenly over the roast & some Worcestershire sauce too.
Finally I added some fresh minced oregano & thyme (or you could just use a couple of teaspoons of dried Italian-flavored herbs if you like) and sprinkled the pressed garlic over the top. Finally I chunked a large onion into thick wedges and tucked it around the roast.
In only a few minutes the prep portion of my meal was done. I turned the slow cooker on low and just walked away. Now that's my kinda cooking!
Meat Cooked To 160 Degrees
I prefer my cooked temps on these wild-pork roasts to be 160 degrees. So I cooked it for about 7 hours on low and that seemed to be about right.
It was a cold day with a rare cold front bringing temps into the low 30's. So this meal cooking all by itself as RancherMan & I tended our chores was a welcome thing indeed. Who wants to come in from a hard day at work and start cooking supper?
Not me!
I simply walked into the house after a long day of work to the delightful smell of homemade roast. I whipped up some mashed potatoes and steamed up a few spears of fresh asparagus from the garden and our homemade supper was done!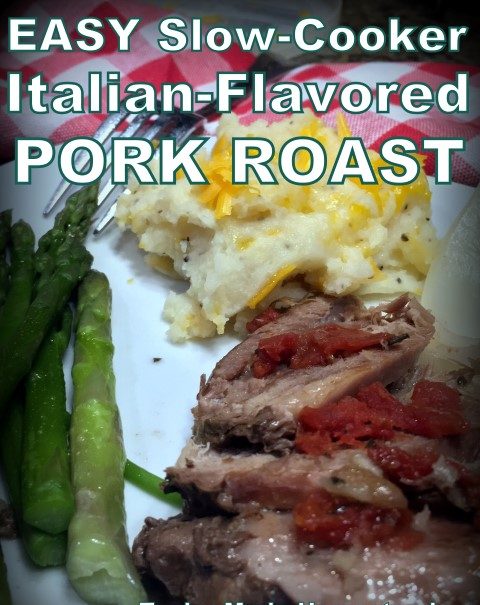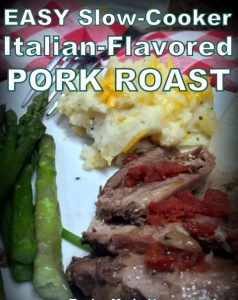 Who said homemade cooking had to be hard or time consuming??
Simple, hands-off and delicious. Give it a try!
Slow Cooker Italian Flavored Pot Roast
Ingredients
INGREDIENTS
2 - 3

lb

Pork Shoulder Roast

14.5

oz

Italian-Flavored Diced Tomatoes,

undrained

1

large

Onion,

diced

4

cloves

Garlic,

pressed

1

tablespoon

Worcestershire sauce

2

teaspoons

Italian herb mixture such as dried basil, oregano or thyme

1/2

teaspoon

Salt

1/2

teaspoon

Pepper
Instructions
INSTRUCTIONS
Place roast in slow cooker & pour diced tomatoes over roast.


Sprinkle Worcestershire sauce evenly over top of roast.


Sprinkle salt, pepper & seasoning evenly over top of roast.


Press garlic & sprinkle over roast. Add wedges of onion evenly around roast.


Cover and cook until the internal temperature of the roast is 160 degrees. (on low around 7 hours or on high 4 hours, depending upon your slow cooker)

Want to see other Leftover Pork Roast Meal Ideas?
Pork Roast Recipes:
Recipes with Leftover Pork Roast:
New Meals Remade With Leftovers
…and MUCH MORE!


C'mon by & sit a spell!  Come hang out at our Facebook Page . It's like sitting in a front porch rocker with a glass of cold iced tea.  There are lots of good folks sharing!  And you can also follow along on Pinterest, Twitter & Instagram
If you'd like to receive an email when a new blog post goes live,
subscribe to our Blog!