by Texas Homesteader ~
*contains affiliate link
Y'all know I have an environmental bend. Back in my fledgling environmental days I was pretty darn proud that my recycling bin was full while my landfill-bound trash bin was only half filled. A badge of environmental pride! And recycling is good, don't get me wrong.
But recycling is still dealing with trash
And I was shocked to find out the recycling that you diligently separate & send off often ends up at the landfill anyway. (gasp!) So these days I'm actually recycling LESS and helping Mother Nature much MORE!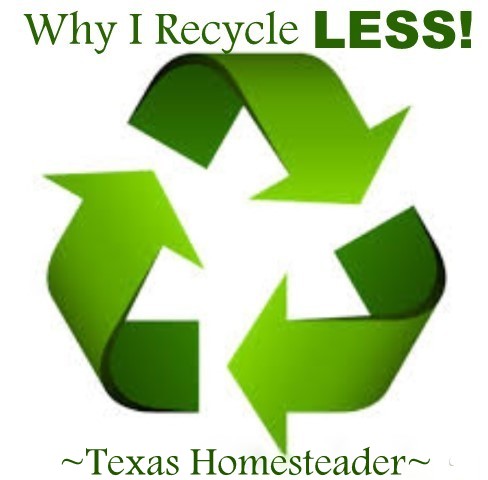 (Note: Some links in this post are for further information from earlier posts I've written. But links preceded with * are affiliate links. If you click them and buy something (almost anything, not just the item noted) I could receive a tiny commission. But the price you pay will NOT change. It's an easy way to support this blog without anything coming out of your pocket. So click often! Thank you!)
Need For Recycled Material
No, your landfill-bound recycling material isn't a shady underhanded act.
You see, selling recycled material is a business. If there are no customers buying that recycled material, it's of no use to the business and must be disposed of somehow.
So if for instance the need for recycled glass to make new glass jars isn't there, that recycling facility glass will go instead to the landfill.
So I strive to reduce my trash AND my recycling. Here are a few easy ways I'm accomplishing that.
Plastic Bags
Plastic is the material I avoid most in our household. You know I've shunned plastic shopping bags since way before it was the 'in' thing to do.
Back then I always hated how they seemed to accumulate until they were a storage issue. But when they did accumulate, I'd just recycle them!
Then I found out that kind of plastic was pretty difficult to recycle. I found out much of that plastic ends up in the landfill anyway. And more & more recycling facilities don't even accept that kind of plastic anymore!
So instead of plastic shopping bags I use my Hand-Made Basket for our lighter shopping, and my fabric shopping bags for larger shopping trips.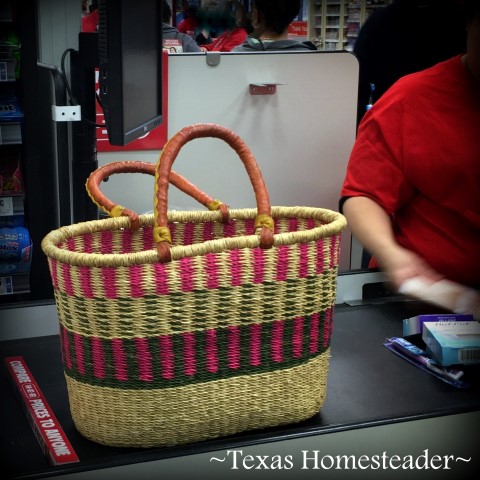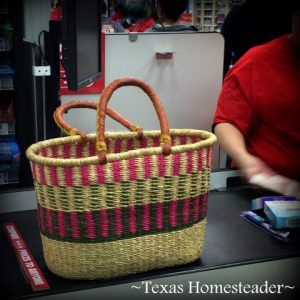 When plastic bags do come into the house via bread bags or other food, I use them to separate our prepared food for the freezer when doing Cook-Once, Eat-Twice cooking. At least it gets used again before throwing it away.
And we buy septic-safe toilet paper in large quantities. Yes it's still wrapped in plastic, but less overall plastic than several smaller packages would be.
I carefully cut the plastic bag so that I can reuse it to line our small waste-basket. So I haven't purchased trash bags in over 10 years.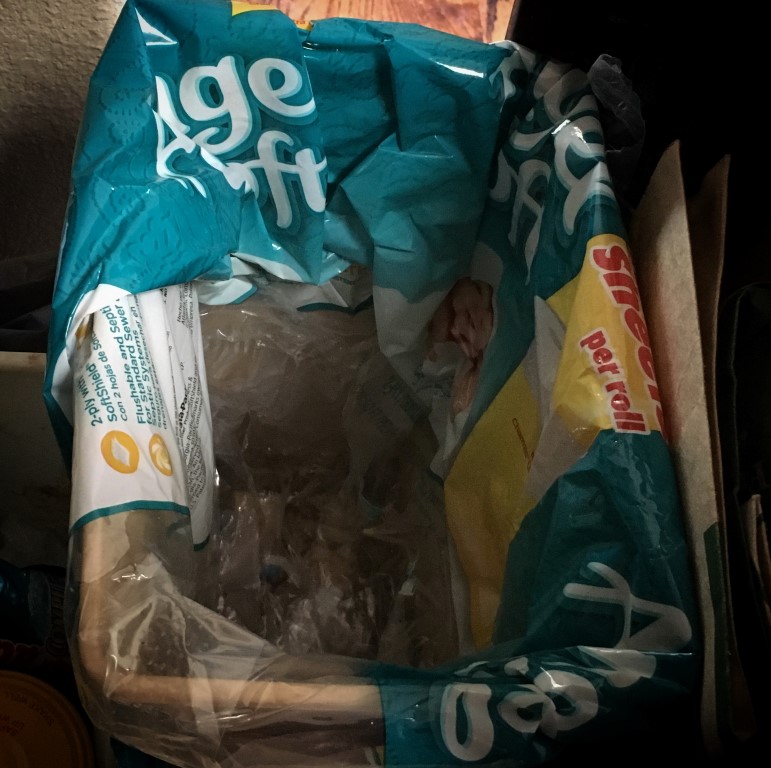 Plastic Bottles & Jugs
I still buy our milk in plastic jugs, because living out here our options are pretty limited. But plastic bottles from soft drinks have all but been eliminated.
RancherMan was a cola junkie, but we gradually moved from soft drinks to sun tea. Healthier, lower sugar and no waste.
The brewing jar is a repurposed picante jar that gets used again & again, the tea bag goes into the composter. (see potential caution regarding sun tea at the bottom of this page)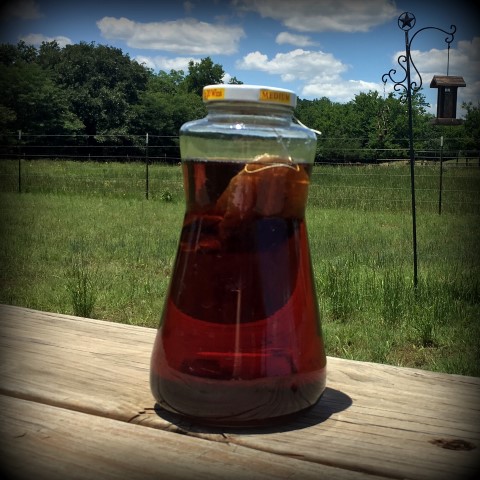 And RancherMan & I love our coffee but it's sold in a plastic canister.
I've found many ways to repurpose those canisters including a cute bread box, a nifty planter to share plants with friends, and even a chicken feeder for our chickens among other ideas.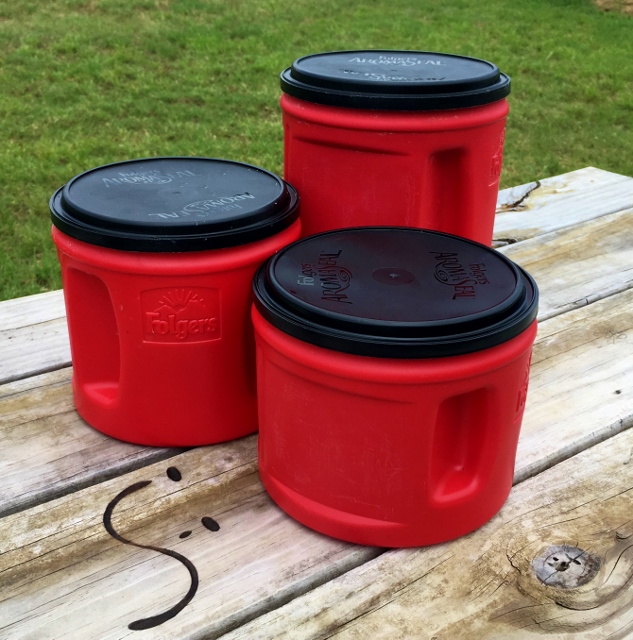 Plastic jars
I've attempted to grind our own peanut butter from peanuts but wasn't pleased with the result. So we purchase our peanut butter and it typically comes in a plastic jar.
But I repurpose those empty plastic jars to another use, such as freezing cooked beans or homemade broth. RancherMan uses them to hold hardware in his shop.
I even decorated several jars, punched holes in the lids and gave them to our grandbabies when they come to visit to catch ladybugs! (Oh the things that can occupy a kid's mind!)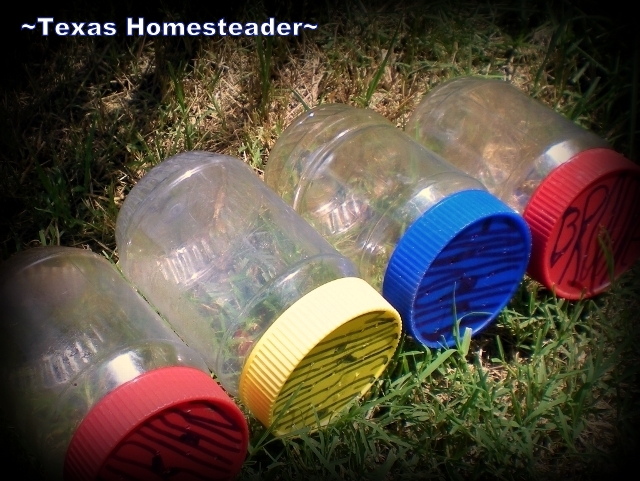 Metal Food Cans
We buy food in cans from time to time because it's quite the tall order to provide 100% of your food yourself. Those cans are always recycled of course, but I try to provide our veggies from the garden when I can.
I grow a large garden each year. That fresh produce is minutes from harvest to table.
Not only is it healthier & low-waste, but growing your own food is like printing your own money!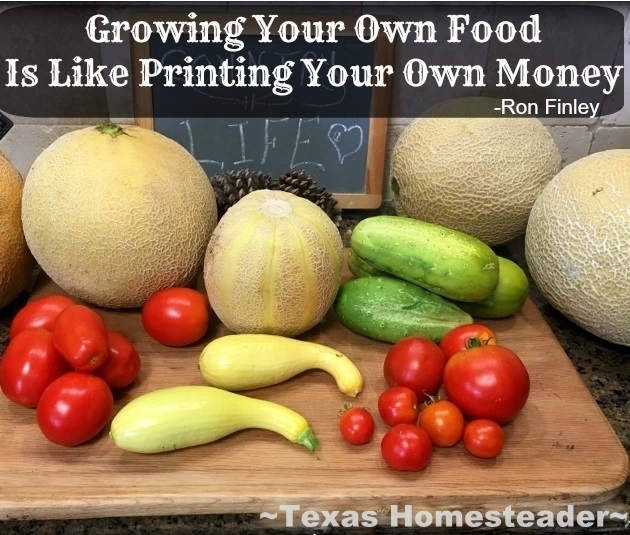 Excess veggies abundant during the harvest season are preserved for non-gardening months by canning, freezing or dehydrating.
I've really enjoyed my *Excalibur dehydrator for preserving fresh produce.
There's nothing like tasting that delightful flavor of summer as I drop those dehydrated gems into a simmering pot of homemade soup during winter months.
Plus it all takes the place of purchased cans of veggies – less material into our recycling bin!
Paper
My composter needs brown material for a properly-balanced compost mix. So I typically use my household paper in my *Tumbling Composter.
I toss in used church programs, cardboard toilet paper rolls, food boxes and even cardboard from our community volunteer involvement.
It all turns into black gold for my veggie garden. Who knew this much 'waste' paper could benefit your Homestead by providing a healthier & more productive veggie garden?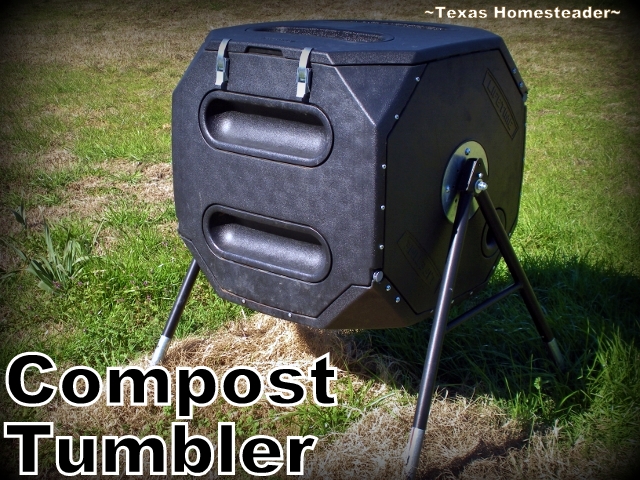 Reducing Paper In The Mailbox
I hate junkmail from an environmental standpoint as well as a personal one. Why must I deal with mail I didn't request time & time again? Especially if there's no way I'll ever be a customer of theirs?
So I reduce the amount of immediate trash/recycling (ie: Junkmail) coming to our home in the first place. It's easy!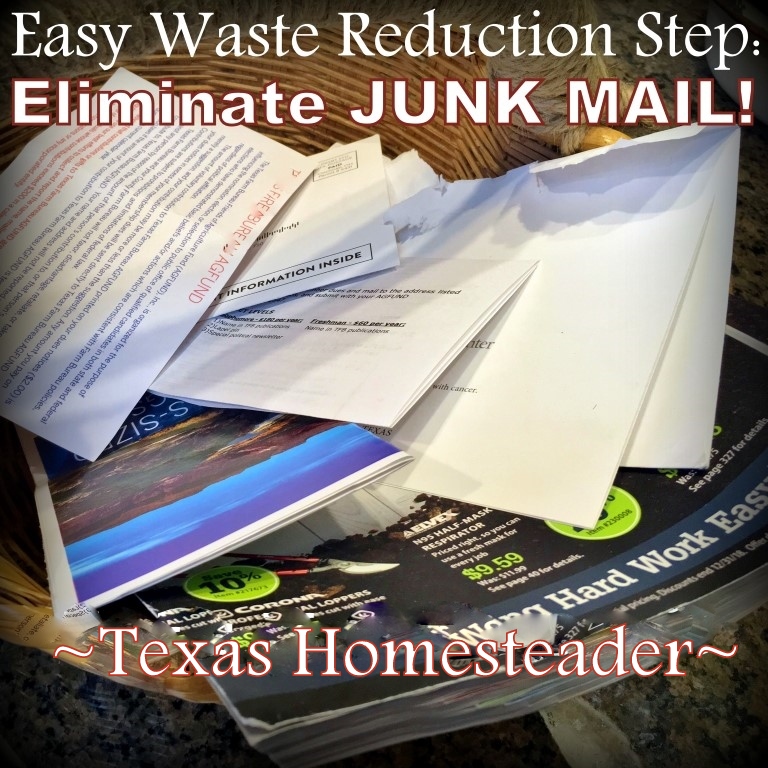 If we receive junk mail in our mailbox, I google the company along with the words "contact us" and email them.
I politely request to OPT OUT of all mailings from them or their affiliates. (I have a copy/paste verbiage I send to each one and then add the information shown on the label.) 99% of the time it's a quick response & compliance. Now most days our mailbox is empty!
But for the small amount of mail we do get envelopes and letters are tossed into my composter. And I use any newspaper to line the compost bucket beneath my sink. It all goes to satisfy the 'browns' requirement of my compost.
So there ya have it. By reducing what's being brought into our home, reusing what does make it inside & utilizing my composter for paper waste along with veggie trimmings there's much less need for me to recycle in the first place.
Not only is it good for Mother Nature, but often good for our wallets as well. Gotta love it!
~TxH~
Other Great Posts About Reducing Plastic
Reducing Household Waste
…and Many More


C'mon by & sit a spell! Come hang out at our Facebook Page. It's like sitting in a front porch rocker with a glass of cold iced tea – lots of good folks sharing! You can also follow along on Pinterest, Twitter or Instagram.
If you'd like to receive an email each time a new blog post goes live it's EASY to
Subscribe to our blog!
Potential Sun Tea Concerns
There are some who have commented that brewing sun tea does not allow it to get hot enough to kill the bacteria in water. It's said that it must be boiled 3-5 minutes in order to be safe, then refrigerated immediately until consumed. So as I typically do, I went to the experts – my extension agent.
According to my extension agent (who is an AWESOME resource) apparently the source of potential problem microbes isn't the water, it's the actual tea leaves. She recommends bringing the water to 195 degrees and steeping the tea for 3-5 minutes, then pouring into a pitcher over ice & refrigerating.
Of course you'll want to use your own judgement about making sun tea. If you have concerns about your individual health, your doctor is always your best source of advice.
For us, sun tea is still king. I continue to make sun tea several times each week, the same as I've done for years.