by Texas Homesteader ~
Did you know you could make a chicken feeder from a repurposed coffee can? Yep, it's true.
RancherMan & I enjoy raising chickens. And we're also fans of doing things ourselves. So when we needed a chicken feeder we first took a trip to a thrift store.
We made our own feeder from thrifted supplies costing only about $2 total. All we used was an old metal lid and a plastic Rubbermaid canister. It served us well for years but finally the canister portion succumbed to the elements. Now what??!
You know what I say: "Use Whatcha Got!". Check out this Homestead Hack & see how we easy (and with NO out of pocket) repaired our chicken feeder for many more years of service.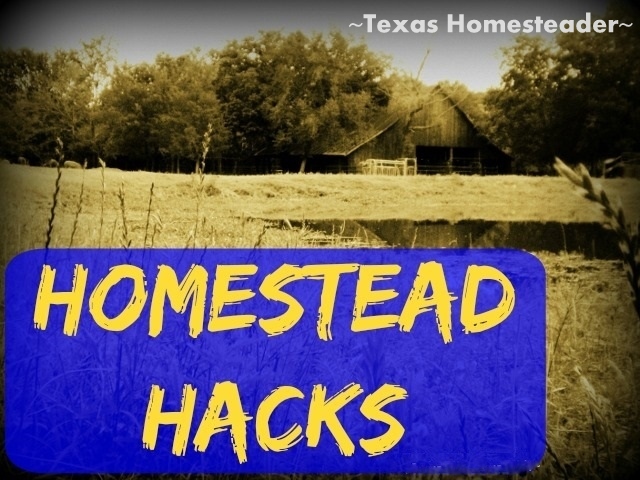 The previous chicken feeder that we made worked well for several years. And it was easy to assemble since that thrifted metal lid already had a hole in the middle when we bought it.
So we drilled holes in the side of the plastic canister for the seed to come out and attached the canister to the lid through the hole that was already in the lid.
Then we filled it with seed & set it out in the chicken coop. It worked just as well (maybe better?) than purchased chicken feeders, but for much less money.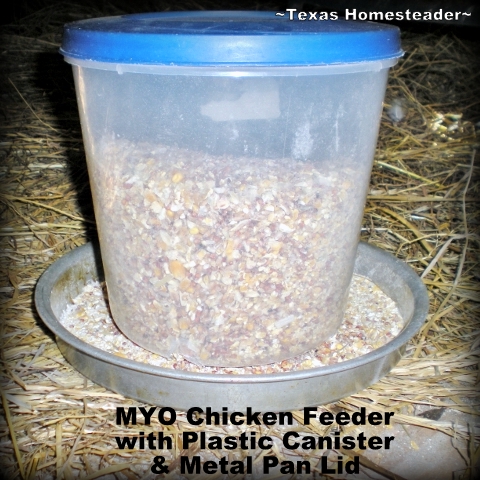 When seed came out of the holes it was retained within the walls of the metal lid. As the chickens ate the seed, more would gradually spill out for them.
And the small area for the seed kept the chickens from wasting feed because they couldn't sling it around with their beaks. It worked beautifully! But after years of use the plastic tub cracked & fell apart.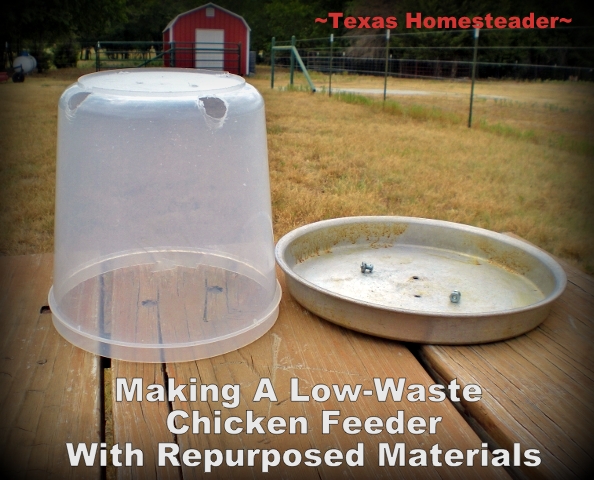 But we knew that metal lid would last forever. No need to throw our feeder out and buy one. We only need another seed reservoir.
Hummmm… what to do?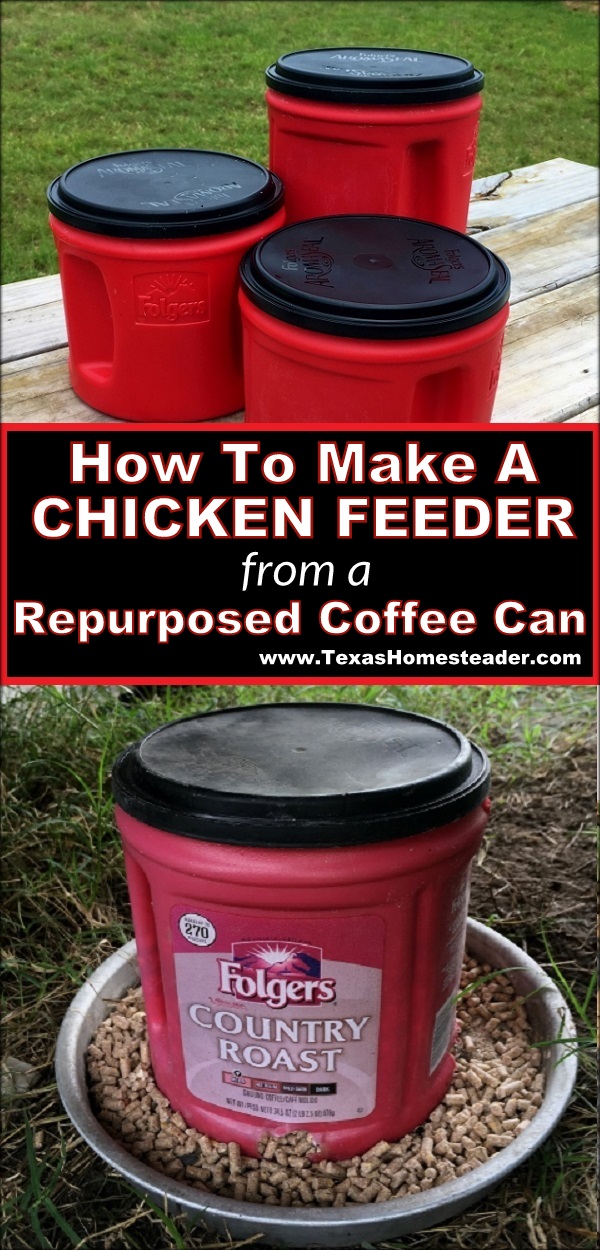 Eureka! Using the same method of drilling holes for the seed to dispense we attached One of our empty coffee canisters!
Now this feeder's even easier to use than before because the coffee canister has a built-in handle. So picking up the canister is even easier and can be done with one hand.
Just pop the top off the coffee can and refill. Easy peasy!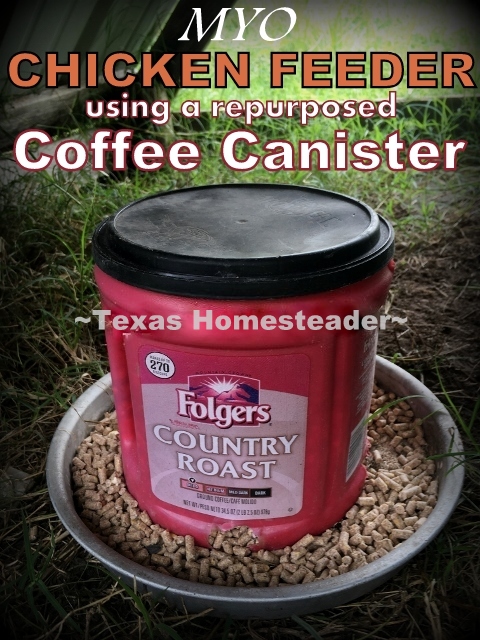 The beauty here is twofold: By reupurposing something to fill another need you have saved something from being recycled. (or in some cases even perhaps being sent to the landfill.) And a need has been filled by using something we already had.
Plus we're avid coffee drinkers so there's a never-ending supply should the need arise in the future.
Repurposing, baby! Now that makes my crunchy-green heart happy.
We've done many things with these empty coffee canisters. Curious? Check out the other useful things we've done with repurposed coffee canisters.
~TxH~
Coffee Canister Repurpose Ideas:
Chicken-Care Posts


C'mon by & sit a spell! Come hang out at our Facebook Page. It's like sitting in a front porch rocker with a glass of cold iced tea – lots of good folks sharing! You can also follow along on Pinterest, Twitter or Instagram.
If you'd like to receive an email each time a new blog post goes live it's EASY to
Subscribe to our blog!
Save