by Texas Homesteader~
This is our first year to explore raising our own chickens. They have been so much fun to raise so far, and they are doing an amazing job of severely reducing the massive load of grasshoppers in our barn pasture, as well as almost eliminating the fly load on our calves when they're confined here near the barn.
Truly organic pest control – I can get used to this!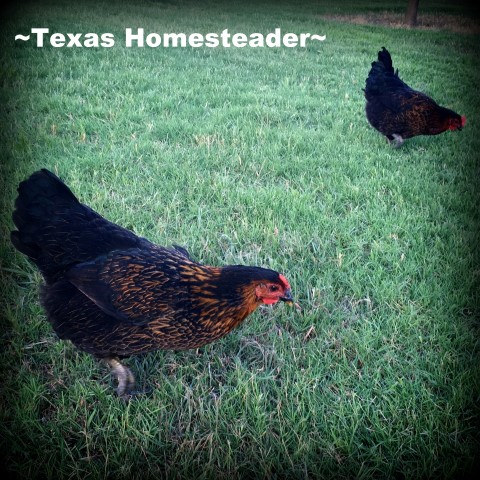 Flimsy Chicken Feeders For Sale
When we initially purchased our cute little day-old chicks we bought the basic starter supplies needed such as the little mason-jar feeder and waterer. We opted to spend a couple of extra bucks and get the metal ones since they will last much longer than the flimsy plastic ones. But it wasn't not too long before the chickens outgrew these tiny feeders.
We began eyeballing the next step up for feeders yet they seemed to be pretty pricey. RancherMan and I began to formulate ways we could make our own.
At first we tried with a 2-quart lidded tub attached to a large lid repurposed from a tub of ice cream. Although it worked fine there were some drawbacks.
The lightweight construction meant that when they jumped on top of the feeder to play 'King Of The Hill' it often turned over spilling it's contents and wasting the feed. Hummmm…
Looking For Items To Repurpose
You know I love to buy items used whenever possible and if I can buy those things at a thrift store even better – I can support a worthy cause.
So RancherMan & I perused the isles of a thrift store recently looking for ideas. We found a large 19-cup Rubbermaid canister. Then we found what looked like a heavyweight metal lid with flat top & sides. This will be PERFECT!
The lid is heavy so it will be harder to tip, plus although it's apparently missing a part it will be perfect for us since it already has two holes drilled.
We gleefully plunked down our $1.98 and exited the store, construction plans swirling in our minds.
Assembling Our New Chicken Feeder
Now let me say here that RancherMan is an invention genius – he has the ability to look at something and figure out how it can all go together seamlessly. He really hit the mark this time.
He decided to drill four 3/4″ holes around the bottom the canister and he made sure to drill them as close to the bottom as he could. This results in less waste when the feeder is filled because the chicken feed will not simply cascade out of the canister, but will flow out slowly as it's consumed.
The size of the canister in relation to the sides of the metal lid plus the fact that the canister flares slightly at the opening means there's not enough space for the chickens to sit in the feeder and contaminate the feed (apparently a common problem)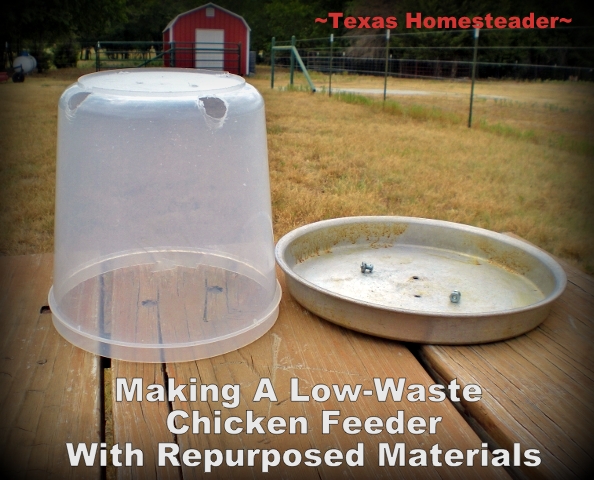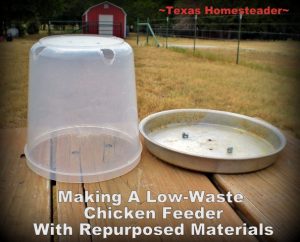 The feeder works great and we've cut our chicken-feed waste to almost nothing with this setup. It holds about 5 lbs of feed.
And it only cost us a whopping $1.98! Plus we were able to get that money to a worthy cause.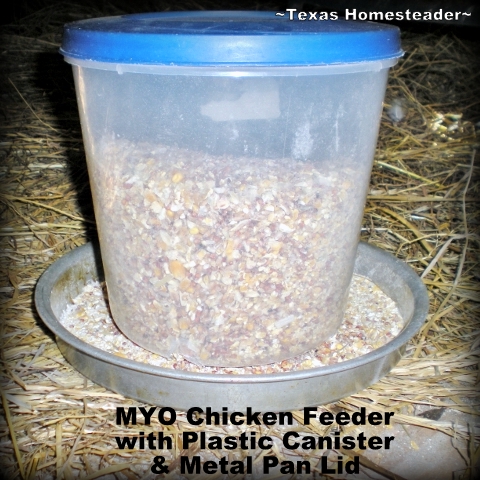 Sometimes ya just gotta think outside the box… The chickens are very happy with their new feeder and so are we!
UPDATE:
We've made other low-waste chicken feeders over the years using things we had around the homestead.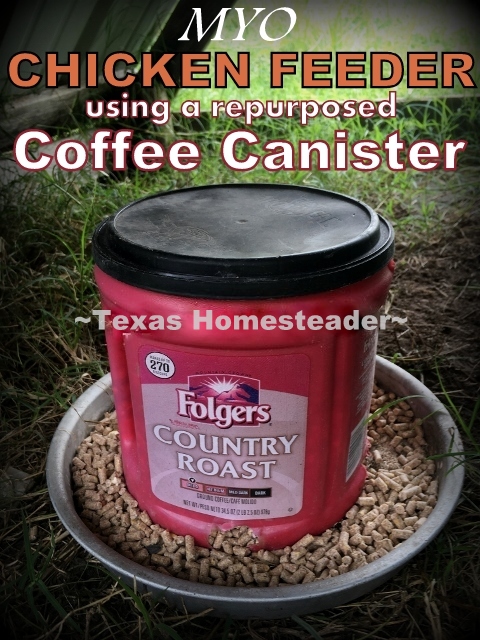 When the canister wore out of this feeder we replaced it with (wait for it) a coffee canister!
PVC Chicken Feeder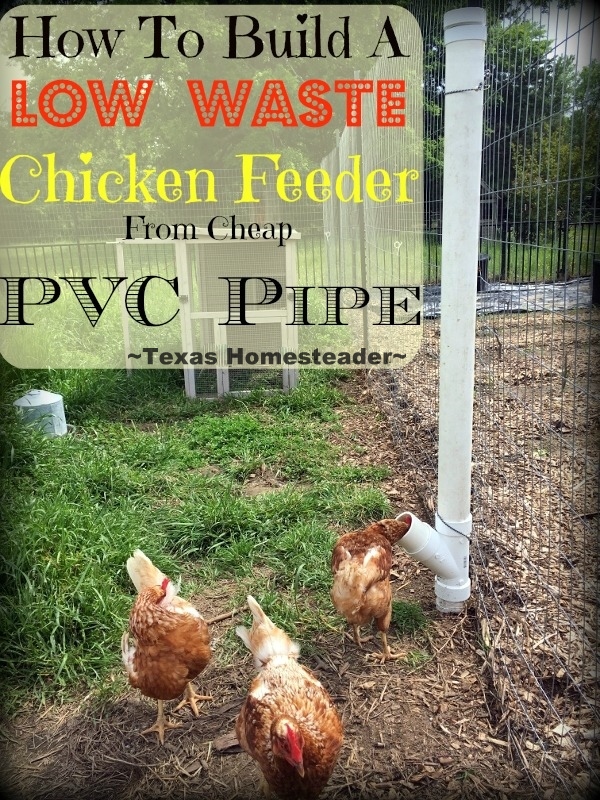 We also made this chicken feeder from PVC. This one is currently in the chicken run too.
~TxH~
Chicken-Care Posts


C'mon by & sit a spell! Come hang out at our Facebook Page. It's like sitting in a front porch rocker with a glass of cold iced tea – lots of good folks sharing! You can also follow along on

Pinterest

, Twitter or

Instagram

.
If you'd like to receive an email each time a new blog post goes live it's EASY to
Subscribe to our blog!