by Texas Homesteader
*Contains an affiliate link
I love my solar oven and I use it often. I love that it takes no purchased energy to run. And most of all I love that it leaves all the cooking heat outside where it belongs.
Recently I began dehydrating overage veggies from my garden. I freeze them as well from time to time but dehydrating them looks pretty cool in my pantry. It also reduces the volume to store by quite a bit and it works well for use in wintertime Endless Soups – my favorite application.
I decided to try to use my electric dehydrator trays to dehydrate in my solar oven – BIG MISTAKE! Although I left the solar oven's lid unlatched so it wouldn't get too hot inside the oven, it apparently doesn't take very much heat at all to do this: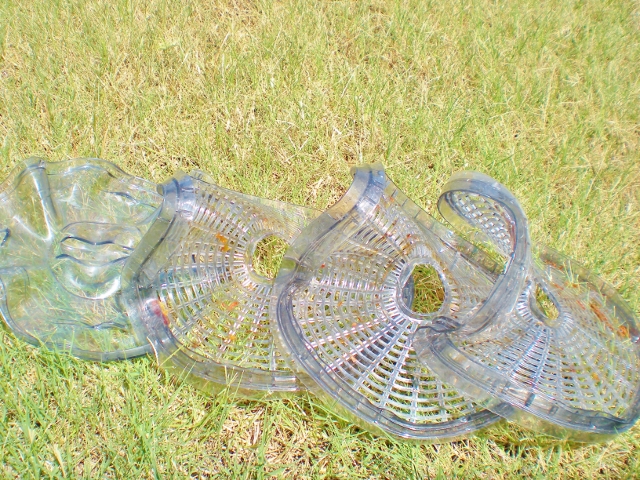 (Note: Some links in this post are for further information from earlier posts I've written. But links preceded with * are affiliate links. If you click them and buy something (almost anything, not just the item noted) I could receive a small purchase. But the price you pay will NOT change. It's an easy way to support this blog without anything coming out of your pocket. So click often! Thank you!)
Epic FAIL! So the next batch I placed on the three stack-able racks I got with my the dehydration kit I purchased with my solar oven, covered with a layer of parchment paper. Much better!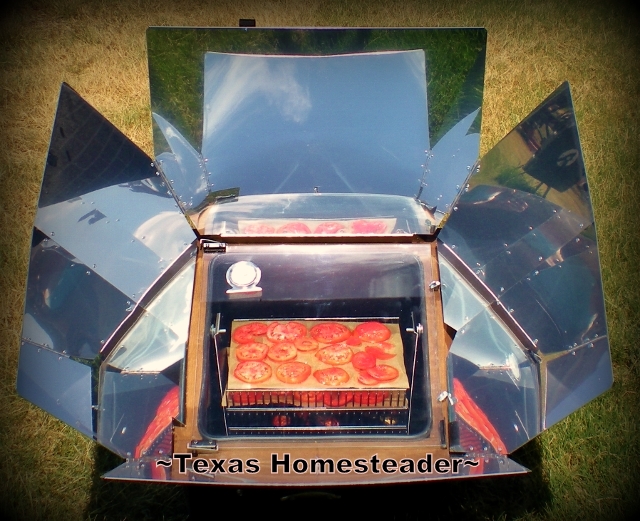 I left the lid unlatched to both allow the moisture to escape as well as to not allow the oven to heat too high. I also kept an eye on the oven temperature & tried to adjust the oven toward or away from the sun to hold the temps to about 150 – 200 degrees.
I found that the top rack dried much more quickly than the racks below. So I would remove one rack at a time when the contents were dehydrated and allow the remaining trays just a little more time to finish. In a few short hours I had beautiful dehydrated tomatoes.
I'll grind these using an electric coffee grinder into a powder that I'll use to thicken up my homemade salsa or winter soups. It takes up no room at all in a glass jar in my pantry. Success!
For those of you asking which solar oven I have, I purchased this *Sun Oven
and I highly recommend it. And even better: The Sun Oven folks have agreed to offer my readers a valuable coupon, so go, go, GO get yours now!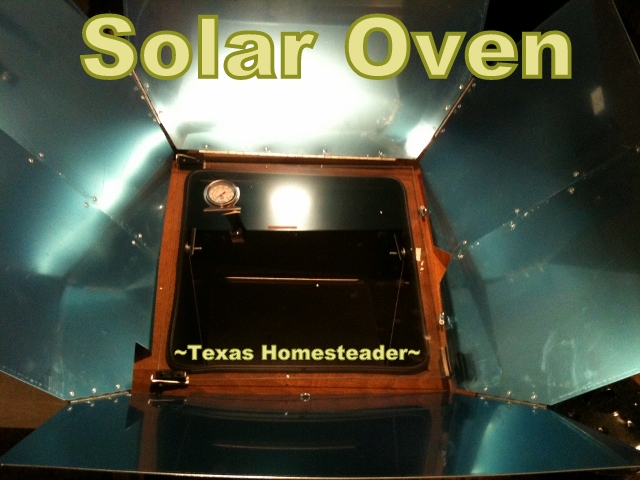 ~TxH~
Other Dehydrating Posts
Looking For More Solar-Cooking Recipes?
You can see our other SOLAR oven articles

here
Other Dehydrating Posts


C'mon by & sit a spell! Come hang out at our Facebook Page . It's like sitting in a front porch rocker with a glass of cold iced tea. There are lots of good folks sharing! And you can also follow along on Pinterest,Twitter or Instagram
If you'd like to receive an email when a new blog post goes live,
subscribe to our Blog!
*Sun Oven Solar Oven Affiliate
* A word about our Affiliate Link – We are currently enrolled as an Amazon Affiliate. Occasionally I will insert an affiliate link into one of my posts if I think it may be of interest to you, in this case a solar oven. I purchased the oven myself and receive nothing from the manufacturer, but I love it & thought you might too. If you click on any of my affiliate links and buy something (almost anything, not just what was linked) I get a small referral percentage from Amazon. But here's the really important part – the price you pay for your items is UNCHANGED.
When you buy something through the affiliate link it's a great way to support this blog without anything coming out of your pocket so please click often!
Save
Save
Save
Save
Save
Save