by Texas Homesteader
*contains affiliate link
Recently I had a large quantity of tomatoes to preserve. In the process of making my sauce I removed most of the seeds and tossed them into my compost before I even cooked the tomatoes down.
When the tomatoes were cooked I used a sieve to separate the cooked tomatoes from the skins so I would have smoother sauce.
Now I read somewhere that instead of throwing them away you can dehydrate the skins and grind them into powder to use to thicken soups or make your own tomato paste.
Oh yeah, I'm *SO* gonna do that!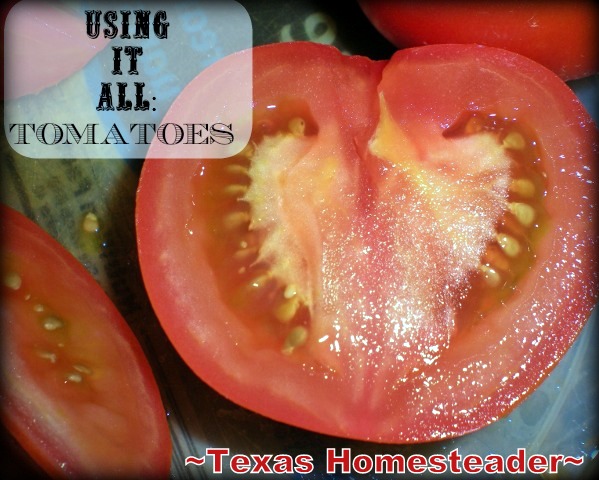 (Note: Some links in this post are for further information from earlier posts I've written. But links preceded with * are affiliate links. If you click them and buy something (almost anything, not just the item noted) I could receive a tiny commission. But the price you pay will NOT change. It's an easy way to support this blog without anything coming out of your pocket. So click often! Thank you!)
You see, I'd already made quite a bit of tomato sauce with my tomatoes. Then I turned much of that tomato sauce into pasta sauce which I subsequently canned so we can enjoy it all summer long.
I've gotten quite a bit of mileage from those tomatoes already. But am I through with them yet? What about the tomato skins I'd removed? Hummmm…
Dehydrating Tomato Skins
So here's what I did: I took the leftover cooked tomato skins and used my stick blender to roughly puree them.
Then I laid a dehydrator sheet on one of the trays of my * Excalibur Dehydrator
and plopped the whole pureed mess onto it.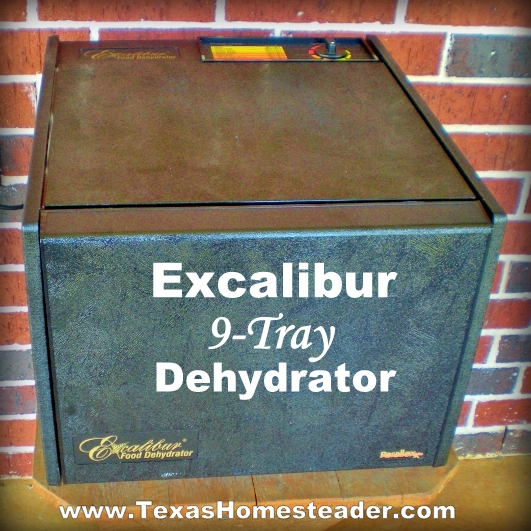 I used a pasta-rolling pin to smooth it all down to a more uniform thickness. (note: I left some of the skins intact to experiment with drying times. I also put some tomato skins that were left intact on another tray.)
Dehydrator Temp At 125 Degrees
After the Excalibur was loaded up I turned it to 125 degrees and allowed it to run for about 5 hours. After that time I pulled out the dehydrator trays to check on things.
The skins that were left intact were already dry. But the puree wasn't dry to my liking.
I separated the tomato puree from the dehydrator sheet and flipped it over so the dry side would be facing down and the still-wet side would be able to dry more thoroughly.
Then I allowed it to dehydrate for about 3 hours longer until the tomato puree was dry & leathery.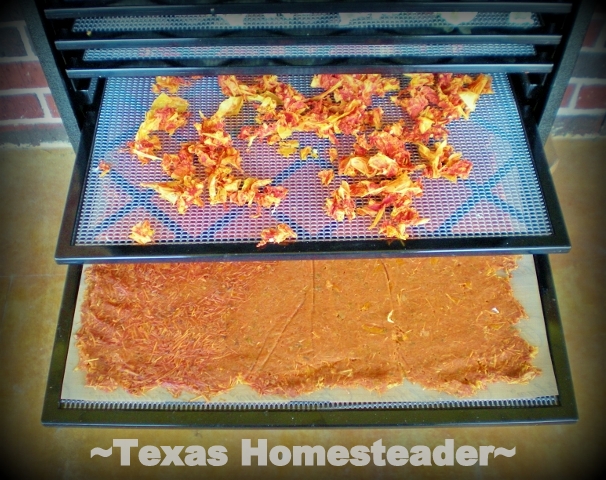 I pulled out my coffee grinder that I keep just for veggies and popped some of my dried tomato skins in and whirred it until it was a fine powder. Oh yeah, that's the stuff!
I store my tomato powder in a repurposed glass spice jar. I'll use this tomato powder to make my own tomato paste for our french-bread pizzas that RancherMan loves. And also to flavor our food or thicken other tomato products like my blender salsa.
So out of those tomatoes I got some homemade tomato sauce, some pasta sauce and now even dehydrated tomato paste. And except for the canning lids (because my reusable *Tattler Canning Lids are all being used right now) I created NO landfill-bound trash when I canned my marinara.
Plus I know just what's included in the food I've preserved – only natural, healthy stuff. I think that's a lot of mileage from a bundle of tomatoes!
~TxH~
Other Dehydrating Posts


C'mon by & sit a spell! Come hang out at our Facebook Page. It's like sitting in a front porch rocker with a glass of cold iced tea – lots of good folks sharing! You can also follow along on Pinterest, Twitter or Instagram.
If you'd like to receive an email each time a new blog post goes live it's EASY to
Subscribe to our blog!
*Amazon affiliate
Save
Save