by Texas Homesteader ~

I decided I wanted to make and pressure-can my own pasta sauce. Homemade sauce means you have complete control over what goes in (and more importantly, what DOESN'T!)
I'd already used my fresh garden tomatoes to make homemade tomato sauce. Now I'll turn some of it into flavorful pasta sauce. Check out how easy it is!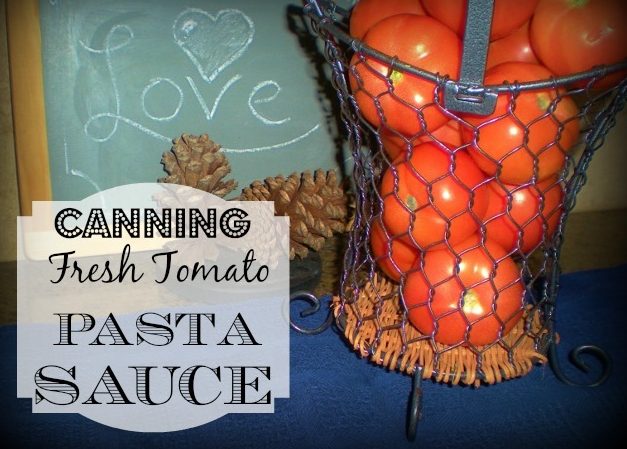 Garden Tomatoes Into Tomato Sauce
Last week we talked a bit about what you can do with a large quantity of fresh tomatoes – make tomato sauce!
Tomatoes are often a heavy producer in the garden and tomato products are used heavily in my kitchen. So it was easy for me to jump on the 'making-my-own-tomato-sauce-bandwagon'!
But there are only two of us in our home these days and that's a lot of sauce. So I decided to make some of it into pasta sauce. I like to use pasta sauce not only in spaghetti but any number of italian-flaired dishes. How wonderful to top my Meat-Stuffed Ravioli with my own homemade pasta sauce?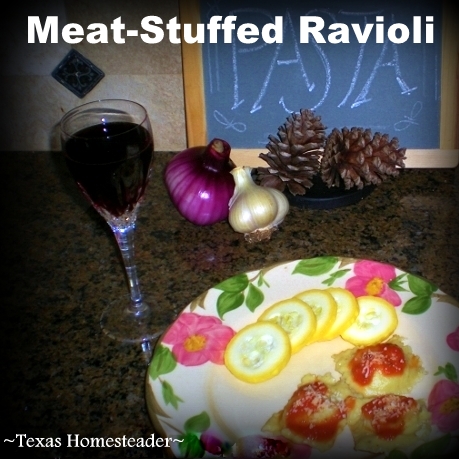 Since the tomato sauce was already prepared, making it into pasta sauce was a cinch. And having my own pasta sauce is healthier since I know every ingredient included.
It's also much cheaper & contributes no landfill-bound trash. Those canning jars can be used to store food over & over again in my pantry. You know that makes my crunchy-green heart sing!
Plus, c'mon, who doesn't love HOMEMADE??
Turning Tomato Sauce Into Pasta Sauce
I took some of my homemade tomato sauce & dumped it into a large stockpot. (I estimated that the original batch of tomato sauce was made from about 30 lbs of fresh tomatoes.)
For the veggies I sautéed 1 cup chopped onions, 5 cloves of minced garlic and a cup of chopped bell pepper in 1/4 cup vegetable oil to make them soft & intensify their flavor.
Then I stirred the sautéed veggies into my sauce and added 4 1/2 teaspoons of canning salt, 2 teaspoons of black pepper and about 4 tablespoons of minced fresh oregano.
Finally I added 1/4 cup of brown sugar to soften the flavor & acidity from the tomatoes.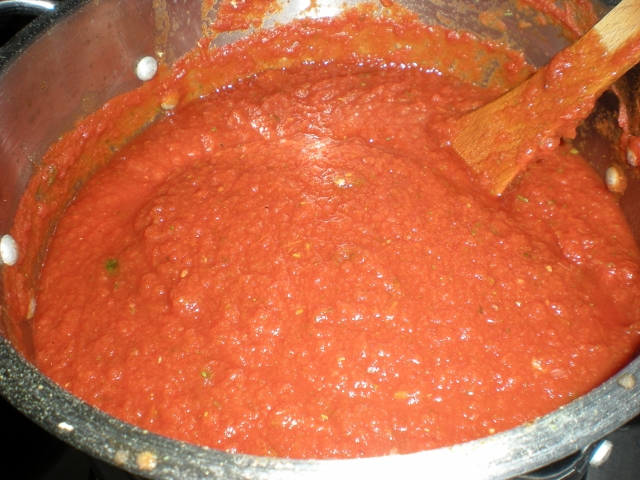 I got these measurements from a recipe I found at the National Center For Home Food Preservation site.
Please note that if you'll be canning your sauce you want to make sure you DON'T add more veggies than the canning recipe calls for since that could compromise the safety of your final canned product due to acidity issues. Primary problem vegetables are onions, peppers and mushrooms.
Canning The Pasta Sauce
I simmered my pasta sauce down until it was the consistency I wanted. Then I ladled the sauce into clean hot sterilized jars and pressure-canned them at 10 lbs for 20 minutes.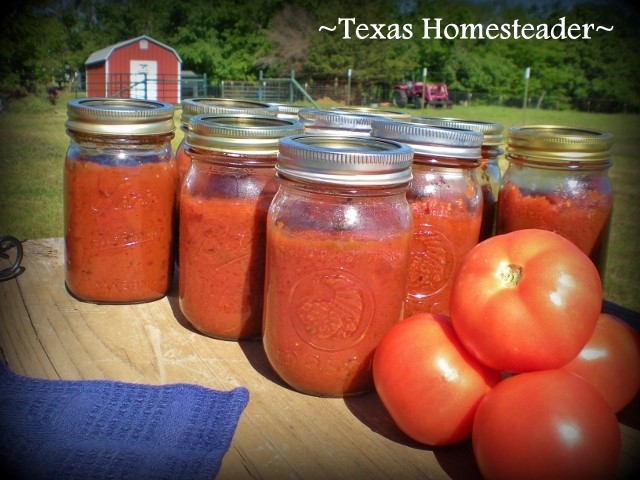 These directions worked beautifully for my area of the country and using my canner model. But many variables exist so be sure to follow YOUR canner's instructions for YOUR altitude so you can safely enjoy your fresh homemade pasta sauce!
I used the original recipe and amended the vegetable/herb additions to better suite our tastes. My recipe is below.
BUT I was careful not to add more vegetables than the recipe called for. Remember, adding too many veggies can alter the acidity balance and potentially result in a less safe canned product. (primarily onions, peppers and/or mushrooms)
But since I only omitted a small quantity of veggies and amended the herbs, we love the final result of this pasta sauce for our personal tastes.
Here's what I did: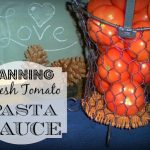 Homemade Pasta Sauce
Use those fresh garden tomatoes to make delicious homemade pasta sauce.  You can then pressure-can it to use all year long! #TexasHomesteader
Pressure Canning Pint Jars @ 10 lbs:
20
minutes
Ingredients
30

pounds

fresh tomatoes

(cooked into sauce with skins/seeds removed)

1

cup

chopped onions

5

cloves

garlic

, minced

1

cup

chopped bell pepper

1/4

cup

vegetable oil

1/4

cup

brown sugar

4 1/2

teaspoons

canning salt

2

teaspoons

black pepper

4

Tablespoons

fresh oregano

, minced
Instructions
After tomatoes have been made into sauce with skins/seeds removed, chop onions and bell pepper and mince garlic and add veggies to a pan coated with a little oil. Saute the vegetables until soft and add to your tomato sauce.

Stir in brown sugar, salt, pepper and minced oregano. Simmer pasta sauce until it's the desired consistency.

Ladle hot pasta sauce into clean sterilized canning jars and attach canning lids. Can pasta sauce in pressure canner for 20 minutes at 10 lbs (for safety, please follow YOUR canner's directions for your location)
Recipe Notes
NOTE: When canning sauce do not add more vegetables than the recipe indicates. To do so would compromise the safety of your canned product.
~TxH~
Other Canning Posts
…And Many More


C'mon by & sit a spell! Come hang out at our Facebook Page. It's like sitting in a front porch rocker with a glass of cold iced tea – lots of good folks sharing! You can also follow along on Pinterest, Twitter or Instagram.
If you'd like to receive an email each time a new blog post goes live it's EASY to
Subscribe to our blog!
Save