~ by Texas Homesteader ~
When it's pear season, I like to use them to make fresh pear preserves. It's a favorite of RancherMan's for sure!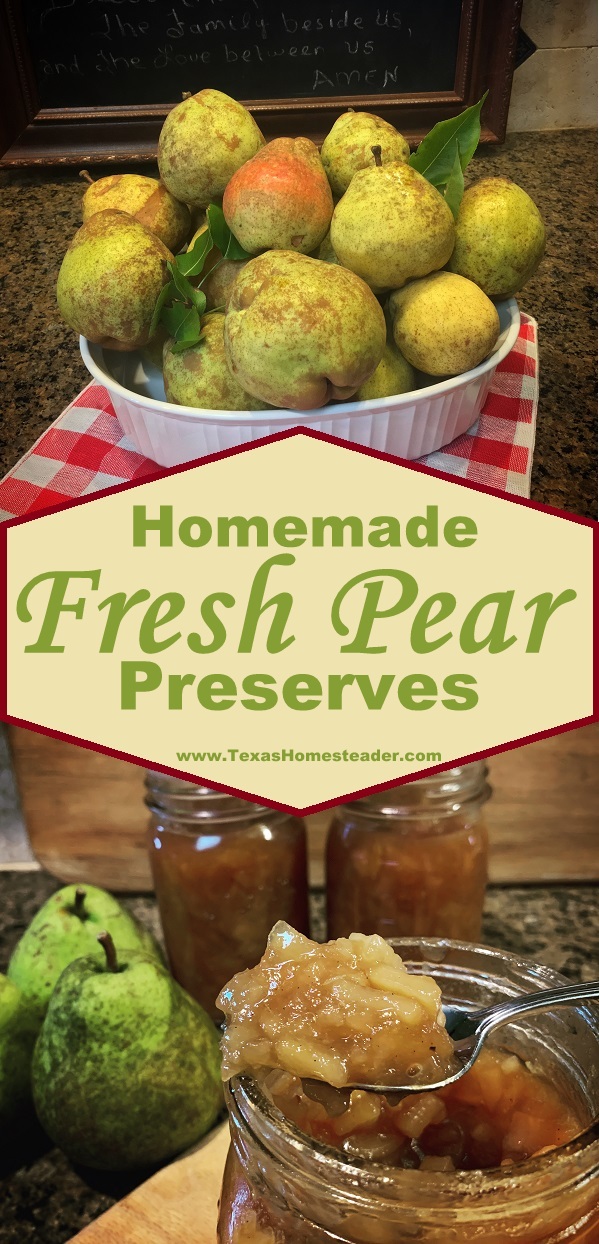 Jump to Recipe
(Note: Some links in this post will take you to other related articles for further information. But links preceded with * are affiliate links. If you click and buy something I could receive a tiny commission.)
RancherMan loves the pear preserves typically made by a close family friend. So I called her up & asked if she would share her recipe.
Being the sweetheart that she is, she did! And she said I was welcome to share the recipe with you. (Thanks Virginia)
Picking Fresh Pears
A sweet friend invited me to come pick some of the pears from her huge pear tree recently. And of course I jumped on that offer!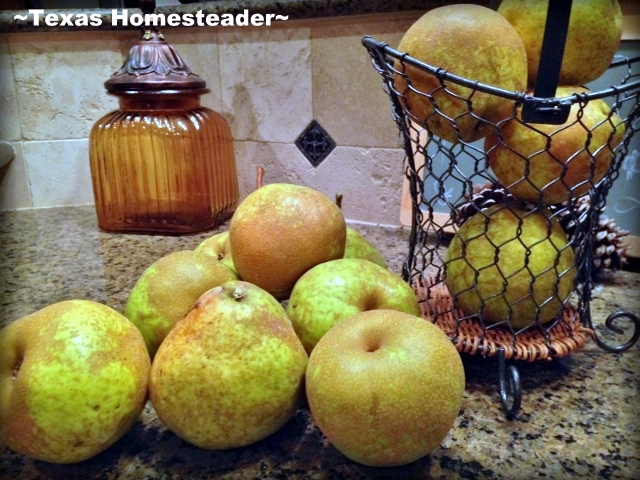 RancherMan & I showed up at her house armed with a feed sack that typically holds 50 lbs of feed. We proceeded to fill that bad boy up with pears!
We thanked her profusely, waved goodbye and came home to begin processing all those pears.
Having so many pears to go through I was very thankful that I had this * apple peeler
to get me through it quickly.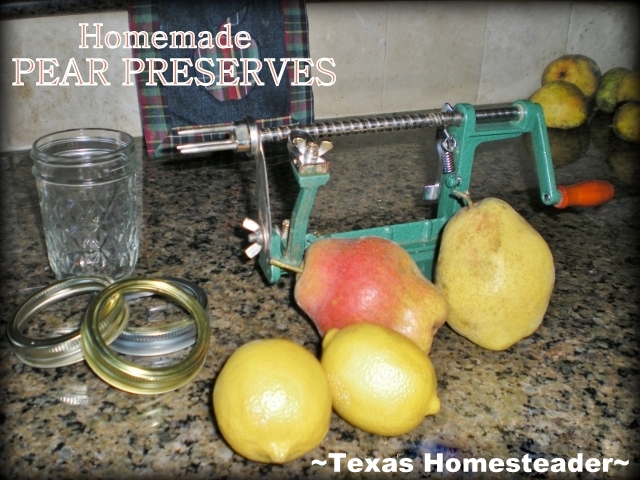 I don't know what I would do if I had to peel that many pears with a paring knife! I found that I could peel, core & slice a pear in 5-7 seconds! WOO-HOO, watch me go!
Of course the first thing I canned was a couple of batches of pear halves in light syrup. I love to eat these right out of the jar cold from the fridge.
But now I'll be making RancherMan's favorite pear preserves using Ms. Virginia's recipe.
Why Are My Pear Preserves Too Juicy?
I preferred to make these pear preserves in double batches. And with the first double-batch of preserves I made, I followed the recipe exactly.
But it seemed to have too much syrup. And I had to boil the pears over 2.5 hours to get it to the consistency I wanted.
I asked Virginia about this & she said it appeared my pears were very ripe. She recommended that I should try it again with the same amount of sugar but less water & slightly more pears per batch.
2nd Batch Homemade Pear Preserves Success
So for my second double-batch I peeled cored & chopped about 10 cups of pears instead of 8. I dropped them into a solution of Fruit-Fresh & water to keep them from turning dark.
When I had the pears prepared I pulled out my big stock pot & stirred 3 cups sugar into only 1 cup water this time. It did seem to help the quantity of syrup.
When the syrup had boiled about 10 minutes I added my prepared pears and a few slices of lemon. I only boiled the pears this time for about 1 hr 15 minutes.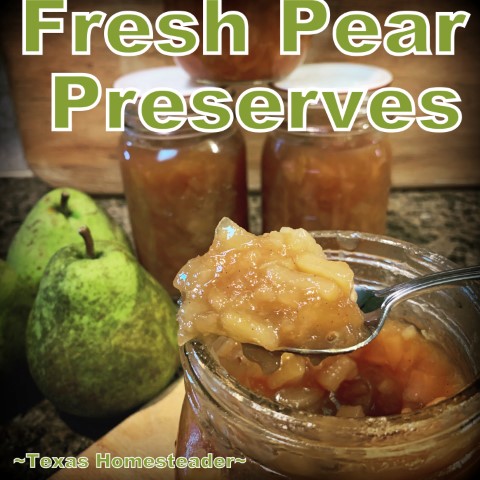 When they were as thick as I like I turned off the heat, stirred in a tablespoon of vanilla & ladled the preserves into hot washed & sterilized jars to can them.
I wiped the rim of any syrupy drips and placed the two-part canning lid in place. These jars can now be sealed in a hot-water bath for 10 minutes.
The resulting pear preserves this second time were a lighter color. Maybe because I didn't simmer the pears as long, although I really love the golden color of the first batch too. Both were absolutely delicious!
Virginia warned me not to try to make more than a double batch at a time so I heeded her advice and made two double batches. Each of the double-batches I made yielded 6 half-pints.
Favorite Fresh Pear Preserves Recipe
So without further adieu here's the single-batch recipe & Virginia's instructions
(I have included a few of my own notes below in italics)
Did you make these Pear Preserves? Please rate the recipe in your comment below!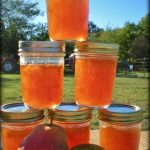 SINGLE-BATCH PEAR PRESERVES RECIPE
This delicious recipe yields 3 half-pints of pure bliss. I always double it! The recipe was shared by a dear friend and is RancherMan's absolute favorite preserve.  I'm happy to make it for him every year.
Cook Time
1
hour
30
minutes
Water-Bath Canning Time - half pints
10
minutes
Servings
3
Half-Pint Jars
Ingredients
1

quart

(4 cups) peeled, cored & cubed pears

1.5

cups

sugar

1

cup

water

I only used 1/2 cup for my very ripe pears

1

lemon

sliced 1/4" with seeds removed

1

Tablespoon

Vanilla extract

(optional - I added after pears were cooked but before adding to jars)
Instructions
DIRECTIONS: Peel, core, and cut up the pears. You will need 4 cups of pears PER BATCH ready to go.

Make a syrup of 1 1/2 cups of sugar and 1 cup of water. (less water for very ripe pears) Boil about 10 minutes to dissolve the sugar and start the process of creating syrup, then cool slightly.

Slice lemon into approximately 1/4" slices and remove the seeds. Add lemon slices to the syrup when you start the process with the pears, three or four slices to each quart of pears.

Add prepared pears & lemon slices and bring to a slow boil. Once boiling, boil rapidly until the pears are translucent and tender. This generally takes about 30 minutes to one hour.

(note, my boiling process took longer. Watch for the pears to turn translucent and for the syrup to thicken to your liking)

Watch the boiling pears closely as they can burn very badly quickly.
Canning Pear Preserves
Place hot preserves in clean, hot 1/2 pint canning jars, leaving 1/2" headspace.

Wipe jar rim and place 2 part canning lid and ring on top of jar, tightening only finger tight.

Lower jars into water bath and make sure water covers the top of the jars by 1" - 2".

When water returns to boil, process preserves 10 minutes. Then carefully remove from water-bath and place jars in draft-free location for 24 hours before removing the rings, testing the seal, wiping down and labeling the jars.
Recipe Notes
Note from Ms. V: This recipe comes from my mother's Kerr canning book circa 1938. It is a slow process but so worth it.
* * * * * * * * * *
Thanks Virginia – you're the BEST!
~TxH~
This post categorized in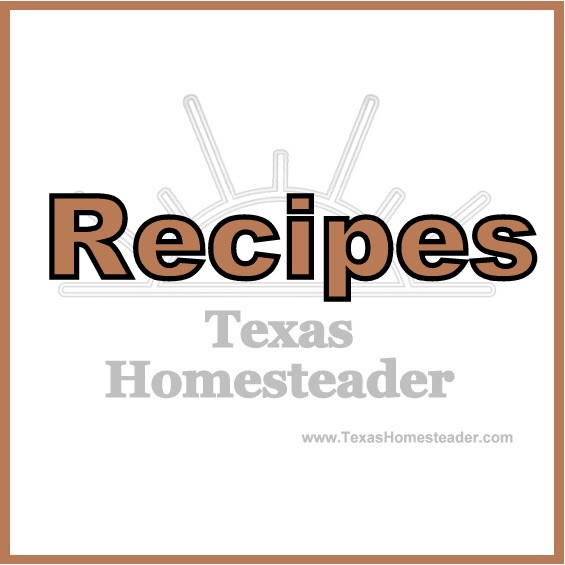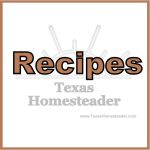 Other Pear Delights:
Our Delicious Jelly & Preserves Recipes:

* A word about our Affiliate Link – We are currently enrolled as an Amazon Affiliate. Occasionally I will insert an affiliate link into one of my posts if I think it may be of interest to you. I receive nothing from the manufacturer and I only link to products that I have used & love and feel you might love too. If you click on any of my affiliate links and buy something (almost anything, not just what was linked) I get a small referral percentage from Amazon. But here's the really important part – the price you pay for your items is UNCHANGED.


When you buy something through the affiliate link it's a great way to support this blog. Nothing extra comes out of your pocket so please click often!
Save
Save
Save
Save