by Texas Homesteader
*this post contains an affiliate link
A sweet friend offered to let me pick pears from her very large pear tree.  I love pears both fresh and home-canned so I eagerly accepted her offer.
I made pear preserves with some of the pears primarily because RancherMan loves them so much. But I love to eat canned pears in light vanilla syrup as a simple dessert, eaten cold right out of the fridge. So today I set out to can some of these delicious pears.
Wait A Minute – Slow Down!
Now just because I have these visions of beautifully-preserved pears in my head doesn't mean I jump right in and start preparing the pears yet.
Remember when you were in elementary school and finally got to join the class that would teach you to play your very first musical instrument – the recorder?? You eagerly squirmed in your seat for the chance to play, visions of amazing music dancing in your head. But the teacher wanted to first drone on & on about musical notes, composition, the history of music and blah-blah-blah…
Yes, for me canning is EXACTLY like that! Even though I'm anxious to get those pears canned I've found that doing all the prep work beforehand really helps things go smoothly.
Gathering Supplies
So before I ever touch a pear the first thing I do is prepare the canning jars by washing them thoroughly. Then I place the clean jars in my oven set to 225 degrees to sanitize them and keep them hot.

Now I assemble all my tools – the water-bath canner, canning lids, jar lifter, pot holders, stainless-steel straining spoon. etc. Today I'm using reusable * Tattler Lids. I love how they're almost infinitely reusable. It's always bothered me from an environmental standpoint to only be able to use part of a standard 2-part canning lid once and then have to throw it away.
Now that my supplies are gathered I add some water to a small pan to use to soften the sealing part of my jar lids when it's time. I also fill the canner with water & set it on the stove to begin heating up. When all is ready I'm finally ready to begin processing my pears.
Preparing The Pears
Now peeling all these pears with a knife is a daunting task indeed! Thankfully I had this *apple peeler. I found that I could peel a pear in 5-7 seconds using this thing! This helped make short work for the most tedious part of this process. All the pear scraps went to our three baby goats who thanked me profusely for them!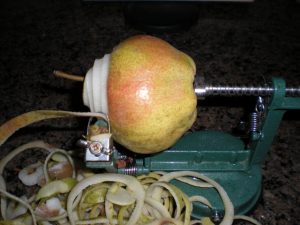 As each pear was peeled I dropped it in a solution of Fruit Fresh and water. This keeps them from turning dark after they're peeled. When I had a good supply of pears peeled I cut them in half & scooped out the hard middle seed section and dropped them back into the Fruit Fresh mixture.
Making The Vanilla Simple Syrup
When I had enough pears prepared to fill my jars I got to work making my vanilla-flavored simple syrup. Simple syrup is just a mixture of sugar and water. But changing the ratios makes for either light, medium or heavy syrup. I prefer a light syrup as I think the pears are sweet all by themselves.
Light syrup is a ratio of 1 part sugar to 3 parts water. So for my quantity of pears I stirred together 2 cups sugar to 6 cups of water and brought the mixture to a boil for 3-4 minutes to fully dissolve the sugar.
Then I added my prepared pears and let them simmer in the simple syrup only for 5 minutes to get everything good & hot. This is called 'Hot Pack' and it helps keep the fruit from floating as much after it's canned. Finally I splashed a little vanilla extract into the pears & syrup.  I really like the resulting flavor when vanilla extract is added!
As the pears were simmering I brought my pan of water to be used for the lids to a boil. When the water started boiling I removed it from the heat and dropped in the rubber rings from my Tattler lids and also the Tattler lids themselves. Soaking the lids in hot (not boiling) water allows the rubber to soften and helps give a better seal.
Filling The Jars
After simmering my pears I ladled them into my washed, sanitized and still-hot canning jars.  Then I topped them off with syrup, leaving 1″ headspace to keep it from bubbling over in the canner. I ran a rubber spatula handle around the pears to allow any trapped air bubbles to be released. And I wiped the rims of the jars to assure there was no food or syrup there to keep the sealing process from completing. Then I topped each jar with the two-piece tattler lid and tightened it down finger-tight with a standard canning ring and put each jar in a simmering water bath canner making sure I had at least l" water covering the jars.
Canning The Vanilla Pears
I process my pints for 20 minutes & my quarts for 25 minutes. (your time could vary based on altitude and even your canning equipment. Be sure to follow the instructions for your area) Since I was canning quarts this time I processed this batch in the water-bath canner for 25 minutes after it returned to boiling
Then I carefully brought each jar out and placed them on a towel on the counter. I left them  undisturbed until morning to cool & seal. The next morning I was able to remove the canning ring and test the seal by very gently pulling up on the lids. All of them sealed properly!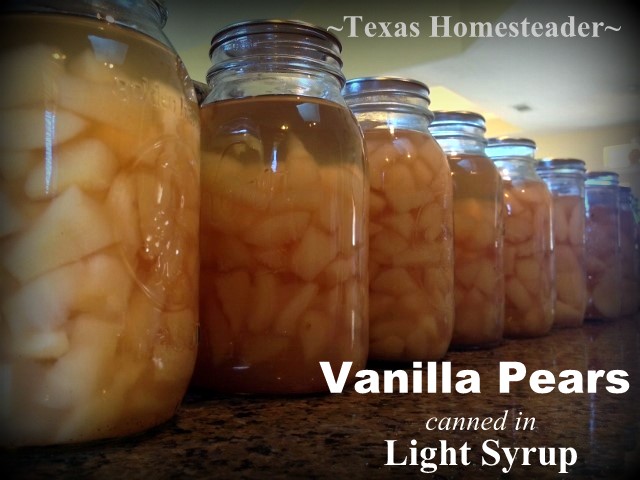 So I washed down each jar with a warm soapy cloth to remove any traces of syrup on the jars and I now have several jars of these sweet pears waiting on my pear-eating whim!
Other Pear Delights:
Other Canning Posts
…And Many More
~TxH~


C'mon by & sit a spell!  Come hang out at our Facebook Page. It's like sitting in a front porch rocker with a glass of cold iced tea – lots of good folks sharing!  You can also follow along on

Pinterest

, Twitter or

Instagram

.
If you'd like to receive an email each time a new blog post goes live it's EASY to
Subscribe to our blog!