by Texas Homesteader
*affiliate link
Remember my aunt shared with me several bushels of sweet ripe apples from her backyard tree? Well y'all, I'm still working on getting all of those delicious apples preserved.
One of my easiest go-to things to do with lots of fresh apples is to use my slow cooker to make homemade applesauce. I take those apples that might be not quite right for eating fresh or pretty enough for making apple pie filling and turn them into applesauce.
You know the ones, those beautiful apples that maybe have a wind-fall bruise or small bird peck that needs to be cut out? None of that matters if I'm making applesauce!
I like to use plain unsweetened applesauce as a delicious snack and also as a replacement for some of the oil I use when baking. But I have a LOT of applesauce and I'm thinking about maybe using some of it for an even sweeter treat: Cinnamon-Vanilla flavored applesauce.
It couldn't be easier, check it out!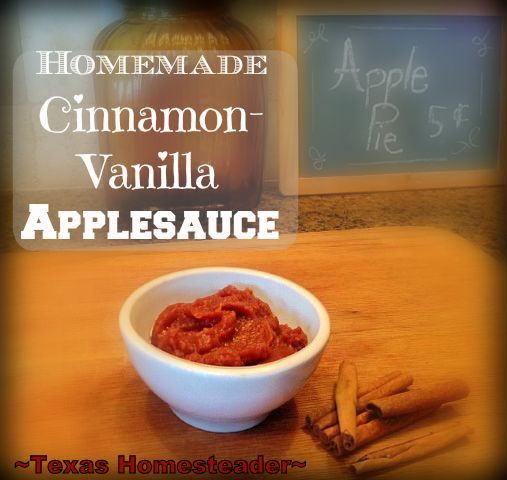 (Note: Some links in this post are for further information from earlier posts I've written. But links preceded with * are affiliate links. If you click them and buy something (almost anything, not just the item noted) I could receive a small purchase. But the price you pay will NOT change. It's an easy way to support this blog without anything coming out of your pocket. So click often! Thank you!)
Preparing The Apples In A SNAP!
First I peeled/cored/sliced the apples I wanted to cook using this handy *Apple Peeler/Slicer/Corer.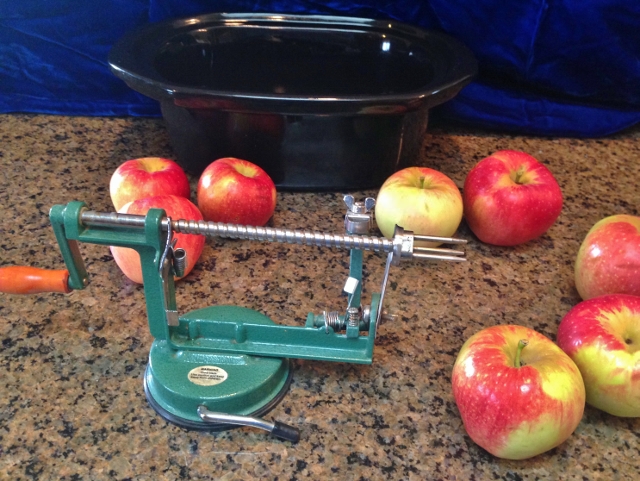 Now I've said it before and I'll say it again – this little dude makes the tedious chore of preparing apples for cooking into a lightning-fast thing. RancherMan & I could peel/slice/core an apple in seconds!
Then I trimmed any areas that needed to be discarded and tossed them into my composter. finally I made my homemade applesauce in a slow cooker.
Making Cinnamon-Vanilla Applesauce
I canned that unsweetened applesauce so I could enjoy it all winter long. But I wanted to make Cinnamon-Vanilla flavored applesauce as well.
So I took six cups of my leftover applesauce, added 1/4 cup sugar, a tablespoon of cinnamon and 2 tablespoons of vanilla, blended it all together.
Then I placed it in 1/2-pint canning jars and canned it in a water-bath canner for 20 minutes.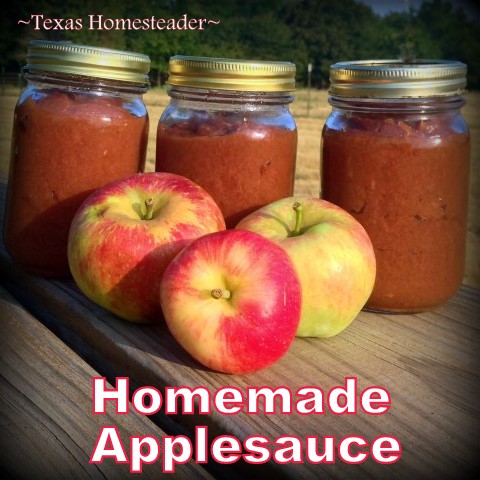 Since there are variables to canning such as altitude and equipment be sure to follow your canners recommendations for your area. Food safety is important!
I love that I've very inexpensively provided my family a sweet treat containing only healthy ingredients.
Plus the environmental side of me loves that these sweet treats don't involve tons of landfill-bound trash like their commercial counterparts.The glass canning jars can be washed and reused time & time again.
And I even canned some of them using my reusable *Tattler Canning Lids! Now that's something that makes my crunchy-green heart smile!
Cinnamon/Vanilla Applesauce
6 cups homemade applesauce
1/4 cup sugar
1 Tablespoon cinnamon
2 Tablespoons vanilla
Blend all together and process in a boiling water bath 20 minutes for both pints & 1/2 pints
~TxH~
Other Delicious Apple Recipes
*Amazon affiliate link
Save