by Texas Homesteader ~
*affiliate link
When the grandkids come to visit I like to get in the kitchen with them and make these fun apple hand pies (little apple pies you can hold in one hand).
It's fun for me and for them too. Come see how.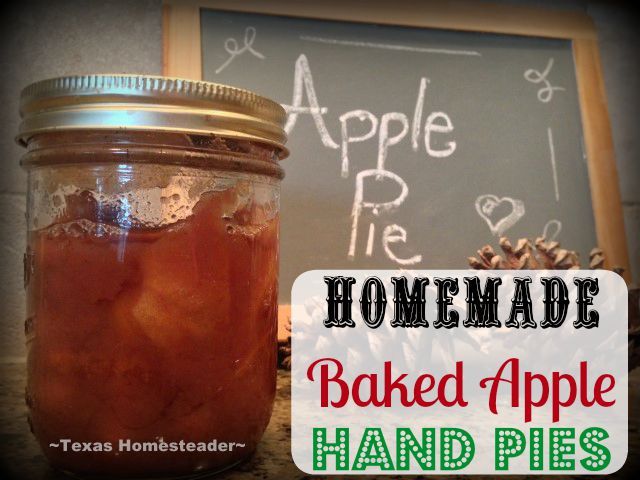 (Note: Some links in this post are for further information from earlier posts I've written. But links preceded with * are affiliate links. If you click them and buy something (almost anything, not just the item noted) I could receive a tiny commission. But the price you pay will NOT change. It's an easy way to support this blog without anything coming out of your pocket. So click often! Thank you!)
Grandkids Come To Visit
RancherMan and I recently got to enjoy our grandbabies for a week while their parents were out of town. What a fun time we had with them!
The oldest was very amused that I make so many things from scratch. Ya know, there are several reasons for that – it's healthier, it's obviously cheaper, there's less landfill waste. And c'mon let's be honest, it's fun to feel self sufficient.
But one day I asked them if they wanted to help me to make some homemade Baked Apple Hand Pies. (little apple pies you can eat with one hand – much like fried pies) They were both very excited to jump in the kitchen and get to baking with grandma.
Simple Kitchen Fun
This was a pretty quick & easy dessert to whip up but it still left them with plenty of 'wow' sparkle in their eyes.
Last year my sweet aunt shared bushels of apples from her tree. I canned many of them into Homemade Apple Pie Filling. So for this homemade dessert I used one of my last jars from the pantry.
If you don't have home-canned apple pie filling, no worries – you can just as easily use commercial apple pie filling (or any other flavor) if you like.
Easy Pie Crust
First I whipped up my Easy Flaky Pie Crust recipe that I shared with y'all previously. Then we all set to work making some pies.
I divided the crusts up into even-ish dough balls and the kids helped me roll the crusts out using a small pasta roller. I was easier for them to handle than a rolling pin.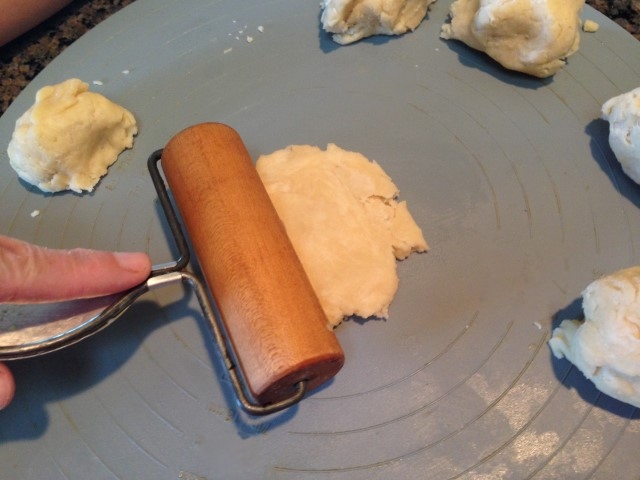 Once we got a bottom crust rolled out I took my cookie scoop (like *this one) and dropped a scoop of apple pie filling into the middle of the crust.
Assembling The Hand Pies
Then we rolled out & topped the bottom crust & filling with a top crust. The girls took turns pressing it all together into individual hand pies using a handy-dandy little utensil called *Cut-n-Seal.
I think this little utensil made it much more fun for the grandbabies.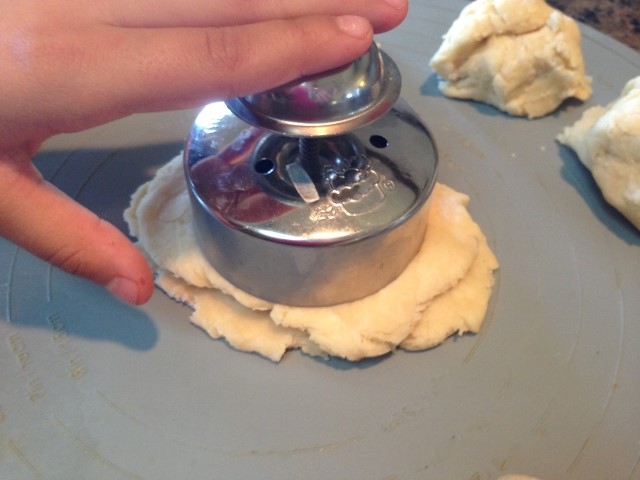 But you can just roll out a round of dough, plop in a little filling in the middle and fold the crust in half, covering the pie filling. Then you can press the edges of the dough with the tines of a fork to crimp the edges together. It will work just as well.
But our hand pies came out in a fun shape – the girls were convinced it looked like a snowman's hat. LOL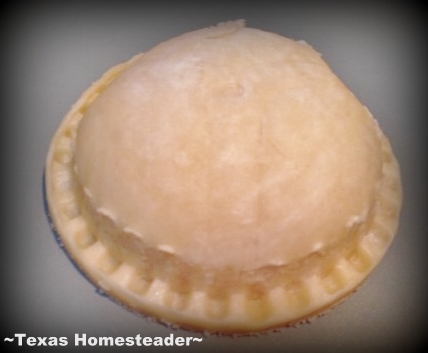 I cut a few slits on the top crusts to allow steam to escape then I simply placed the Hand Pies on a greased cookie sheet and baked at 375 degrees for about 30 minutes and BOOM! Homemade individual-serving apple pie in a snap!
I served those hand pies warm out of the oven. Really – does it get any better than that?? RancherMan and the grandkids gave it two thumbs up – DELICIOUS.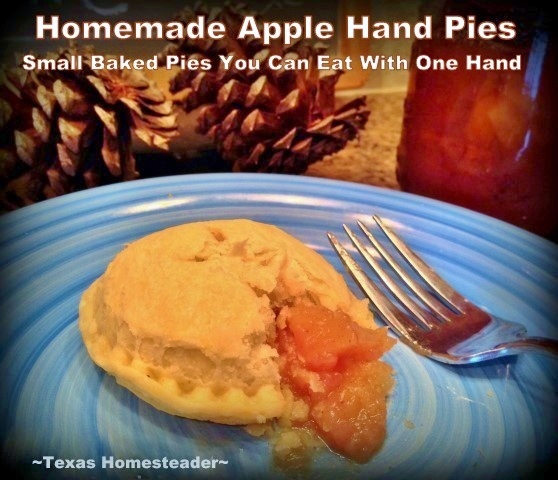 This is a quick homemade dessert that's sure to please!
It's quick & easy enough in fact that you can emerge from the kitchen with a little flour dusted on your face and somewhat tousled hair and your guests will think you spent tons of time in the kitchen cooking up these cute little pies just for them!
Shhhhh…. I won't tell.
~TxH~
Links In This Post:
Other Delicious Apple Recipes


C'mon by & sit a spell! Come hang out at our Facebook Page. It's like sitting in a front porch rocker with a glass of cold iced tea. There are lots of good folks sharing!
And you can also follow along on Pinterest, Twitter, Instagram
If you'd like to receive an email when a new blog post goes live,
subscribe to our Blog!
Save
Save
Save