by Texas Homesteader ~
I wanted to bake little individual apple pies. It makes an oh-so-cute and delicious dessert.
And it's company worthy too. Just cut the crust with a canning ring, put it in the jar and pile in the apple pie filling.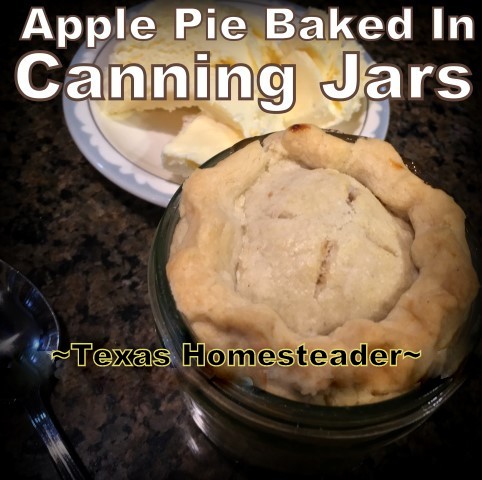 (Note: Some links in this post are for further information from earlier posts I've written. But links preceded with * are affiliate links. If you click them and buy something (almost anything, not just the item noted) I could receive a small commission. But the price you pay will NOT change. It's an easy way to support this blog without anything coming out of your pocket. So click often! Thank you!)
UPDATE: Canning Jars Are Not Oven Safe
I baked these cute little apple pies in wide-mouth half pint mason jars. Then I noticed a small crack on the bottom of one of the jars. Not enough to crack all the way through but more like a fracturing of the glass.
I contacted the canning jar manufacturer about this and they indicated that canning jars are not tempered glass and should not be used for oven baking.
So although my photos below show canning jars being used, I no longer recommend using them in the oven. Instead of using canning jars I'm recommending you use *Small Ramekins With Lids for making these cute individual apple pies.
Individual Apple Pies Using Only TWO Ingredients
Making individual apple pies requires only two ingredients and 4-6 small ramekins.
Apple Pie Filling – I had homemade apple pie filling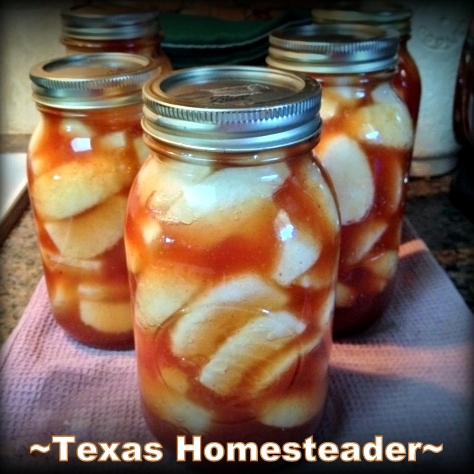 Pie Crust – I used my own homemade pie crust.
Really – that's it!
Making Individual Single-Serve Apple Pies
Here's the abbreviated instructions to make those cute individual apple pies:
Make piecrust. (or buy pre-made)
Line ramekins with piecrust.
Add pie filling.
Top with more crust.
Bake @ 350F degrees for 45 minutes.


What I'll Change Next Time I Make Individual Apple Pies
Now when I make this again I may make some minor changes.
Reduce The Crust Volume: I'll probably just use a bottom crust and a top crust, not bothering to line the sides. I felt that much crust made each individual pie a little too 'crust-heavy'.
Diced Instead Of Sliced Apple Pieces – I'll also chop the apple slices a little smaller. The small ramekin makes it a little difficult to spoon up the apples in full slices or even half slices when enjoying the small pies.
Only Fill Jars 2/3 Full – I'll only fill the ramekins 2/3 full. Plus that way there's room on top for a dollop of vanilla ice cream.
And if the top crust is fully contained inside the jar you could cook these cute pies earlier in the day and then put lids on the cooked and cooled pies until you enjoy them tonight for supper.
How Many Individual Apple Pies Can You Make?
I'm guessing you could make at least 6 individual apple pies! I used all my crust on the 4 individual apple pies I needed. But I still had about 1/3 of my quart jar of apple pie filling left.
Depending upon how thickly you line your ramekins with piecrust and how full you fill your ramekins with pie filling you could make up to 6 individual pies.
UPDATE: The mason jar company has informed me that canning jars are not made of tempered glass and could crack in a dry-oven cooking environment. Therefore instead of canning jars, please make these cute pies in small ramekins.
But the pies were delicious and made an oh-so-cute presentation, so I'll absolutely do this again with the above changes. Here's the recipe as I plan on amending it:
Did you make these single-serve individual apple pies? Please rate the recipe in your comment below!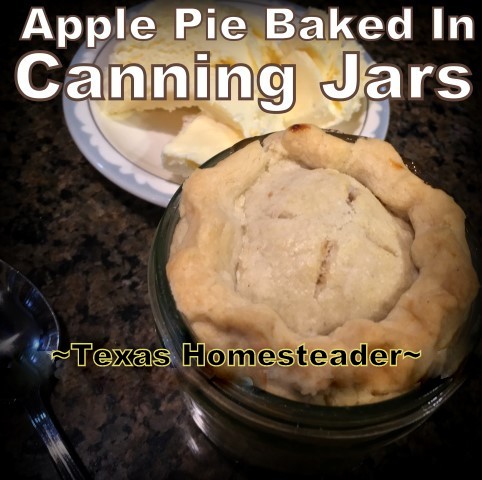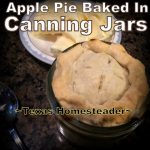 Single-Serve Apple Pies Baked In Ramekins
Serving apple pies in small single-serve ramekins makes for a cute presentation. Be sure to leave just enough room for a small dollop of vanilla ice cream. #TexasHomesteader
Ingredients
20-0z

can

Apple pie filling, or about 2 cups (can use other flavors)

I used a quart jar of homemade apple pie filling

1

Prepared piecrust

(can buy pre-made or make from scratch)

4 - 6

Small ramekins & lids
Instructions
Preheat oven to 350 degrees F.

Make piecrust and press enough into bottom of the ramekins to cover bottom.

Add apple pie filling to about 2/3 full

Use a canning jar ring to cut circle of piecrust dough for top of pie. 

Press circle of piecrust dough into decorative crimp, cut into strips to form lattice. or just lay on top. 

Cut slits in top of dough so steam can escape. Place filled ramekins onto cookie sheet (they will bubble over)

Bake in 350 degree oven for 45 minutes, or until crust is lightly brown. Remove from oven & enjoy.
Recipe Notes
NOTE: You can make these apple pies earlier in the day, cool completely and top with lids for short-term storage in the refrigerator.
UPDATE: The mason jar company has informed me that canning jars are not made of tempered glass and could crack in a dry-oven cooking environment. Therefore instead of canning jars, please make these cute pies in small ramekins.
~TxH~
This post categorized in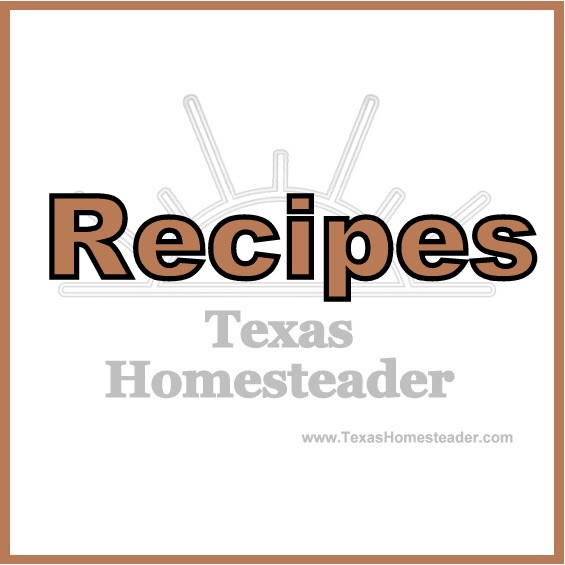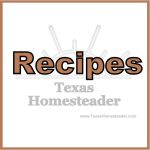 Other Easy Desserts
Cakes, Pies, Cobblers
Muffins, Breads
Cookies
Puddings
Ice Cream & Other Desserts
Dessert Toppings


C'mon by & sit a spell! Come hang out at our Facebook Page . It's like sitting in a front porch rocker with a glass of cold iced tea. There are lots of good folks sharing! And you can also follow along on Pinterest, Twitter or Instagram
If you'd like to receive an email when a new blog post goes live,
subscribe to our Blog!