by Texas Homesteader ~
Keeping the grocery budget low & eliminating waste is important in our household. Oftentimes that means Planned Leftovers. But sometimes it's just making Fast Food by reworking leftovers into a brand new dish.
When it's time to plan a meal I typically look at what I have to be used and build a meal around those things. That way there's no food waste. And if I'm using leftovers, the bulk of the meal has already been cooked. All that's left is to do is to think outside the box and use a little leftover magic. Bibbidy-Bobbidy-BOO – let's see what we can do!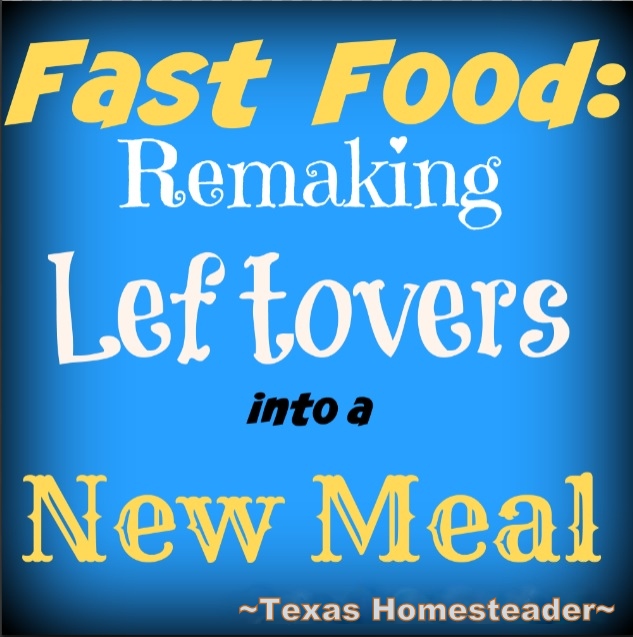 The other day we hosted my parents for supper, serving grilled steak and roasted fresh veggies. The day after our cookout RancherMan & I enjoyed some of that steak for lunch. We sliced the steak thinly & added some onions & peppers from the roasted veggies and rolled them in tortillas for a quick meal.
It was delicious but there are still leftovers in the fridge. I don't want them wasted!
Leftover Steak Into Beef Tips & Noodles
For today's Fast Food dish I've decided to remake those leftovers into beef tips & noodles for supper tonight. I'll warm the leftover roasted veggies separately as a vegetable side dish.

I enjoy homemade pasta – thankfully it's super easy to make and uses precious few ingredients. But of course if need be you can make this food even faster by using purchased pasta instead.

But today I'll make homemade pasta noodles & make them garlic/pepper flavored. I figure garlic-flavored pasta can be used in almost any dish so I'll be able to easily use any leftovers easily without flavors clashing. See, already thinking of how to use up any potential leftover noodles!

So I used homemade broth in the noodle dough, flavoring it with a sprinkling of pepper & about 1/2 teaspoon of powdered garlic. RancherMan helped me roll and cut the dough into noodles. Then I put them into nests on the counter to dry.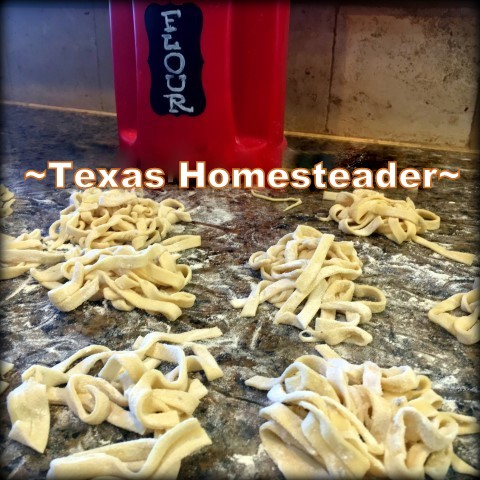 When it was time to cook the pasta I used the rest of the broth I'd thawed. Fresh pasta cooks in a pot of salted water (or broth) in only 1-3 minutes.
When I drained the pasta I kept the starchy broth and returned it to the pan. I thickened it with a little cornstarch for a gravy-like consistency. Then I added a little salt/pepper & stirred in the thinly sliced steak cubes and let it heat through.
When all was ready I placed a serving of homemade noodles on the plate and ladled some of the meat & gravy on top.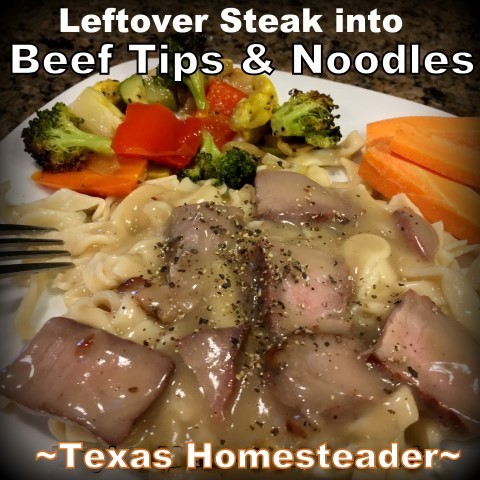 It was delicious and since it was using so many leftovers the cost of this meal was almost nothing!
How do you keep your grocery bill down? Share your tips!
~TxH~
New Meals Remade With Leftovers
Beef
…and MUCH MORE!


C'mon by & sit a spell! Come hang out at our Facebook Page. It's like sitting in a front porch rocker with a glass of cold iced tea. There are lots of good folks sharing!
And you can also follow along on Pinterest, on Twitter, or on Instagram
To receive an email when a new blog post goes live it's EASY to
Subscribe to our blog!