by Texas Homesteader ~
*contains affiliate link
Have you ever made your own homemade pasta? It's heartier than the pasta you buy in the store. I've discovered just exactly how easy it is to make homemade pasta from scratch. Other than water there are only 3 ingredients in my pasta recipe:
Flour, Egg & Salt.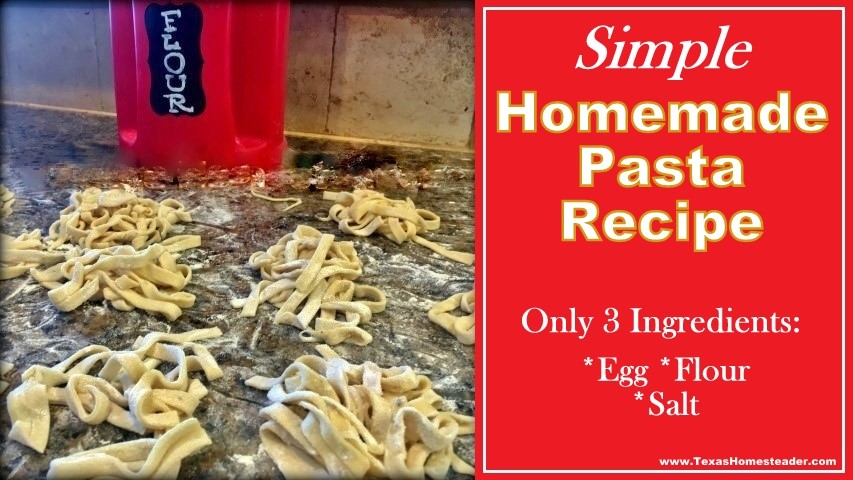 (Note: Some links in this post are for further information from earlier posts I've written. But links preceded with * are affiliate links. If you click them and buy something (almost anything, not just the item noted) I could receive a tiny commission. But the price you pay will NOT change. It's an easy way to support this blog without anything coming out of your pocket. So click often! Thank you!)
When I was a child we had a family friend who made pasta from scratch. Boy were we all impressed! That was until I found out how easy it is to make homemade pasta.
Baby Steps Learning To Provide
Years ago I began my voluntary simplicity journey. I became interested in how to make more of the items my family consumed. And I knew in doing so the result would be healthier, less expensive and gentler on the earth.
So I started off easy, learning to make my own spice mixes and cooking more from scratch. I found much pride and enjoyment in learning old-time methods.
Had I really become so far removed from my food that I was under the misconception that it was too difficult to provide these basic foods myself??
Like many of the things I've since learned to make myself, I was shocked at how easy and inexpensive pasta was to make and how few basic ingredients are involved.
And I've experimented with making flavored 3-color Pasta too. Making your own pasta is versatile & so easy!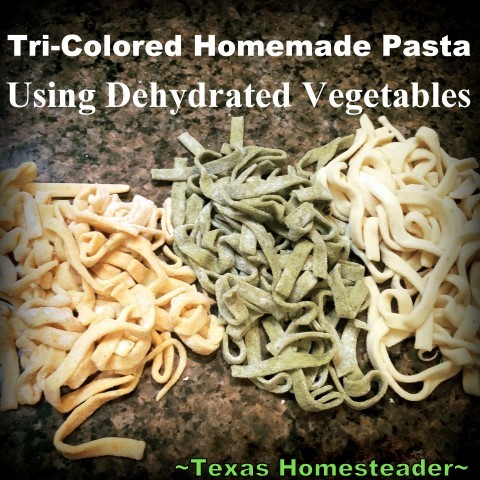 Wanna be amazed? Here's how easily it all comes together.
Easy Homemade Pasta-Making Steps
I start by measuring two cups of all-purpose flour onto my counter. Many people use special semolina flour for making pasta. But I typically use plain ole all-purpose flour for mine. It always turns out delicious. Use whatcha got!
Today I also took advantage of the oregano I recently harvested & dried from my garden. I sprinkled about 1/2 teaspoon of the powdered dried oregano right into the flour. This will add an Italian flavor to my pasta.
Finally I added 1/2 teaspoon of salt and stirred it all together with a fork.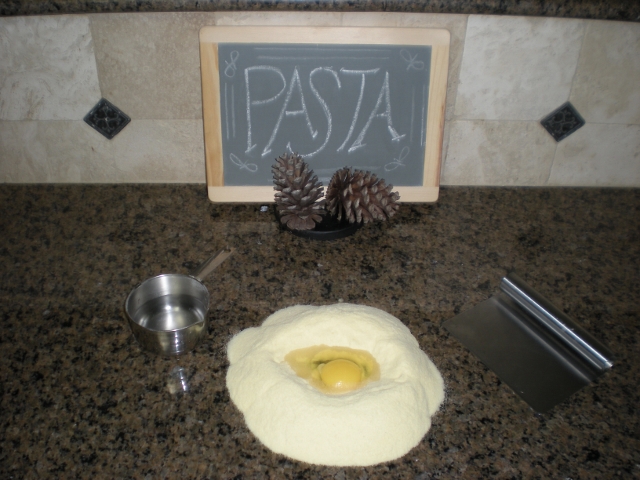 I made a little well in the middle of my flour mountain and cracked an egg into it. I stirred the egg with my fork until it was mixed well.
Then I slowly added 1/2 cup water, stirring with my fork and gradually incorporating more & more flour until it became thicker.
Finally I mixed it all together with my hands as it became a dough. I knead it until it's smooth. (maybe around 4 minutes)
The dough is then divided into 3 equalish pieces and covered with a towel. It is allowed to rest for about 15 minutes.
Rolling Out The Pasta Dough
After the dough has rested you can roll out the pasta dough and cut it to the length & width you like.
You don't really need any special appliances for these steps, you can accomplish it with just a rolling pin and a knife of course.
But I was given this *Pasta Machine
years ago as a gift and I love it. So I typically use it instead.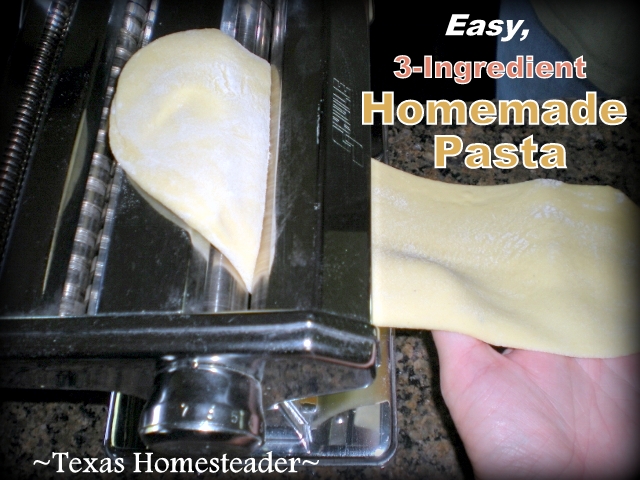 Although I'm able to roll the pasta by myself using this pasta maker, it's helpful to have two people to work the pasta roller: one person to feed the dough and catch the ribbon of pasta that comes out the bottom and another person to turn the crank.
So this meal typically becomes a shared family activity for RancherMan & me here on the homestead. Love it!
Cutting Pasta Into Noodles
Sometimes I leave the pasta dough in sheets so I can make lasagna or delicious homemade ravioli for supper. But other times I want to cut the pasta dough into noodles.
My pasta maker has two different cutting widths for cutting the pasta dough into noodles. There's one cutter for thin spaghetti noodles and another cutter for wider fettuccine-sized noodles.
I typically prefer the wider noodles. They just seem less fussy to deal with after they're cut.
After the noodles are cut I'll sprinkle them with a little flour and fluff them just a bit to make sure the strands are coated so they don't stick together. Then I'll allow them rest for maybe an hour or more and before boiling them.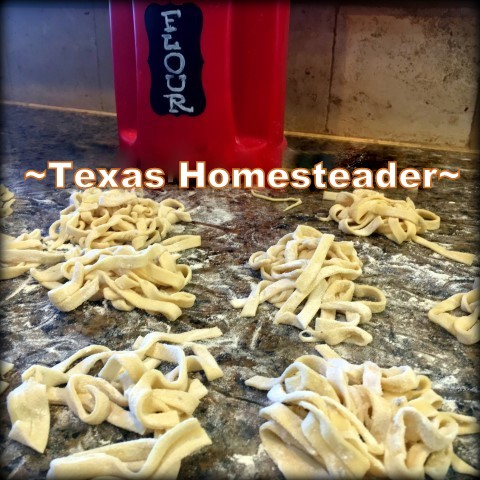 Cooking Fresh Pasta
Fresh pasta takes much less time to cook than the dried stuff in a box you buy from the store. Depending upon how long I've allowed it to rest (and therefore begin to dry) my fresh pasta cooks with less than 2 minutes boiling (depending upon how thick your pasta is).
To cook I'll bring salted water to a boil, gently place fresh pasta into the water and allow the water to return to a boil. Then I just boil the pasta until it's al dente, about 1.5 to 2 minutes. (Be careful not to stir too much! Fresh pasta is fragile when it's being cooked.)
Finally I'll strain the pasta, add the preferred sauce and serve.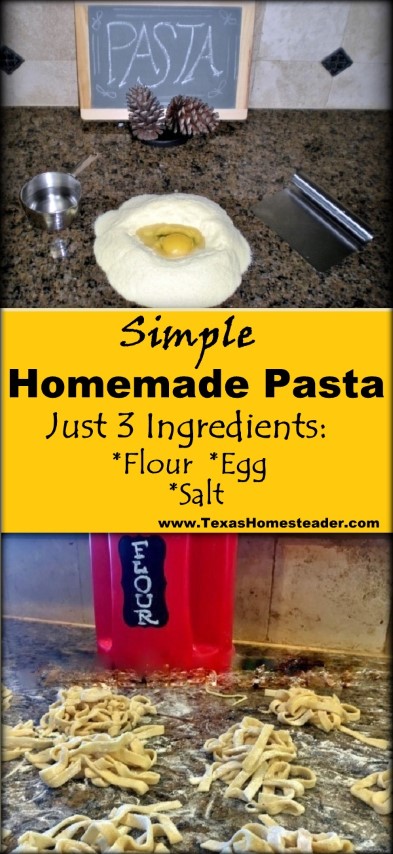 Here's my simple 3-ingredient homemade pasta recipe: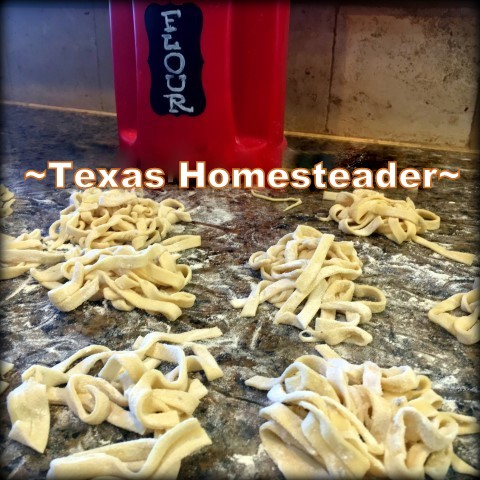 Easy Homemade Pasta
This homemade pasta uses just 3 ingredients - all purpose flour, egg & salt. This homemade pasta is much more hearty and filling than the commercial pastas you buy in a box. Homemade pasta - nothing better! #TexasHomesteader
dough resting time
1
hour
Ingredients
2

Cups

All-Purpose Flour

1/2

teaspoon

Salt

1

Egg

1/2

Cup

Water
Instructions
Measure 2 cups all-purpose flour on a counter and stir in 1/2 teaspoon salt. Make a well in the center of the flour and crack an egg into the center. Slowly add 1/2 cup water, mixing with a fork and gently incorporate the flour into the egg mixture a little at a time.

Once you have incorporated the flour with the fork, use your fingertips to blend the mixture well. If the dough seems too dry add 1/2 teaspoon of water, if it seems too wet and sticks to your fingers add a light dusting of flour.

Form a ball with the dough. Knead the pasta dough as you would bread dough, pushing down and away with the palm of your hand, turn the dough 1/2 turn, fold in half and press again with the palm of your hand. Repeat this movement until dough is smooth, about 4 to 6 minutes. Cut the dough into 3 equal sections, form each section into a ball and cover with a towel and let rest for 15 minutes.

After the dough has rested, flatten one of the dough balls until it's about 1/2 inch thick and roll into the desired thickness. Then cut the dough into noodles. After cutting the dough, hang the pasta on a wooden dowel to dry. Fresh pasta can be used today after allowing it to air dry for an hour or so. Or you can dry it overnight and it will keep a week or more.
Recipe Notes
NOTE: If cooking pasta fresh, be gentle and stir as little as possible to keep pasta strands intact.
~TxH~
Want to see other Meal Ideas?





C'mon by & sit a spell! Come hang out at our Facebook Page. It's like sitting in a front porch rocker with a glass of cold iced tea. There are lots of good folks sharing!
And you can also follow along on Pinterest, Twitter, Instagram
To receive an email when a new blog post goes live it's EASY to
Subscribe to our blog!
~ ~ ~ ~ ~ ~ ~ ~ ~ ~ ~ ~ ~ ~ ~ ~ ~ ~ ~ ~ ~ ~ ~ ~ ~ ~ ~ ~ ~ ~ ~ ~ ~
* A word about our Affiliate Link – We are currently enrolled as an Amazon Affiliate. So occasionally I will insert an affiliate link into one of my posts if I think it may be of interest to you. (in this case a pasta machine.) I purchased the pasta machine myself and receive nothing from the manufacturer. But I love it & thought you might too. If you click on any of my affiliate links and buy something (almost anything, not just what was linked) I get a small referral percentage from Amazon. But here's the really important part – the price you pay for your items is UNCHANGED.
When you buy something through the affiliate link it's a great way to support this blog without anything coming out of your pocket. So please click often! (you can read the legalese here…)
Save