by Texas Homesteader ~
Have you ever heard of zucchini boats? It's a hollowed-out zucchini filled with hearty meat & cheese deliciousness and baked until tender.
What a great idea for a little something different when the zucchini in your garden threatens to take over the world! LOL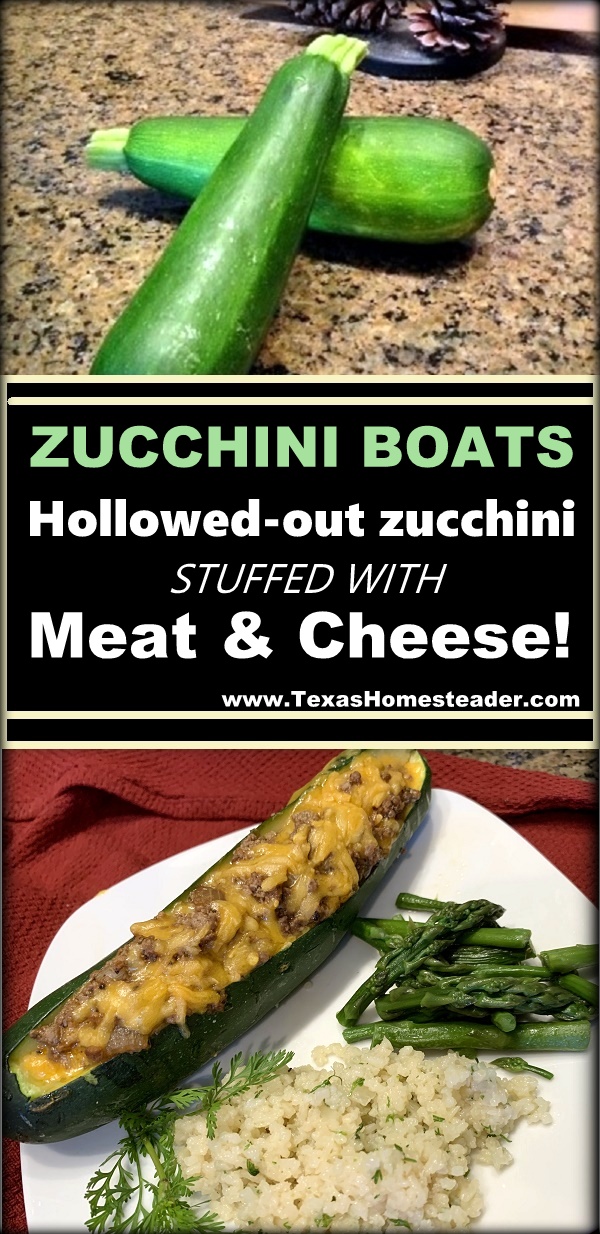 Recently I found myself with some fresh garden zucchini. Now ordinarily I use zucchini as a veggie side dish. But I was looking for something a little more substantial this time. Something different.
I decided to make zucchini boats with them. I'll make 'em hearty too by stuffing them with meat & cheese. Then I can use them as the main entrée.
Easy Stuffed Zucchini Boats Recipe
The beauty is that making stuffed zucchini boats couldn't be easier:
1 lb Ground Meat

1 Onion

1 Clove Garlic

1 Cup Shredded Cheese

Salt, Pepper, Italian Seasoning

Bake 25 minutes
Zucchini boats add a little 'wow' to your supper plate. And I'm very happy to say it was not only ridiculously easy, but delicious too!
Preparing The Zucchini Boat Filling
First I sautéed some chopped onion and a pressed garlic clove in my grandmother's antique Cast Iron Skillet.
(Just look at her – Isn't she beautiful? Have I mentioned how much I love this skillet??)
This cast-iron skillet was presented as a wedding gift to my grandmother back in 1934 when she and my grandfather were married. Then she gifted it to me back in the 1990's and I've been using it ever since. Of course I'll be passing it on to my children as well. It's hard to say whether any modern cookware has THAT kind of longevity!
Anyway, into the skillet I tossed in about a pound of ground meat. I had ground venison so that's what I used. But ground beef would be awesome here too. I added a little salt & pepper and about a tablespoon of Italian seasoning for a little flavoring.
The meat was cooked until there was no pink remaining. Since my venison was so lean there was no fat in my skillet of cooked meat. But if you've cooked fat from the meat you'll want to drain it now.
Then I mixed in about a cup of shredded cheddar cheese and stirred to blend everything together.
Zucchini Boat Flavor Options
I'm a very simple-country-cook. I Cook Much Like My Grandmother did. So I prefer to prepare simple dishes.
I don't want to overrun the fresh taste of zucchini with too many additions. But I realize that not every cook likes to keep the taste simple.
There are lots of flavor options with this filling. Some people like to add:
Sautéed chopped bell pepper

Marinara sauce or even ketchup to make the filling more saucy.

Chopped mushrooms

The leftover sections you've cut from your zucchini boat.
Whatever suits your family's taste!
But for RancherMan & me, simple is best. I didn't want to complicate the recipe, nor the taste. So I don't add any other ingredients to the filling. Feel free to add things your family loves though.
Now it's time to tackle those zucchini boats.
Preparing The Fresh Zucchini
I took 4 approximately 8″ long zucchini and washed them well. Then I laid them all on a cutting board.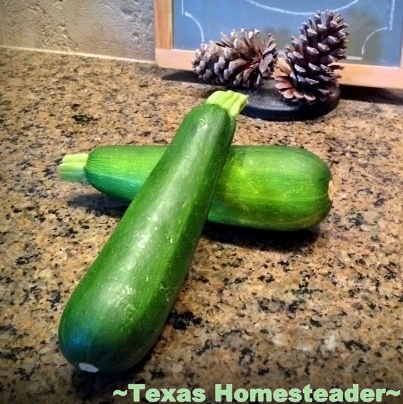 With a sharp knife I cut a large wedge the length of the zucchini, leaving about 1/2″ on either end uncut. Then I lifted the cut portion out.
I kept & refrigerated those thick zucchini wedges I'd cut away. They'll be steamed for a delicious veggie side in a few days. Nothing wasted.
One by one I continued cutting large wedges from each zucchini until they were all hollowed out. Then I sat the hollowed-out zucchini inside a baking dish.
When all the wedges were cut & removed I took a teaspoon and scooped out the hollowed section of each zucchini just a little bit more, leaving only about 1/2″ intact in the zucchini shell.
This will allow more filling to be stuffed in. It's heartier that way. And RancherMan likes it hearty!
Now I simply stuffed the prepared meat mixture into the zucchini openings. Lastly I sprinkled a little more shredded cheese on top for a little extra sumpin'…
Into a 350-degree oven they went for about 25 minutes or so. Then I brought out my dish to look things over. Hummm – looks pretty good and smells delightful!
Vegetable Firmness Preference
An important thing for me is I prefer my veggies to be tendercrisp. I hate when fresh veggies are cooked until they're mushy.
Twenty-five minutes in the oven meant the zucchini wasn't mushy nor overcooked. Instead it was soft, yet tendercrisp. Absolutely perfect for us!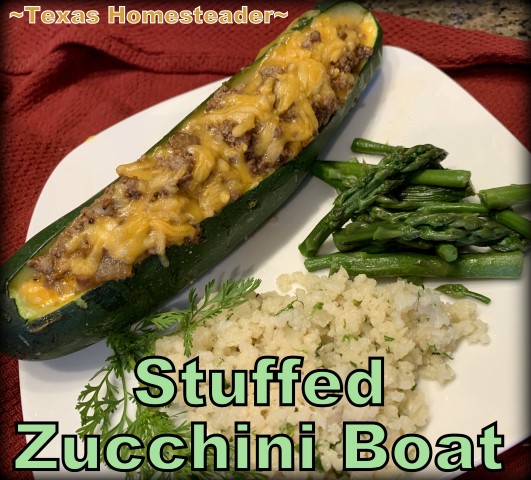 But some people prefer their veggies to be softer. So feel free to leave your zucchini boats in the oven longer if your family prefers it cooked more.
I served my zucchini boats alongside some Buttered Rice with Fresh Sage as well as some lightly-steamed asparagus from the garden. That's lots of garden goodness on one plate, y'all!
Here's the recipe as I made it. Feel free to add your own special touches.
Did you make this dish? Please rate the recipe in your comment below!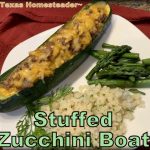 Meat-Stuffed Zucchini Boats
Zucchini boats are zucchini stuffed with meat, cheese, onions and garlic. It's a delicious way to use up all that fresh garden zucchini. My recipe is simple, but there are lots of add-in flavor options if you want to bump it up a notch. ~ Texas Homesteader ~
Ingredients
Ingredients
4

medium

fresh zucchini,

about 8 inches long

1

pound

ground meat

(I used ground venison)

1

small

onion,

chopped

1

clove

garlic,

pressed

1

Tablespoon

Italian Blend Seasoning

1

cup

shredded cheddar cheese,

divided

Salt and pepper to taste
Instructions
Instructions:
1. Wash zucchini. Cut deep wedges the length of each zucchini, leaving about 1/2" at each end. Then scoop out pulp, leaving 1/2-in. shells. (Retain cut zucchini for a veggie side dish on another night if desired)

2. In a skillet, saute chopped onion and pressed garlic until translucent - about 3 minutes.

3. Add ground meat and cook over medium heat until meat is no longer pink; drain. Remove from the heat.

4. Add 1/2 cup cheese, salt and pepper; mix well. Spoon into the zucchini shells. Place filled zucchini in a 13x9-in. baking dish. Sprinkle tops with remaining cheese.

4. Bake, uncovered, at 350° until zucchini is tender, 25-30 minutes.
~TxH~
This post categorized in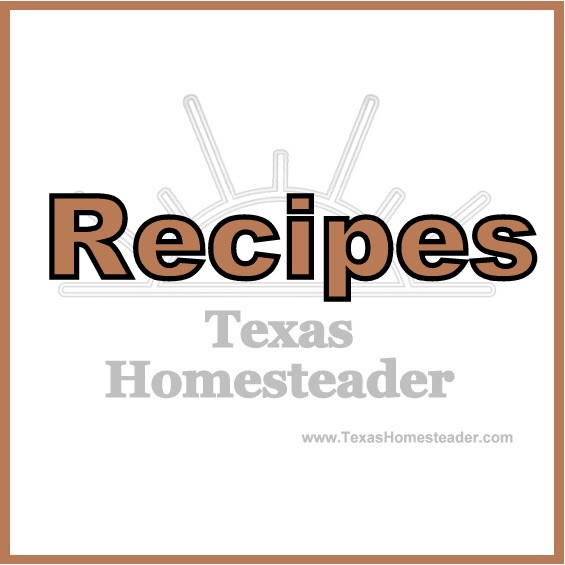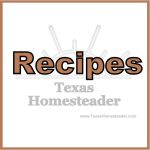 Want to see other Meal Ideas?





C'mon by & sit a spell! Come hang out at our Facebook Page. It's like sitting in a front porch rocker with a glass of cold iced tea. There are lots of good folks sharing!
And you can also follow along on Pinterest, Twitter, Instagram
To receive an email when a new blog post goes live it's EASY to
Subscribe to our blog!