by Texas Homesteader ~
Aaaahhhh, gardening in Texas. July and August are certainly the biggest challenge months of the year. You've gotten a good start on your garden but the heat & humidity typically hits HARD in July!
Even with a few surprising struggles this year, I still have had a few successes. Come see how we're faring here in our zone 8 veggie garden.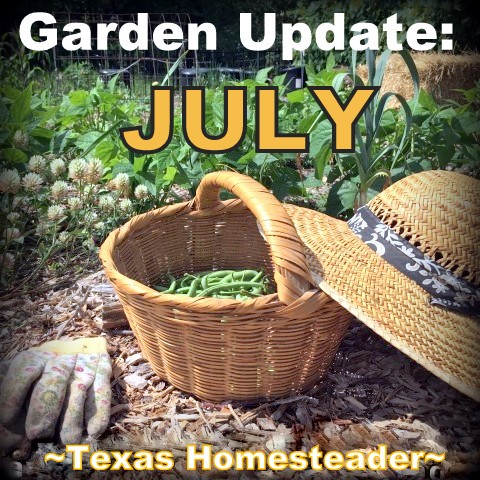 Surprising Culprit To Continual Late Start
So a few years ago my garden just couldn't get off the ground in the early spring months. I blamed it on a very wet spring, or too cool, or… But it finally started to produce and for the rest of the season everything seemed fine.
The following year was even worse. But once again once late spring/early summer hit it seemed to rebound. Quite the puzzle.
This year was the worst of all. Seedlings planted after Easter succumbed pretty quickly. Seeds planted to replace them never sprouted.
Yet my local friends were sharing FB photos of their bountiful harvests from their own gardens. Why is their garden in the same area as mine so different?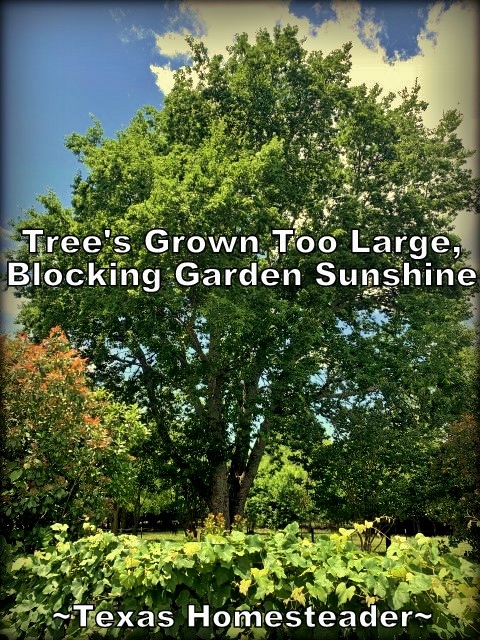 This. A tree across the driveway had apparently grown large enough in the past 3 years that it's casting shade on the garden for too much of the day. That is until around the end of June when the sun trek is finally south enough to clear this tree. By then my garden has (once again) gotten a late start. Ugh.
Although I hated it, we had to have the removed – it was 60-ft tall. The workmen did a fine job of it and although the garden damage has already been done this year, I'm very encouraged for a better garden next year.
But it's not all bad news in the Homestead garden. There are a few things surviving and doing well.
Tomatoes
As I said earlier, the heirloom tomato seedlings lovingly placed into the ground died quickly. I replanted heirloom seeds but they never sprouted.
But I found volunteer tomato seedlings growing in my compost. I relocated them and all but two died. But those two hung on long enough for the tree-shade issue to be rectified.
Although the plants are still small, they're at least putting on a few tomatoes for us.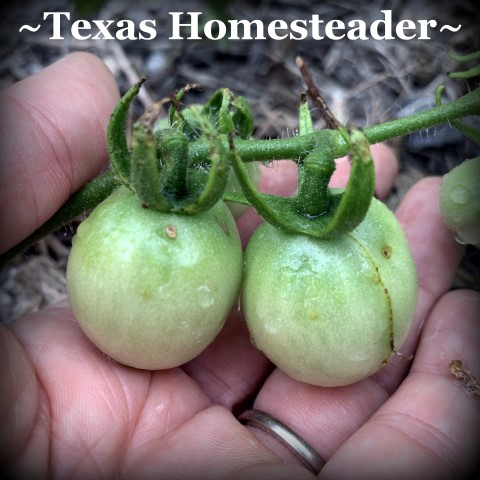 I'm hoping to limp the plants through until fall when maybe I can get a small fall harvest. One way or the other, my eye is on next year's garden when I know I'll have lots of tomatoes.
Green Beans
I planted green beans square-foot-gardening style in the new galvanized trough raised bed I placed in the garden this year. But although I spent months preparing the soil for the raised bed, it's going to take a year or two I'd think to get it where I want it.
It's produced a few green beans this season. But the plants themselves are spindly and the harvest is slight.
I did however plant a row of green beans (again square-foot garden style) in the ground as well. And those are going like gangbusters. I've harvested several fistfuls of green beans and cooked them up fresh to go with our suppers.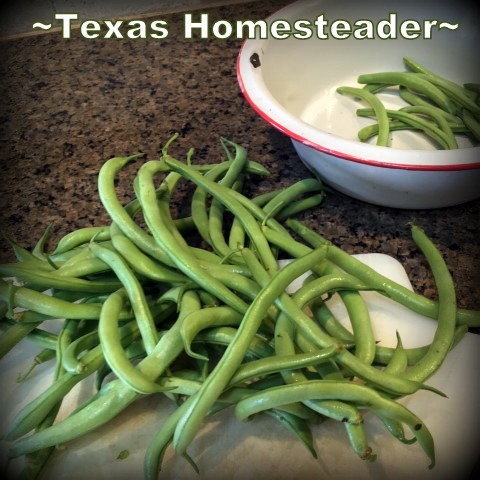 To be honest, fresh green beans are my favorite harvest in the garden. So I'll plant another row after this Texas heatwave passes, and a final row about 2 weeks afterward. This will keep green beans harvestable for weeks.
Concord Grapes
Now I only wish everything in my garden would grow as well as my grapevine does. It's put on a beautiful harvest of grapes this year. I'm hoping to be able to harvest them in a week or so.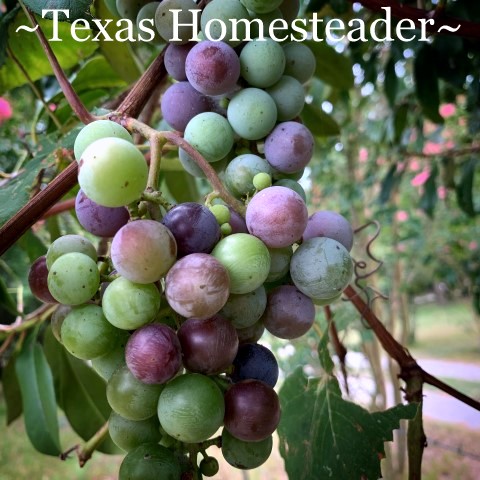 This year I'll attempt to make concord grape jam with them. In the past I've just made them into grape juice. Although RancherMan loves it, I'd love to try my hand at grape jelly or jam. I'll be sure to share how it goes!
Cantaloupe
This year at the Mother Earth News Fair my SIL and I picked up various packages of seeds. Since it's hard to use all those seeds in just one garden, we split the packages between us. One of the packets was this tiny cantaloupe.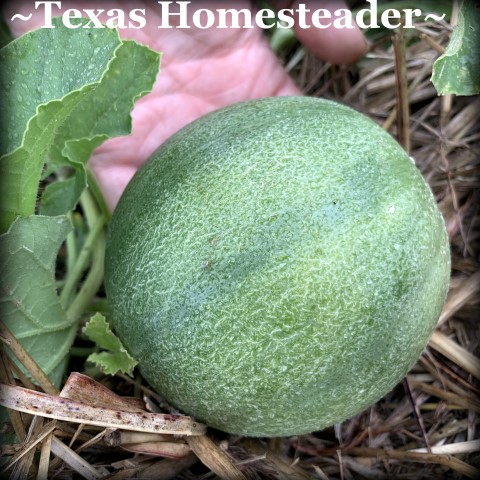 Now it's a novelty for sure. But next year I'll stick with a full-sized cantaloupe. I mean… It's so small.
You can cut it in half and scoop the seeds out and eat from it like a bowl, which is kinda cool. But it almost feels like a waste of garden space for me to have something like this.
I love cantaloupe in all it's large, sweet, juicy glory. And when it outproduces our ability to consume it fresh, I like to make Cantaloupe Bread with it. It's kinda like zucchini bread, in a cantaloupe kinda way.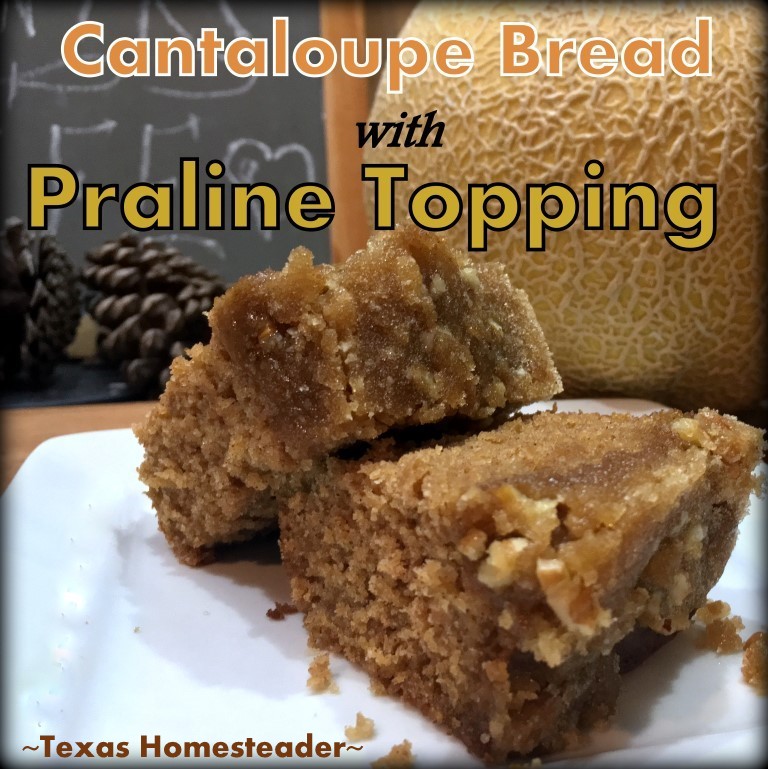 RancherMan loves it. And I typically make a few loaves and freeze them for later. A sweet treat is as close as my freezer, even if unexpected company arrives.
So although the mini-sized cantaloupe was a fun thing this year – next year it'll be full force with the regular-sized cantaloupe.
Watermelon
The tree-shading issue meant my watermelon seedlings died and the seed I planted to replace them never sprouted. The 2nd time I replanted was semi-successful. But it's a late start for sure.
I'll allow it to stay in the garden as I also use the vines as living mulch. It will grow among my tomatoes and shade the soil and also keep any water from splashing on the tomatoes leaves.
Maybe I'll get a fall harvest? Maybe not. But next year – WATCH OUT! LOL
Optimism Going Forward
So although the garden was a struggle this year and promises to be even more struggle in the next couple of hot & humid months, I'm encouraged.
Encouraged that next year we'll be able to start the garden at the proper time. And that once planted, those seedlings will grow like they're supposed to.
In the meantime I'm thankful for the small harvests my garden offers me this year. And the enjoyment I receive from just being a gardener.
How's your garden growing?
~TxH~
This post categorized in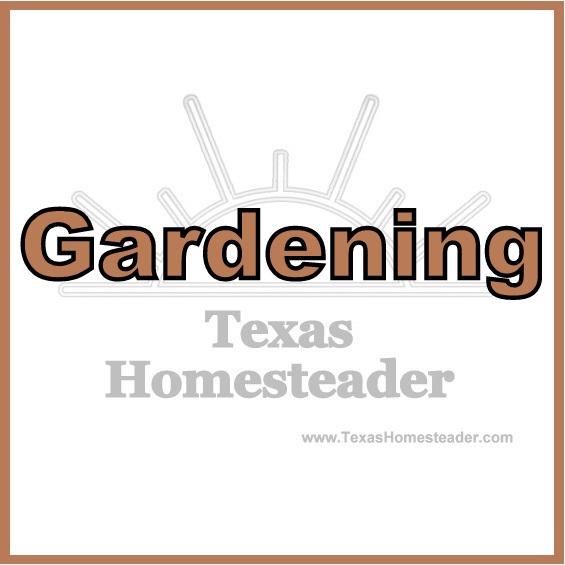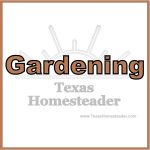 My Favorite Garden Hacks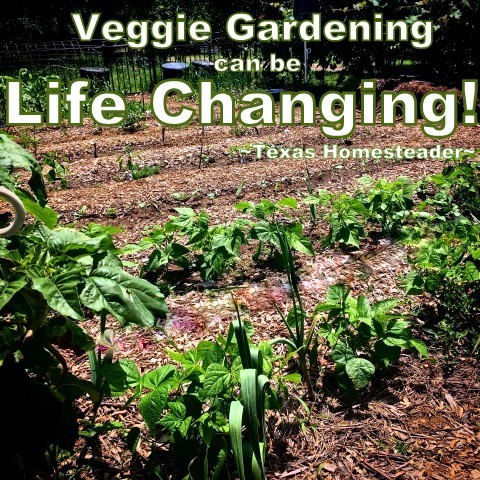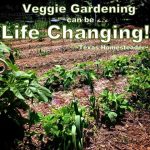 C'mon by & sit a spell! Come hang out at our Facebook Page. It's like sitting in a front porch rocker with a glass of cold iced tea – lots of good folks sharing! You can also follow along on

Pinterest

, Twitter or

Instagram

.
If you'd like to receive an email each time a new blog post goes live it's EASY to
Subscribe to our blog!