by Texas Homesteader ~
Here in NE Texas it's the time of year when many gardeners are thinking about planting those potatoes! I'm a big fan of growing potatoes, especially since they're such an easy crop to grow.
In past years I've planted potatoes in a raised bed right in my garden. Of course that worked fine but this year I've decided to do something different.
Remember I'm a big fan of growing an Edible Landscape? Well not only will this different way of planting potatoes give me some effortless beautiful greenery on my back porch during the summer months but it will also help make harvesting those potatoes so easy.
C'mon, I'll show ya!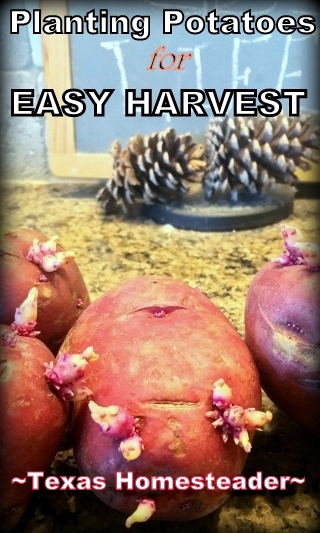 First, flashback to last week: Although I like to have my potatoes planted mid February, I'd not been able to find the reds I wanted to plant this year.
A good friend & I were talking about our gardens & I lamented that I'd searched the feed & garden stores but I could only find basic whites for seed potatoes. But RancherMan & I much prefer the red ones.
"Where might they have red seed-potatoes for sale?" I asked her. She mentioned there was a place in Dallas where she bought hers, but I really don't want to drive all the way to Dallas for my planting potatoes.
Finding Cheap Planting Potatoes
Then I thumped my forehead. DUH! I've got reds sprouting like crazy in my pantry right now!
Although seed potatoes typically have more eyes on them to make them more efficient for planting, you can plant the regular ole potatoes that are sprouting in your pantry.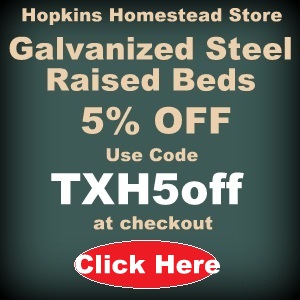 "Whaaaaaa??" you say? No, REALLY, you can!! And now what I thought would be a few wasted potatoes will actually provide me a whole crop at harvest. I'll plant those sprouting red potatoes in a large planter!
So I picked a few red potatoes from the pantry that were sprouting the most. Then I cut them into about quarters, making sure there were sprouting eyes in each section.
Those sprouts will soon become my new fledgling potato plants.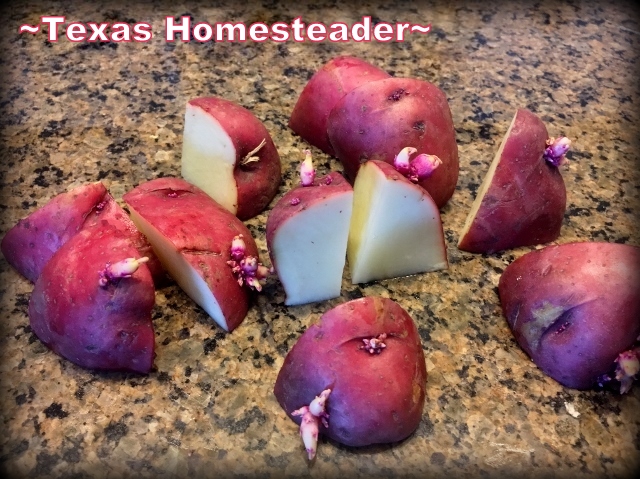 But now that they're cut they're not quite ready to plant. First I need to cure the cut edges by leaving them exposed to the air for a bit. Curing the edges will help prepare the potatoes for planting.
I've also read that after curing the cut potatoes for a day, dusting them with wood ash will help protect them from chewing pests. I've never done that before but I figured I'd give it a try. (has anyone else ever done that? Did it help?)
Anyway, after they'd cured another day with the dusting of wood ash it was finally time to plant them.
I have an old galvanized metal trough at the edge of our back porch. It's a hefty 3-ft long by 2-ft wide and two feet deep.
I use it every year to plant different veggies for fun. But my trough planter already sported some sprouted garlic cloves I planted last year so. So first I dug up the garlic & relocated them to my veggie garden.
Planting Potatoes In A Trough
Now it's finally time to plant my potatoes! I fluffed up the soil a bit and placed my cured potato pieces cut-side-down on top of the dirt. Then I pressed them gently to make sure there was good soil contact. At last it's time to cover them.
Y'all know my battle cry: "Use Whatcha Got". You see, the cattle oftentimes waste hay around their hay rings. That wasted hay is often scooped up for various uses.
I use it to lay thick mulch around my trees during the heat of summer. (especially since we continue to be in a multi-year drought)
The hay mulch helps moderate the soil temperature & discourage weed grown as well as preserve moisture for my trees.
I also use this spent hay in my garden to mulch my veggie plants. It has the same benefits in my garden as it does around my trees.
But on this day I'll be using wasted hay to drastically increase the harvest of my red potatoes. "How??" you say?
Increasing The Potato Harvest
Well first I'll use spent hay to only cover these planted pieces so they can do their thaaaang. I simply lay down a thick layer over the top of my potato sections.
As the potato vines grow, I'll add another layer of hay leaving only the tops of the greenery showing. That's because those vines will produce potatoes as long as they're covered up,.
I'll repeat this process all season long, there's plenty of room in this trough for growth.
And because the hay is so loose the newly-forming potatoes won't be restricted the way they can sometimes be when planted in dirt.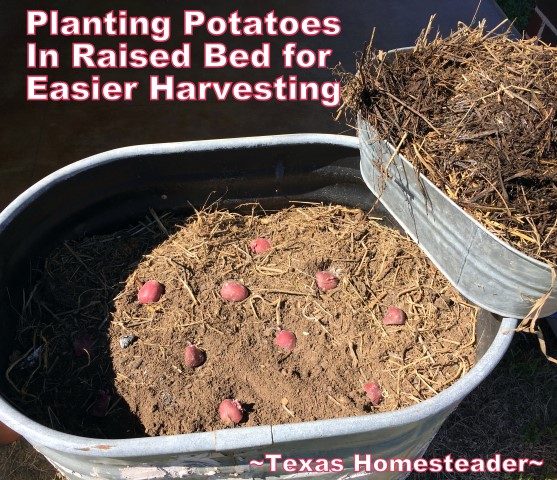 When it's time to harvest I simply remove the hay I've piled on all season and pull up the potato plants to fetch the potatoes.
It should be easy and I'm looking forward to a bountiful harvest… of RED potatoes!
~TxH~
This post categorized in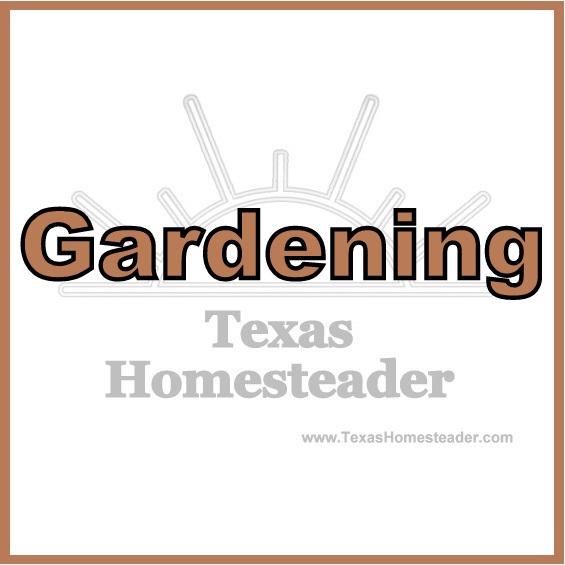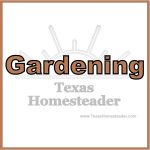 My Favorite Garden Hacks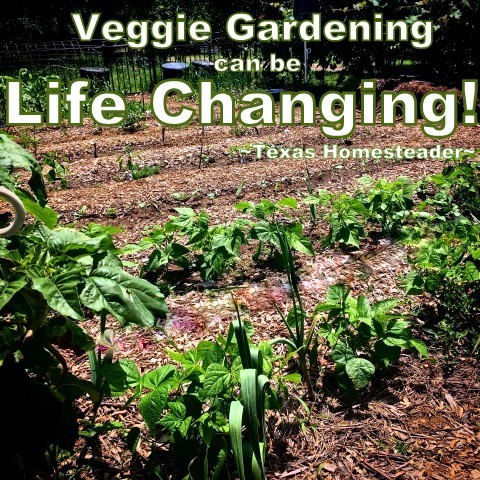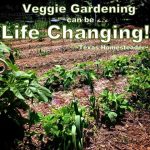 C'mon by & sit a spell! Come hang out at our Facebook Page. It's like sitting in a front porch rocker with a glass of cold iced tea – lots of good folks sharing! You can also follow along on Pinterest, Twitter or Instagram.
If you'd like to receive an email each time a new blog post goes live it's EASY to
Subscribe to our blog!
Save
Save
Save