by Texas Homesteader ~
What if you could have a beautiful flowerbed in front of your home and harvest food from it too? Edible landscaping is simply choosing pretty vegetable and herb plants in different sizes, shapes and textures to plant right into your decorative garden. I'll give you tips on how to plant a beautiful yet edible garden right in front of your home for all to see!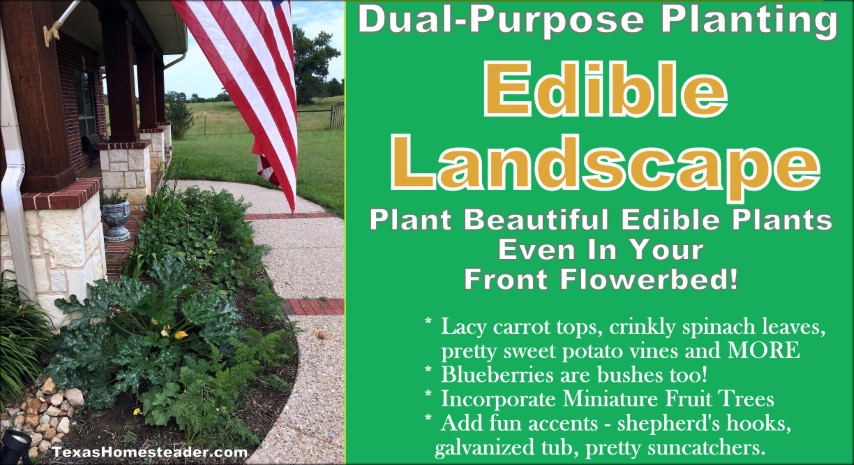 Planting Edible Plants In Your Flower Beds
There's no reason to restrict growing food to your vegetable garden. Several years ago I became interested in dual-purpose or edible landscaping. It's a two-fer deal!
Just because a plant is edible doesn't mean it can't be beautiful, right? Herbs are a perfect example.
I have a large sage plant in my front 'flower bed'. I'm constantly stepping out on the porch and picking fresh sage to include with my cooking. You really don't get any fresher than that!

But it also blooms beautiful purple blooms. And our honeybees love them too. A beautiful, edible AND pollinator friendly option? YES PLEASE!
My edible landscape offers lots of visual appeal – the pretty blooms of the herbs intermingled with the varying leaf textures of the other veggie plants.
Where Can I Plant My Edible Garden?
You may wonder where is the best place to plant your decorative edible garden? Or perhaps you're worried about an Edible Landscape In An HOA Community?
Don't worry, it can be done! Just because a plant's edible doesn't mean it's ugly. You can plant a beautiful edible landscape:
In your front flower bed.
As a more beautiful vegetable garden design.
A pretty raised bed using a galvanized trough.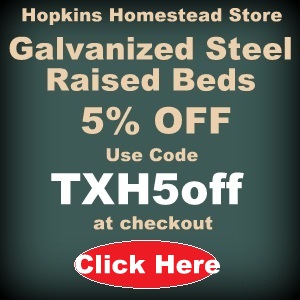 Just combine the different textures that appeal to you.
What Plants Work Well For Edible Landscape?
There are several plants that work well with edible landscape. Especially pretty flowering herbs. But don't limit your design to just herbs!
Carrots have pretty lacy leaves and don't grow tall. I like to use them as a border.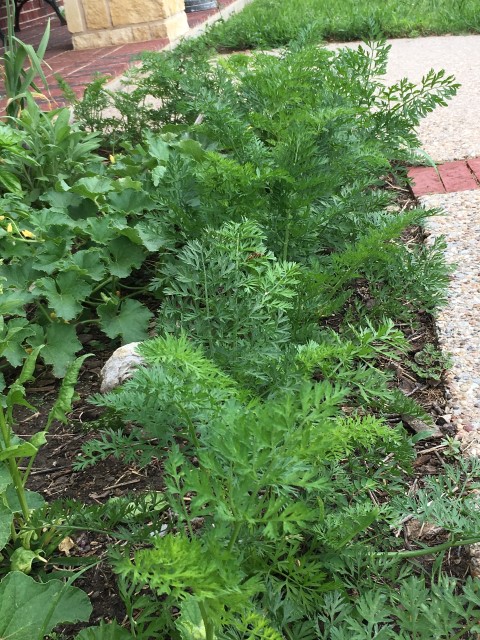 Spinach leaves are rustic and interestingly textured.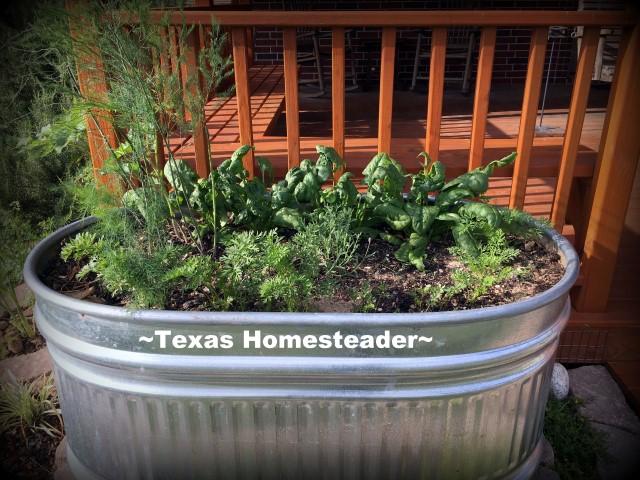 Bush-variety squash with their large lobed leaves makes a pretty anchor plant.
Sage blooms beautifully and grows into a small to medium sized bush.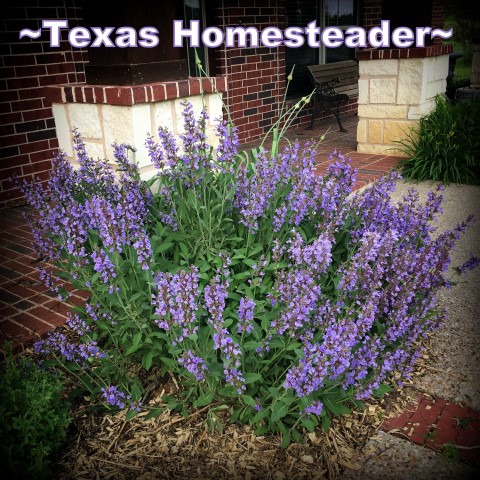 Plants That Stay Short
When designing your edible landscape it's best to layer different sizes of plants. You don't want your short plants hidden by taller plants. So plant your shorter plants in the front as a pretty edible border.
Strawberries – grow low to the ground and spread by runners. Also nice interest in raised beds.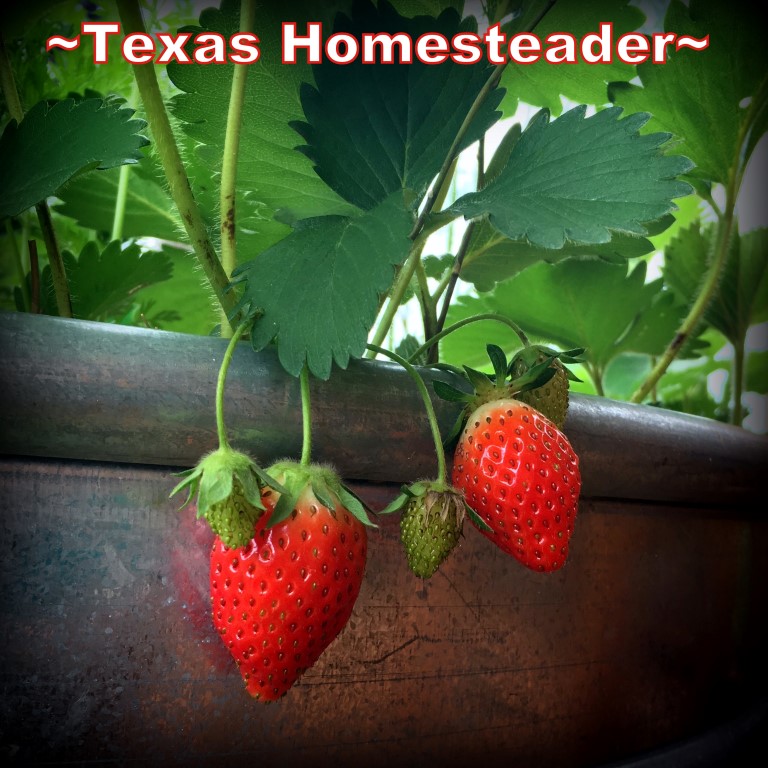 Carrots – Only the pretty lacy fern-like tops are visible.
Spinach – Heavy and crinkle-textured leaves.
Kale – Thick ruffled leaves.
Thyme – low-growing herb that blooms readily to the honeybee's delight!
Medium Sized Edible Plants
Pretty medium-sized plants can be planted behind the lower-growing plants. This will add some depth and interest to your edible landscape. Some examples of medium-sized plants are:
Basil – Grows about a foot tall and has small light-green leaves. I allow it to bloom which helps the honeybees as well as reseeding for the next round of plants.
Cilantro – Bloom stalks grow taller and offer white lacy blooms. And cilantro seeds are coriander – an herb AND a spice in one plant!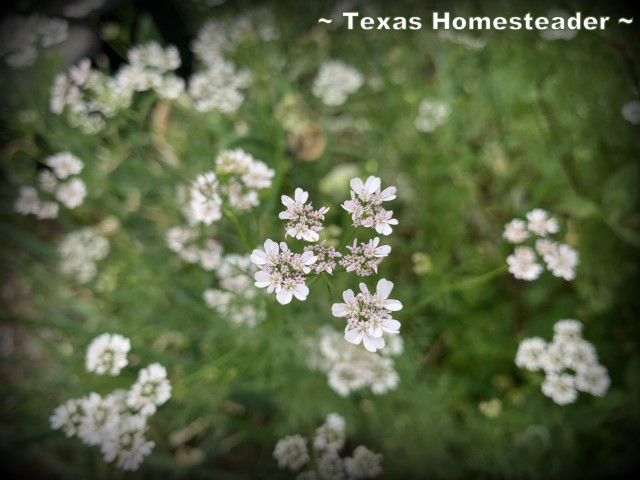 Colorful Peppers – aim for the smaller and most colorful pepper varieties for a nice pop of color.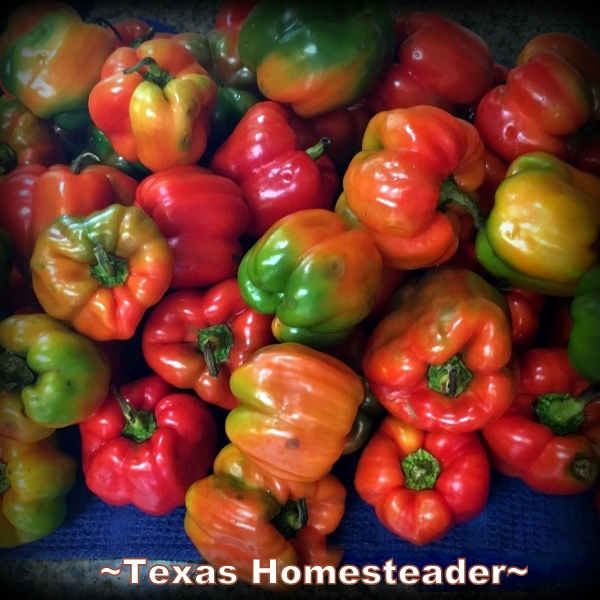 Bushy Edible Landscape Plants
Anchor your edible landscape with a bushy plant.
Rosemary – Evergreen, purple blossoms and pollinator friendly.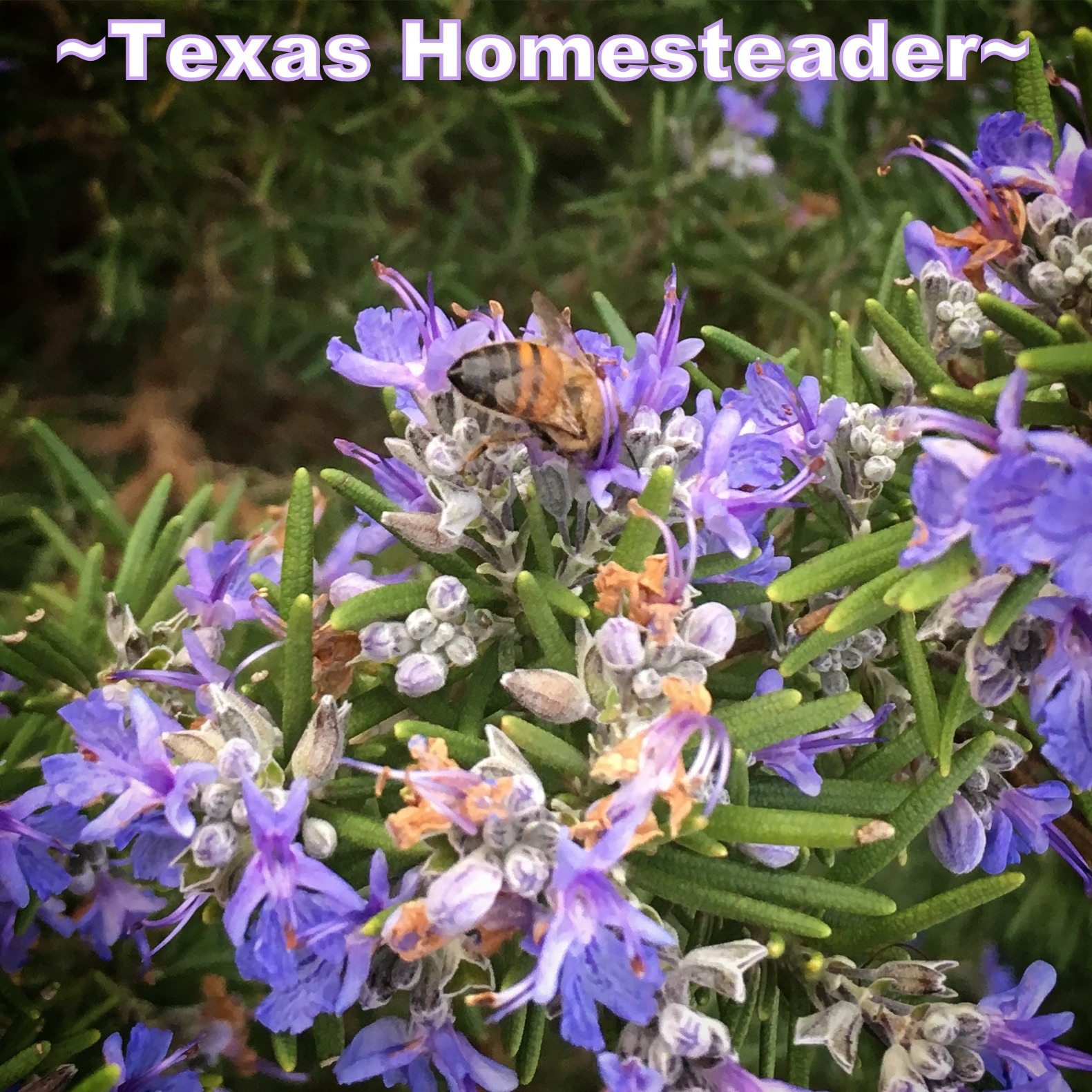 Bush-types of squash – Prolific producer & a nice anchor plant in your landscape.
Blueberries (either full sized or miniature). I planted my miniature blueberry in a rustic galvanized tub and I love what it adds to my landscape among my other galvanized beds.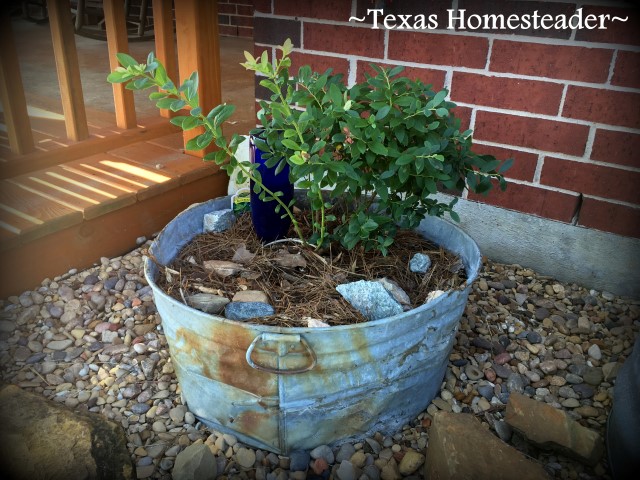 So don't be afraid to add interest to your landscape using fun or interesting things.
Think about an old rustic galvanized tub, a pretty trellis, shepherd's hook with a pretty windchime or eye-catching sun catcher, etc.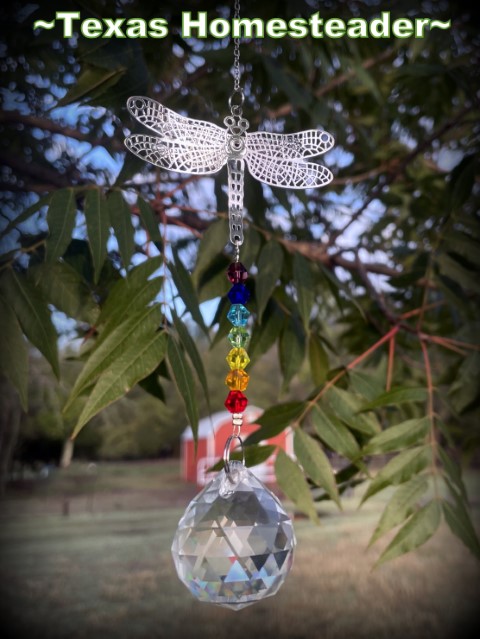 Taller Edible Landscape Plants
You can even add a backdrop of taller edible plants at the back of your pretty edible landscape bed. Some things can be accented with a pretty trellis.
Corn – Tall & slender growing.
Okra – Woody stalk grows tall, flowers prolifically.
Cherry Tomatoes – Prolific producer, use a cage or tie to a trellis to contain the plant.
Thornless Blackberries – Blooms readily, use a pretty trellis to showcase as well as support.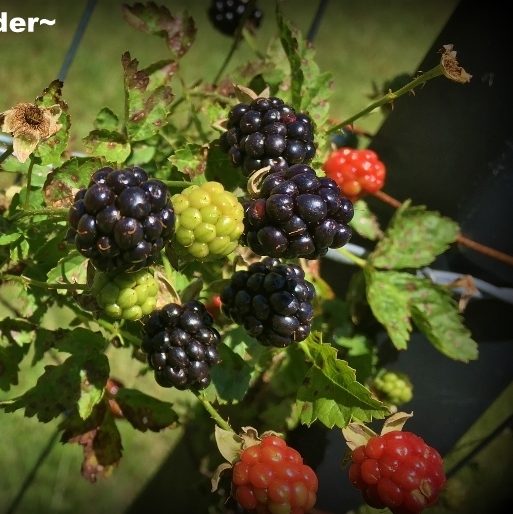 Peas & Beans – Use a trellis for these productive vines
Ground-Cover Edible Plants
I love to make sure I have my ground covered at all times. I use vining plants as a Living Mulch.
Sweet Potatoes

(those pretty purple sweet potatoes are all the rage now!)
Cantaloupe – Small hand-sized leaves grow rapidly
Vining Squash – Same as cantaloupe but with plate-sized leaves.
Trees In Your Edible Landscape
My dad always said, "If you're going to plant a tree for shade (or landscaping), it might as well give you something to eat!" Thanks dad – so true.
It's probably best to stick to miniature varieties here unless you have lots of space & can utilized a large amount of fruit each year.
And it's also best to plant these far enough from the house that they don't harm your foundation or roof as they grow. They're usually best planted in the yard instead of in your flowerbed. (See my tips for Planting Trees)
I planted a pair of Jonathon apple trees in our front yard. These are smaller varieties that only get about 10-ft tall when fully mature. So they work very well in our yard.
Trees for landscaping beauty, gorgeous light-pink flowers in the spring, and apples to eat as well later in the season. What's not to love??

Natural Mulch For Your Edible Landscape Bed
Now that you have your edible landscape bed set up, there are some natural ways to keep weeds down and preserve the moisture too.
If you've planted one of the spreading/vining plants listed above, you have your own Living Mulch. I use this method often – it's mulch that grows and still gives me food!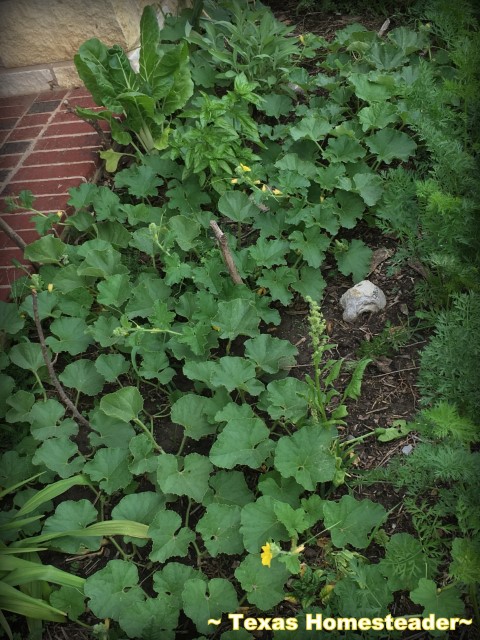 But if you haven't planted living mulch you can still accomplish some weed control and moisture retention in other ways.
I like to lay down cardboard between plants, or use heavy paper feed sacks as biodegradable weed block.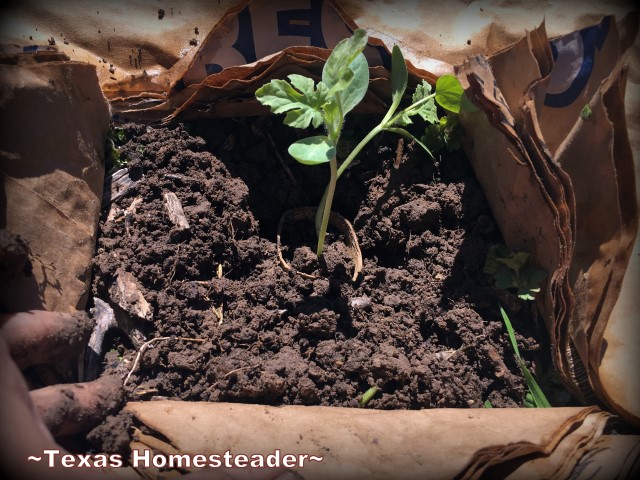 The paper will decompose over time but in the meantime it will keep any weeds from popping through for the whole season! #WorkSmarterNotHarder.
Then I top the paper with free wood chips I get from our county.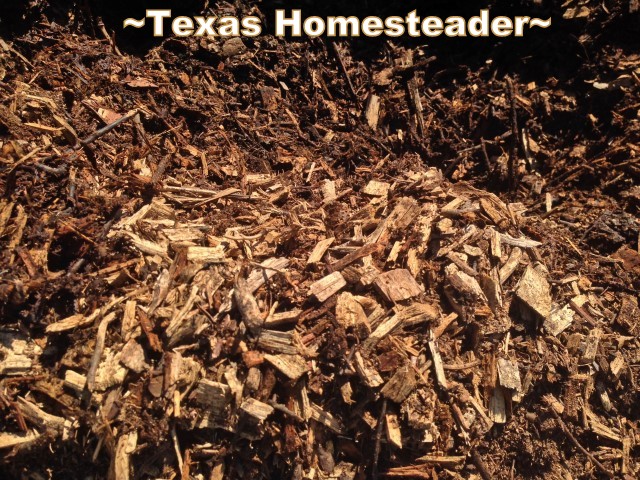 They both help beautify my edible landscape. And they're FREE!
Edible Landscape: Change It Up Every Year!
When it comes to my front flowerbed plantings, I typically mix this plan up each year as I play with the front flowerbed section of my landscaping.
It's lots of fun to change it out each year. And I promise you that stepping onto the front porch to harvest fresh spinach or home-grown carrots for a dinner party is sure to get the conversation going!
~TxH~
This post categorized in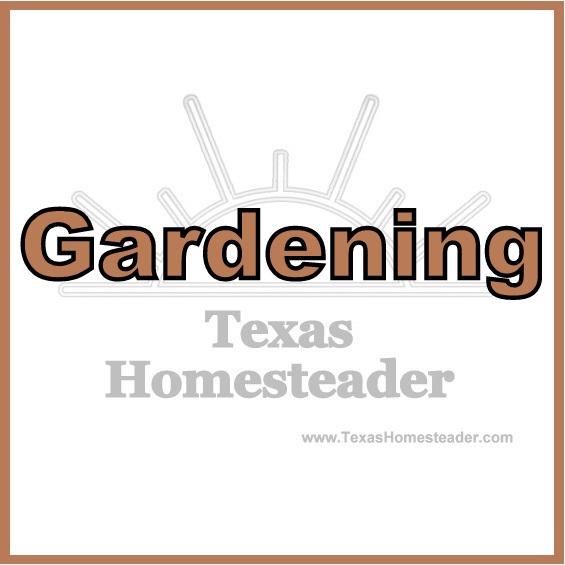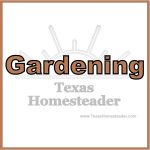 My Favorite Garden Hacks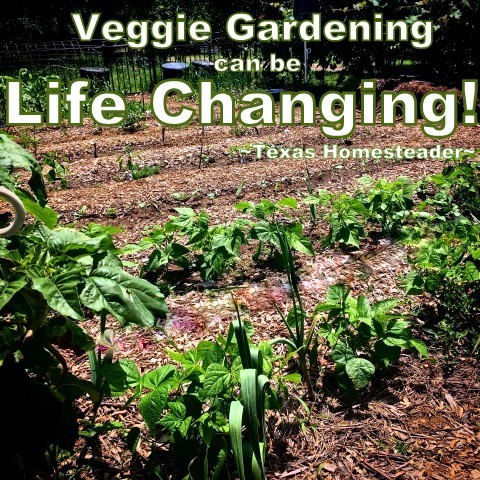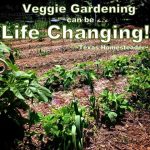 C'mon by & sit a spell! Come hang out at our Facebook Page. It's like sitting in a front porch rocker with a glass of cold iced tea – lots of good folks sharing! You can also follow along on Pinterest, Twitter or Instagram.
If you'd like to receive an email each time a new blog post goes live it's EASY to
Subscribe to our blog!
Save