by Texas Homesteader~
Several years ago I became interested in dual-purpose or edible landscaping. It's a two-fer deal!
I mean, just because a plant is edible doesn't mean it can't be beautiful, right? Herbs are a perfect example.
For instance I have a large sage plant in my front 'flower bed'. I'm constantly stepping out on the porch and picking some fresh sage to include with my cooking. You really don't get any fresher than that!
But it also blooms beautiful purple blooms. And our honeybees love them too. A beautiful, edible AND pollinator friendly option? YES PLEASE!

Interesting Leaves
But your edible landscape doesn't have to be limited to pretty flowering herbs. Sometimes the leaves of the plant itself are beautiful.
For instance I noticed how beautiful and fern-like the tops of carrots are. So I got to wondering – why not plant them as a border in my front flowerbed?
So I planted a line of carrots against the porch to take advantage of those pretty lacy leaves. Then I planted a section of spinach next to them. I loved that it broke up the lacy leaves with the spinach's more rustic thick crinkle-textured leaves.
I even planned for a large anchor-plant of a bush-growing squash too. To me at least, the heavy leaves looked similar to some pretty yet expensive and single-purpose tropical plants I've seen showcased in other people's landscape.
All together it all offered lots of visual appeal – the blooms of the herbs intermingled with the varying leave textures of the other plants.
And I mulched the whole shebangie with straw hay which decomposes and enriches the soil each year.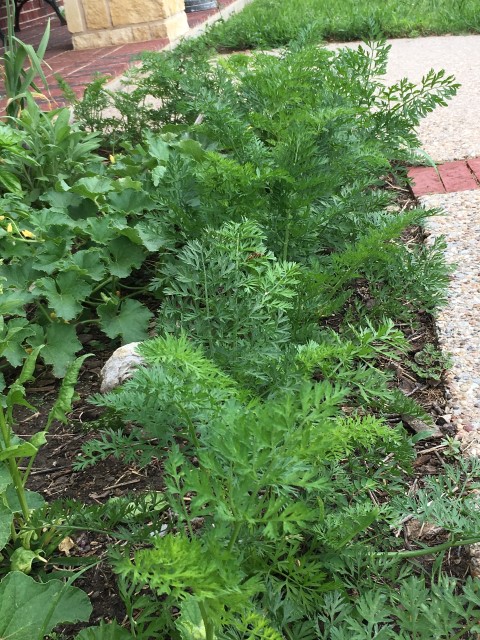 Blueberries Are Bushes Too!
Then one day I saw some beautiful landscaping shrubs in a plant nursery. Those shrubs displayed colorful (yet non-edible) berries. So I thought, why not blueberries?
I planted two varieties of blueberry bushes in the flowerbed. It's fun to pick fresh blueberries often to eat fresh and freeze the excess.
I even placed a large piece of fat-lighter wood behind the blueberries just for interest. But fat-lighter is a coveted wood for anyone with a chiminea or a wood fireplace. So it will be used for that purpose when the time is right. But in the meantime, it decorates my landscape.
Then I Planted a miniature blueberry In An Old, Galvanized Tub. I love that this will actually be a decorative feature right off our porch.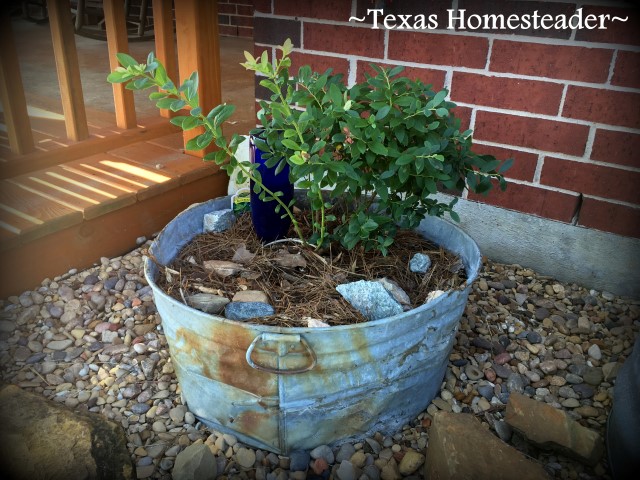 The rustic galvanized look ties in perfectly with my other Galvanized Trough Raised-Beds.
And harvesting couldn't be easier – just step right off the back porch and harvest as many as you like.
Tree For Shade, Tree For Food
My dad always said, "If you're going to plant a tree for shade (or landscaping), it might as well give you something to eat!" Thanks dad – so true.
So I planted a pair of Jonathon apple trees. These are smaller varieties that only get about 10-ft tall when fully mature. So they work very well in our yard.
Trees for landscaping beauty, gorgeous light-pink flowers in the spring, and apples to eat as well later in the season. What's not to love??

Evergreen Rosemary Bush
And of course I love my blooming Rosemary. It's got great evergreen color, pretty purple flowers in the spring & wonderful for both cooking and soap making.
I have several large rosemary bushes planted around our home. They grow well in my area of NE Texas. And our honeybees love the blooms.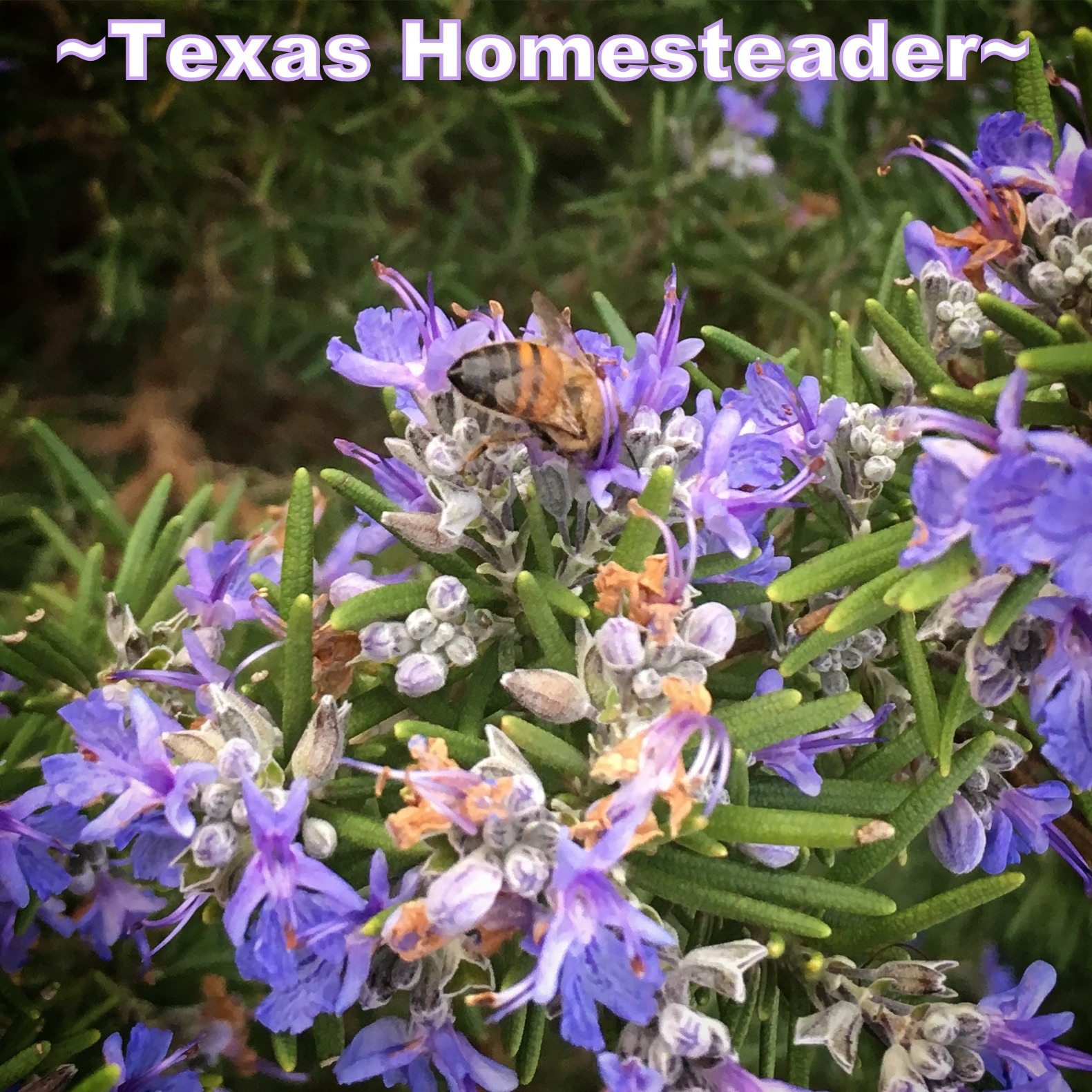 When it comes to the front flowerbed plantings, I typically mix this plan up each year as I play with the front flowerbed section of my landscaping.
It's lots of fun to change it out each year. And I promise you that stepping onto the front porch to harvest fresh spinach or home-grown carrots for a dinner party is sure to get the conversation going!
~TxH~
This post categorized in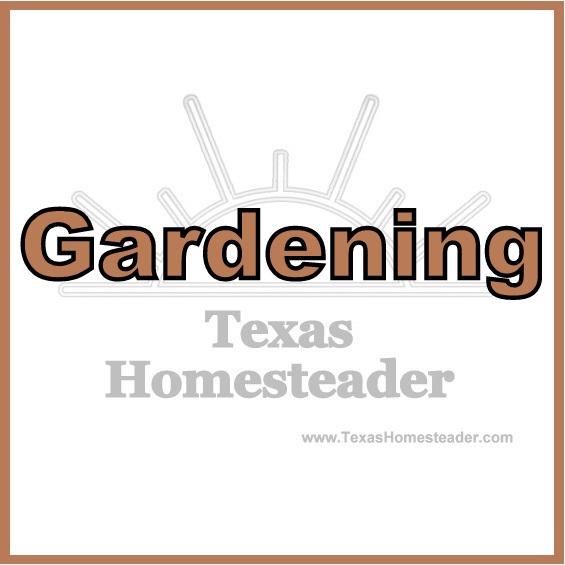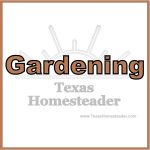 My Favorite Garden Hacks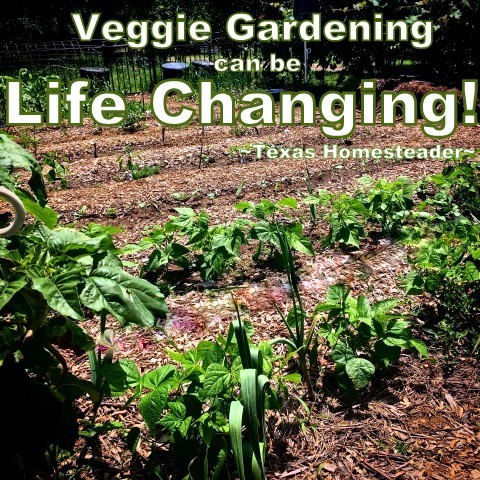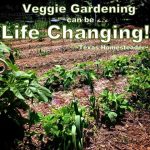 C'mon by & sit a spell! Come hang out at our Facebook Page. It's like sitting in a front porch rocker with a glass of cold iced tea – lots of good folks sharing! You can also follow along on Pinterest, Twitter or Instagram.
If you'd like to receive an email each time a new blog post goes live it's EASY to
Subscribe to our blog!
Save