by Texas Homesteader ~
I've found a wonderful way to use little terracotta clay pots in my vegetable garden. They water my garden vegetables more deeply while they also conserve that precious water. Check out these tips.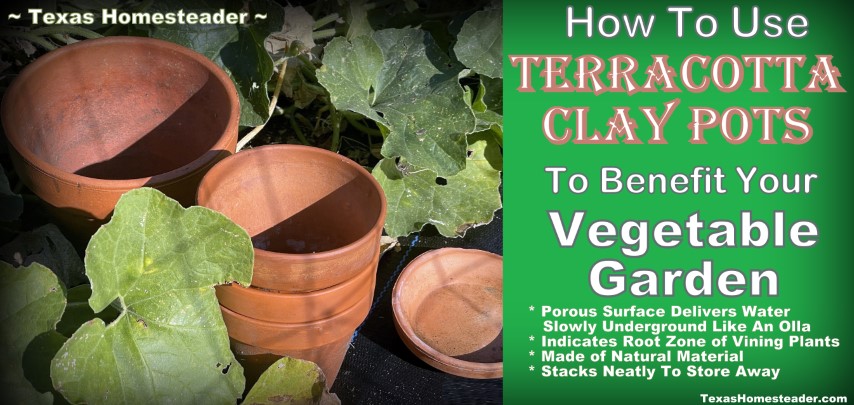 (Note: Some links in this post will take you to other related articles for further information. But links preceded with * are affiliate links. If you click and buy something I could receive a tiny commission.)
Deep Soaking For Your Dry Garden Plants
For years I've used repurposed coffee cans to deep-soak water my precious garden plants. And make no mistake it does help.
Plus it makes use of a coffee can destined to hit the recycle bin. I'm a big fan of using items in multiple ways instead of recycling or throwing them away.
You can see all my Repurposing Posts by clicking the button below:

But I've found another garden helper for deep-soaking thirsty garden plants. And there are many benefits to using those little terracotta clay pots instead.
Clay Pots To Direct Water Dry Garden Plants
At a garage sale recently I found several small 4″ – 6″ clay pots for almost nothing. I decided to put them to use in my garden as my own inexpensive homemade olla. But I use them slightly differently to offer even more benefits in my garden.
I like to plant Living Mulch in my garden. Long vines of cantaloupe or pumpkin used as living mulch covers the soil and conserves moisture for the other garden plants around them. And they keep the soil cooler too.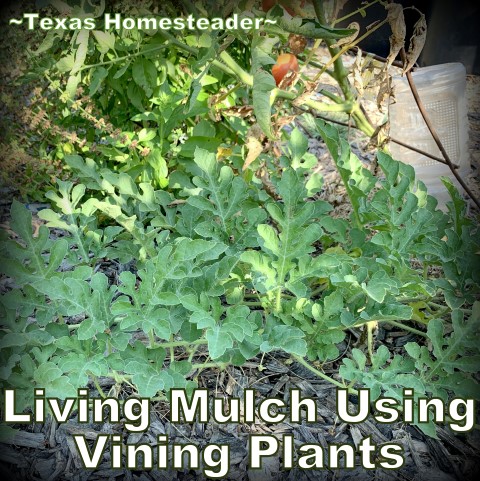 Plus as an added benefit, living mulch gives me food!
Proper Waste-Free Watering For Vining Plants
But how do you know where to direct the water for such a long vine? I mean that vine is 10, 12 or maybe even 15 feet long. Yet only the roots require water.
That's where my nifty clay pot comes in handy. When I plant my cantaloupe I'll bury the bottom of a clay pot at least a couple of inches in the soil next to the plant.
When the vines grow the pot indicates where the roots are. I direct the water hose there and fill the pot with water.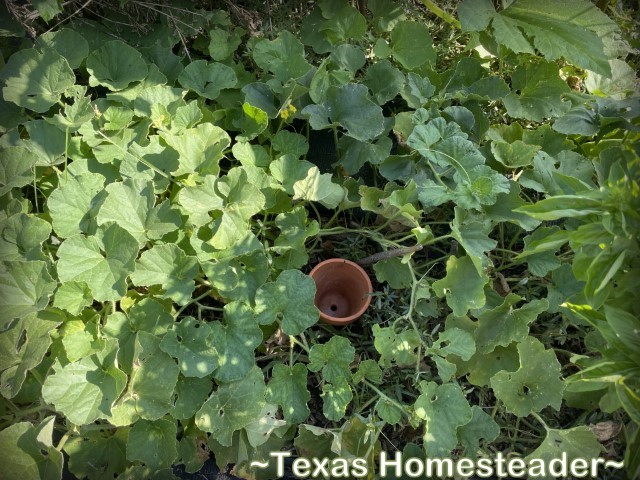 The porous clay portion below grown will transfer water as the soil around it dries. And the small hole in the bottom of the pot allows water to seep out slowly too.
Make Your Own Water-Saving Garden Olla
An olla is a clay urn that gardeners bury in the soil next to their plants. They'll fill it with water which seeps through the clay as the soil dries to deliver moisture directly to the plant's roots.
Ollas have been used for centuries, especially in dry areas. But you can use a terracotta pot and saucer to make your own inexpensive homemade olla.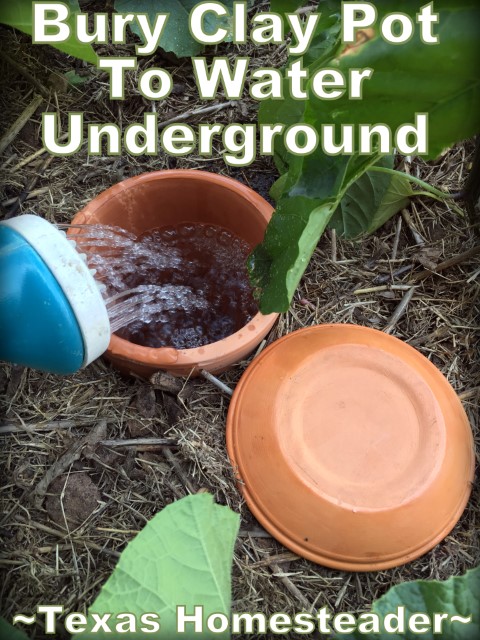 Should You Seal The Drainage Hole In A Clay Pot?
Many gardeners seal the small drainage hole in the bottom of the clay pot with moldable clay or other materials when using them for ollas. They feel it keeps the water from draining into the soil too quickly.
But I've found that my plants often need more moisture than can naturally wick through a terracotta pot. So I don't plug the hole in my pots.
I simply bury them at least a couple of inches into the ground (to keep water from just running out on top of the soil). The deeper I bury the pot, the longer it takes for water to seep out.
Since water drains slowly over the course of several minutes to a couple of hours there's no need for a saucer to cover it to prevent evaporation either. I usually leave the tops open.
Can I Use Any Terracotta Pot In The Garden?
If you'll be picking up a terracotta pot to use in your garden for watering you'll want to make sure the pot is unglazed.
If it's had a glazing added to its surface it will be difficult if not impossible for water to seep through since the surfaces may no longer be porous.
Also I prefer to get clay pots with no drainage hole. Many times the drainage hole in the clay pot is larger than I want.
But when I get a clay pot with no hole, RancherMan uses a *Carbide Tip Masonry Bit to drill a small hole.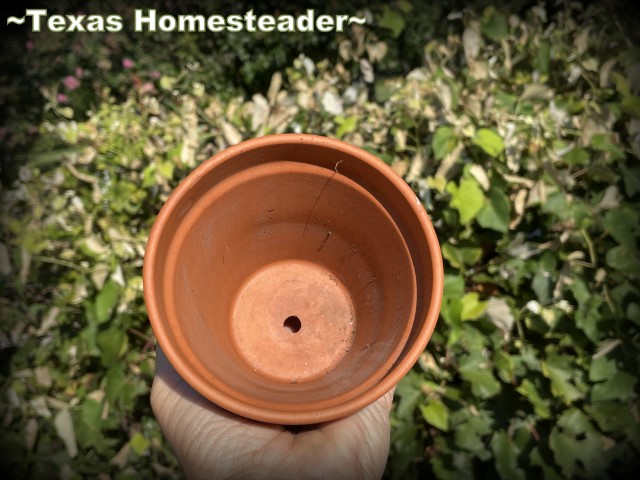 ¼" works best for me because it's small enough to keep the water from draining too quickly but large enough that water doesn't just sit inside for too long.
Clay Pots Stack To Store Easily & Compactly
Here's where clay pots are significantly more beneficial than repurposed coffee cans.
Whereas coffee cans don't stack at all and take up a tremendous amount of storage space during the off season, clay pots stack neatly for compact storage.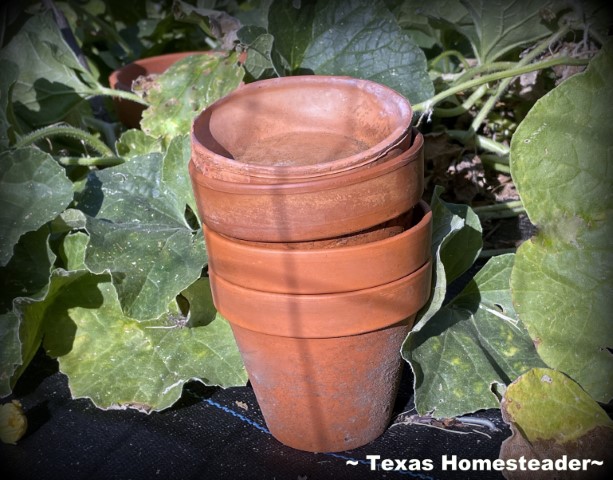 When I'm done for the gardening year all my clay pots are stacked together. I turn the stack upside down and tuck them away in the corner of my garden until next spring.
Clay Pots Have Benefits Over Plastic Containers
I love that the clay pots are made of a more natural material than plastic coffee cans.
Plus the coffee cans start to get brittle after a season or two of that hot Texas sun. My clay pots will last much longer.
Add to those benefits the fact that clay pots stack & store more compactly and you really have a winner!
If you have a few clay pots laying around, you can put them to good use in your garden!
~TxH~
My Favorite Garden Hacks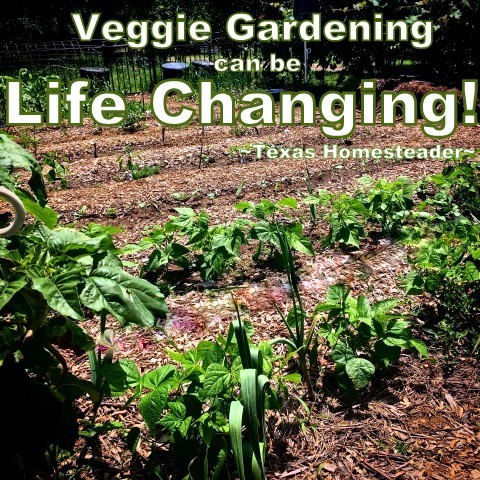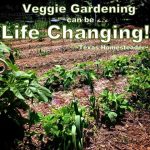 Garden Planning
Seed Planting
Soil Health
Garden Styles
Garden Plants/Harvest
Water/Irrigation/Drought
Weed Control
Garden Tips


C'mon by & sit a spell! Come hang out at our Facebook Page. It's like sitting in a front porch rocker with a glass of cold iced tea – lots of good folks sharing! You can also follow along on Pinterest, Twitter or Instagram.
If you'd like to receive an email each time a new blog post goes live it's EASY to
Subscribe to our blog!