by Texas Homesteader ~
*affiliate link
I like to use heirloom seeds for my veggie garden. But I still want to have seedling plants to actually place in the soil in the spring. What's an enterprising country gal to do?
I bring out my "indoor greenhouse kit". This kit is contains everything I need to get a jump start on the growing season… INSIDE!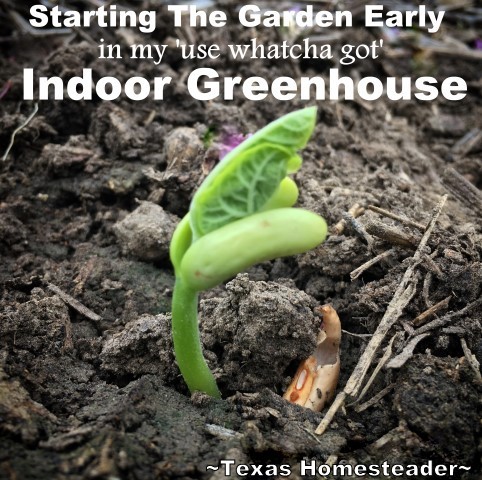 (Note: Some links in this post are for further information from earlier posts I've written. But links preceded with * are affiliate links. If you click them and buy something (almost anything, not just the item noted) I could receive a tiny commission. But the price you pay will NOT change. It's an easy way to support this blog without anything coming out of your pocket. So click often! Thank you!)
What Do I Need For An Indoor Greenhouse Kit?
I already have my heirloom seeds stored safely in the fridge. And within this clear tote are starter pots (courtesy of the plastic yogurt cups my dad saved for me), interim-sized pots, plant markers and some seed starting potting mix. Everything I need!
And of course the tote itself is magically transformed into my indoor greenhouse. The entire greenhouse-in-a-box comes down from the attic.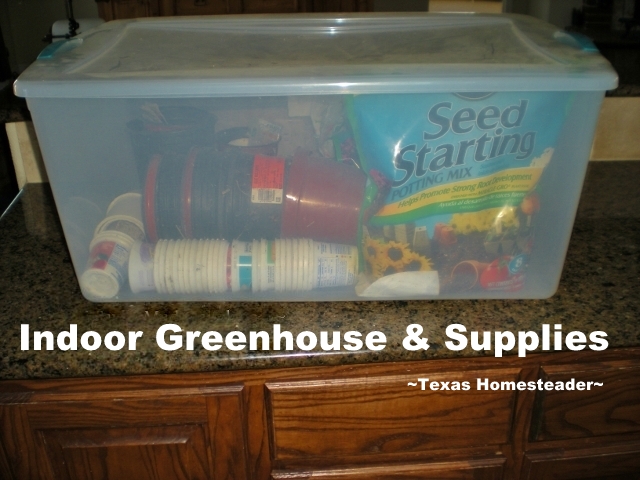 How convenient that it's all self contained!
Planting Supplies For Indoor Greenhouse
I simply pop open the top of the tote and bring out my greenhouse supplies:
Seed-starting mix,
Plant labeling sticks,
Planting pots, whether repurposed cardboard tubes or repurposed yogurt cups with holes punched in them for proper drainage.
I'll plant my veggie seeds in these pots. It's easy to add a label for the planted seeds using small wooden sticks, duct tape or even writing directly on the cardboard tube itself.
Using Repurposed Cardboard Tubes
Although sometimes I'm reusing those small yogurt pots over & over again for planting, oftentimes nowadays I'll turn empty cardboard tubes into biodegradable planting pots.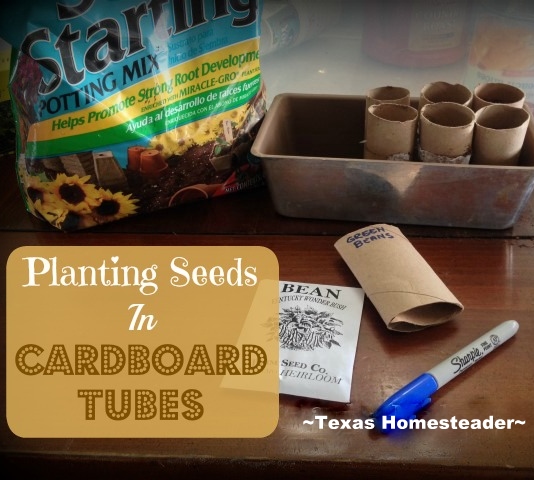 I can even write the seed type right on the cardboard. That way when it's time to plant I can just make a little cut in the earth with my garden spade and slide the whole cardboard pot into the soil.
EASY! Plus, it's less trauma on the tender little roots when placing them in the garden. And the earthworms will love the cardboard. Bringing in earthworms to your garden is a good thing, no??
Lighting For My Seeds
When my seeds have been planted in their little pots I give my little newly-planted seeds a sprinkle of water. I place the pots inside the clear tote, sealing the lid.
Then I place the tote close to a sunny south-facing window and wait. The lidded tote will give a nice, moist atmosphere for my seedlings to grow.
NOTE: Even though this window gets lots of sunshine during winter months, my little seedlings sometimes become 'leggy'. So I've purchased a small clip-on *grow light from Amazon, although I see you can order online *Clip-On Grow Lights at WalMart as well. We'll see if that offers an even better start for my seedlings by giving them even more light to grow strong.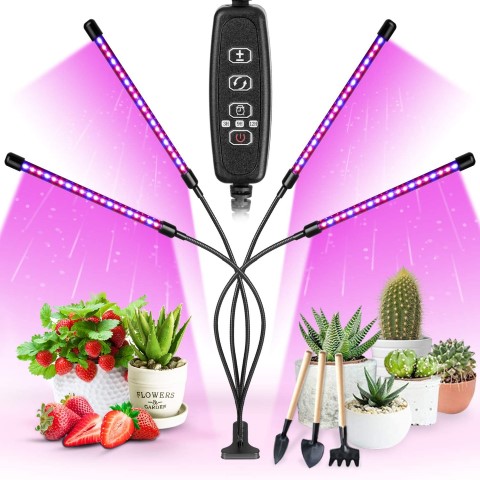 Heirloom Seeds Into Seedlings
Whether in small yogurt tubs or cardboard tubes, in only a few days in this moist and humid greenhouse environment my seeds will sprout.
I've planted a few seeds in each pot. So after they sprout and grow a bit into small seedlings, I'll transfer each seedling to their own pot.
That gives them a little more room to take off and grow.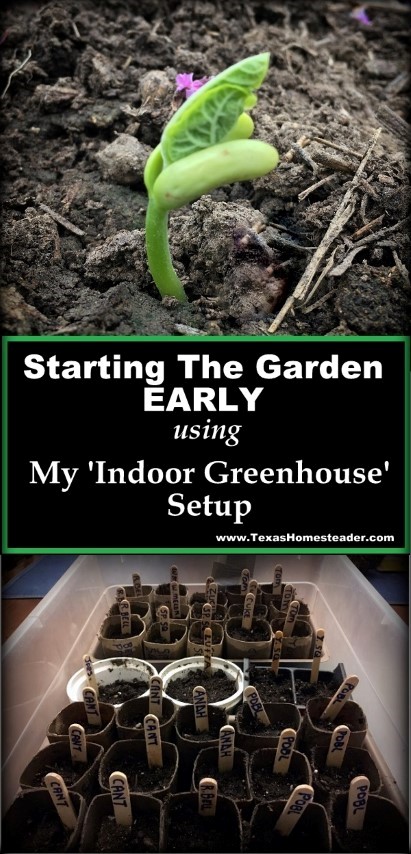 Planting My Seedlings
There they'll finish growing until they're ready to transplant into the garden when the danger of the last frost has passed.
NOTE: When it's time to plant them in the garden I harden the seedlings off. But I always seem to struggle getting actual seedlings to thrive in the garden immediately after planting.
So this year I've purchased a grow light. I hope that makes the difference in my seedlings growing strong and not getting leggy. Fingers crossed!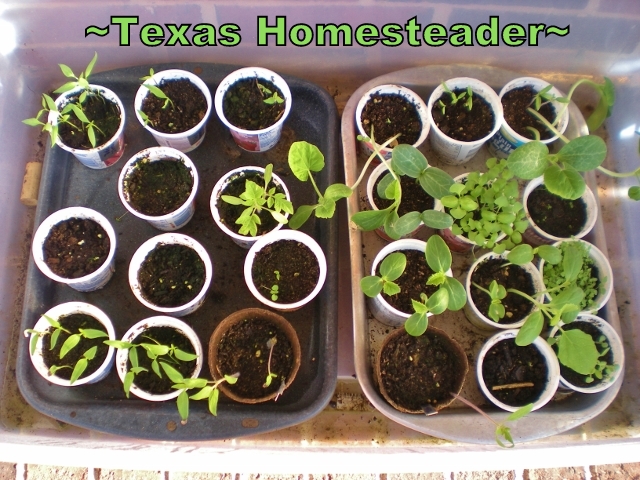 Compost Is Garden's Black GOLD!
I've already been preparing the compost for weeks in my *compost tumbler. The final-stage compost was separated into large tubs weeks ago to finish its activity.
That black gold compost will be ready to add directly into the planting holes this spring. So my newly-planted little sproutlings will get a healthy start!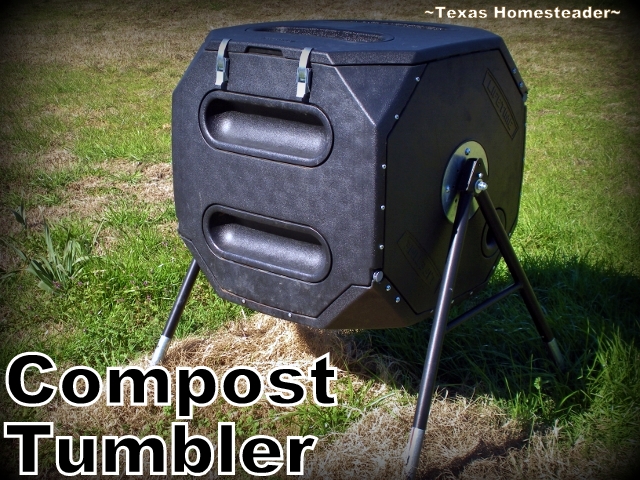 I love my indoor greenhouse setup. What a handy way to start your spring garden by reusing your supplies every year.
When the transplants finally go to the garden I simply wipe out my pots and place all supplies back inside the tote.
Then up into the attic it goes until it's needed next year. Everything I'll need again next year (except for the actual seeds that are kept in the refrigerator) is bundled up inside this box.
So it's easy for RancherMan to bring everything back down from the attic next year all at one time when I once again plant my heirloom seeds for the garden.
This setup is Inexpensive and environmentally friendly. And that makes me happy.
Now it's time to let the little seedlings do their thing as I dream of the productive garden to come.
Come on spring!
~TxH~
This post categorized in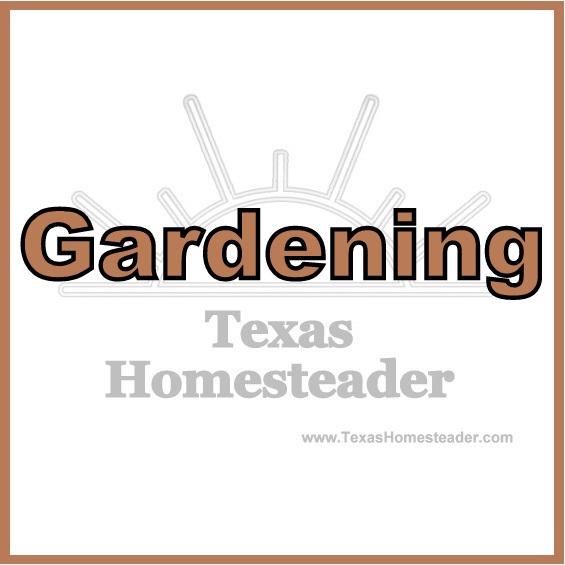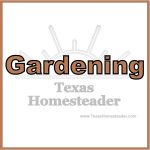 My Favorite Garden Hacks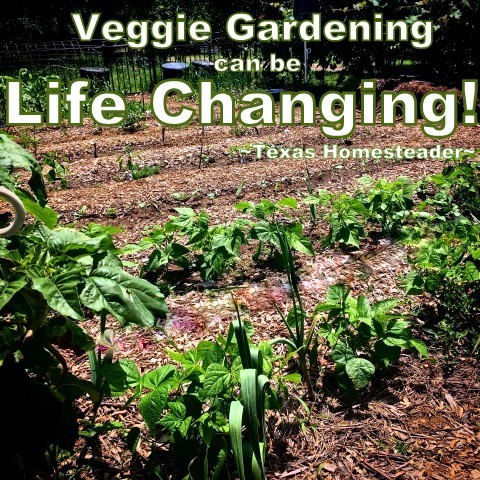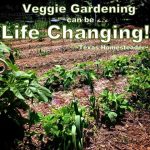 C'mon by & sit a spell! Come hang out at our Facebook Page. It's like sitting in a front porch rocker with a glass of cold iced tea – lots of good folks sharing! You can also follow along on Pinterest, Twitter or Instagram.
If you'd like to receive an email each time a new blog post goes live it's EASY to
Subscribe to our blog!
Save
Save
Save
Save
Save
Save