by Texas Homesteader ~
*contains affiliate link
There are a few sensitive areas on our Homestead where I refuse to spray toxic chemicals. Such places as the fence line around our vegetable garden, the chicken yard fence and around our beehives in the apiary.
But I still need a grass killer spray for those areas. Will I buckle and use grass killer spray?
Well, maybe I'll just spray grass killer around the perimeter of the garden when needed. Whaaaa….???!!! Grass killer sprayed around our food??!! Are you CRAZY?? Read on, dear friends…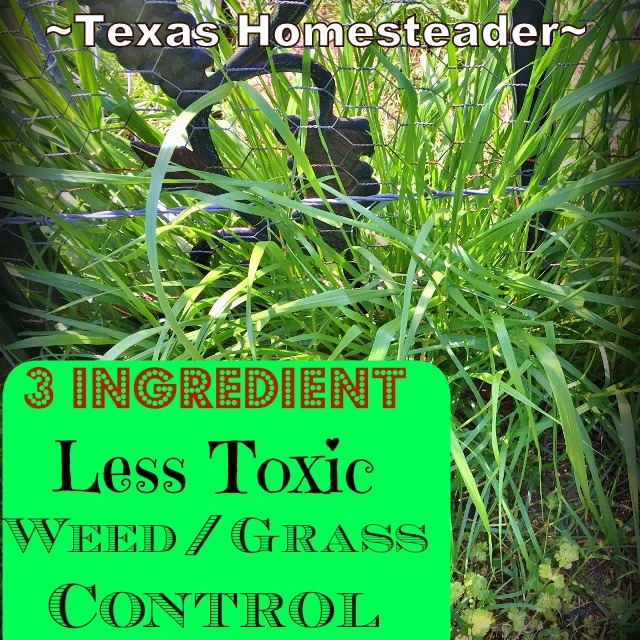 (Note: Some links in this post are for further information from earlier posts I've written. But links preceded with * are affiliate links. If you click them and buy something (almost anything, not just the item noted) I could receive a tiny commission. But the price you pay will NOT change. It's an easy way to support this blog without anything coming out of your pocket. So click often! Thank you!)
In an effort to finally win the war against Bermuda grass I've lined the perimeter of the garden with flattened heavy-paper feed sacks and topped those sacks with thick layers of Bark Mulch I Got For Free.
But since we plopped our garden area right into a cattle pasture, Bermuda grass can still encroach from all around it. My hope is that any Bermuda grass runners will have to run the entire width of those walkways to reach my garden and perhaps I can keep the grass eliminated that way.
I've re-worked my vegetable garden this year by ripping up the raised beds, splitting the fenced garden area in half and making 1/2 of the area into the chicken run, the other half remaining for my veggie garden.
Although the garden has less space than before, it's set up more efficiently so it should grow roughly the same produce with less maintenance – gotta love it!
3-Ingredient Weed Control Recipe
My weed killer recipe is made of 3 simple inexpensive ingredients that I typically have in the kitchen anyway – Vinegar, Dawn dish-washing soap and Epsom salts.
I didn't invent this recipe myself, I've read about it for years on many various sites but I thought now was a good time to give 'er a try. So I bought a *hand-pump sprayer and poured in 2 quarts of vinegar, 1 cup Epsom salt & about 2 tablespoons of dish soap, mixed it all together & gave it a try.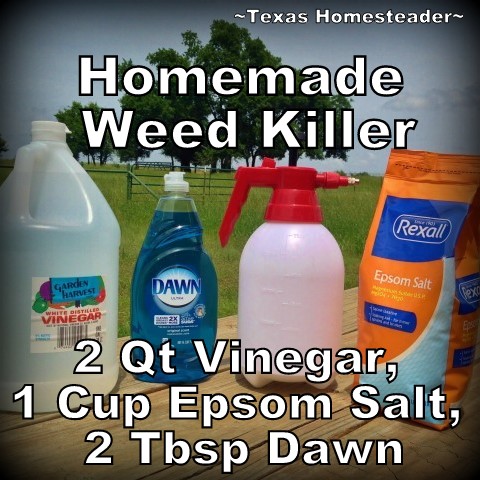 Grass/Weed Control On Sidewalks
I first tried this solution on my sidewalk where grass grows into the bricks. It worked beautifully there, but those blades of grass are thicker so it's easier for more of the solution to hit more leaf surface making it an easier control.
Although I was pleased with the initial success, I really wanted to put this stuff to a REAL test…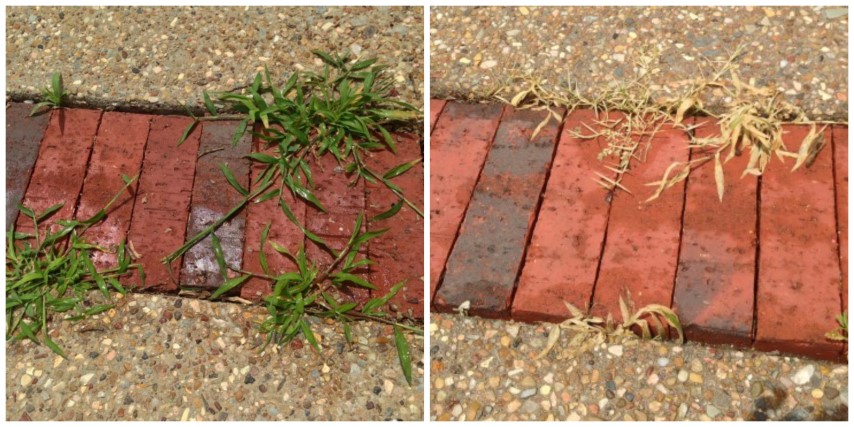 Grass/Weed Control In Vegetable Garden
Bermuda grass is notoriously hard to control even using the harshest of chemicals. But after my success at the sidewalk and with guarded optimism.
I decided to go ahead & try it with the roaring beast that is Bermuda grass. And I was pleasantly surprised to see it was effective there as well!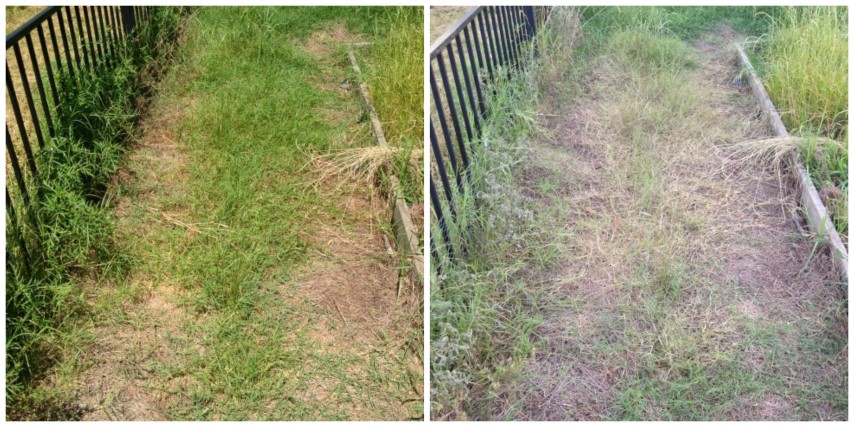 The before/after pictures above were taken after only a couple of hours. Impressive! By the following day the grass was completely brown as shown in the picture below. Yes. Yes! Y-E-S!!!(insert evil maniacal laugh here…)
So I'm convinced that this will be my grass-control method of choice from now on. I used a permanent marker to write directly on my spray bottle to both identify the only contents allowed in it as well as keep the recipe handy.
Yep, I'm just clever that way… Two birds. One stone. 🙂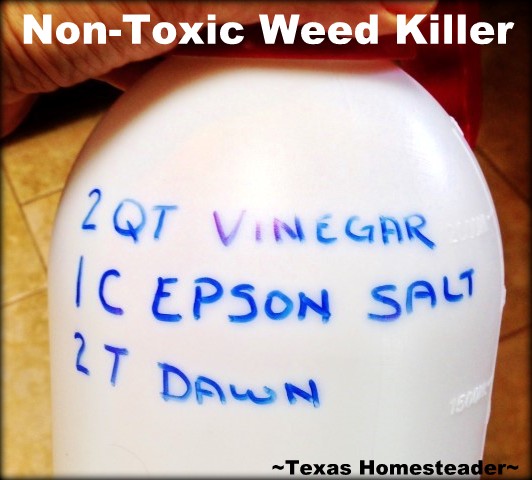 Now I realize this is a non-selective grass killer so I'm careful to spray on a day that is not windy to prevent any drift and I sprayed only what I wanted dead.
I also waited until the weather promised to be warm & sunny, then after the dew dried in the morning I did my spraying.
Using this spray I have renewed hope that at least I may be able to gain the upper hand on this out-of-control grass growth and finally regain control of my garden.
Questions About Effectiveness:
There is some question out there about whether or not this spray actually kills weeds. And also whether it actually fertilizes plants.
So I thought I'd address my understanding of effectiveness right here.
Is Epsom Salt A Fertilizer?
Some people say that since the epsom salt contains magnesium and sulfate (also ingredients in many fertilizers), that adding epsom salt to this spray actually FERTILIZES the weeds.
Technically if a weed was in deficit of magnesium and/or sulfate, I suppose it could replace those missing items within the plant. But I would assume the large ratio of epsom salt along with the acidic vinegar in this spray would negate any fertilizer effect. I'm not a botanist, just a Homesteader trying to live lightly on this land. But it sure seems to make sense to me.
Using Table Salt Instead Of Epsom Salt
Some say instead of using epsom salt that you should use table salt. And we all know that table salt will kill plants!
But I'm extremely hesitant to put table salt around my garden. I've read that it can render that ground sterile for years.
And I've seen what happens in the pasture where we have salt & mineral blocks out to supplement our cattle. That area dies of all vegetation and the barren area spreads over the years into a larger & larger area.
To me the harm of adding table salt would outweigh any weed-killing benefit.
Does This Spray Actually KILL Hard-To-Treat Weeds?
Well, it appears to kill hard-to-treat weeds such as the bermuda grass demonstration in the photos above. But according to my extension agent, bermuda grass and other weeds that spread underground are probably less affected than it appears.
Basically, this spray is burning the foliage, turning it brown. But again, here's my take on it: Yes, I may need to spray a few times to get the same effectiveness of using poison, but many less-toxic methods of doing things require more applications.
And plants need photosynthesis to grow. I'm denying that to the plants I spray, although it's taking more than one application to do so.
So for now I'll continue with this less-toxic weed spray when trying to kill weeds and grass around my garden, around my chicken pen and around the beehives in our apiary.
But I'm researching it further to make sure it's the best fit for our circumstances. It's always best to go to the experts to ask the hard questions, so I went to our county extension agent. When I asked her about my experience using this spray, she had this to say:
The vinegar is probably what is turning the plants brown, while the salts may "help" with leaf burn. The chemicals in the dish soap act as a surfactant making all this "stick" to the plant.
The main problem with this mixture is that in most cases it doesn't actually kill the plant roots. It kills the top growth, but if the weed is perennial or has an extensive root system it simply doesn't kill it. It burns the tops off. So shallow rooted plants are knocked back. The deeper rooted perennials are not as affected.
I've asked my extension agent for further clarification on the above questions, I'll be sure to share right here when I hear back from her. In the meantime I'll continue using this less-toxic weed killer spray in sensitive areas of our property.
Here's the recipe if you want to try it as well:
3-Ingredient Grass/Weed Killer Recipe
2 Quarts Vinegar
1 Cup Epson Salt
2 Tablespoons Dawn Dish-Washing Soap (Blue Original)
Mix all ingredients into a sprayer. Choose a day with no wind. Wait until dew dries in the morning. Spray only on grass & weeds you want to kill.
CAUTION: Do not allow spray or drift onto desirable plants! Be sure to rinse your sprayer thoroughly after spraying.
~TxH~
This post categorized in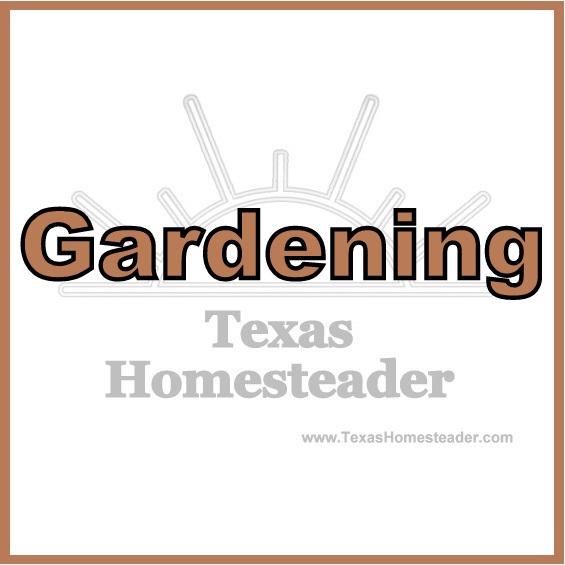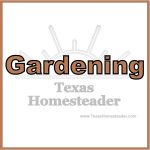 My Favorite Garden Hacks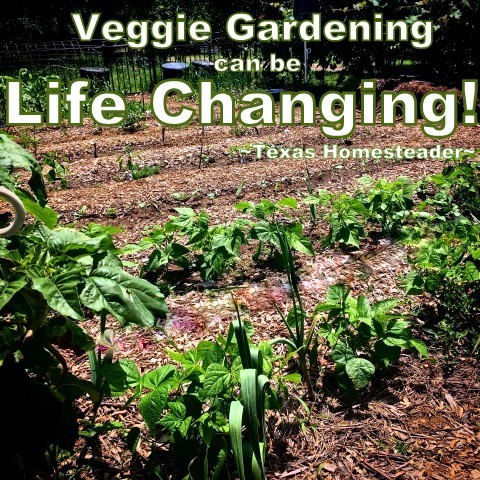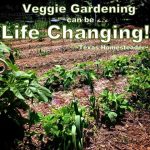 C'mon by & sit a spell! Come hang out at our Facebook Page. It's like sitting in a front porch rocker with a glass of cold iced tea – lots of good folks sharing! You can also follow along on Pinterest, Twitter or Instagram.
If you'd like to receive an email each time a new blog post goes live it's EASY to Subscribe to our blog!