by Texas Homesteader ~
*contains affiliate link
I've re-worked my vegetable garden this year by ripping up the raised beds, splitting the fenced garden area in half and making 1/2 of the area into the chicken run, the other half remaining for my veggie garden.  Although the garden has less space than before, it's set up more efficiently so it should grow roughly the same produce with less maintenance – gotta love it! 
In an effort to finally win the war against Bermuda grass I've lined the perimeter of the garden with flattened heavy-paper feed sacks and topped those sacks with thick layers of Bark Mulch I Got For Free.  But since we plopped our garden area right into a cattle pasture, Bermuda grass can still encroach from all around it.  My hope is that any Bermuda grass runners will have to run the entire width of those walkways to reach my garden and perhaps I can keep the grass eliminated that way.  I'll just spray grass killer around the perimeter of the garden when needed.  Whaaaa….???!!!  Grass killer sprayed around our food??!!  Are you CRAZY??  Read on, dear friends…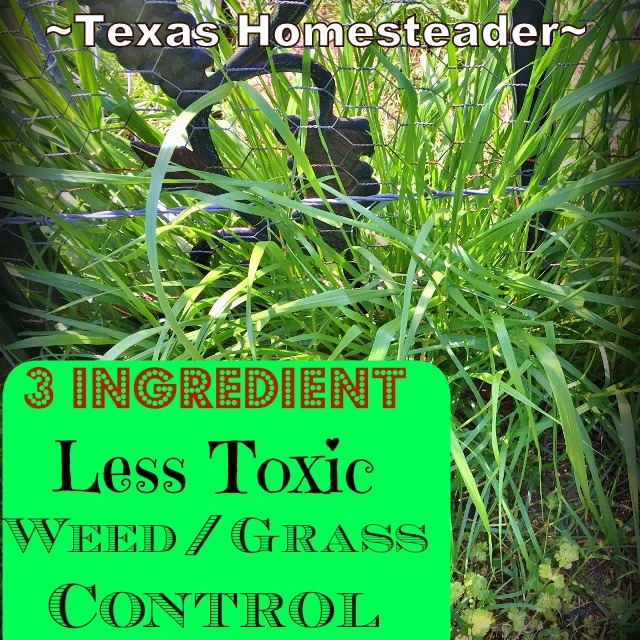 3-Ingredient Weed Control Recipe

My weed killer recipe is made of 3 simple inexpensive ingredients that I typically have in the kitchen anyway – Vinegar, Dawn dish-washing soap and Epsom salts.   I didn't invent this recipe myself, I've read about it for years on many various sites but I thought now was a good time to give 'er a try.  So I bought a * hand-pump sprayer and poured in 2 quarts of vinegar, 1 cup Epsom salt & about 2 tablespoons of dish soap, mixed it all together & gave it a try.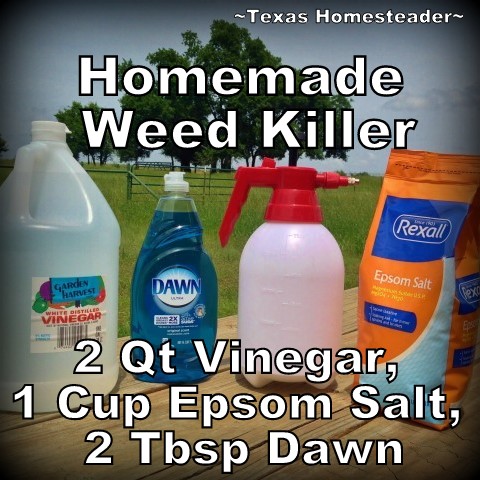 Grass/Weed Control On Sidewalks
I first tried this solution on my sidewalk where grass grows into the bricks.  It worked beautifully there, but those blades of grass are thicker so it's easier for more of the solution to hit more leaf surface making it an easier control.  Although I was pleased with the initial success, I really wanted to put this stuff to a REAL test…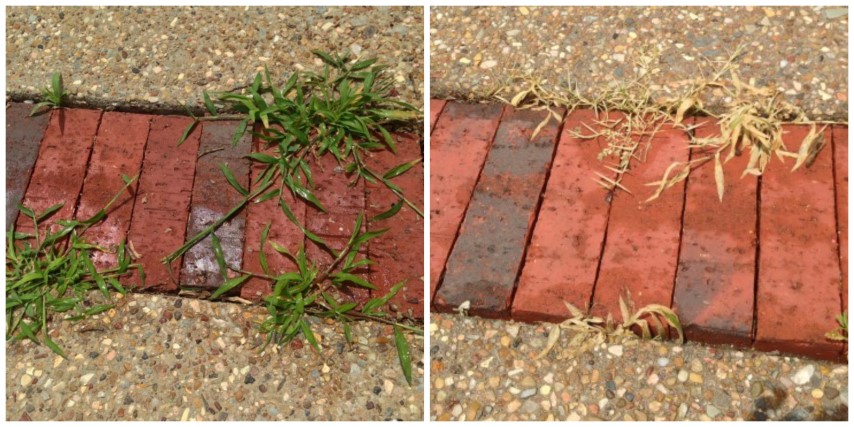 Grass/Weed Control In Vegetable Garden
Bermuda grass is notoriously hard to control even using the harshest of chemicals.  But after my success at the sidewalk and with guarded optimism I decided to go ahead & try it with the roaring beast that is Bermuda grass.  I was pleasantly surprised to see it was effective there as well!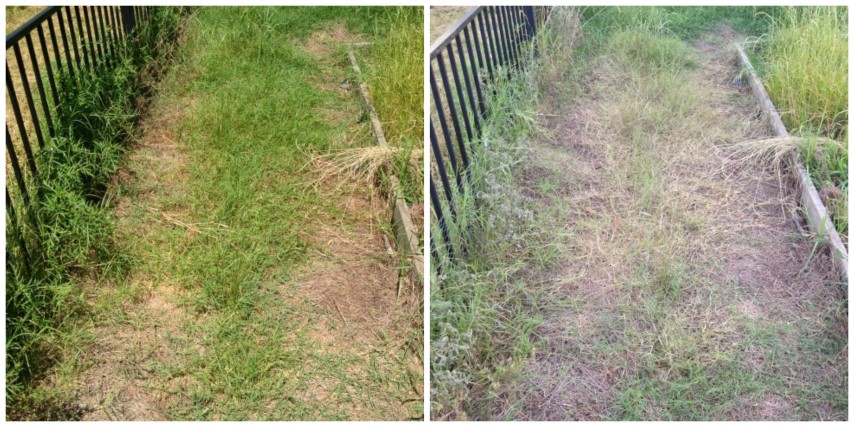 The before/after pictures above were taken after only a couple of hours.  Impressive!  By  the following day the grass was completely dead as shown in the picture below.  Yes.  Yes!  Y-E-S!!!(insert evil maniacal laugh here…)
So I'm convinced that this will be my grass-control method of choice from now on.  I used a permanent marker to write directly on my spray bottle to both identify the only contents allowed in it as well as keep the recipe handy.  Yep, I'm just clever that way…  Two birds.  One stone.  🙂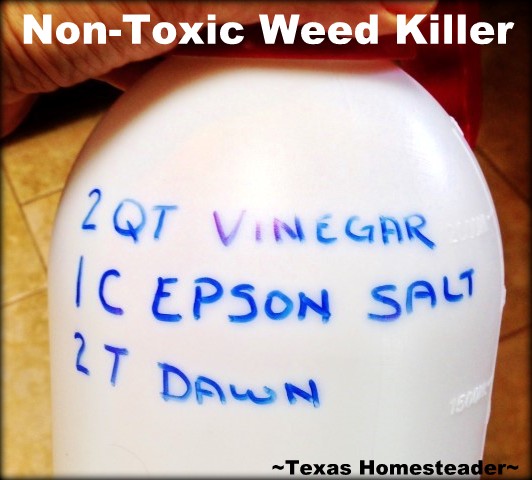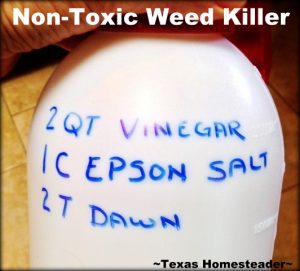 Now I realize this is a non-selective grass killer so I'm careful to spray on a day that is not windy to prevent any drift and I sprayed only what I wanted dead.  I also waited until the weather promised to be warm & sunny, then after the dew dried in the morning I did my spraying.   I have renewed hope that at least I may be able to gain the upper hand on this out-of-control grass growth and finally regain control of my garden.
3-Ingredient Grass/Weed Killer Recipe
2 Quarts Vinegar
1 Cup Epson Salt
2 Tablespoons Dawn Dish-Washing Soap (Blue Original)
Mix all ingredients into a sprayer.  Choose a day with no wind. Wait until dew dries in the morning. Spray only on grass & weeds you want to kill.  CAUTION: Do not allow spray or drift onto desirable plants!  Be sure to rinse your sprayer thoroughly after spraying.
~TxH~
My Favorite Garden Hacks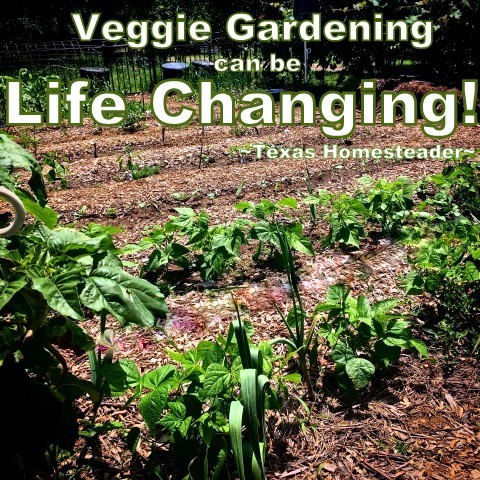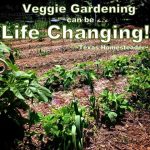 C'mon by & sit a spell!  Come hang out at our Facebook Page. It's like sitting in a front porch rocker with a glass of cold iced tea – lots of good folks sharing!  You can also follow along on Pinterest, Twitter or Instagram.
If you'd like to receive an email each time a new blog post goes live it's EASY to Subscribe to our blog!