by Texas Homesteader ~
It's easy spend too much money in the garden. The slick advertising moguls often convince us to buy things that might improve various growing conditions in our garden – garden stakes, ties, plant markers, mulch to preserve moisture for your plants, etc.
But can you actually get those improvements without spending money for it in the stores?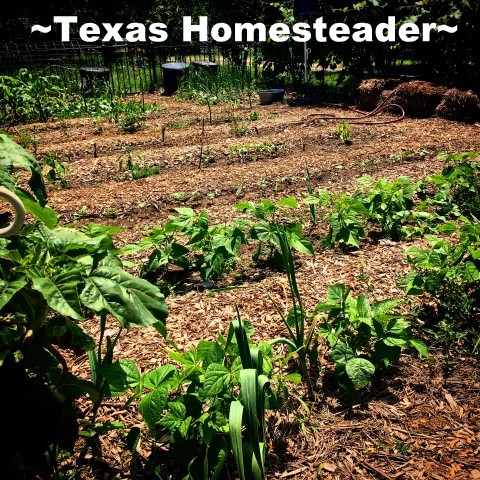 (Note: Some links in this post will take you to other related articles for further information. But links preceded with * are affiliate links. If you click and buy something I could receive a tiny commission.)
Benefits of Growing A Vegetable Garden
Y'all know I love my veggie garden. There's just something about grabbing that wicker gardening basket on my way out the door and strolling out to my gated garden.
I spend lots of time in my garden just harvesting fresh veggies while enjoying the sunshine and singing birds, the butterflies and the beauty of the garden itself.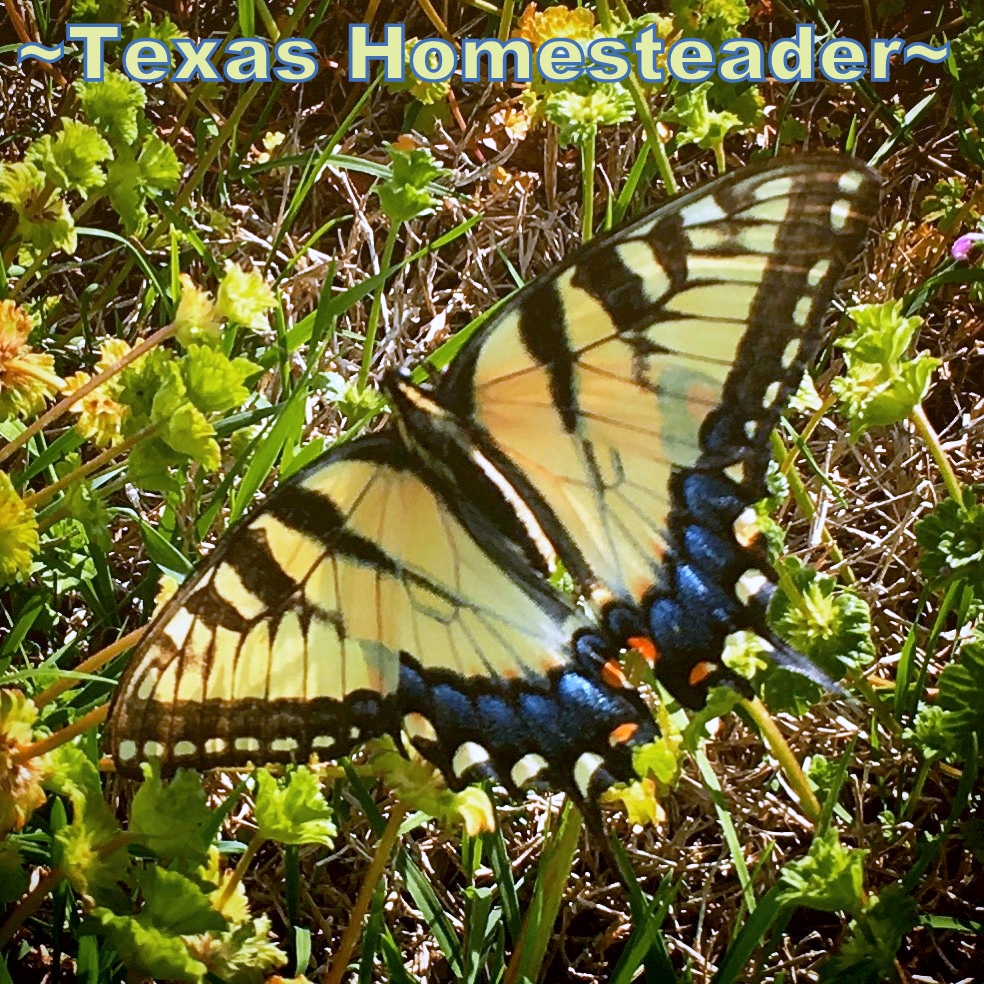 But you know I'm a fan of #UseWhatchaGot. And I love saving money too.
While continually improving growing conditions in the garden is a good thing, do you really need to BUY something for it?
Or can you save some money by finding things to fill those needs?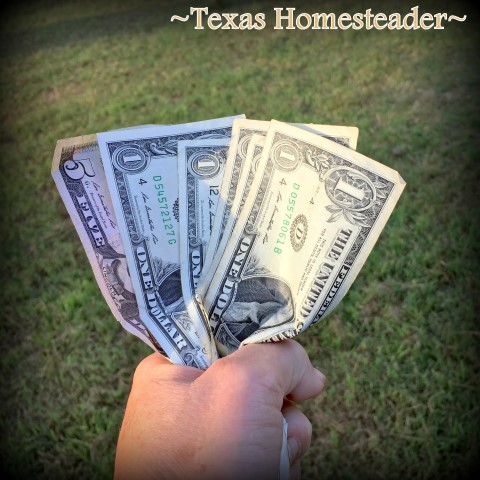 It got me to thinking about how many things I accomplish in the garden by thinking outside the box & using what I have for FREE right here on the homestead.
Protecting Tender Seedlings From The Wind
Here in NE Texas the spring breezes can get pretty stiff. I often had problems with wind bending & killing my tender transplanted seedlings.
To protect tender seedlings I pulled small twigs and pushed the stem into the ground around each of my young seedlings.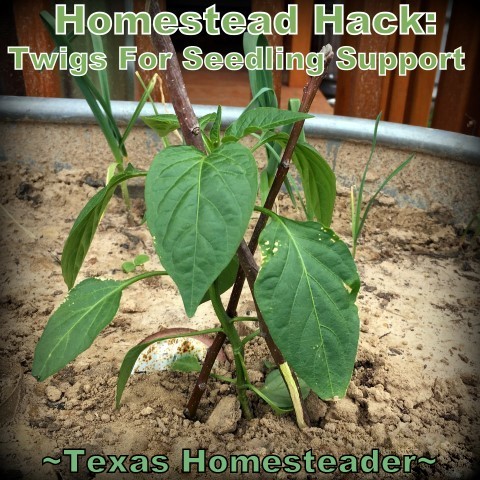 When the south wind blows, the twig will keep the wind from bending the stem of the seedling. So far it's worked great. And it's FREE.
Free Mulch For The Garden
Mulching around your plants will improve the performance in your garden by giving you healthier plants.
Various ways mulch helps keep your vegetable plants stronger is:
Maintains moisture for your vegetable plant

Keeps soil cooler

Reduces weed pressure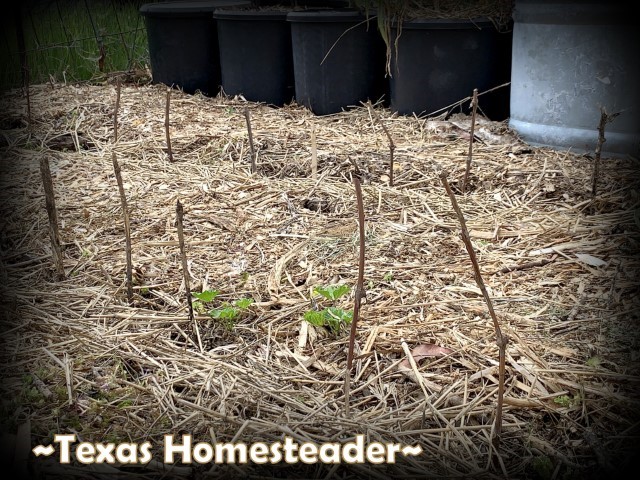 So mulching around your vegetable plants is a good move indeed.
But there are may ways to get free garden mulch to put around your plants:
Dead leaves – best if crushed

Newspaper – black & white print works best

Flattened cardboard – wet it firs to make it easier to work with

Lawn grass clippings – be sure to allow them to dry a bit first
If you don't like the look of newspaper or cardboard around your plants you can top them with the leaves and dry grass clippings to make it look more natural.
All of these items will break down over the gardening season to help your soil too. And these moisture-saving solutions in my garden were FREEEEE!
Compost Can Be FREE Natural Soil Amendment!
I rely heavily compost & have several *Compost Tumblers. (and I LOVE them!)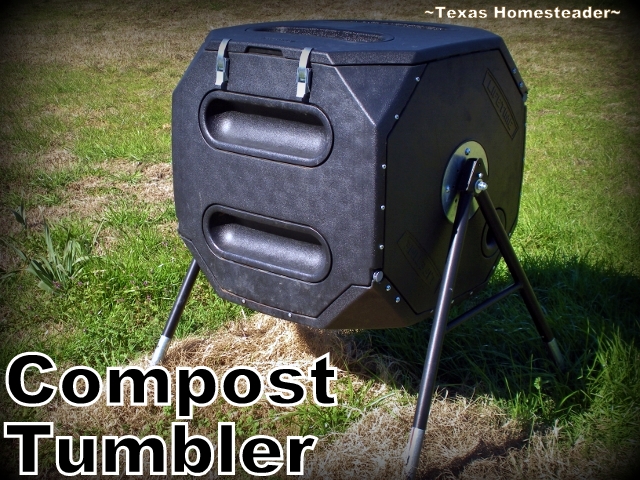 But you don't need an actual tumbler to make compost. If you care for it properly you can make compost in wire cages, pallet sections or just a pile on the ground!
And the actual soil-amending compost can be free too.
Food scraps

Seedless green weeds

Small plant/shrub trimmings

Grass clippings

Black & white newspaper

Since we have cattle, I'm often adding Manure too!
Are you nervous about composting? Don't worry, Compost Doesn't Stink! Properly balanced compost simply smells like rich healthy earth.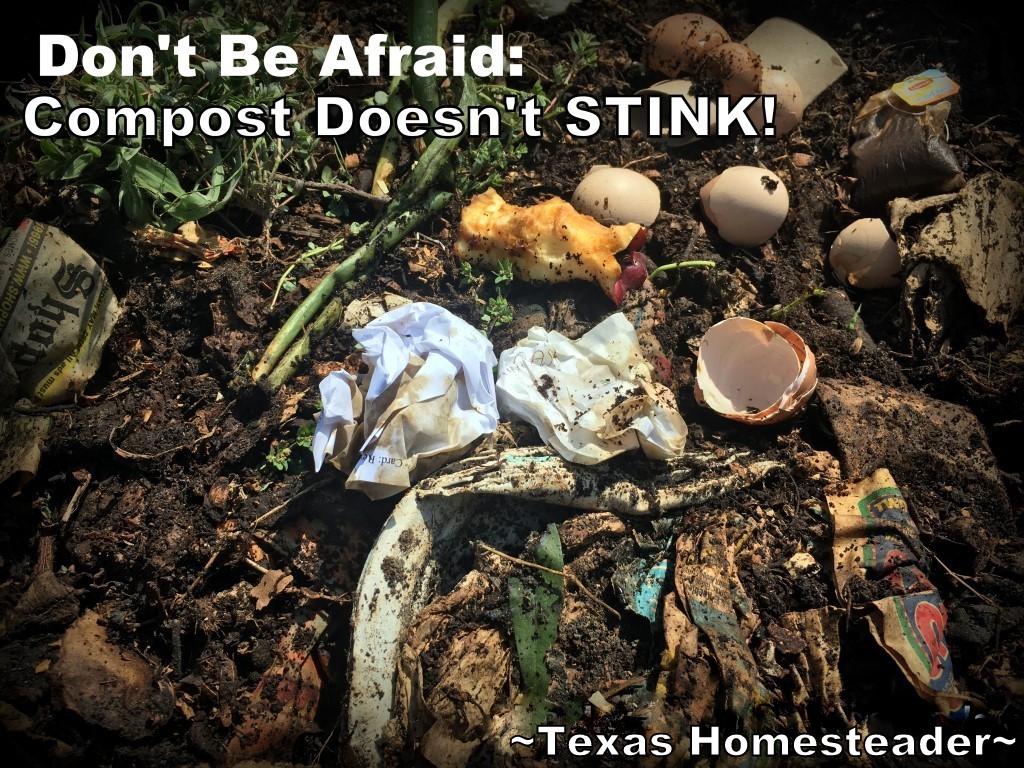 If you're wondering where to start, I wrote a helpful Guide On Composting.
Weed Control Using Repurposed Paper Bag
And I wrote recently about how I wet down some feed sacks, cut out a hole for my plant and lay the wet paper around my seedling.
I then covered the paper with hay or grass clippings to give it a more finished look.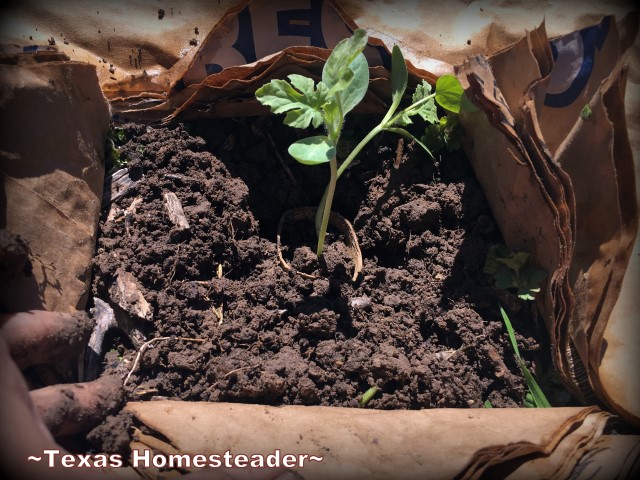 This means I won't have to mow or weed in this tight space that would otherwise be near impossible to maintain.
Plus the paper cover helps keep the soil temperature steady while also preserving the moisture around my plants helping them to grow fast & strong.
Repurposed Items To Tie Plants
Cotton String – I have blackberry vines growing along the fence in the garden. And I use the heavy cotton string from a bag of cattle cubes to tie the vines along the fence.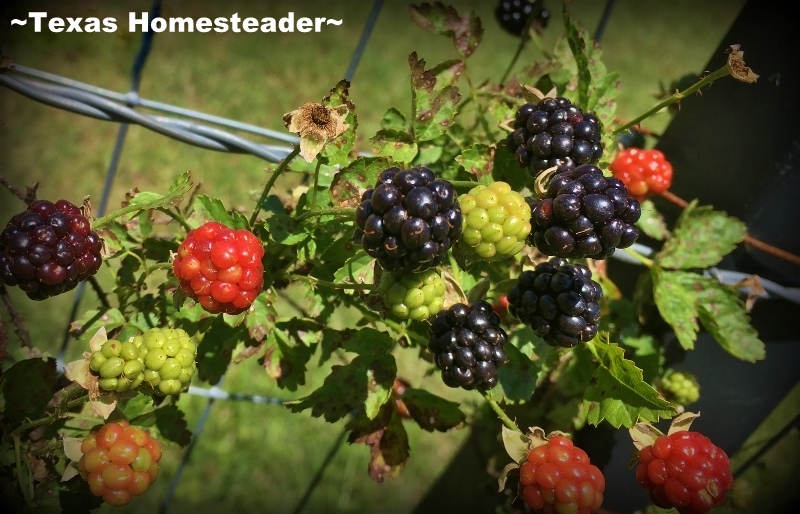 This helps keep the vines off the ground (where they would root and spread like wildfire making this plant a nuisance.)
And it also keeps the vines growing in a more convenient height & spread-out pattern to simplify the harvest of those sweet berries.
Plastic Bag Strips – I've also used strips cut from plastic bags to tie my plants. The beauty of this is that since the plastic isn't rigid, it gives a bit as the plant grows.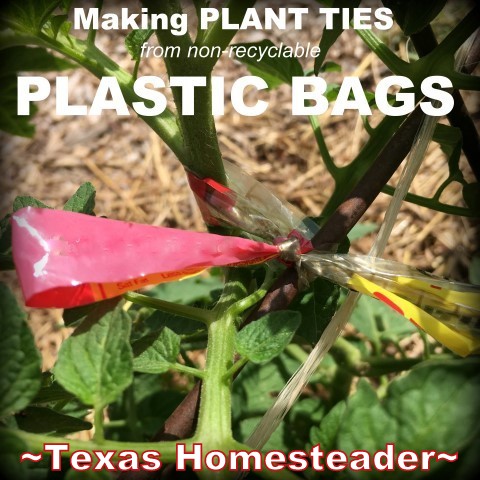 I've tied tomatoes to a trellis and my grapevine to the fence using strips of plastic bag.
Heck as much as I hate plastic & try to shun it coming into our home, I'll be dang sure to use it fully before throwing it away!
Plant Markers Using Rocks, No Charge
To identify herbs planted in my Edible Landscape I used rocks found on our property and a black paint pen. Then I marked the name of each herb on the rock – Basil, Sage, Oregano, Thyme, etc.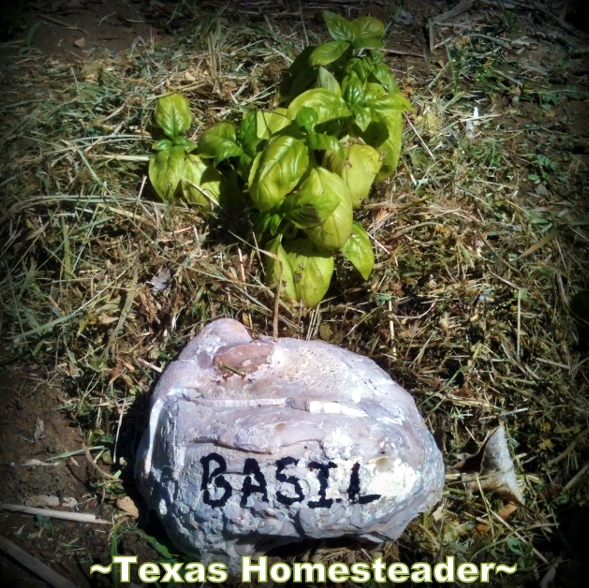 It gives a rustic country look to my landscape.
Where To Find Free Wood Mulch
Wood mulch is great for lining walkways and even to put close to (but not touching) plants.
I even got a huge amount of woo mulch for FREE using a tip from my county extension agent. The county collected it for free for their residents.
Many people also contact tree trimming companies or utility line maintenance workers.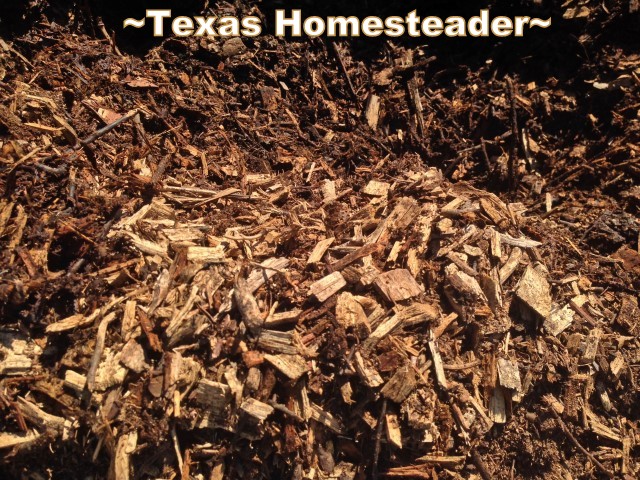 I used lots of wood chips to make a nicer walking surface throughout my garden as well as to line a perimeter around my garden to stop encroachment by the grass.
Using these wood chips means that in subsequent years they'll break down to help improve my soil every year. And once again… FREE!
Now what about your garden? How do you repurpose things around your home to keep down the cost of gardening?
~TxH~
This post categorized in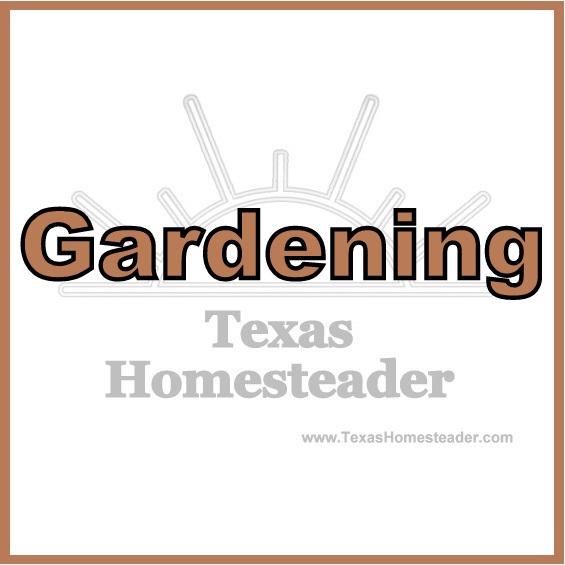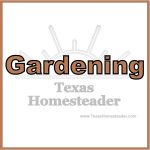 My Favorite Garden Hacks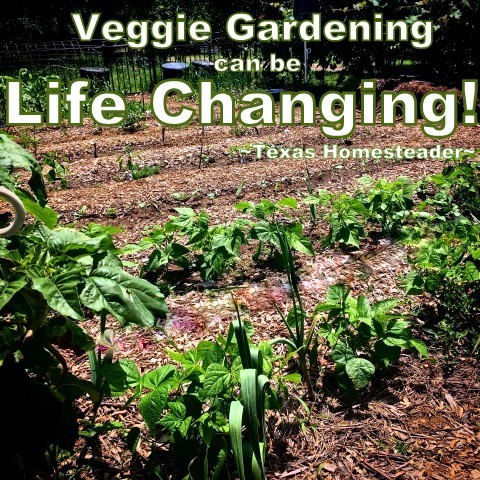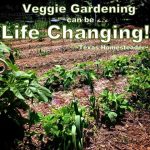 Garden Planning
Seed Planting
Soil Health
Garden Styles
Garden Plants/Harvest
Water/Irrigation/Drought
Weed Control
Garden Tips


C'mon by & sit a spell! Come hang out at our Facebook Page. It's like sitting in a front porch rocker with a glass of cold iced tea – lots of good folks sharing! You can also follow along on Pinterest, Twitter or Instagram.
If you'd like to receive an email each time a new blog post goes live it's EASY to
Subscribe to our blog!