by Texas Homesteader ~
Spring is almost here, y'all! I've been both planning on as well as working in my garden already. I've had a system in place for years for keeping weeds and grass out of my garden's walkways, but now I actually have something to keep grass & weeds out of the planting rows too. Less weeding? Yes please! Plus it will still help to conserve moisture & also attract earthworms. SCORE! All garden goodness right there!
See what's going on in our garden this month…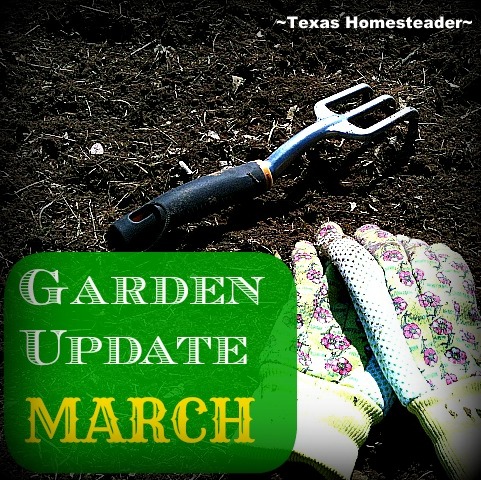 Seeds Already Planted In My Indoor Greenhouse
I planted my 'Indoor Greenhouse' a few weeks ago and things are sprouting quite nicely in there right now. Here in Zone 8 our typical last frost is around March 20th. So my sweet little seedlings will be going into the garden soon.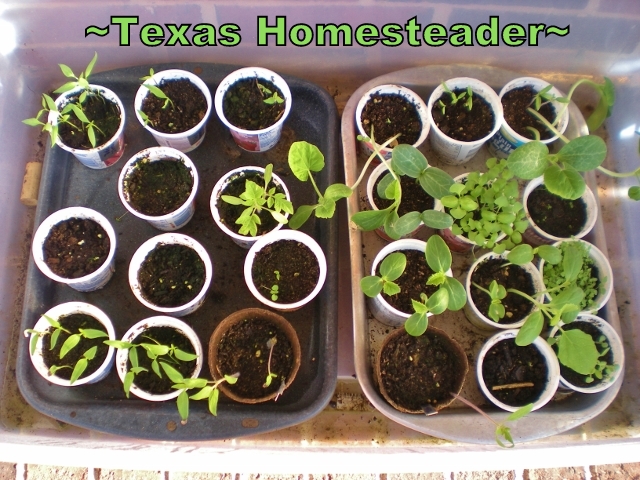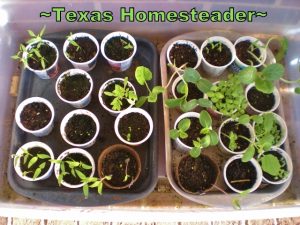 I've planted many of my seeds in repurposed Cardboard Tube Seed Pots. For those seedlings I'll drop them cardboard tube and all into the ground. Using these cardboard tube planters means I can still plant seeds inside and place them outside as seedlings in the spring. The paper tube simply feeds the worms and biodegrades back into the soil.
Weed Control In Walkways
I've redone my walking rows with more Weed-Block using the feed sacks we have in the shed. I topped it with Free Bark Mulch from our county. This is my garden setup each year.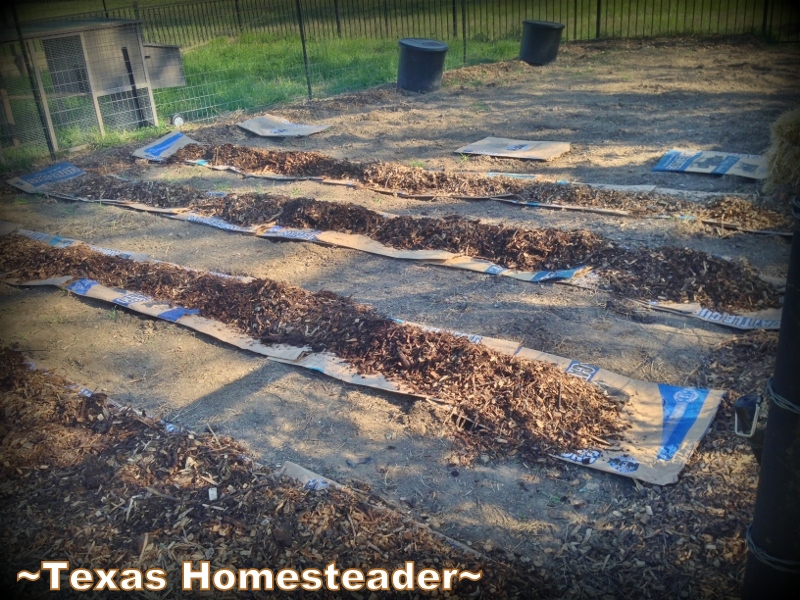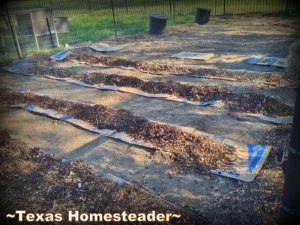 But it involves lots of work to redo the walking rows every year. I'm contemplating getting some sort of heavy-duty weed blocking fabric to lay in my walking rows instead.
I'd really like to have a product that can hold up to the UV so it doesn't have to be covered. Although the bark mulch we get is free, it also deteriorates enough that weed seeds brought by wind or birds has an opportunity to root. I'm trying to make my garden as chore free as humanly possible.
I realize it's too late to take this step this year. But my hope is in the fall when I put the garden to bed I can make the necessary adjustments. So if you have any experience with a great product, hit me with your recommendations!
Garden Planted In Rows
Several years ago we had 'raised beds' in our garden. But the Bermuda grass would march right into the garden, under the wood frames of the beds and into our planting areas where we'd lose the Bermuda-Grass battle each & every year.
So we ripped up the frames & started planting in bare rows instead. At least we could keep the Bermuda grass under control.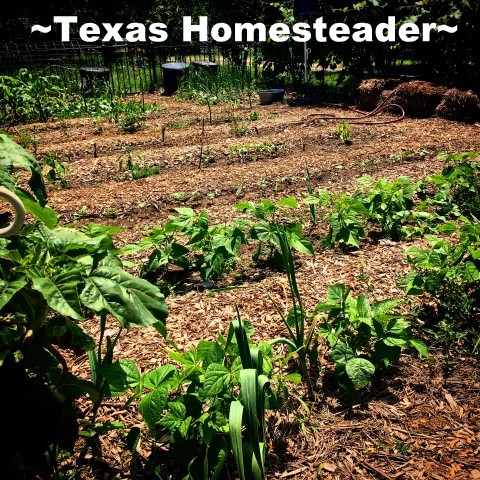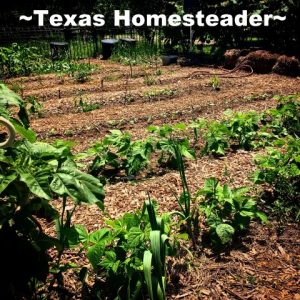 Planting In Raised Beds This Year
But I'm not getting any younger, ya know. So we're experimenting with REALLY raised beds.
We bought a galvanized trough to plant, I used EcoBricks for the drainage at the bottom and filled it with sandy topsoil. I amended the soil with aged manure, shredded leaves and compost and let it sit for a few months. (you can read my 5-Frugal Things – Garden Edition for details)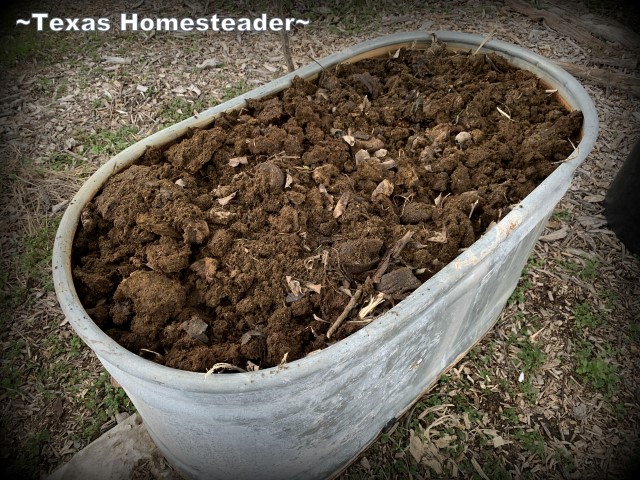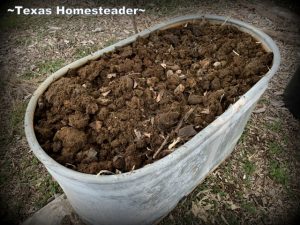 In addition to the the galvanized trough, we're utilizing large 30-gallon buckets for additional raised beds. I'm anxious to see how those raised beds work this year!
Square Foot Garden Experiment
I'm planning to experiment with square-foot gardening in those beds this year too. I was amazed to read that you can plant NINE green bean plants in a square foot!
So other than that, it's still early enough that there's not much going on in the garden. What about you? Are you planting yet or still in the planning stages?
~TxH~
My Favorite Garden Hacks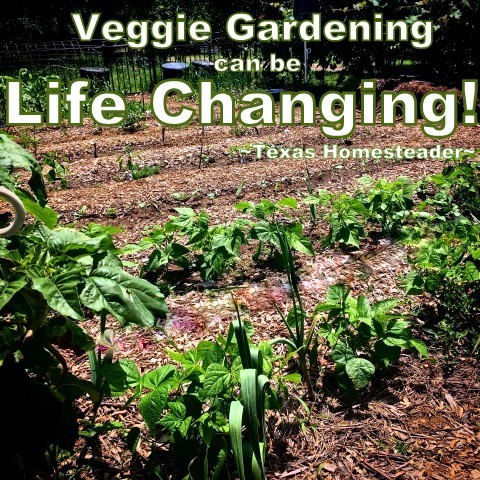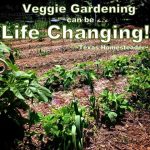 C'mon by & sit a spell! Come hang out at our Facebook Page. It's like sitting in a front porch rocker with a glass of cold iced tea – lots of good folks sharing! You can also follow along on

Pinterest

, Twitter or

Instagram

.
If you'd like to receive an email each time a new blog post goes live it's EASY to
Subscribe to our blog!