by Texas Homesteader ~

Refined sugar-free & gluten-free chocolate sweet potato brownies! Moist, delicious, completely free of refined sugar. Eat healthy but still enjoy your sweets.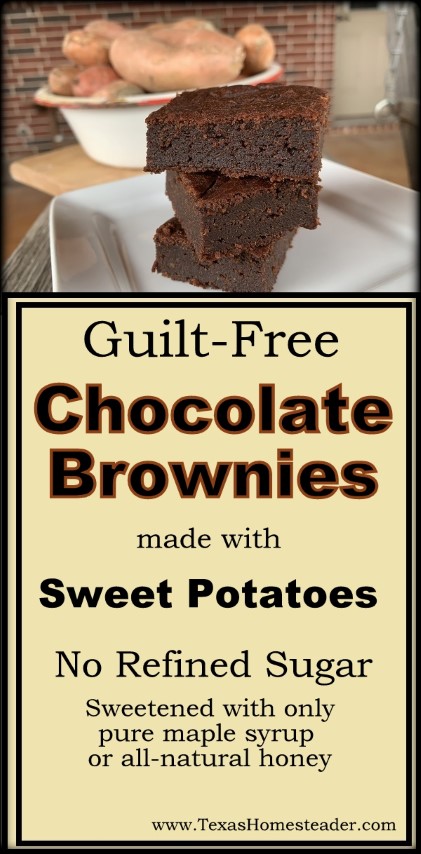 (Note: Some links in this post will take you to other related articles for further information. But links preceded with * are affiliate links. If you click and buy something I could receive a tiny commission.)
Jump to Recipe
Healthy Sweet Potato Brownies
Sweet potatoes often go on sale and are cheap cheap, CHEAP. But these unassuming veggies are a real power house of nutrition too.
Did you know you can use them to even add vitamins and fiber to a delicious healthier sweet treat??
Oh yeah, you have to see this…
Refined-Sugar Free Chocolate Treat
A few years ago we had a guest author share her experiences of going through a complete month without eating any refined sugar at all. But c'mon, they still love their sweets!
During her FINAL WEEK of the challenge, Ashley shared another 'sweet surprise' – chocolate brownies made with sweet potatoes!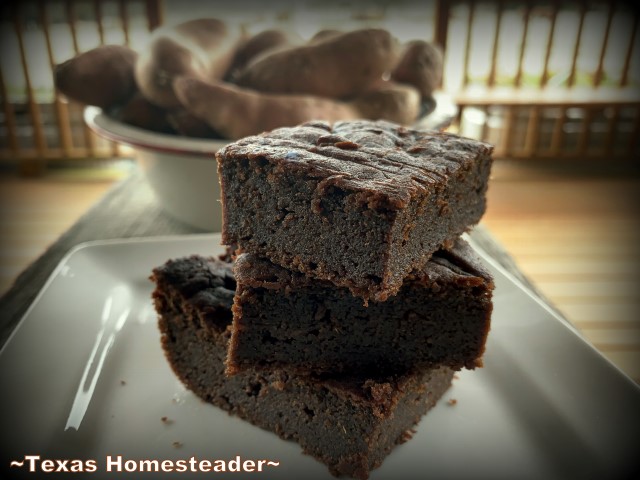 I'd never tried baking them before. But recently I found myself with a supply of fresh sweet potatoes.
I love 'em served as a regular baked potato. A slight sprinkling of salt and a heavier sprinkling of black pepper, with a tiny pat of butter melted in. Umm, Umm, GOOD!
I think sweet potatoes are delicious that way. And I know that sweet potatoes pack a far heavier nutritional punch than traditional potatoes. So I feel good eating them when I can.
But RancherMan's not really a fan of sweet potatoes. And a girl can only eat so many sweet potatoes by herself, ya know?
So I decided to give Ashley's recipe below a try. I mean bibbidy-bobbedy BOO – changing plain sweet potatoes into a chocolate treat? Oh yeah!
Shortcut Peeling Cooked Sweet Potatoes
When I made these for RancherMan & myself I incorporated some shortcuts. Surprised? Of coursed not! HAHA!
Instead of baking the potatoes in the oven (ain't nobody got time for that!) I cooked them in the microwave.
After they were cooked I allowed them to sit covered in the microwave until they cooled.
Now you'd assume that the microwave cooking was the shortcut I was speaking of before, right?
Well, yes – the microwave cooking did get me a cooked sweet potato much faster than firing up my oven. But by letting it sit in the microwave covered until it cooled was an even better shortcut. The PEELING.
You see, now that my cooked sweet potatoes are cooled, there's a tiny air pocket between the skin and the actual sweet potato. To peel it I simply cut a slit in the skin and pulled it off.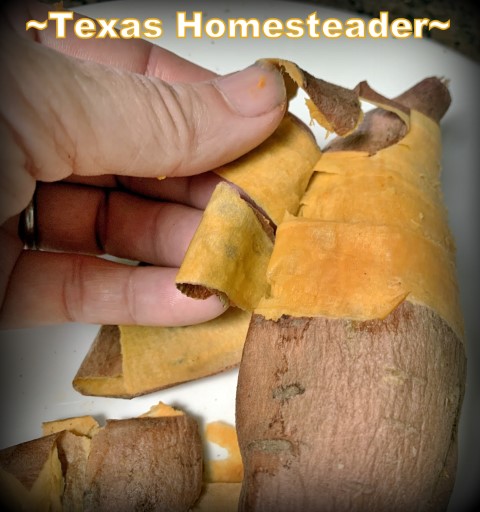 Lazy cooks UNITE!
How To Make Sweet-Potato Puree
Then I used my potato masher to mash the cooked sweet potato into a puree.
The potato masher did a pretty good job, but I did see some tiny flecks of sweet potato that remained when I mixed it into the batter.
This did not affect the brownies at all, but feel free to puree your sweet potatoes with a food processor or *Ninja Blender if you want a perfectly-smooth puree.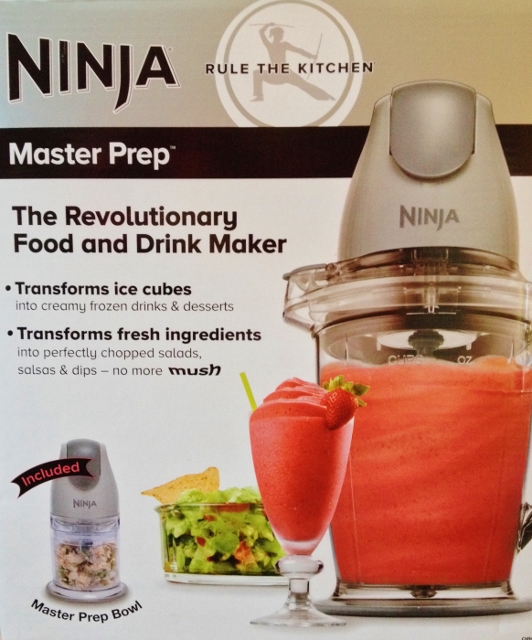 Making Sweet Potato Brownies
Then I measured out 1.5 cups of sweet potato puree. It took 3 moderatly-sized sweet potatoes to net that much puree.
Baker's Note: If I find I don't have quite enough sweet potato puree, I've been known to make up the last quarter cup or so with unsweetened applesauce. It's always turned out beautifully for me.
After my puree was measured I chunked it along with the all the other ingredients into my KitchenAid. I didn't have maple syrup so I used honey instead as I typically do.
Baker's Note: Honey works beautifully in substitution for pure maple syrup. Just my personal preference.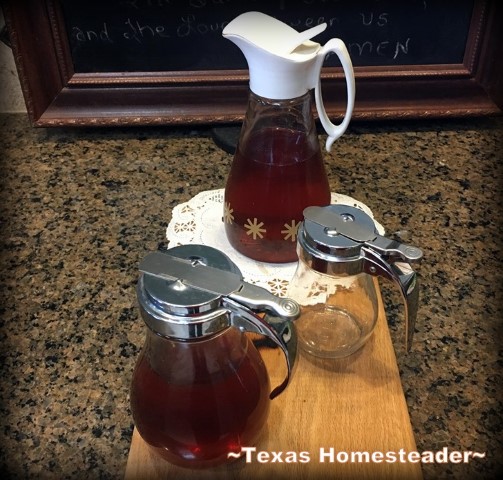 The resulting batter was thickish. I wondered what that would mean to the texture of the baked brownies. But I plunked the batter into an 8×8 glass pan that I'd buttered and used my spatula to press the dough smooth.
Baker's Note: These days I don't bother greasing the pan and the brownies still come out of the pan beautifully when cooled. One less step in the kitchen? YES PLEASE!
Sweet Potato Brownies Only 30-Minute Bake Time
Now into a 350-degree oven they went for about 35-45 minutes. Ashley had mentioned that you wanted to leave them in the oven until the corners were crisp.
The house smelled amazing! Could it really be that these brownies might actually be guilt-free snacking?
I let them cool and then cut them into squares. I loved the texture and was surprised at how strongly the chocolate flavor came through. Decadent and chocolaty!
Baking Sweet Potato Brownies In Solar Oven Instead
Often I whip up the batter and then bake the sweet potato brownies outside using my *Solar Oven!
I have the Sun Oven and I love and use it often. ESPECIALLY during the heat & humidity of a Texas summer day!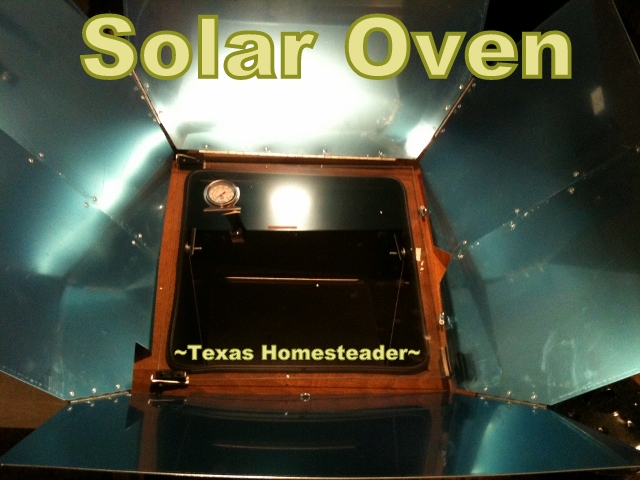 So I'll put my baking dish in my solar oven, insert my *Wireless Thermometer Probe and set the temperature target, depending upon whether I want fudgy-textured brownies or cake-textured brownies. (see below for internal temperature vs/ texture difference)
Then I go inside and watch the display until it reaches the desired internal temperature and BOOM! A batch of chocolaty sweet-potato brownies baked using nothing but the sun.
Depending upon how much sun is out, my desired temperature for the brownies and whether or not I've preheated the oven, those brownies usually bake to perfection anywhere from 45 minutes to an hour and a half.
But they won't burn in the solar oven anyway and I prefer the cakey brownies because they're much easier to frost.
Baking Option For Either 'Fudgy' or 'Cakey' Brownies
Cakey Brownies Internal Temperature 200-205 Degrees
Here's an interesting twist. I typically bake my brownies to an internal temperature of 200-205 degrees Fahrenheit.
This results in a cake-textured brownie that I love. Especially if I'll be adding any kind of frosting to placate RancherMan's sweet tooth.
But I got to wondering if cakey brownies were the only option…
Fudgy Brownies Internal Temperature 195 Degrees
I discovered that if you lower the baked internal temperature of your brownies to 195 degrees Fahrenheit, the result can be more of a fudgy texture.
They're also slightly more moist. This was RancherMan's favorite texture for the brownies
Either way is delicious.
Baker's Note: The fudgy texture makes the brownies more difficult to frost. So stick with drizzle instead of spreadable frosting if you want to top fudgy brownies with something sweet.
And as I cut them with the knife, there was fudgy brownie left on the knife. That's a delightful texture though, as long as you're not trying to frost them.
If you bake the brownies to a fudgy texture just allow them to cool completely before attempting to cut them.
If you'll be spreading some sort of frosting on top, stick with the 205 degrees Fahrenheit internal temperature since cakey brownies are easier to frost.
RancherMan Wants A Sweeter Treat
I loved the lightly sweet brownies. But RancherMan's sweet tooth requires a pretty powerfully-sweet treat.
So I drizzled his brownie with a little Chocolate Drizzle Syrup to bump the sweetness up a notch for him.
In subsequent batches I've added a tiny 3/4 teaspoon of dry powdered Stevia From The Garden to the batter to add some sugar-free sweetness for him too.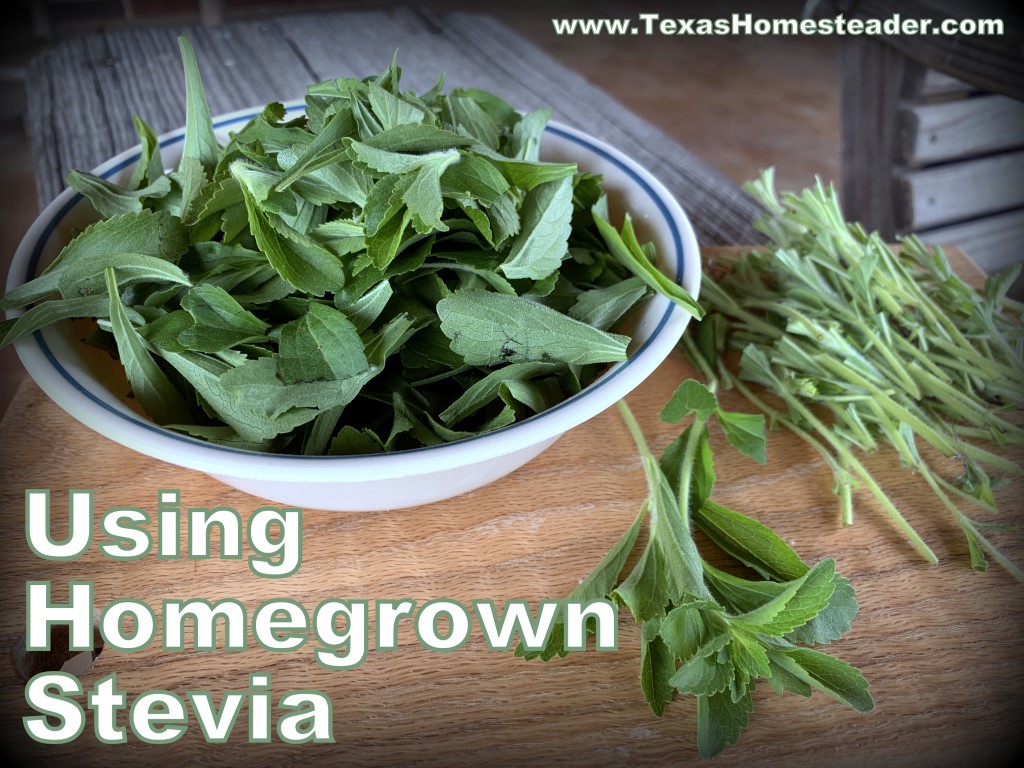 But for me – the lightly-sweet chocolate brownie fit the bill nicely.
This recipe is proof positive that it can be FUN to eat your veggies! LOL.
Decadent Add-Ins For Sweet Potato Brownies
I enjoy these refined-sugar free brownies as a healthy guilt-free chocolaty snack. This brownie recipe is simple and delicious.
But if you're wanting to bump the decadence to satisfy the sweet-tooth appetites in your family, here are some easy additions:
I add 3/4 teaspoon dried, powdered, home-grown stevia to sweeten the brownies for RancherMan.

Add 1/4 cup (or MORE) chocolate chips or peanut butter chips to the sweet potato brownie batter.
TAMMY'S NOTE: This No-Sugar challenge documents Ashley's 30-day attempt to remove PROCESSED SUGAR from their diet.
This challenge allows her to use natural sugars such as fruit, honey or true maple syrup, therefore it's not meant for a diabetic alternative, simply a personal-health challenge.
Post from Ashley:
Sticking to the theme of chocolate and healthy, who would have ever thought that you could pair vegetables and cocoa powder to make delicious chocolate sweet potato brownies?!
But Sweet potatoes are full of amazing nutrients for your body and…well…you know, you can add chocolate. 🙂
You just can't go wrong with this recipe!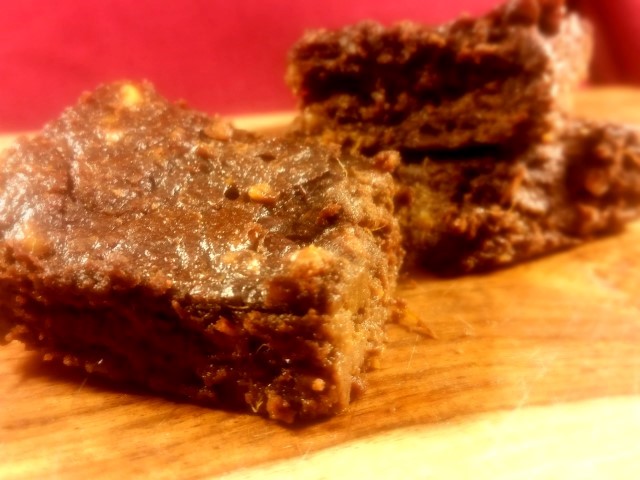 And you can even sneak this one in on others who love their sweet treats and they'll never know they're eating HEALTHY!
Whoever said healthy was synonymous with gross anyways? Check out this super-easy recipe for decadent chocolate sweet potato brownies!
– Ashley
---
Did you make these Sweet Potato Brownies? Please rate the recipe in your comment below!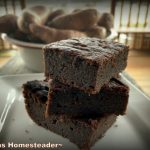 Sweet Potato Brownies
Whaaaat?!  Is this a vegetable or a dessert? Well why can't you just have both? These brownies are so moist and delicious and, of course, completely free of refined sugar. And I used some fall-like spices in mine to get them to taste a little like spiced brownies. Here you go, folks! Ashley (Guest writer)
Ingredients
Ingredients:
1 1/2

cup

cooked, unseasoned sweet potato puree, (13 ounces),

about 2-3 medium-sized sweet potatoes

1

cup

peanut butter, (9 ounces),

I used chunky because it's my favorite, but smooth or any nut butter will do

1

large

egg

3

Tablespoons

unsweetened coco powder

2

teaspoon

cinnamon

1

teaspoon

baking soda

¼

teaspoon

nutmeg

¼

cup

100% maple syrup or honey (3 ounces),

~TxH~ uses honey

2

teaspoon

vanilla extract

a sprinkle of allspice or cloves,

optional for spiced brownie flavor

¾

teaspoon

Dry powdered Stevia leaves,

(OPTIONAL - we like the additional sweetness it adds though. ~TxH~)

1

teaspoon

Cold coffee

(OPTIONAL - but I add a bit of cold coffee to everything chocolate to intensify the chocolate flavor)
Instructions
Instructions:
Bake 2 large sweet potatoes at 400 degrees for an hour, or until soft and they peel easily comes off.  Peel your sweet potatoes and mash them until smooth.  (NOTE: ~TxH~ cooks them in the microwave for about 4.5 minutes instead.)

Preheat oven to 350 degrees and grease an 8x8 glass pan. 

Measure out 1.5 cups (13 ounces) of sweet potato puree.

Throw all of your ingredients in a bowl and mix until evenly distributed. 

Pour your batter into an 8x8 baking dish and spread it out evenly. Bake for 35-45 minutes, or until nicely browned on top and the corners are crispy.  (See notes below for options for fudgy or cakey brownies)

Cool completely, cut into serving sizes and enjoy!
Recipe Notes
~TxH~ NOTES:
If using an instant-read thermometer you can make these brownies either fudgy or cakey.
For a fudgy consistency I bake them to 195 degrees internal temperature.
For a more cakey brownie I bake them to 200-205 degrees internal temperature.
Add-In's - I often add 3/4 teaspoon dried, powdered home-grown stevia to bump the sweetness to satisfy RancherMan's sweet tooth.
If you're not trying to keep these sweet-potato brownies sugar free you can bump the decadence even more by adding:
1/4 cup chocolate chips or peanut butter chips into the brownie batter.
Drizzle baked brownie with chocolate syrup or homemade chocolate drizzle.
Frost baked and cooled brownie with chocolate frosting.
NOTE: SOLAR-OVEN BAKING - In the summer months I almost always bake these brownies in my Sun Oven solar oven. I place the baking dish into a pre-heated solar oven and bake them to an internal temperature of 200-205 Degrees F. for cakey brownies (195 degrees F. for fudgy-textured brownies)
Depending upon the amount of sun/clouds and whether the solar oven was pre-heated first, it typically takes between 45 minutes to 1.5 hrs to bake. (The temps can be checked with a wireless or quick-read food thermometer.)
NOTE: You're encouraged to read all four weeks of her Sugar-Free Challenge Journey where she shares tips & sugar-free recipes:
~TxH~
This post categorized in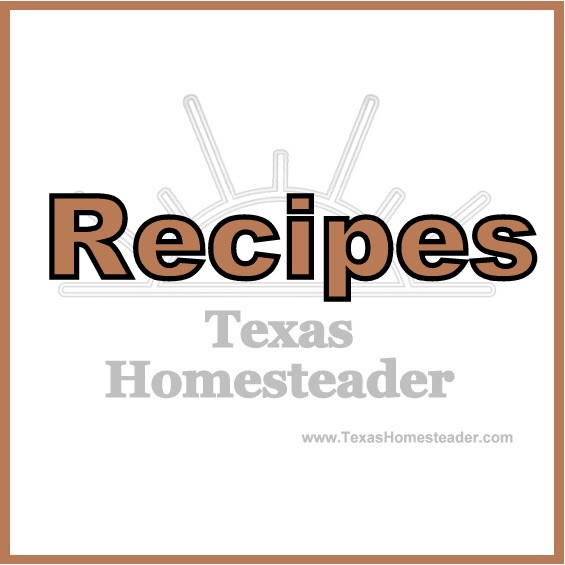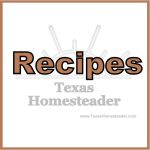 Other Easy Desserts


C'mon by & sit a spell! Come hang out at our Facebook Page . It's like sitting in a front porch rocker with a glass of cold iced tea. There are lots of good folks sharing! And you can also follow along on Pinterest, Twitter or Instagram
If you'd like to receive an email when a new blog post goes live,
subscribe to our Blog!
Save
Save
Save
Save
Save
Save
Save
Save