by Texas Homesteader ~
Sweet potatoes often go on sale and are cheap cheap, CHEAP.  But these unassuming veggies are a real power house of nutrition too.  Did you know you can use them to even add vitamins and fiber to a delicious healthier sweet treat??  Recently we had a guest author share her experiences of going through a complete month without eating any refined sugar at all.  But c'mon, they still love their sweets!
During her FINAL WEEK of the challenge, Ashley shared a 'sweet surprise' – chocolate brownies made with sweet potatoes!  Oh yeah, you have to see this…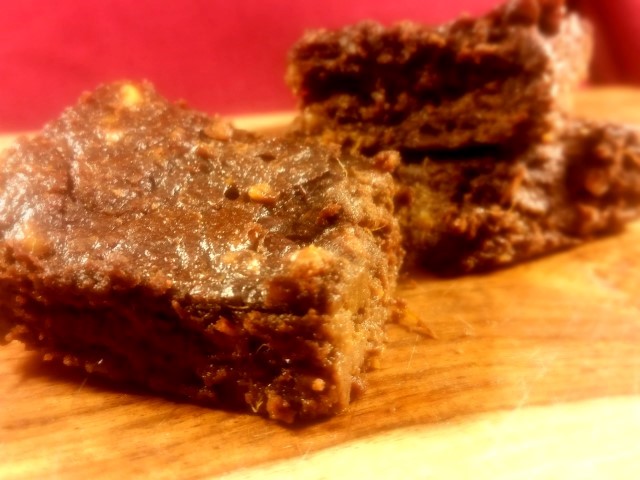 TAMMY'S NOTE

: This No-Sugar challenge documents Ashley's 30-day attempt to remove PROCESSED SUGAR from their diet.  This challenge allows her to use natural sugars such as fruit, honey or true maple syrup, therefore it's not meant for a diabetic alternative, simply a personal-health challenge. 
from Ashley: 
Sticking to the theme of chocolate and healthy, who would have ever thought that you could pair vegetables and cocoa powder to make delicious brownies?! But Sweet potatoes are full of amazing nutrients for your body and…well…you know, you can add chocolate. 🙂  You just can't go wrong with this recipe! And you can even sneak this one in on others who love their sweet treats and they'll never know they're eating HEALTHY! Whoever said healthy was synonymous with gross anyways? Check out this super-easy recipe!
Sweet Potato Brownies
Whaaaat?!  Is this a vegetable or a dessert?  Well why can't you just have both?  These brownies are so moist and delicious and, of course, completely free of refined sugar.  And I used some fall-like spices in mine to get them to taste a little like spiced brownies.  Here you go, folks!
Ingredients:
1 ½ plain mashed sweet potato
1 c peanut butter (I used chunky because it's my favorite, but smooth or any nut butter will do)
3 tbsp unsweetened coco powder
¼ c 100% maple syrup
2 tsp vanilla
1 egg
2 tsp cinnamon
¼ tsp nutmeg
a sprinkle of allspice (optional)
1 tsp baking soda
Instructions:
Bake 2 large sweet potatoes at 400 degrees for an hour, or until soft and the peel easily comes off.  Peel your sweet potatoes and mash them until smooth.  Here's another easy one folks!  Throw all of your ingredients in a bowl and mix until even distributed.  Hmmm…I'm seeing a pattern now.  🙂
Set your oven at 350 degrees and grease an 8×8 glass pan.  Pour your batter into the dish and spread it out evenly.  Bake for 25-35 minutes, or until nicely browned on top and the corners are crispy.  Then enjoy after they have cooled down.
NOTE:  You're encouraged to read all four weeks of her Sugar-Free Challenge Journey where she shares tips & sugar-free recipes:
~TxH~
Other Easy Desserts


C'mon by & sit a spell!  Come hang out at our Facebook Page . It's like sitting in a front porch rocker with a glass of cold iced tea.  There are lots of good folks sharing!  And you can also follow along on Pinterest,Twitter or Instagram
If you'd like to receive an email when a new blog post goes live,
subscribe to our Blog!
Save
Save
Save
Save
Save
Save
Save
Save