TEXAS HOMESTEADER'S NOTE: This No-Sugar challenge documents Ashley's 30-day attempt to remove PROCESSED SUGAR from their diet. This challenge allows her to use natural sugars such as honey or true maple syrup, therefore it's not meant for a diabetic alternative, simply a personal-health challenge.
by Guest-Writer Ashley
Hi, I'm Ashley and I will be sharing with you our four-week journey of eliminating processed sugar from our diet. Today's post outlines how we did on week one.
As much junk food and easy to grab dishes and meals that there seem to be, especially in my area, it's easy to see why people get so addicted to things like fat and sugar.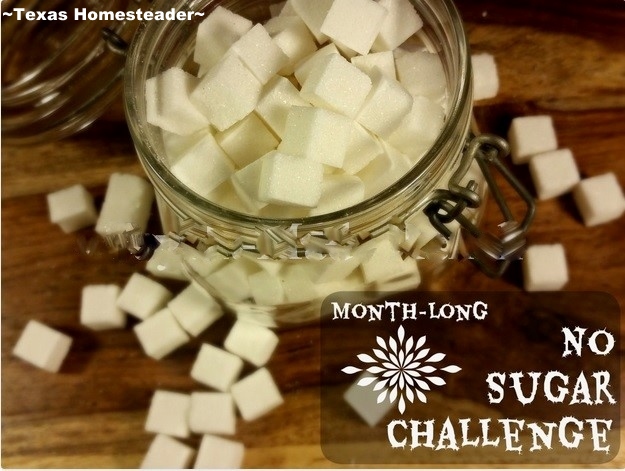 I am certainly guilty of consuming too many foods that are really high in that sugary-sweetness, and so is my husband. We are also guilty of not wanting to cook ourselves a meal late at night when it had been a particularly long day so we would simply drop by a favorite fast food place and pick up something to eat.
Now I don't really think there is anything wrong with treating yourself to a pizza, or a nice big burger, or even a decadent piece of cake. It's simply the AMOUNT you "treat" yourself to these things. And for a while that seemed to be just about every night for us.
Dealing With A Sweet Tooth
I happen to have a terrible sweet tooth and will crave something sweet late at night. Like, a lot. Or every night. Whatever.
I didn't really think about how incredibly addicted to sugar I was until my husband came up with the idea one day to cut all refined sugars from our diet.
What?! That's crazy! How was I supposed to go a complete 30 days without sweets?
But he was determined to take on the challenge and was hoping to lose a couple of pounds along the way. Since I am the one that cooks all of our meals and buys all of our groceries, he needed a strong support system at home to keep him on the right track.
So that is how I ended up here, one week without any type of refined sugar in my breakfasts, lunches, or dinners.
Day 1 Of The Challenge
The first day of going to the grocery store to pick up wholesome foods to eat was torture. The bakery smelled of freshly baked breads and cakes and the aisles seemed to be flooded with packaged snacks and candies and sugar overloaded goodies that were now on the restricted list. Each one taunted me as I walked past.
It was certainly a test of willpower, and the stores intentionally do this to entice shoppers to buy, buy, BUY!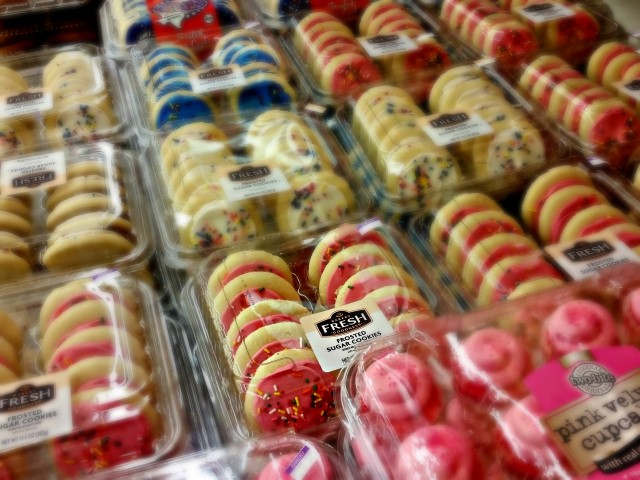 But we managed to push through it and even learned some tips and tricks along the way. Why yes, I will share them with you!
Tips
1. Only shop on the perimeter of the store. The aisles have almost nothing that can be consumed during the challenge. It's also the best way to know you're getting the most wholesome foods during this time.
2. Check the labels on EVERYTHING. You will be surprised at the things that have added sugar in it. (bread being the first thing that comes to mind)
3. Just throw out everything you already have in your pantry and refrigerator that has sugar in it. The temptation at this point is overwhelming and you're just setting yourself up for failure if it's sitting in front of you. It's torture, trust me.
4. Take a lunch with you! This especially applies during work, but also if you plan on being out all day for shopping or errands. Don't put yourself in a situation where you're starving all of a sudden and have few options for sugar free eats.
5. Drink only water or unsweetened tea you make at home. Pretty much every other beverage out there has added sugar. Sugar goes under many misleading names like fructose and glucose.
Refined Sugar-Free Sweetener
I decided to stay away from all sugar-free sweeteners to be safe. The point of this whole thing was to challenge myself and I didn't really want the option to continue eating all of the familiar foods with just one ingredient changed.
The only thing I allowed as a sweetener was honey, and only that was allowed in my homemade granola that I made to eat for breakfast.
Natural sugars in fruits were also ok as fruit's benefits outweigh that of their sugar content. I would eat some diced fruit that I kept cut up and inside the refrigerator for breakfast and maybe a pear or an apple as a snack in the middle of the day so as to not over-do it.
I had to think ahead a bit and make sure I had something on me for a quick bite if I found myself getting hungry.
Dinners and lunches were so easy. We stuck with lean, white meats like chicken or turkey and a variety of vegetables.
No desserts, even though every fiber of my being called out for them. But breakfast was tough to figure out.
We were used to cereals, pop tarts, pancakes and french toast. So we stuck with fruit, a boiled egg, and a very simple granola. [See recipe below]
So far it's been hard. And I mean a lot harder than I ever thought it was going to be.
Struggles Beginning This Challenge
Every. Single. Day. I want to buckle and eat something that I told myself that I would avoid for a full month.
But I have stayed strong and pushed through. I know it will eventually get easier when my taste buds and body reset themselves and adjust to not getting such a highly addictive substance.
I've even read that there are great benefits like healthier skin and hair, more energy, and easy weight loss. Boy, oh boy I cannot wait until that part happens. I guess we will see what happens next week.
In the meantime, here is the recipe to my super simple granola.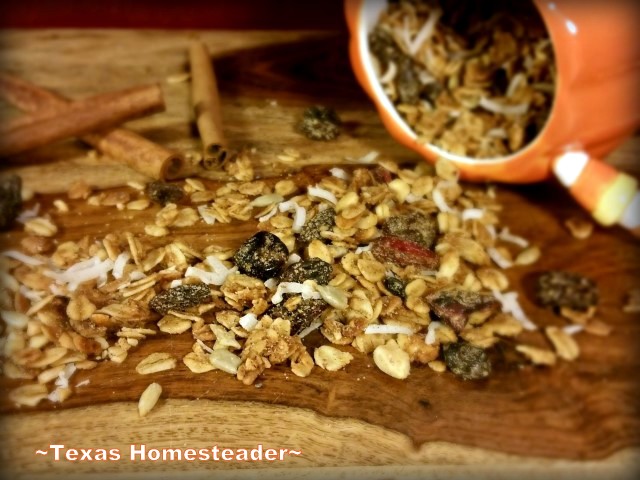 Simple Sugar Free Granola
3 c rolled oats
1 t cinnamon
1/2 t ginger
1/4 t allspice
1/2 t nutmeg
1/2 t salt
1/3 c honey
1/4 c coconut oil
2 t vanilla extract
1/2 c raisins
1/4 c sunflower seeds
1/2 c chopped nuts (I used peanuts)
1/2 c shredded unsweetened coconut
1/4 c chia seeds (opt.)
2 tbs ground flax seed (opt.)
Instructions:
Heat oven to 300 degrees. Mix oats, cinnamon, nutmeg, salt, honey, oil, and vanilla until combined.
Bake for 15 minutes, stir and bake for 15 more minutes until golden brown.
Cool and add the rest of the ingredients and store in an airtight container.
This makes about 5 or 6 cups total of granola. Probably about the equivalent of a box of cereal, but it fills you up quicker and you don't eat as much.
4-Week Sugar-Free Challenge
You're encouraged to read all four weeks of Ashley's Sugar-Free Challenge Journey where she shares tips & delicious sugar-free recipes:


C'mon by & sit a spell! Come hang out at our Facebook Page . It's like sitting in a front porch rocker with a glass of cold iced tea. There are lots of good folks sharing! And you can also follow along on Pinterest, Twitter or Instagram
If you'd like to receive an email when a new blog post goes live,
subscribe to our Blog!