by Texas Homesteader ~
Farmer's Breakfast Bake Casserole includes, eggs, breakfast sausage or smoked ham, cheddar, onions, bell peppers with a crispy hash brown crust. It's delicious, and today I'm sharing the simple recipe with ya.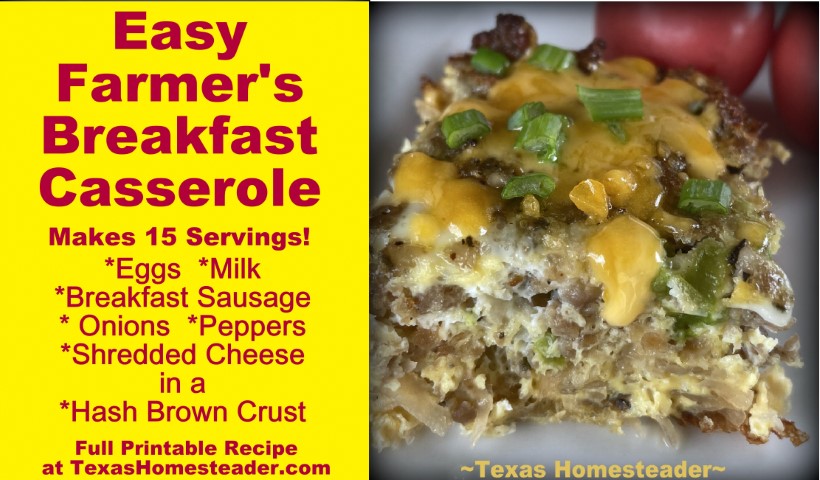 How To Use Lots Of Fresh Eggs
We have a few free-range hens and they're providing eggs for us very well, #thankyouverymuch. I've been coming up with ways to use those delicious nutritious eggs.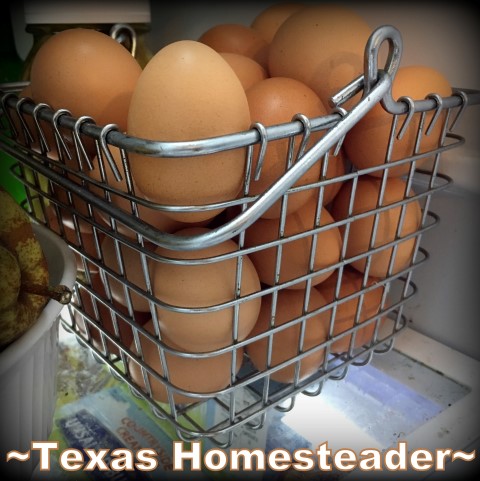 You can see all our egg recipes by clicking the button below:

But one of our favorite ways to use these eggs is to have Breakfast for Supper. So I decided to make a Farmer's Breakfast Bake.
Simple Breakfast Casserole Ingredients
This Farmer's Breakfast Casserole is pretty straightforward and fast & easy to make with standard kitchen ingredients:
Breakfast sausage or smoked ham,
Eggs
Milk
Onion
Bell Pepper
Sharp cheddar cheese
Hash brown potatoes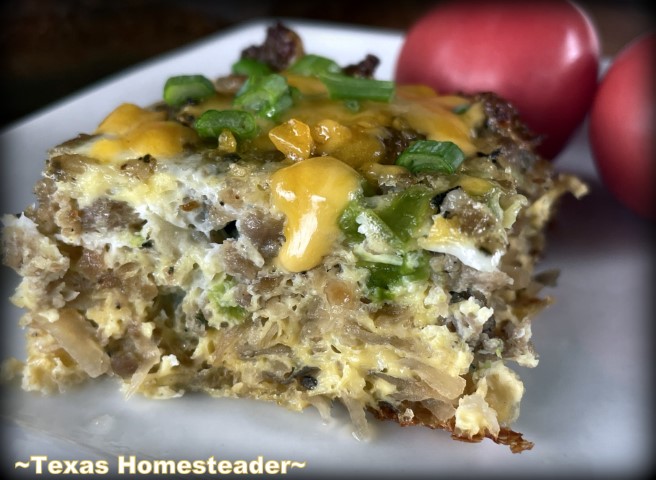 I used a 9×13 casserole dish to make my breakfast casserole. (The full printable recipe is at the bottom of this post.)
Crispy Hash Brown Crust For Breakfast Casserole
I wanted a quiche-like crust but didn't want a traditional pie crust. So I decided that the 'crust' for my breakfast casserole would be hash browns. YUM!
For my hash brown crust I rehydrated and drained some of my dehydrated shredded potatoes, but of course you could use store-bought hash browns. You won't even have to thaw them first. Just make sure to use enough to cover the bottom of your casserole dish.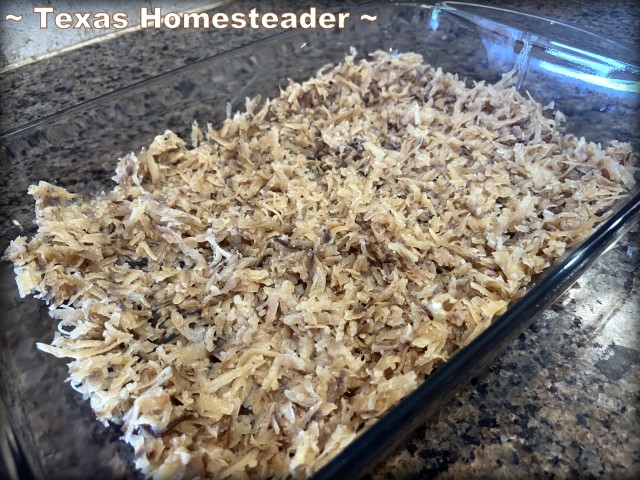 I placed my dish with the crumbled hash browns into the oven set to broil until the hash browns were golden brown and crispy – about 5 minutes or so.
Making A Simple Breakfast Casserole
Making this breakfast casserole is so easy!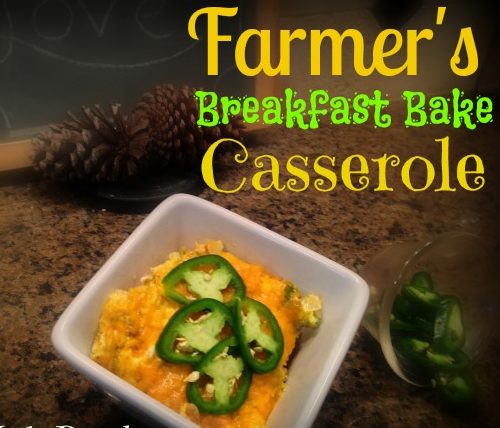 Prepare crust by broiling hash brown potatoes in the bottom of a 9″x13″ dish until crispy.
In the meantime cook a pound of breakfast sausage with chopped onions & bell peppers & drain meat.
In a bowl mix a dozen fresh eggs with some milk, salt & pepper.
Place cooked sausage on top of crisped hash browns
Top with the egg filling.
Bake at 350ºF until eggs are set – about 45 minutes.
Top with shredded cheese & allow to melt – SERVE!
It really doesn't get easier than that, y'all! The recipe calls for about 2 cups of shredded cheese on top. But feel free to really pile it on if your family loves it!
How To Garnish This Breakfast Casserole
You can enjoy this cheesy breakfast casserole just as it is. It's absolutely delicious! But there are fun toppings you can add as well, here are our favorites.
Can You Make This Breakfast Casserole Ahead?
Assembling the breakfast casserole ahead of time is a great option for Christmas morning. You don't pre-crisp the hash browns when you make it in advance, but they're still delicious.
Just assemble the baking dish with hash browns topped with cooked meat/onions/peppers and pour the egg mixture on top. Then cover and place in the refrigerator overnight.
The next morning pop it in the oven and join your family for the celebration! Cook it at 350ºF until the eggs are set. (You might have to add 5 minutes or so since you'll be bringing the dish out when it's cold.)
Then sprinkle shredded cheese on top of the cooked casserole, let it melt and you're ready go serve.
How Many Does This Breakfast Casserole Serve?
I cut my 9″x13″ pan of breakfast casserole into 15 hearty servings.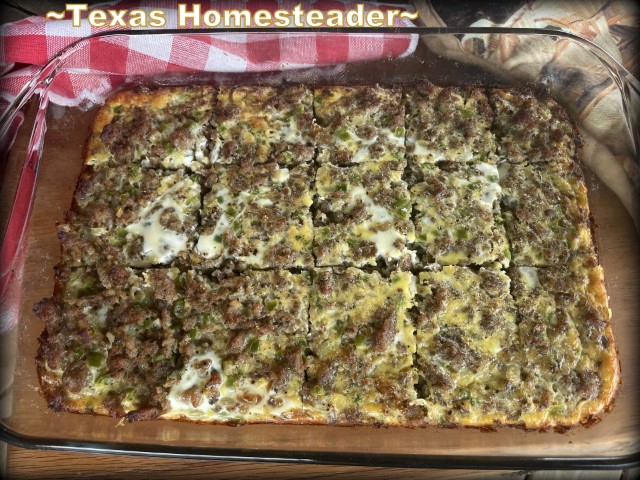 It can be served alone, crumbled and rolled into a tortilla for a hands-on breakfast burrito or with one of the accompaniment options listed below for a full-blown family breakfast.
What To Serve With Breakfast Casserole?
If you want to make a full rounded breakfast there are some delicious things you can serve with this Famer's Breakfast Bake Casserole:
Give this Farmer's Breakfast Bake Casserole a try. You'll be glad you did!
---
Did you make this Breakfast Casserole? Please rate the recipe in your comment below!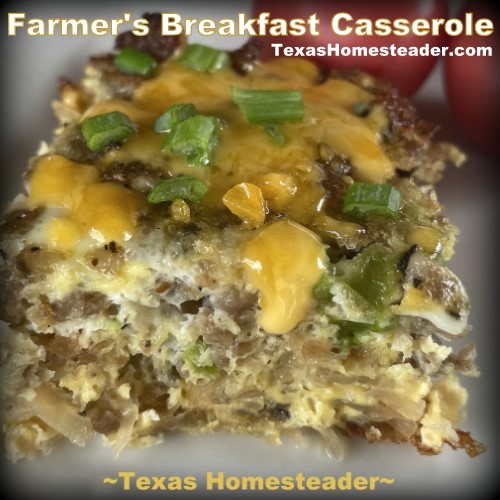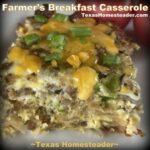 Farmer's Breakfast-Bake Casserole
A quick & easy breakfast egg casserole with eggs, cheese, lots of veggies & a hash-brown crust.  A real crowd pleaser! #TexasHomesteader
Crisping Hash Brown Crust
5
minutes
Ingredients
Ingredients:
Hash browns

(enough to crumble into bottom of casserole dish)

1

pound

Breakfast Sausage

(approximately 2 cups)

12

eggs

3/4

cup

milk

1/2

cup

chopped onion

1/4

cup

chopped bell pepper

8

ounces

Shredded cheddar cheese

(about 2 cups)

1/2

teaspoon

each salt & pepper, or to taste
Instructions
Instructions:
Cover bottom of a 9"x13" casserole dish with crumbled hashed browns & place them in an oven set to broil to crisp the hash-brown crust - about 3-5 minutes.

In the meantime in a medium bowl mix 12 eggs with 3/4 cup milk, 1/2 teaspoon salt & 1/2 teaspoon ground black pepper until thoroughly blended. St aside.

In a medium skillet cook a pound of breakfast sausage with 1 cup chopped onions & 1/2 cup chopped bell peppers until meat is no longer pink. Drain away any grease.

Remove dish with crisped hash browns from oven. Sprinkle cooked sausage over surface of crisped hash browns, then pour egg mixture evenly on top and place casserole dish in an oven set to 350℉.

Bake until eggs are cooked all the way to the middle of the dish and the top is light golden brown - about 45 minutes.

Remove casserole from oven and sprinkle shredded cheddar cheese on top and allow dish to sit out for about 5 minutes to melt the cheese before serving.

Serve with garnish of chopped chives, sour cream, salsa, Pico de Gallo or sliced jalapenos if desired.
Recipe Notes
NOTE: Can substitute breakfast sausage with cubed smoked ham. Just sauté the onions/peppers by themselves.
~TxH~
This post categorized in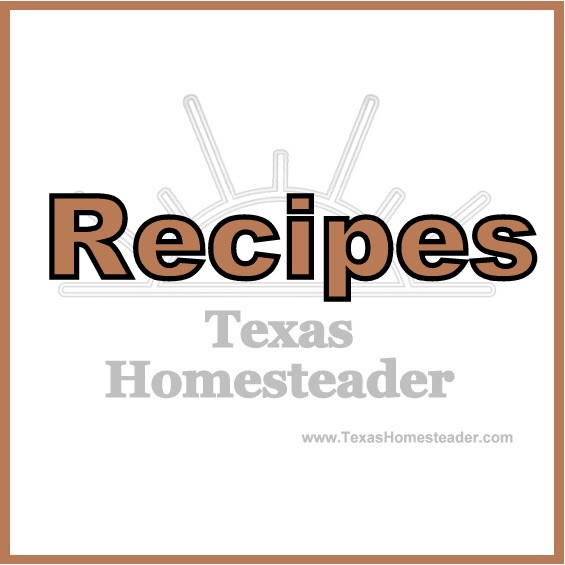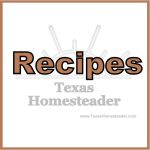 Our Favorite Breakfast Posts
Egg-Based Breakfasts
Breakfast Breads
Other


C'mon by & sit a spell! Come hang out at our Facebook Page. It's like sitting in a front porch rocker with a glass of cold iced tea – lots of good folks sharing! And you can also follow along on Pinterest, Twitter or Instagram.
If you'd like to receive an email each time a new blog post goes live it's EASY to
Subscribe to our blog!
Save
Save
Save