by Texas Homesteader
*this post contains affiliate link
It's our tradition on Mother's Day and Father's Day to make whatever the honoree wishes for breakfast. This year for Mother's Day my Honey asked what I wanted for breakfast. Usually I want yogurt and fruit, but on this day I wanted homemade pancakes. I have an awesome but simple pancake recipe so mixing up the pancakes would be a snap for him.
But I wanted MY syrup, not the store-bought stuff. So I whipped up a batch of pancake syrup beforehand to go with those delicious pancakes.
It's amazing that this recipe has only a few simple ingredients. And it's so easy that you only mix it up, boil for 7 minutes and BOOM! Homemade pancake syrup. Wanna know how??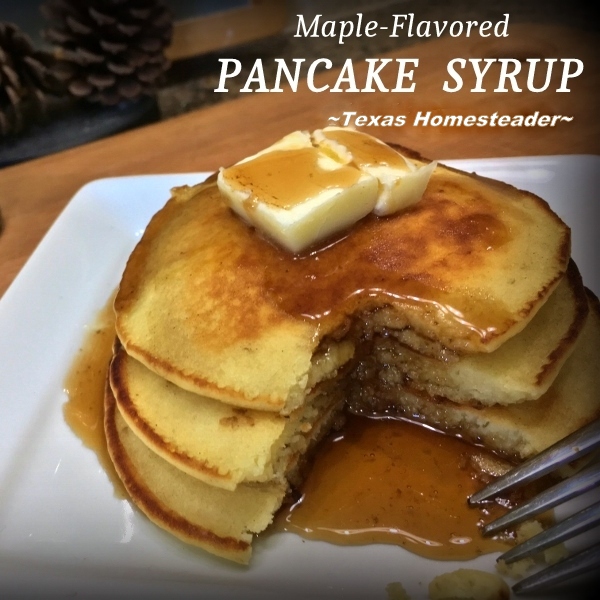 First I gather my ingredients: 3/4 cups brown sugar, 1/4 cup granulated sugar, 3/4 cup water, 1/2 cup corn syrup and 1/2 teaspoon each of *maple flavoring
and vanilla. I love that it contains such SIMPLE ingredients! (I found maple flavoring at Amazon.com, affiliate link above)
…and in only 7 minutes…
I dump everything except the maple & vanilla into a small saucepan and turn the heat on medium high, as I stir the mixture begins to boil. When it begins to boil I set the timer for 7 minutes and continue boiling, stirring constantly.
After 7 minutes I pull the pan from the heat and stir in 1/2 teaspoon each of maple flavor and vanilla.
THAT'S IT!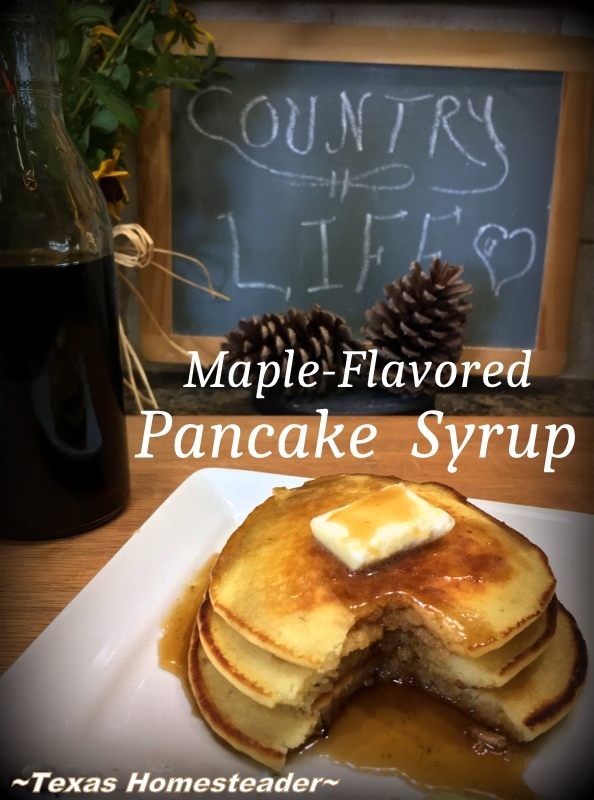 Can you believe it's that easy? I like to pour the homemade syrup into a repurposed glass jar so I can heat the syrup for the pancakes if I want.
This syrup has no preservatives so I just make enough to enjoy for the meal and maybe a little after (I'm thinking french toast next to use it all up, hummm….)
Can you believe how ridiculously easy this is?? And I'm guessing the cost is maybe a quarter or less to make my own delicious syrup.
I'll never buy the stuff in a plastic bottle from the store again.
Want the recipe? Your wish is my command!
* * * * * * * * * *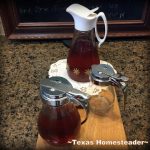 Maple-Flavored Pancake Syrup
Ingredients
3/4

cup

brown sugar

1/4

cup

granulated sugar

3/4

cup

water

1/2

cup

corn syrup

(I substitute with 1/4 cup honey)

1/2

teaspoon

maple flavor

1/2

teaspoon

vanilla
Instructions
Mix all ingredients except maple flavor and vanilla into a small saucepan. Stir to mix and place on a burner set to medium high.


Stir constantly until mixture begins to boil. When mixture boils set timer for 7 minutes and continue boiling, stirring constantly.


When timer goes off remove from heat and stir in maple flavoring and vanilla. Use within about 7 days.
~TxH~
Our Favorite Breakfast Posts
…and MANY MORE!


C'mon by & sit a spell! Come hang out at our Facebook Page. It's like sitting in a front porch rocker with a glass of cold iced tea – lots of good folks sharing! And you can also follow along on Pinterest, Twitter or Instagram.
If you'd like to receive an email each time a new blog post goes live it's EASY to
Subscribe to our blog!
*Amazon affiliate
* A word about our Affiliate Link – We are currently enrolled as an Amazon Affiliate. Occasionally I will insert an affiliate link into one of my posts if I think it may be of interest to you. I receive nothing from the manufacturer, but I love my sprayer & thought you might too. If you click on any of my affiliate links and buy something (almost anything, not just what was linked) I get a small referral percentage from Amazon. But here's the really important part – the price you pay for your items is UNCHANGED.
When you buy something through the affiliate link it's a great way to support this blog without anything coming out of your pocket so please click often!
Save