by Texas Homesteader ~
*may contain affiliate link
I wanted a more natural cereal option than the boxes of commercial stuff on the store shelves. This Pumpkin Granola is inexpensive, adaptable to tastes, delicious & SO EASY to make!!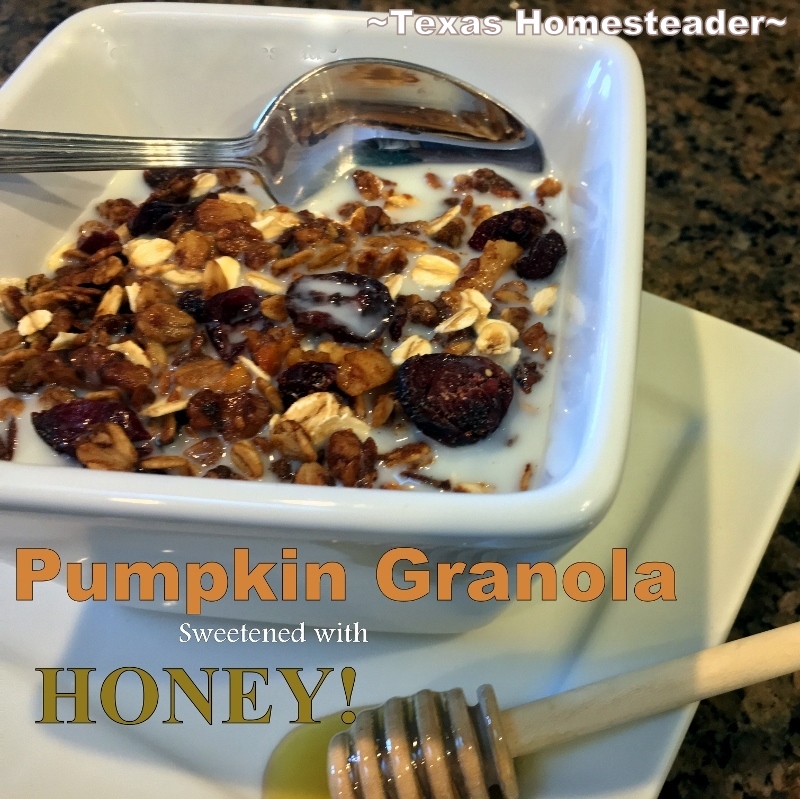 (Note: Some links in this post are for further information from earlier posts I've written. But links preceded with * are affiliate links. If you click them and buy something (almost anything, not just the item noted) I could receive a tiny commission. But the price you pay will NOT change. It's an easy way to support this blog without anything coming out of your pocket. So click often! Thank you!)
Cereal Is A Quick & Easy Breakfast Option
Cereal is a quick breakfast option for us and we enjoy it often. I love granola and I love pumpkin, so this pumpkin granola combination certainly works for me.
All you need is old fashioned oats, some honey, spices, nuts, dried fruit and pumpkin puree.
What Is Pumpkin Puree?
Pumpkin pie filling is not the same thing as pumpkin puree. What's the difference?
Pumpkin Pie Filling

– Pumpkin puree with added sugar, seasonings and thickeners.

Pumpkin Puree

– Only peeled, cooked and mashed pumpkin.
No seasonings at all are added to pumpkin puree. It's simply cooked pureed pumpkin in its purest form.
How Hard Is It To Make Pumpkin Puree?
Of course you can make your own pumpkin puree! It's easy to do & you can see my instructions to cook and puree fresh pumpkin here.
The puree used in my recipe came from my garden pumpkins. I cooked, pureed & froze those pumpkins into 1 cup servings of puree.
When I want to make pumpkin granola I pull out a couple of those single-cup measures of puree and let them thaw in the fridge overnight.
UPDATE: Now I'm a big fan of DEHYDRATING the puree instead – even easier to store & use!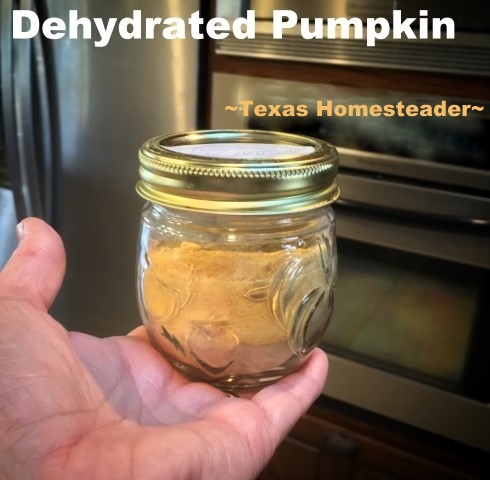 Assemble The Wholesome Ingredients
To make my pumpkin granola I first pull out my ingredients:
8 cups of oats (I like to use a combination of quick oats & old fashioned oats so my granola has varied texture.)

1 cup of honey, (12 ounces)

1 cup of molasses,

2 cups pumpkin puree (or 1 15-oz can pumpkin puree),

1 cup shredded coconut,

2 cups of chopped nuts and seeds,

3 tablespoons pumpkin pie spice (can make your own, see below)

1 and 1/2 sticks of unsalted butter or 5.5 ounces coconut oil, melted.
NOTE: To mix my own pumpkin spice seasoning I simply blend
1.5 Tablespoons cinnamon,
1 teaspoon ground ginger,
1/2 teaspoon cloves and
1/2 teaspoon ground nutmeg.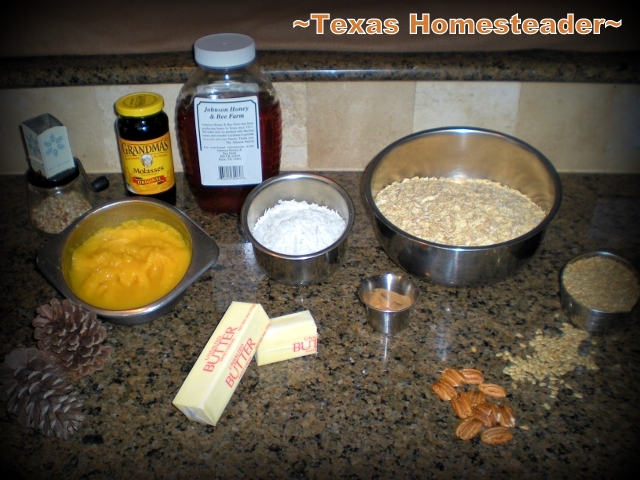 Mixing The Pumpkin Granola
In a large bowl I mix in the oats, coconut, spices and nuts.
BAKER'S NOTE: For the nuts I really like a cup each of chopped pecans & shelled sunflower seeds but I change it up often depending on what I have on hand. You can use whatever combination you prefer.
After the oat mixture is fully mixed I pull out another large bowl and pour in the melted butter (or sometimes substitute melted coconut oil instead), the pumpkin puree, honey and molasses. I stir until it's all incorporated.
Then I combine the two bowls, folding the oats into the wet mixture until the oats are fully coated.
BAKER'S SHORTCUT: When it's time to combine the wet & dry ingredients I wash my hands really well and use my clean hands to mix everything. Works much easier than a large spatula or spoon.
Bake Pumpkin Granola Until Crispy
This combined mixture is now divided in half. I pull out a couple of large baking sheets with sides and place 1/2 the mixture on each sheet, spreading it evenly. Finally I place both baking sheets in the oven set to bake at 325 degrees F.
I bake the granola for about an hour, pulling out the sheets every 20 minutes to stir the granola and break up the chunks.
(

UPDATE

: my oven's speed-bake means I only bake for 40 minutes, stirring twice!)
Notes About Baking Granola
When making my granola there are a few preferences & tips I use:
I don't like my granola too sweet so I always throw in a handful or two of raw old-fashioned oats during that first stir. This seems to cut the sweetness some. But that's just my preference.
Each time I pull out the sheets I rotate the position when I return them to the oven. That way each sheet gets equal time on the top rack and the bottom rack for even drying.
Sometimes my homemade pumpkin puree has more moisture than canned puree so it might take a little longer to bake.
I'm looking for a golden brown color. You don't want it to burn so watch your granola carefully.
After my granola is dry as I want it, I turn off the oven & bring out the trays. One more quick stir and I return the trays to the turned-off oven racks to soak up the residual heat.
The trays usually hang out in the warm oven for about thirty minutes or more.
The granola will naturally gain a little crunch as it cools. But I like my granola a little more crunchy so this dries it out just right for me.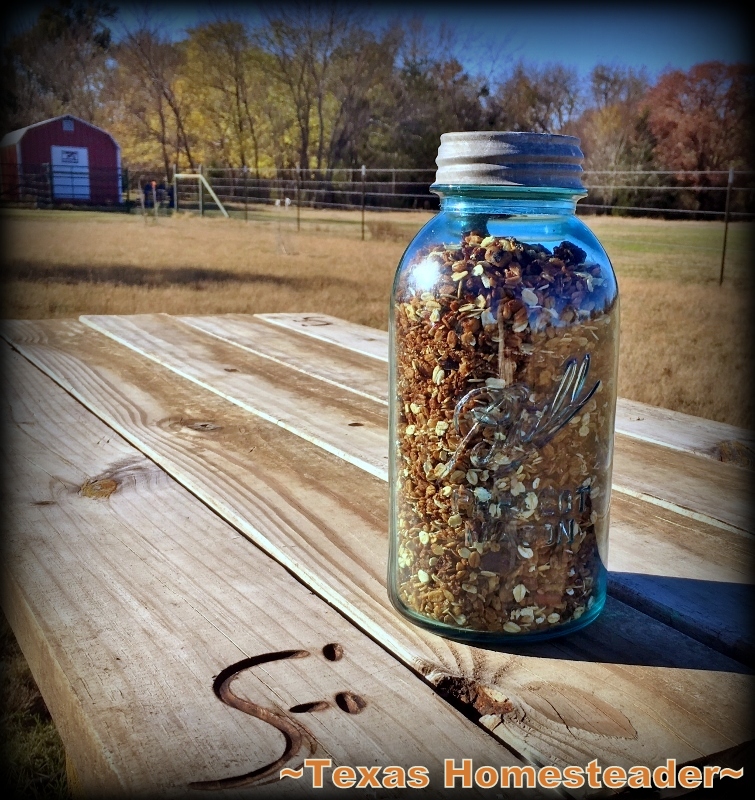 Granola Recipe Is Flexible To Your Tastes!
The beautiful thing about this granola recipe is that it's so flexible.
Sometimes if I don't have pumpkin puree I'll use applesauce in its place to make an apple honey-nut version. I'd think any pureed fruit would work just as well.
And I really enjoy the sweetness of dried fruit in my granola. So after I get the texture where I want it I pull out the trays and mix in 1.5 cups of dried fruit into each pan of granola.
In past batches of granola I've used raisins, dried cranberries, dried chopped apples, dehydrated chopped plums or even dried jujubes harvested from our trees.
Whatever small chewy dried fruit you enjoy works here.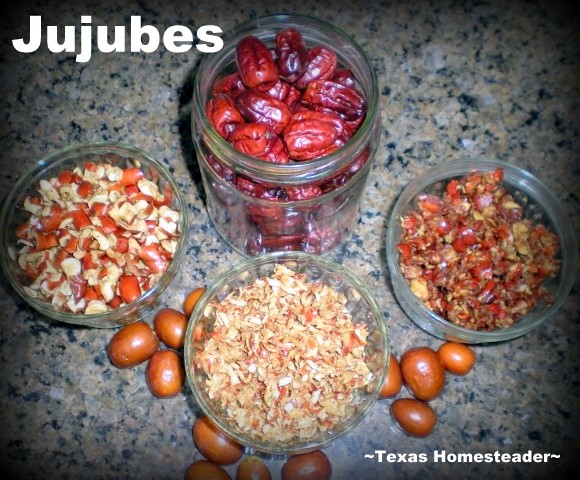 Baker's Tip: Be sure to add dried fruit when your granola is finished or the fruit will dry into crunchy rocks. #askmehowIknow
The beautiful thing about this granola is that it makes two large trays. You can finish them each differently to suit different tastes in your household.
Homemade Granola Flavor Variations
Maybe one in your family likes raisins but another likes cranberries or some other dried fruit. Since this makes two large trays of granola you can make both kinds.
Want chocolate chips in one – go for it!
Dried banana chips or other dried fruit? Oh yeah.
As with almost all of my recipes, this one is also geared to be personalized to suit your tastes.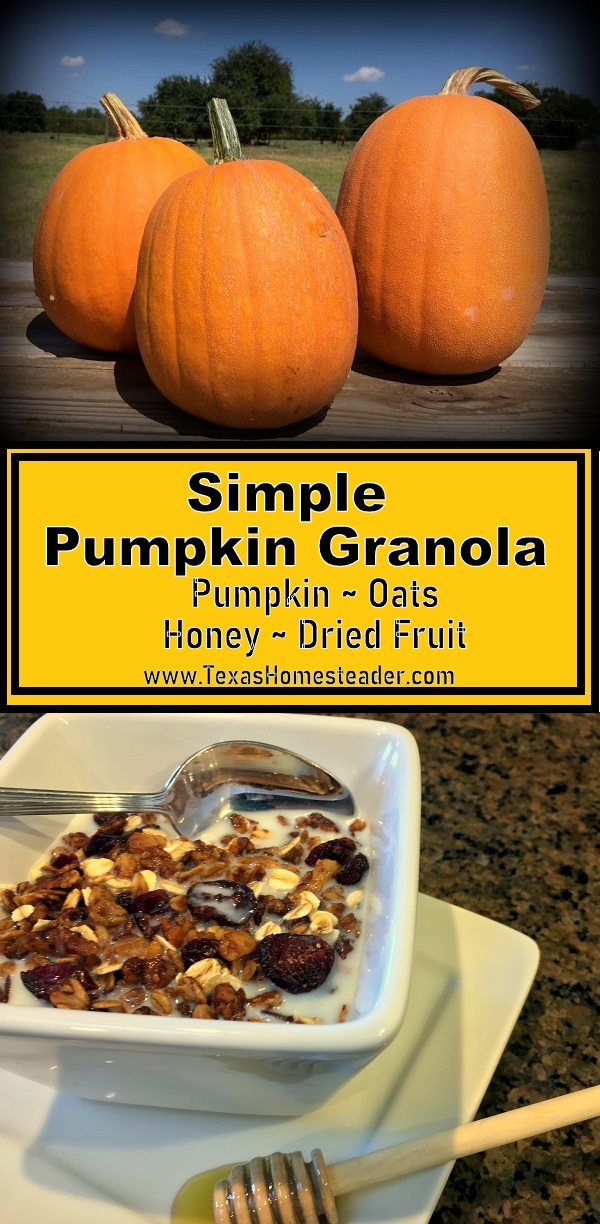 Makes A GALLON Of Granola!
And this recipe makes a lot – about a gallon. The granola is absolutely delicious and very filling.
Since it's so filling you won't need to eat as much so it lasts longer than those store-bought cereals that just never seem to fill you up. Let me tell ya, don't try to pour yourself a regular-sized cereal bowl of this homemade granola. You won't be able to finish it!
Give it a try, the recipe is below.
* * * * * * * * * *
Did you make this dish? Please rate the recipe in your comment below!
---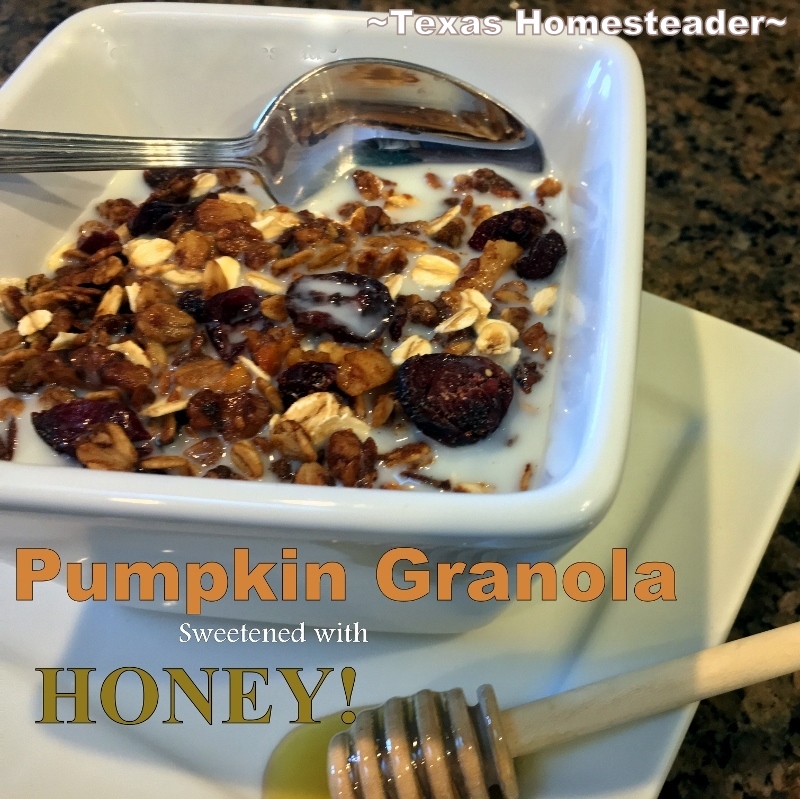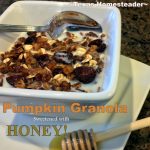 Pumpkin Granola Recipe – makes about 1 gallon (about 16 cups)
This Pumpkin Granola Is So Good, So Inexpensive And SO EASY To Make!! #TexasHomesteader
Ingredients
Ingredients:
8

cups

oats

I mix quick and old fashioned for various textures, you can use whichever you prefer

1

cup

honey (12 ounces)

1

cup

molasses

or 3/4 cup brown sugar as substitute

3/4

cup

melted coconut oil (5.5 ounces)

or 1 1/2 sticks unsalted butter, melted

2

cups

assorted chopped nuts and seeds

I like pecans & sunflower seeds

1

cup

shredded coconut

2

cups

pureed pumpkin

Note: NOT pumpkin pie filling

2

Tbsp

vanilla extract

3

Tbsp

pumpkin pie spice,

or see below to make your own

MYO spice = 1.5 T. cinnamon, 1 t. ground ginger, 1/2 t. ground allspice or cloves, 1/2 t. ground nutmeg

2-3

cups

raisins or other dried fruit

Note: add these after baking or they'll burn
Instructions
Directions:
Pour melted coconut oil into large-ish bowl and add 1 cup of honey, 1 cup of molasses, 2 Tbl. vanilla and 2 cups pureed pumpkin. Stir until fully blended.

In separate large bowl, mix 8 cups oats, 2 cups nuts, 1 cup shredded coconut and 3 Tbl. pumpkin pie spice (or see above for MYO spice mixture) - do not add raisins yet. Finally, add wet ingredients to dry mixture and stir until all is fully coated.

Lay moistened ingredients about 1/2 inch thick on two cookie sheets (with sides to contain the granola)

Bake at 325 F for 60 minutes, or until golden brown in color. You'll need to stir the granola once every 20 minutes or so for even drying and to break up any large clumps to assure they dry out enough for longer storage.

(UPDATE: my oven's fan-assisted speed-bake means I only bake for 40 minutes, stirring twice!)

After baking time if you want a crunchier granola turn the oven off and let the granola continue to dry out in the residual heat of the oven. When granola is cooled, mix in 2-3 cups raisins, stir & store in airtight container.
Recipe Notes
NOTE: This recipe is very adaptable, I've substituted part or even all of the pumpkin for applesauce with good results. I don't always add coconut and often add different than the noted measures for dried fruit or nuts - it all depends on what I have in the pantry needing to be used. I do always add several handfuls of raw old-fashioned style oats into the first stirring out of the oven, it cuts some of the sweetness in the granola which I like and it also stretches the volume.
~TxH~
This post categorized in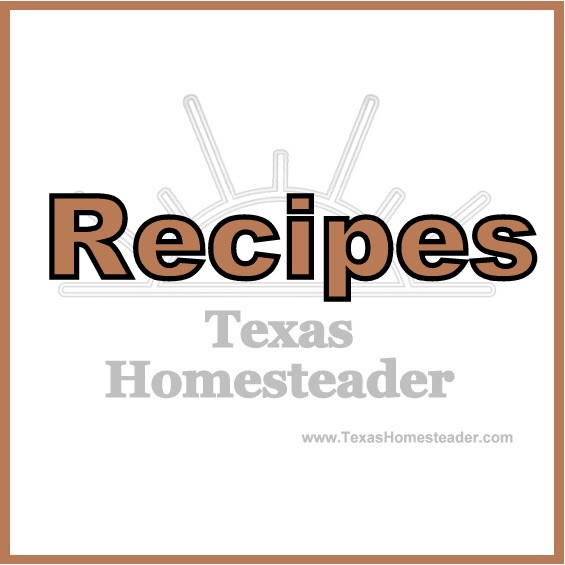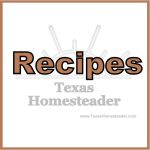 Other Pumpkin Articles
Our Favorite Breakfast Posts
…and MANY MORE!


C'mon by & sit a spell! Come hang out at our Facebook Page. It's like sitting in a front porch rocker with a glass of cold iced tea – lots of good folks sharing! And you can also follow along on Pinterest, Twitter or Instagram.
If you'd like to receive an email each time a new blog post goes live it's EASY to
Subscribe to our blog!
*Amazon affiliate
Save
Save
Save
Save
Save
Save