by Texas Homesteader
*contains affiliate links
This year I planted heirloom sugar pumpkins in my garden. And when it was time to harvest them I knew I'd first be able to enjoy them for a bit as decoration. I love the way those little pumpkins looked propped on our antique cast-iron Franklin stove.
But several days later I was in the kitchen enjoying the last of my favorite pumpkin granola. I knew that since I planted those delicious pumpkins for use in my granola it was time to cook those babies down into pumpkin puree.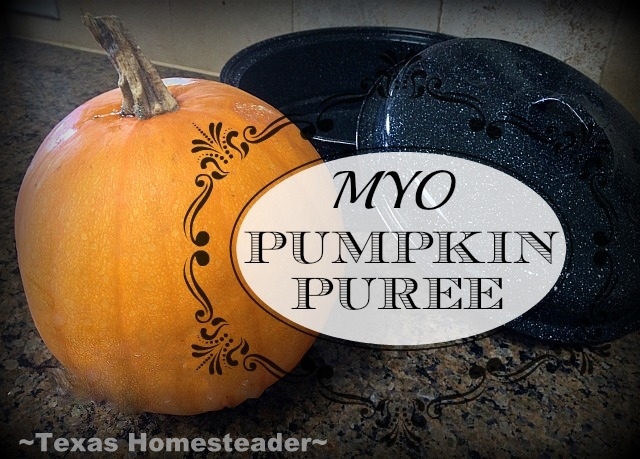 Hot Weather Secret Weapon
But we live in NE Texas ya know. It's hot and humid in the summer. So whenever possible I keep the oven off in the house during those hot days.
Thankfully I have a secret weapon for keeping that summer heat outside where it belongs, even while cooking! Now I'm about to put my secret weapon to very good use while preparing my pumpkin puree.
(Note: Some links in this post are for further information from earlier posts I've written. But links preceded with * are affiliate links. If you click them and buy something (almost anything, not just the item noted) I could receive a small purchase. But the price you pay will NOT change. It's an easy way to support this blog without anything coming out of your pocket. So click often! Thank you!)
My secret weapon of choice?
I use my solar oven in both summer and winter seasons since you don't need it to be hot outside. All you need is SUN.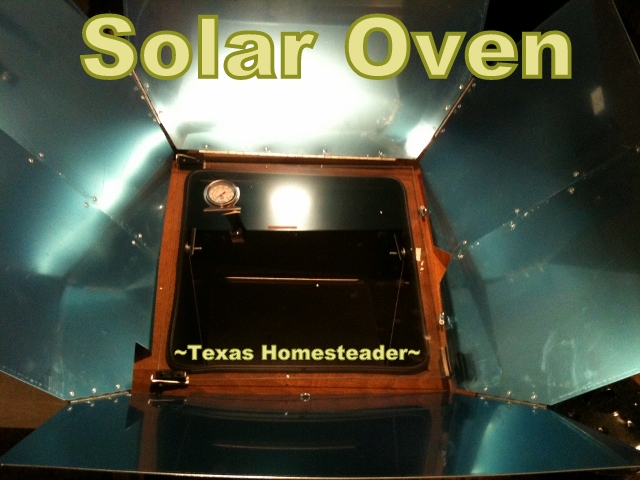 Of course if you don't have a solar oven you can still make pumpkin puree in a standard oven.
Today the forecasters called for the skies to be mostly sunny. But for some reason cloud forecasts are seldom accurate in our part of the world.
It ended up being mostly cloudy with occasional breaks in the clouds for the sun to peak through.
Adjusting Solar Cooking Times For Cloud Cover
Although the cloud cover will keep the oven from reaching hotter temps, thankfully since I'm just making pumpkin puree it doesn't really matter. Temperatures for cooking pumpkin shouldn't be too finicky about the specific heat. I just need it to get hot enough to cook it until it's soft.
Preparing The Fresh Pumpkin For Cooking
So now I'll prepare my home-grown produce to feed us. I took my pretty little pumpkins and cut them in half and scooped out the seeds.
Since this is an heirloom pumpkin variety I saved some of those seeds to plant next year. Heirloom seeds will produce the same results year after year whereas seeds from hybrid varieties will not come back true to the mother plant.
Then I cut those pumpkins into chunks that would fit into a covered black enamelware pan. An amazing amount of pumpkin was squeezed into that one pan!
Cooking Using A Solar Oven
Then I took the pan out to my solar oven, placed it inside and pointed the reflectors toward the sun. I know which way the sun will track throughout the day and I usually point the reflectors just a little ahead of the sun to give me a little longer sun-exposure time before I need to adjust the oven to properly track the sun.
Using this method I usually only need to adjust the oven once or twice while cooking.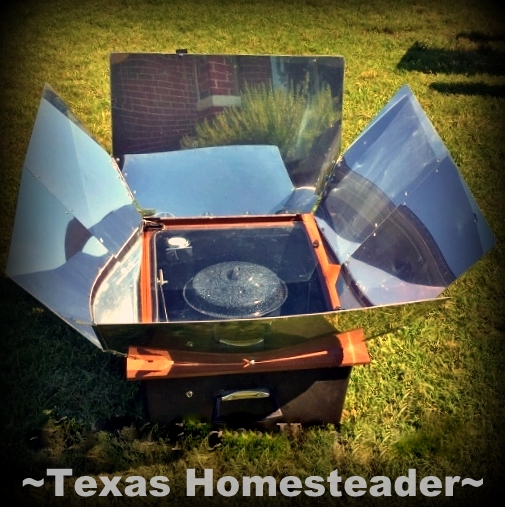 By the time I got the pumpkin prepared and got it into the solar oven it was just past noon. The cloud cover kept the oven from getting as hot as it could with more sun.
But the internal temperatures still quickly shot up to over 200 degrees and stayed pretty consistent from then on.
I allowed the oven to stay out for about 6 hrs due to the reduced sun exposure before I brought my pan of pumpkin into the house to see if it was cooked through.
A quick prick of the pumpkin flesh with a fork confirmed I was ready to go.
Cooked Pumpkin To Puree
I let the pumpkin cool a bit and then I scooped the cooked pumpkin flesh from the tough skin and placed it into a large metal bowl.
When all the pumpkin was removed I used my * Ninja Master Prep to puree the pumpkin.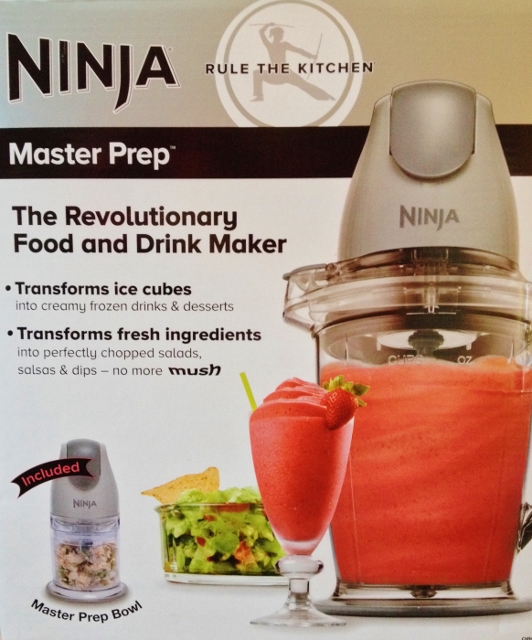 Freezing Pumpkin Puree
Now that my pumpkin is pureed I measured it into 2-cup servings. I placed those measured portions into plastic sandwich bags, then placed them in my freezer.
After they are frozen solid I move those sandwich bags into a larger gallon-size freezer bag and labeled '2-CUPS PUMPKIN PUREE' with the date and placed it all back into my freezer.
Now when I'm in the mood to make my favorite granola I pull out one of these pre-measured bags of pumpkin puree the night before and place it in my fridge. The next day the puree will thawed and I can proceed with my granola recipe as usual.
NOTE: Instead of freezing the puree in our freezer which takes up precious freezer real estate, I've started dehydrating and powdering the pumpkin puree. I just store it in my pantry in pretty glass jars. So much easier to store & use!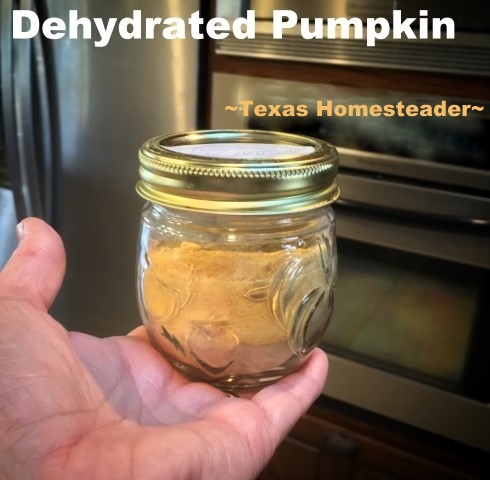 I love that I'm able to grow this important & healthy ingredient right here in my own garden. Plus I love that using it produces no waste to go to the landfill.
And I've even been able to cook the pumpkin using no purchased energy and with no heat added to the house. Now that's what I call a win/win!
~TxH~
Looking For More Solar-Cooking Recipes?
You can see our other SOLAR oven articles

here
Other Pumpkin Articles


C'mon by & sit a spell! Come hang out at our Facebook Page . It's like sitting in a front porch rocker with a glass of cold iced tea. There are lots of good folks sharing! And you can also follow along on Pinterest,Twitter or Instagram
If you'd like to receive an email when a new blog post goes live,
subscribe to our Blog!
*Amazon affiliate
* A word about our Affiliate Link – We are currently enrolled as an Amazon Affiliate. Occasionally I will insert an affiliate link into one of my posts if I think it may be of interest to you. I receive nothing from the manufacturer and I only link to products that I have used & love and feel you might love too. If you click on any of my affiliate links and buy something (almost anything, not just what was linked) I get a small referral percentage from Amazon. But here's the really important part – the price you pay for your items is UNCHANGED.
When you buy something through the affiliate link it's a great way to support this blog without anything coming out of your pocket so please click often!
*Amazon Affiliate
Save
Save
Save
Save
Save
Save
Save
Save