by Texas Homesteader ~
*affiliate link
There are several recipes I love that use pumpkin puree. So to provide that ingredient myself, I like to grow sugar pie pumpkins in my garden. But how do you use a traditional oven to make puree? Well I'm so glad you asked.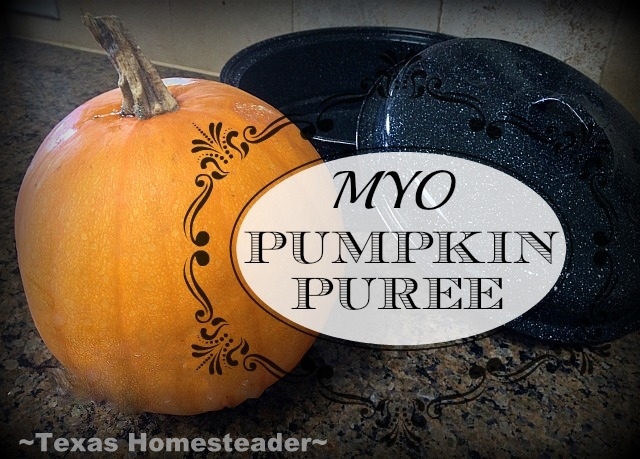 (Note: Some links in this post are for further information from earlier posts I've written. But links preceded with * are affiliate links. If you click them and buy something (almost anything, not just the item noted) I could receive a small purchase. But the price you pay will NOT change. It's an easy way to support this blog without anything coming out of your pocket. So click often! Thank you!)
Growing Pumpkin In A Three Sister's Garden
Almost every year I'm planting the native American Indian's symbiotic garden called the 'Three Sisters Garden'.
In their 3 sisters garden garden they started by planting corn – a staple in their diet. But it was also a heavy nitrogen feeder from the soil.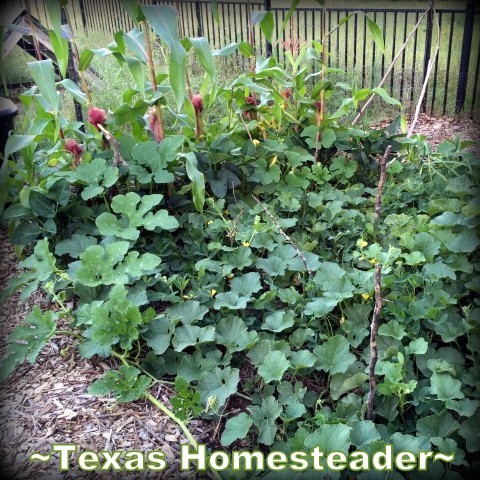 So at the base of the corn plants they planted green beans to help replenish the nitrogen in the soil. The corn repaid the bean's care by giving them a hearty stalk to climb upon to support the bean plant.
Then squash was planted between the corn plants. The squash benefited from the additional nitrogen as well, plus the large leaves of the squash vine would cover the soil to protect them from the hot summer temps, preserve moisture and act as a Living Mulch for the beans and corn. All three plants benefiting each other. Love it!
Using Home-Grown Pumkin
This year I planted heirloom Sugar-Pie Pumpkins for the squash requirement of my Three Sisters Garden. I like to use the pumpkin puree for my favorite homemade Pumpkin Granola.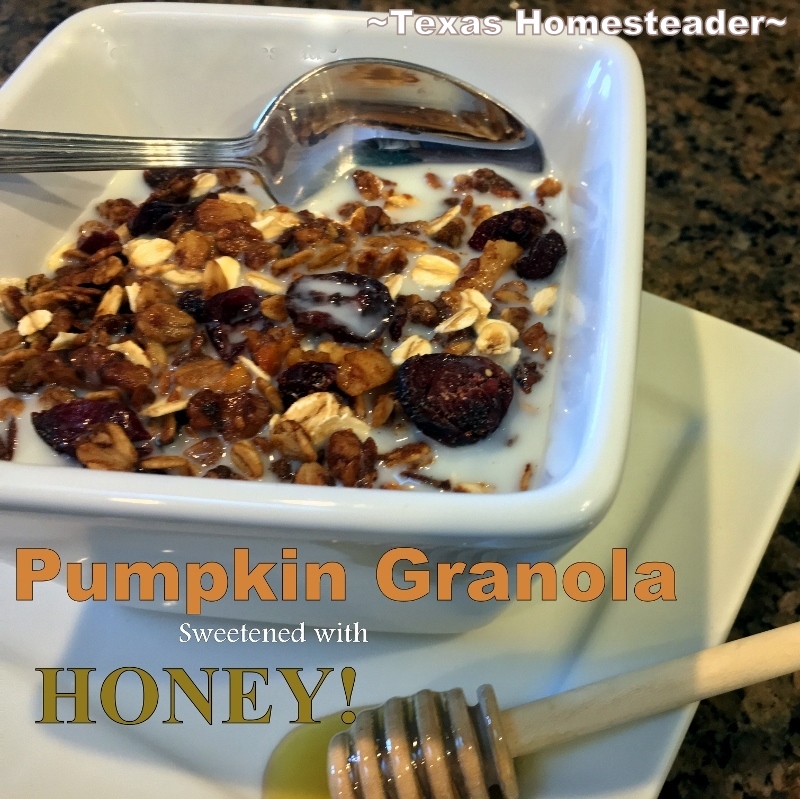 Aaaahhhh… nothing quite says "Fall is finally HERE!" like pumpkin #amiright? I have several pumpkins that are now ready to come off the vine so I'll be cooking them up into pumpkin puree.
Option #1: Cooking Pumpkin In A Conventional Oven
I'm cooking up my heirloom Sugar Pie Pumpkin today for that delicious organic pumpkin puree I crave. Making pumpkin puree is very easy.
To cook that garden pumpkin in a conventional oven, simply cut the pumpkin in half, scoop out the seeds and pulp from the center and place the pumpkin cut-side down on a baking dish with about a cup or two water added. The water and the pumpkin placed cut-side down will help steam the pumpkin.
Set the oven on 350 degrees and let cook until fork tender (about 45 minutes.)
Option #2: Cooking Pumpkin Outside
The steps for cooking your pumpkin in a solar oven instead of a conventional oven are much the same. You still cut the pumpkin in half, (more if your cooking pot is smaller) and scoop out the seeds
Then you place your cut pumpkin flesh down in a pan abnd add just a touch of water. Finally just place the lid on the pan to allow the pumpkin to steam as it's cooking and place it into the *Solar Oven.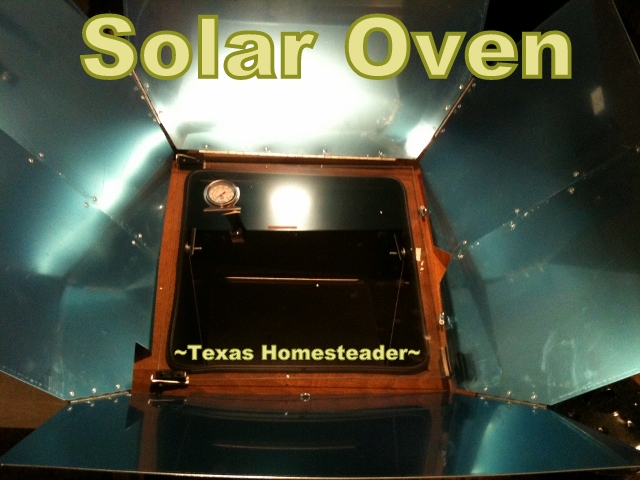 Making Pumpkin Puree
When the pumpkin is cooked soft, bring it out of the oven and let it cool. Then scrape the cooked pumpkin from the shell into a large bowl, leaving the dark orange rind for your compost.
I like to let the pumpkin further cool a bit in the bowl & then pour off the excess liquid.
Then I use my stick blender to blend the cooked pumpkin into pumpkiny goodness. I use my large *silicone muffin pan to freeze the puree in 1-cup increments.
The silicone makes it easy to pop these 1-cup frozen disks out. Then I place them in a freezer bag, being sure to label the contents. I just pop it into the freezer until I need it.
Pumpkin Puree For Granola
When I'm in the mood to make my granola I pull out 2 frozen disks and let them thaw in the fridge overnight.
Then the next morning I use that pumpkin puree to make my pumpkin granola.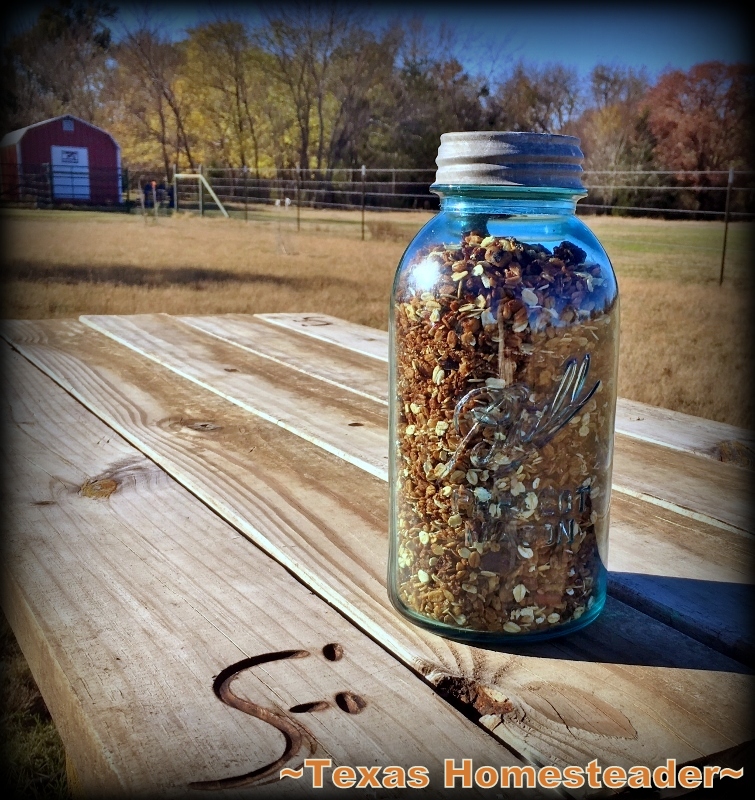 Storage Option: Dehydrating Pumpkin Puree
ALSO, I've become totally enamored with dehydrating pumpkin puree instead of freezing it! No more room taken up in the freezer or trying to get a chunk of pumpkin puree to thaw.
I simply measure out my dehydrated pumpkin puree and add hot water. It quickly rehydrates the Pumpkin puree! And it looks great in pretty glass jars in my pantry too.

~TxH~
Links Included In This Post:
Other Pumpkin Articles
C'mon by & sit a spell! Come hang out at our Facebook Page. It's like sitting in a front porch rocker with a glass of cold iced tea – lots of good folks sharing! You can also follow along on Pinterest, Twitter
To receive an email when a new blog post goes live it's EASY to
Subscribe to our blog!
*Amazon affiliate
Save
Save
Save
Save
Save
Save
Save
Save
Save
Save
Save
Save
Save
Save
Save