by Texas Homesteader ~
I like to dehydrate fresh pumpkin. It's so easy to do, y'all. And unlike using the freezer, dehydrated pumpkin uses no additional energy to store. Come see what I did!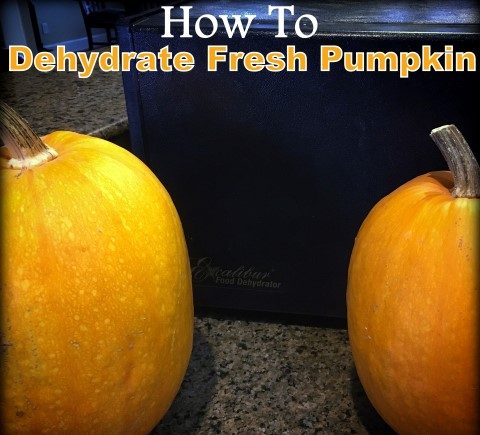 (Note: Some links in this post are for further information from earlier posts I've written. But links preceded with * are affiliate links. If you click them and buy something (almost anything, not just the item noted) I could receive a small commission. But the price you pay will NOT change. It's an easy way to support this blog without anything coming out of your pocket. So click often! Thank you!)
Pumpkin Harvest
Last year's garden included a very robust pumpkin harvest! When the season was over I harvested all those pumpkins and brought them inside before the first frost. But there were just so many!
I gave several fresh pumpkins to family & friends and used the remaining pumpkins for fall decoration purposes. One by one I cooked & pureed the pumpkins, using them in my Pumpkin Granola or other dishes.
But here we are months later and I'm staring at those two remaining pumpkins. And RancherMan's filled our freezer with so much wild pork that there's no room to spare there.
But when that garden pumpkin starts with planting the seed, you make sure none is wasted! I decided to cook & dehydrate the two remaining pumpkins & store 'em in my pantry instead.
Cooking The Fresh Pumpkin
I started off by cutting the pumpkin in half and scooping out the seeds and membranes. Since these sugar-pie pumpkins are heirloom I typically save some of the seeds to replant next season in my garden.
After the pumpkins are cut & cleaned out it's time to cook it up. Oftentimes if the sun is out I'll use my Solar Oven to Cook The Pumpkin. But obviously you can use a regular oven as well.
If I'm cooking it inside I retrieve my large, vintage covered roaster. The two pumpkin halves are placed cut-side down in the roaster and I add a cup or two of water. This will steam the pumpkin to cook it.
The roaster's lid is placed on top & I put it into the oven. The temp is set to 350 degrees Fahrenheit and I set my timer for 30 minutes.
When the time is up I turn the oven off & let the pumpkin stay in the hot oven soak up the residual heat until it's cool to finish cooking. (but you can just cook for 45 minutes or so if you're in a hurry)
Creating Pumpkin Puree
When it's cool I pull the roaster from the oven & scrape the pumpkin meat from the shell. You can use a heavy spoon but I love to use a large ice cream scoop. The scoop is heavy duty & there's no fear in bending it if I get a little carried away scooping.
Does anyone else get a little heavy-handed when scooping pumpkin?
No? Just me? Alrighty then!
Now I place that cooked pumpkin into my *Ninja Blender. (have I mentioned how much I love that thing??!!) The Ninja blends it all into a flawless smooth puree in no time flat – no lumps!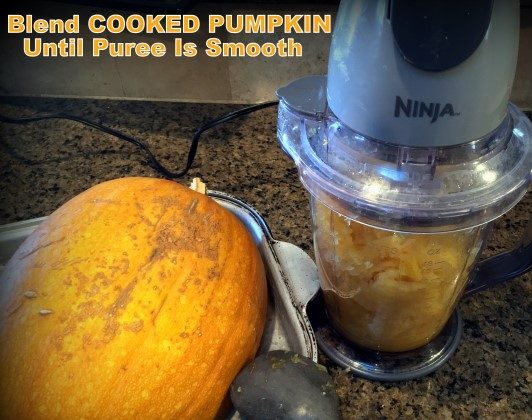 Dehydrating Pumpkin Puree
Now I plop about 2 cups onto each *Paraflex Sheet for my Excalibur Dehydrator and spread it all smoothly. You're basically treating this puree the same as you would for Fruit Rollups.
When all the puree has been smoothed onto trays I put them all into my *Excalibur Dehydrator and set the temp to 125 degrees. The pumpkin needs to dehydrate for about 12-14 hours.
So for convenience sake, if I've cooked the pumpkin during the day & pureed it at night I can turn the dehydrator on when I go to bed and let it do it's thing all night. That's a lot of hands-off time and I'm lazy, errrr I mean efficient that way!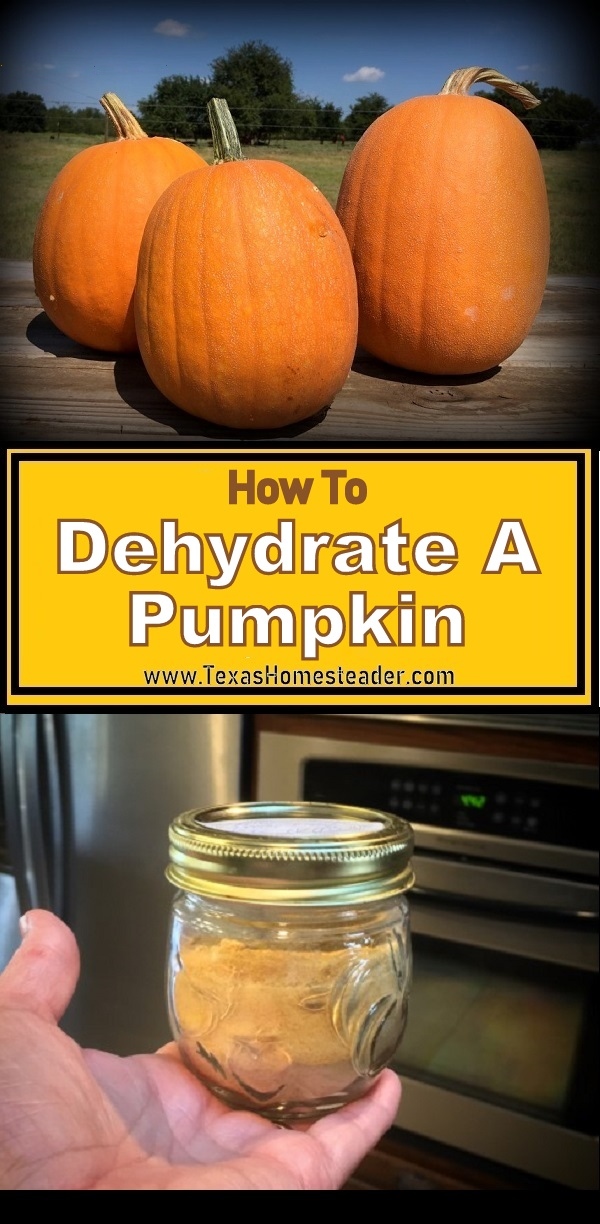 In the morning I peel the sheets of dried puree and flip them over to make sure it dries properly on the underside too. Then I let it dehydrate for a few hours more.
All in all to fully dehydrate the pumpkin puree it took about 12 hours for me, but your dehydrator and even the relative humidity in your home could make your time slightly different.
You're looking to dry the puree until it's completely dry & brittle, crisp enough to break up easily.
Powdering Dehydrated Pumpkin
I break up the pieces and drop them into a *coffee grinder I reserve for just this task. A couple of pulses will grind the chunks until they're once again perfectly powdered – no lumps!
Now that it's dehydrated and powdered that whole pumpkin doesn't even fill up a tiny 1/2-pint canning jar!
When it's time to rehydrate my pumpkin powder for puree use I'll simply boil some water (4:1 ratio water to pumpkin) and stir in some pumpkin powder.
Some say it needs 15-20 minutes standing time to rehydrate. But in my experience, I suppose because it's so powdered, it rehydrates in minutes right then as I'm stirring in the boiling water.
BOOM! Pumpkin puree!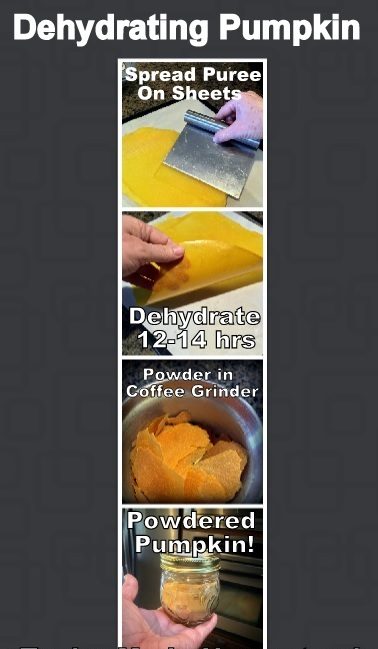 It's a no-waste way to make sure that delightful pumpkin harvest is fully used.
~TxH~
Other Pumpkin Articles
Other Dehydrating Posts


C'mon by & sit a spell! Come hang out at our Facebook Page. It's like sitting in a front porch rocker with a glass of cold iced tea – lots of good folks sharing! You can also follow along on Pinterest, Twitter or Instagram.
If you'd like to receive an email each time a new blog post goes live it's EASY to
Subscribe to our blog!