by Texas Homesteader ~
Several weeks ago we were shopping for a family gathering and we needed to pick up some fresh limes. While we were in the grocery store to pick up limes, RancherMan decided that '6 for $1' was the way to go. I wasn't sure we'd go through all six limes though. As it turns out there were indeed limes leftover after our gathering. To keep them from going to waste I washed them and tossed 'em in the freezer.
Come see how a frozen lime helps me reduce waste in the kitchen.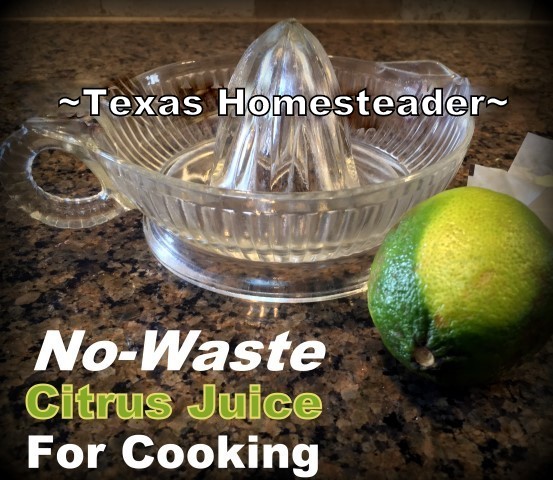 Don't Forget The Zest
Fast-forward several weeks later & I needed a tablespoon of lime juice for a recipe I was working on. Those frozen limes to the rescue! I pulled one out and zested it because, well you can ALWAYS use zest! I'll dehydrate the zest & toss it in the next batch of cookies or something.  But now back to that frozen lime.
Easily & Quickly Juicing The Lime
I cut the now-zested lime in half and let it finish thawing. Then I used my handy-dandy vintage juicer to quickly juice the lime with just a few turns of the wrist. This juicer is typically used to make orange juice from fresh oranges but why not use it for smaller citrus too?  It worked beautifully.
I poured the juice through a small strainer to filter out the pulp and seeds.
Don't Waste It!
When I'd used what I needed of the juice I wondered what I would do with the rest of the juice?  OMGosh y'all are gonna love this:
I have 2 removable inserts from a deviled-egg carrier. I pulled them out to use for preserving this juice. One teaspoon of juice was poured into each indentation & I stuck the whole shebangie in the freezer.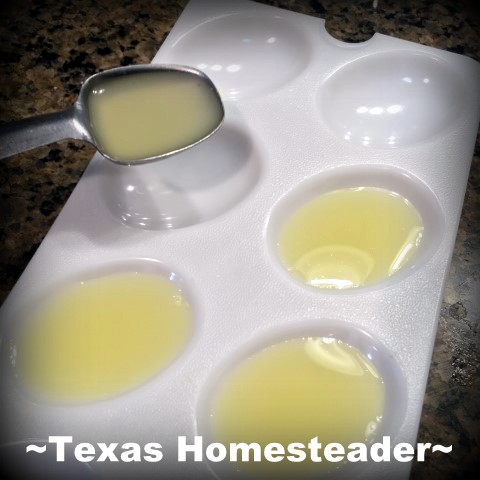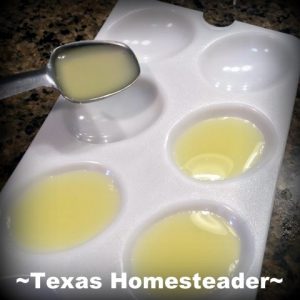 When the juice was frozen I popped each frozen section out & put them in a labeled freezer bag. The juiced & zested rind was finally tossed in the compost so there was no waste. Done & DONE!
What a cheap solution for 100% juice. I've done this with both lemon as well as lime. And with no plastic bottle I'd have with a purchased bottle of lemon or lime juice.
Plastic-free, baby!
~TxH~
Other Great Posts About Reducing Plastic
Reducing Household Waste
…and Many More 


C'mon by & sit a spell!  Come hang out at our Facebook Page. It's like sitting in a front porch rocker with a glass of cold iced tea – lots of good folks sharing!  You can also follow along on Pinterest, Twitter or Instagram.
If you'd like to receive an email each time a new blog post goes live it's EASY to
Subscribe to our blog!