by Texas Homesteader ~
Several weeks ago we were shopping for a family gathering and we needed to pick up some fresh limes for Homemade Pico de Gallo.
While we were in the grocery store to pick up limes, RancherMan decided that '6 for $1' was the way to go. I wasn't sure we'd go through all six limes though.
As it turns out there were indeed limes leftover after our gathering. To keep them from going to waste I washed them and tossed 'em in the freezer.
Come see how a frozen lime helps me reduce waste in the kitchen.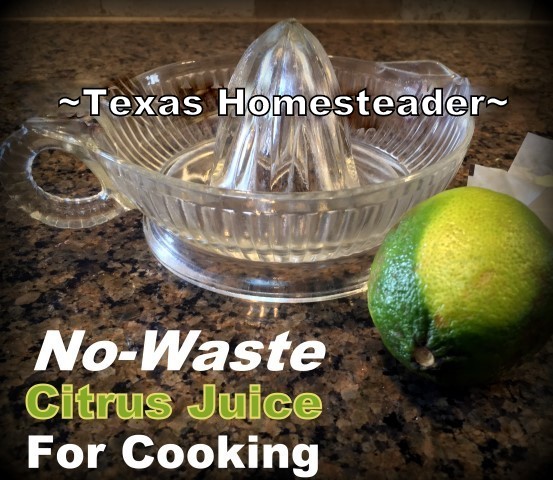 Don't Forget The Zest
Fast-forward several weeks later & I needed a tablespoon of lime juice for a recipe I was working on. Those frozen limes to the rescue!
I pulled one out and zested it because, well you can ALWAYS use zest! I'll dehydrate the zest & toss it in the next batch of cookies or something.
But now back to that frozen lime.
Easily & Quickly Juicing The Lime
I cut the now-zested lime in half and let it finish thawing. Then I used my handy-dandy vintage juicer to quickly juice the lime with just a few turns of the wrist.
This juicer is typically used to make orange juice from fresh oranges. But why not use it for smaller citrus too? It worked beautifully.
I poured the juice through a small strainer to filter out the pulp and seeds.
Don't Waste Leftover Juice!
When I'd used what I needed of the juice I wondered what I would do with the rest of the juice? OMGosh y'all are gonna love this:
I have 2 removable inserts from a deviled-egg carrier. I pulled them out to use for preserving this juice.
One teaspoon of juice was poured into each indentation. Then I stuck the whole shebangie in the freezer.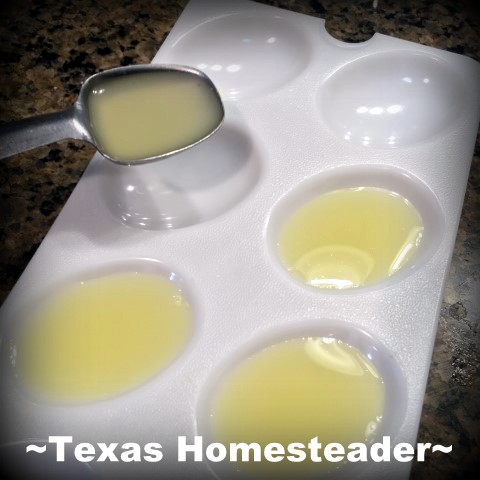 When the juice was frozen I popped each frozen section out & put them in a labeled freezer bag.
The juiced & zested rind was finally tossed in the compost so there was no waste. Done & DONE!
What a cheap solution for 100% juice. I've done this with both lemon as well as lime. And with no plastic bottle trash to deal with like I'd have with a purchased bottle of lemon or lime juice.
Plastic-free, baby! Plastic free…
~TxH~
Other Great Posts About Reducing Plastic