by Texas Homesteader ~
This simple dry shampoo formula uses only 3 standard pantry ingredients. To clean hair just apply to the hair's roots and brush away. Perfect lightweight formula for camping or hiking too.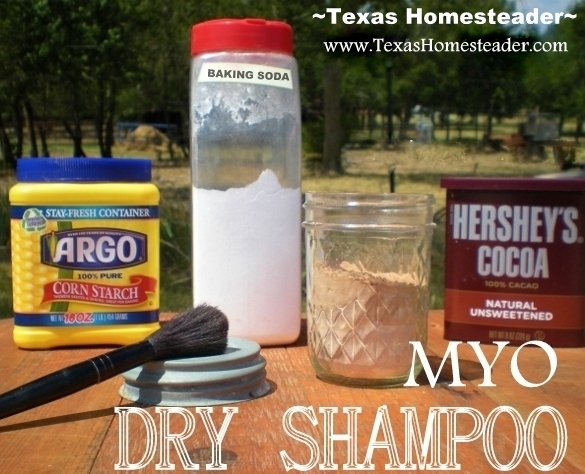 Dry Shampoo When Camping & Hiking
Hiking and camping season is here. Are you getting ready for the great outdoors and some fun in the sun?
If you've always bought dry shampoo for your camping trips I'm here to tell ya – it's EASY to make your own with just 3 common kitchen ingredients.
Dry Shampoo, Simple Ingredients
I use only 3 simple pantry staples (yes indeed, cocoa IS a non-negotiable pantry staple here on the Homestead!)
Cornstarch

Baking Soda

Cocoa (Optional, for darker hair)
This is the magical formula that works just right for me to use right here at home for times when I need to freshen & clean my hair without using water.
But it's so lightweight, this dry shampoo formula would also be great for camping or hiking too. Or really anywhere you might not have access to water to clean your hair.
Dry Shampoo Needs After Surgery
Over the years I've used various methods of water-free hair cleaning for my hair.
Back in the day we would sprinkle baby powder in our hair & comb it through. But I didn't like the metallic sheen it always seemed to leave in my hair afterward.
I've seen dry shampoo products sold in stores for several years now. And I even bought it myself when I needed it for a weekend camping trip.
But several years ago after a surgery when I couldn't get my hair wet for several weeks, I found myself needing dry shampoo again.
And you know me – I wanna make things myself these days for environmental, health & budget reasons!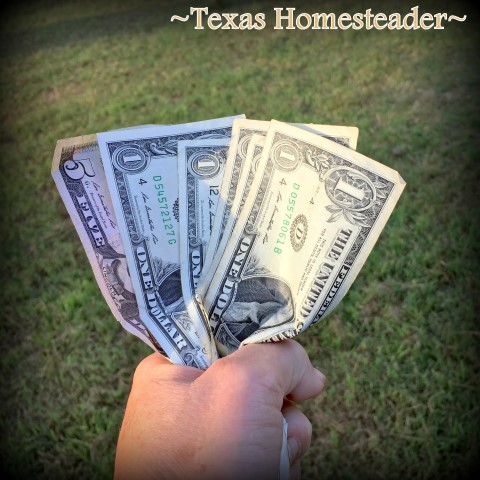 This dry shampoo formula contains only inexpensive and lightweight ingredients. No harsh chemicals here!
And using it means there's no water necessary to clean your hair! So whether you're camping or just trying to watch water waste at home, dry shampoo fits the bill.
Mixing Up Dry Shampoo
The first step was to combine equal parts of cornstarch & baking soda. I used 1/4 cup each.
Then I added about 2-1/2 tablespoons of cocoa for my medium-brown hair color. You can adjust the amount of added cocoa for your own hair color. Or leave it out completely if your hair is very light or blonde.
I feel the cocoa ingredient just adds a nice matte finish to this dry shampoo formula.
And since I'd had such a negative experience years ago with white powder being so hard to brush out of my hair, the light-brown result of cocoa added in this dry shampoo formula means any tiny amount of residual powder in my brown hair unnoticeable.
Using Dry Shampoo While Camping
If you're camping or hiking, packing this lightweight dry shampoo is simple. Just pour some into a small repurposed plastic shaker bottle. I'm thinking maybe a repurposed spice bottle with the flip-top shaker holes?
Then include it in your pack. It weighs almost nothing.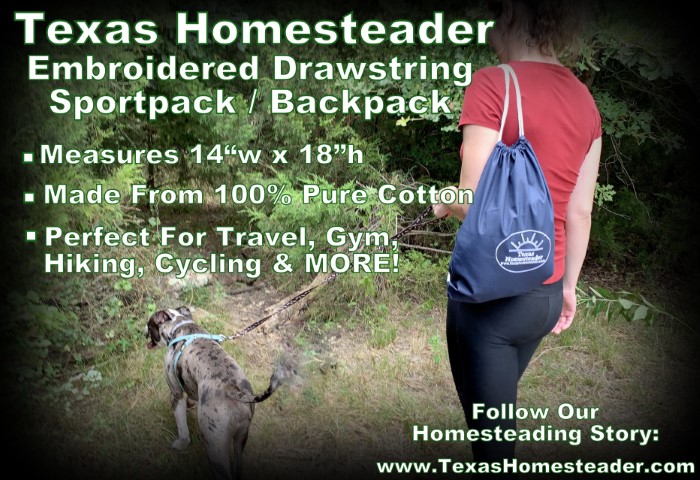 NOTE: I offer these cotton Texas Homesteader drawstring backpacks on my Texas Homesteader eBay page. Show your HOMESTEADER PRIDE!

If the dry shampoo is stored in a small shaker bottle you can clean your hair quickly & easily.
Just lightly sprinkle some of this formula onto the roots of your hair, then massage it into your scalp with your fingertips. When it's soaked up all the excess oil just brush it out. Easy peasy!
Dry Shampoo Less Messy Applied With A Makeup Brush
But if you're using this dry shampoo at home, there's a less messy way to apply it.
Since the powder is so lightweight it seems a tiny bit of powder sometimes goes airborne during application.
Not a problem on the hiking trail, but a little more of a problem when you're trying to apply it standing in the bathroom of your home.
But I found it's much easier to apply using my makeup brush for application than it would be trying to sprinkle it from a shaker bottle or apply with my fingers.
Using a makeup brush I'm able to more accurately direct the dry shampoo to the exact location I want – at the roots.
Tip: You want to apply the dry shampoo directly onto your roots/scalp since that's where the highest concentration of hair oil will be. But apply only enough to clean your hair so you won't have tons to try to brush out.
Even though the makeup brush application is less messy, I still prefer to sit on my back porch to apply & brush out the dry shampoo. It's just less mess for me to deal with that way and really, who doesn't like LESS MESS??
How To Use Dry Shampoo
So here's how I easily apply Dry Shampoo:
Make a front-to-back part in my hair on the side of my scalp.

Dip the makeup brush lightly into the mix. Any excess powder is tapped off the brush and back into the jar.

Touch the brush to the roots/scalp at the part, starting at the back & working toward my face with the brush. (By starting at the back it helps assure the bulk of the powder will end up at the back of my head to be brushed down through my hair to remove additional oil.)

Make another part in my hair and repeat until I've gone the full distance across my scalp.

Work the powder through my hair with my fingertips.

Give it a couple of minutes to soak up the excess oil in my hair and then brush it out. (The oil clings to the powder and is brushed away!)
I like to thoroughly brush my hair again about 5 minutes later. It always seems there's just a little more powder remaining after the first brushing. But now I'm good to go!
Can You Smell Cocoa In Homemade Dry Shampoo?
I get asked all the time if you can smell the cocoa after applying this dry shampoo. I can say that after applying my dry shampoo I could smell a very subtle hint of cocoa remaining. Although it was very faint, I wondered if those around me could smell cocoa too?
So I asked RancherMan about it. But he said he detected no scent at all unless he was purposely sniffing my hair.
What? 'Purposely sniffing my hair'? OOKAYYYYY…. LOL
As I mentioned this solved my problem after a surgery when there was really not much physical activity for me. And since you brush it out of your hair I'm assuming precious little residual product actually remains afterward.
Dry Shampoo Conserves Water When Hiking
I know this would also be a great, inexpensive yet effective solution to use for keeping your hair clean whether camping or hiking. But especially when trying to keep the weight of your pack light such as when you're hiking the trails.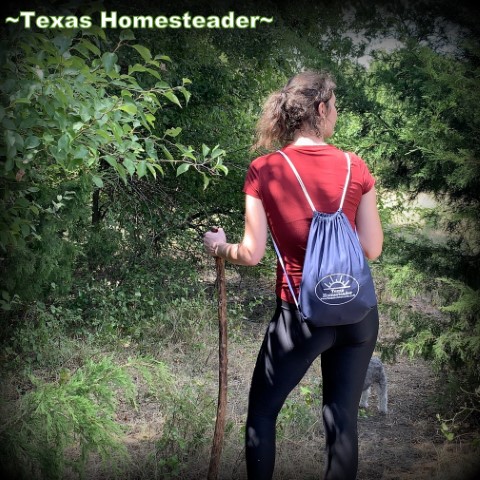 Fresh water is heavy, so when hiking it's most often reserved for hydration and cooking only when you're having to pack it on the trail.
Using this dry shampoo means no precious water would be necessary to clean your hair during a weekend-long trip.
I'm pretty pleased at how well this worked for me using items I already had in my pantry. I've finally found my perfect yet inexpensive homemade dry shampoo option!
~TxH~
This post categorized in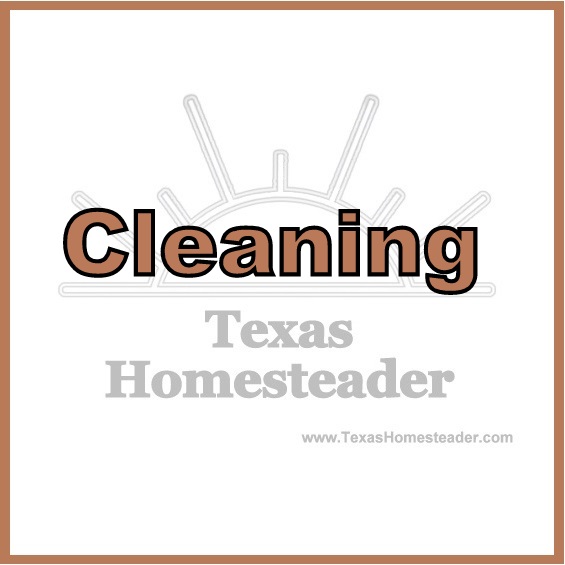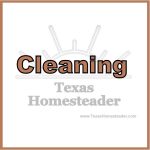 Zero-Waste Health & Beauty


C'mon by & sit a spell! Come hang out at our Facebook Page. It's like sitting in a front porch rocker with a glass of cold iced tea – lots of good folks sharing! You can also follow along on Pinterest, Twitter or Instagram.
If you'd like to receive an email each time a new blog post goes live it's EASY to
Subscribe to our blog!
Save
Save
Save
Save