by Texas Homesteader ~
Raise your hand if you love peach cobbler. (me, jumping up & down raising hand!!) Peach cobbler is one of my favorite dessert recipes. This simple peach cobbler recipe uses canned peaches and is baked in a 10″ cast iron skillet. Quick enough to bake on a random weeknight yet special enough for company.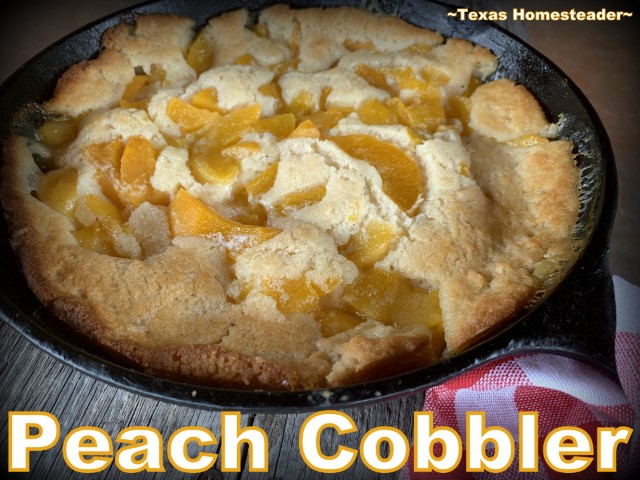 Peach Cobbler With Canned Peaches
This peach cobbler is baked in a 10" cast-iron skillet. I love baking cobblers in cast iron. It just seems to add a little sumpin' to the presentation. Plus the buttery crust seems to get just a little more crispy right at the edges in cast iron. And c'mon, I love my cast iron cookware!
This easy peach cobbler recipe uses canned peaches so you can whip it up any time of the year. But when it's peach season you can use fresh peaches instead. Both options are included in this recipe.
Fresh Peach Equivalents To Canned Peaches
If you're using fresh peaches, it's helpful to know that two medium peaches equals about a cup of sliced peaches.
And a 16-oz can of peaches yields about 2 cups of peaches.
So if you're using fresh peaches for this recipe you'll want to set aside 7-8 peaches for the two cans of peaches called for in this recipe (depending upon how large your peaches are, and how peachy you want your cobbler!)
So if you're using fresh peaches, just combine 4 cups of freshly peeled & sliced peaches, 2 cups of sugar and 2 Tablespoons of lemon juice into a saucepan. Then heat the mixture gently, the peaches will release their juice and help dissolve the sugar. When the sugar is dissolved, turn off the heat. Now your peaches are ready to use in this recipe
But if it's not peach season and you're in the mood for homemade peach cobbler, don't worry. This recipe uses a couple of 16-oz cans of sliced peaches as well. It's super easy too.
Peach Cobbler Ingredients
First I bring out my simple peach cobbler ingredients: granulated sugar, vanilla extract, room-temperature butter, self-rising flour, milk and two 15-oz cans of sliced peaches – one drained, one undrained.
NOTE: I've made this cobbler with only 1 undrained can of peaches, but to me there was not enough peach in the cobbler that way.
So now when I'm making the cobbler I use TWO cans of peaches – one drained & the other undrained. Whichever you choose works here.
Then I pull out my 10" deep-side cast iron skillet. While I'm preheating the oven I like to add my skillet to the oven too.
That way my skillet is heated at the same time. To me, preheating the skillet just jump-starts that crispy edge delightfulness I spoke of earlier.
Making Self-Rising Flour From All-Purpose Flour
Using self-rising flour is important, y'all. It helps the batter to magically turn into that fluffy buttery top crust you'll love. Using all-purpose flour here will not yield the same results. (ask me how I know. Eh hemmmm…)
If you don't have self-rising flour, don't worry. You can easily Make Self-Rising Flour Using All-Purpose Flour.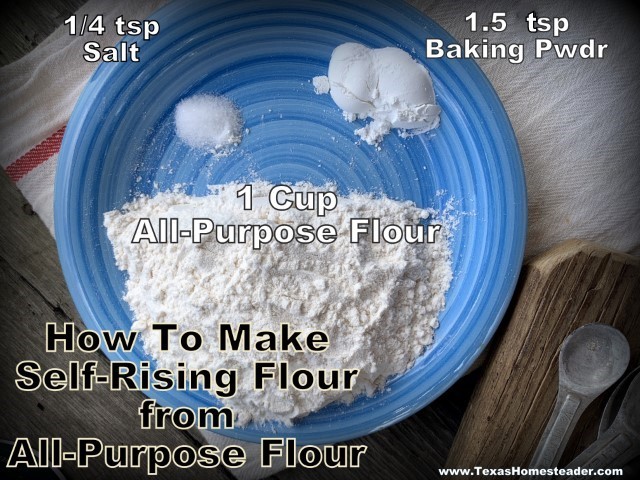 Just measure out 1 cup all-purpose flour and add 1.5 tsp baking powder and 1/4 tsp salt. BOOM! Self-Rising Flour!
Mixing Up Cobbler Crust
Now that all my ingredients are ready and the oven is preheating, I get to mixing up my cobbler batter.
Into my KitchenAid I creamed the sugar and softened butter with a splash of vanilla extract until it was all mixed. Then I added the milk & self-rising flour and mixed again just until combined.
Now my oven is preheated & my cast iron skillet is good & hot. I carefully remove the skillet from the oven and run a stick of butter along the hot interior of the skillet. The butter sizzles and coats the surface, pooling in the bottom of the skillet.
Layering Peach Cobbler Ingredients
Now I pour my batter into the bottom of the hot skillet. I use a spatula to make sure to scrape every bit of this buttery sweet deliciousness from the mixing bowl and spread it evenly on the bottom of the skillet.
Then I open the first can of peaches and carefully pour the juice over the top of the batter. DON'T STIR, you just want to pour it semi-evenly over the surface. I'll then spoon the sliced peaches evenly over the batter. Again, DON'T STIR!
But what about that second can of peaches? Well I go ahead and drain that second can because although I want lots of peachiness in this cobbler, I don't feel the recipe needs more juice.
And for this can of drained peaches I'll also lightly chop them. By doing this I'm able to spoon the peaches more evenly over the surface of the batter, filling in any less-peachy spaces.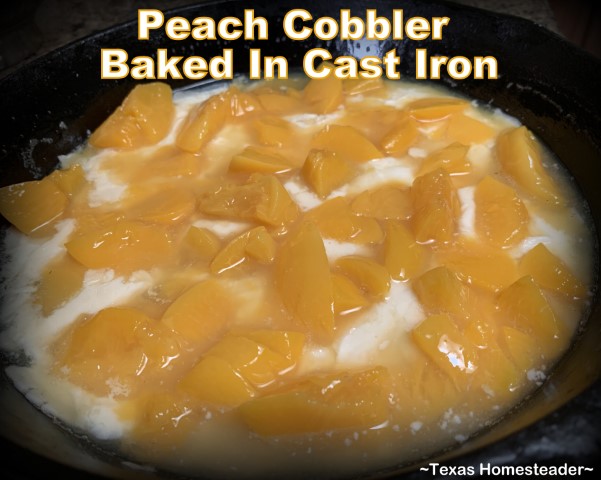 I want to get plenty of peach flavor with every bite, y'all. Again, DON'T STIR. You just want to layer these ingredients.
Cinnamon/Sugar Topping Option
Sometimes I'll mix up a little sugar/cinnamon to sprinkle on the top. I'll use a couple of tablespoons of granulated sugar to about a teaspoon of cinnamon, blend it well and sprinkle evenly over the whole shebangie.
But you have to be careful here, too much cinnamon flavor can easily overpower the delightful peach flavor you're after. So more times than not, I skip the cinnamon/sugar topping.
Baking The Peach Cobbler
Now I slide that cast-iron skillet filled with peachy goodness into the preheated oven. Here's where the magic happens, y'all!
The dough on bottom will rise as it bakes, covering the cobbler. In about an hour the crust is light, fluffy and golden brown.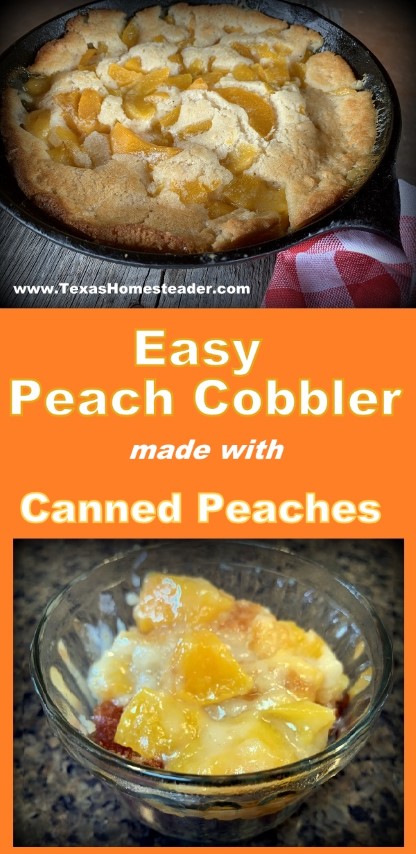 I prefer to bring the skillet out and allow it to sit on the counter for about 5 minutes before digging in. Then I spoon hearty servings into pretty vintage dessert bowls and serve warm.
Some people like to add vanilla ice cream or whipped cream to the top. Whatever your preference, enjoy!
Simple Peach Cobbler Using Canned Peaches Baked In 10" skillet
This simple peach cobbler uses canned peaches and is baked in a 10" cast iron skillet. (Or you can use a 9x13 pan if you wish.) Delicious & simple yet company worthy! #TexasHomesteader
Ingredients
Ingredients:
2

15-oz can

Sliced Peaches,

1 drained, 1 undrained

1

cup

Self-rising flour

or 1 cup all-purpose flour + 1.5 tsp baking powder + ¼ tsp salt

3/4

cup

Granulated sugar

1

cup

Milk

1/3

cup

Butter,

room temp (2.7 oz)

1/8

tsp

Vanilla extract

2

Tablespoons

butter,

optional to melt in pan
Instructions
Instructions
Preheat oven to 350 degrees F.

If using, melt 2 Tablespoons of butter in 10" deep-side cast-iron skillet (use a baking sheet underneath skillet in case it bubbles over. Mine didn't bubble over, but it was full!)

In a medium bowl, mix 3/4 cup sugar, 1/8 tsp vanilla extract and 1/3 cup butter and mix until thoroughly blended.

Add 1 cup self-rising flour & 1 cup milk. Mix just until blended.

Take the hot skillet out of the oven and pour batter mixture evenly over bottom of pan.

Gently pour juice of undrained can of peaches evenly over batter.  Do not stir.  Spoon sliced peaches evenly on top. Again, do not stir. The batter will rise to the top as it bakes to make the cobbler topping.

Drain away juice of 2nd can of peaches, chop drained peaches lightly and spoon chopped peaches evenly over batter. Do not stir!

Bake for 1 hour or until top is golden brown.
Recipe Notes
NOTES
If you prefer to use fresh peaches, substitute the canned peaches in step 4 with this boiled peach mixture:
Combine 4 cups of freshly peeled & sliced peaches, 2 cups of sugar and 2 Tablespoons of lemon juice into a saucepan. Then bring the mixture to a boil over high heat, stirring gently to keep from burning. Now your peaches are ready to use in this recipe
~TxH~
Other Easy Desserts


C'mon by & sit a spell! Come hang out at our Facebook Page . It's like sitting in a front porch rocker with a glass of cold iced tea. There are lots of good folks sharing! And you can also follow along on Pinterest, Twitter or Instagram
If you'd like to receive an email when a new blog post goes live,
subscribe to our Blog!