by Texas Homesteader ~ 
Anyone that knows me knows that I'm a confirmed chocoholic. That's right, an unashamed, unrepentant, CHOCOHOLIC! Now I love brownies, but I love the fudgy, bendy, chocolaty ones. Oh yeah, you know the ones – you pick them up & they are so soft, and with just one bite you're transported into chocolate heaven. Yeah, THOSE BROWNIES! I have a secret to tell you, I hold the recipe to that chocolate deliciousness (shhhhh….)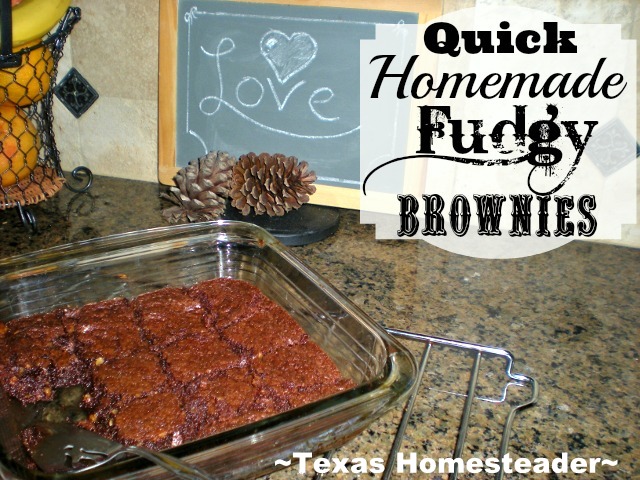 My Dessert Choice Is ALWAYS Chocolate!
Recently my parents hosted a family gathering which we all do relatively often. In my family each household in attendance brings a dish so that no one is burdened with feeding a large crowd all by themselves. I of course volunteered to bring homemade brownies.  Whaaaa….Selfish choice? What ever do you mean? 😉
Usually if there will be lots of folks in attendance and I want to make sure I get some… I mean I want to make sure that everyone has a chance to enjoy brownies, I'll double the recipe to make a large 9×13 pan of them. But today I should be safe with an 8×8 pan.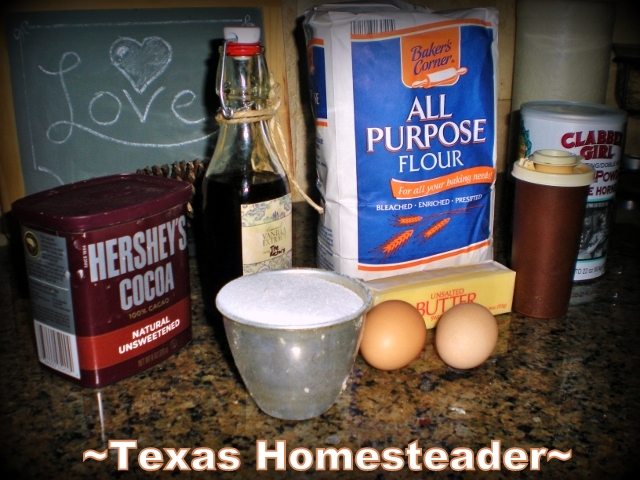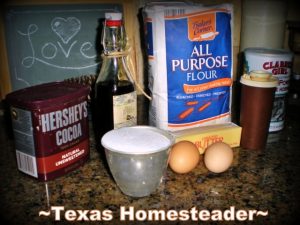 Simple Ingredients
I brought out my ingredients – vegetable oil, butter, sugar, vanilla, eggs, flour, cocoa powder, baking powder, salt and chopped pecans. I preheated the oven to 350 degrees and greased my 8×8 pan.
Then in a medium bowl I mix together the oil, butter, sugar and vanilla. I beat in the eggs and set the bowl aside.  In my KitchenAid mixer I combine flour, cocoa, baking powder and salt and allow the mixer to thoroughly blend the ingredients. Then I gradually stir the flour mixture into the egg mixture just until blended. Finally I stir in the chopped pecans.
The batter is spread evenly into the prepared pan and baked for 20 – 25 minutes, or just until the brownie started to pull away from the edges. (note: for extra decadent goodness, you can frost the cooled brownies with this simple no-cook fudgy frosting.)
My mama taught me to share, so of course I'll share the brownie recipe with you!
Homemade Fudgy Brownies - (8x8 pan)
Ingredients
Ingredients
1/2

cup

all-purpose flour

1

cup

white sugar

2

large

eggs

1/3

cup

unsweetened cocoa powder

1/4

teaspoon

baking powder

1/4

cup

vegetable oil

4

Tablespoons

melted butter

1

teaspoon

vanilla extract

1/4

teaspoon

salt

1/2

cup

chopped pecans

(optional)
Instructions
Directions
Preheat oven to 350 degrees F. (325 degrees F for glass pans) Grease an 8x8 inch baking pan.

In a medium bowl, mix together the oil, butter, sugar, and vanilla. Beat in eggs. In separate bowl combine flour, cocoa, baking powder, and salt; When fully combined, gradually stir flour mixture into the egg mixture just until blended. Stir in nuts, if desired. Spread the batter evenly into the prepared pan.

Bake for 20 to 25 minutes, or until the brownie begins to pull away from edges of the pan. Let pan of brownies cool on a wire rack before cutting into squares as brownies will be very soft while hot. You can serve directly from the baking dish. Delicious!

Now folks I'm here to tell ya that these brownies never fail to satisfy!  I once commented to my sis that it takes no more time to whip these up from scratch than it would to open up a packet of commercial brownie mix since with both options you have to read the directions, add the wet ingredients and bake.  The only difference is combining the few dry ingredients for my homemade version and let's be honest here – MINE ARE BETTER!  (Hey, it ain't braggin' if it's TRUE!)
And with homemade brownies there's the added bonus of having no questionable hard-to-pronounce ingredients, it costs only a fraction of the price of buying a pre-made mix and there's precious little trash making its way to a landfill to satisfy my choco-craving.   Go ahead & give 'em a try, you'll be amazed!
~TxH~
Other Easy Desserts


C'mon by & sit a spell!  Come hang out at our Facebook Page . It's like sitting in a front porch rocker with a glass of cold iced tea.  There are lots of good folks sharing!  And you can also follow along on

Pinterest

,Twitter or Instagram
If you'd like to receive an email when a new blog post goes live,


subscribe

to our Blog!
Save