by Texas Homesteader ~
*contains affiliate link
I'd always been intimidated by homemade cheesecake. That is, until I found out how simple it is to make cheesecake in an Instant Pot. Now I whip up homemade cheesecake as a decadent dessert anytime I want!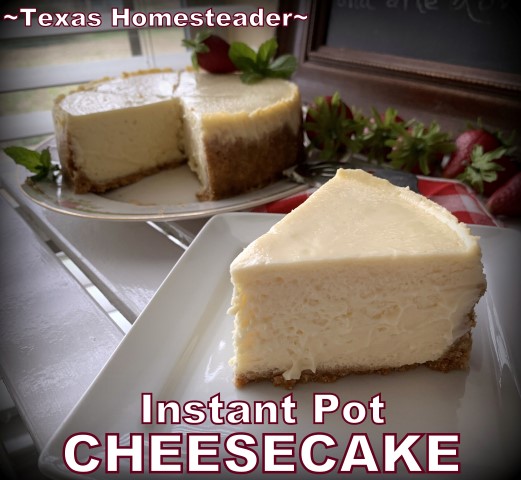 (Note: Some links in this post are for further information from earlier posts I've written. But links preceded with * are affiliate links. If you click them and buy something (almost anything, not just the item noted) I could receive a small commission. But the price you pay will NOT change. It's an easy way to support this blog without anything coming out of your pocket. So click often! Thank you!)
Easier Homemade Cheesecake Method
I love cheesecake, y'all. I mean really, really love cheesecake. But I've always been intimidated to try to make it myself.
I mean – water bath in the oven? The top cracking if you didn't cook it just right? The 2-part pan leaking in the water? It just sounded so… finicky.
So instead I always enjoyed my cheesecake at a restaurant table, #thankyouverymuch.
Then I read something indicating that the reason you use a water bath in the oven is because it must have that moisture. Without that moisture you're doomed to have a dry, cracked cheesecake.
This person said that's why a pressure cooker is the perfect way to make cheesecake. There's naturally lots of moisture.
Wow, now that makes sense to me.
Cheesecake Recipe Trial & Error
I tried a few cheesecake recipes but wasn't wowed with them. This one's not sweet enough, that one didn't have enough vanilla flavor, the other one didn't have a thick enough crust.
So I came up with a blend of ingredients that, to me, makes the perfect cheesecake.
Winning Cheesecake Recipe
I had a *6-Quart Instant Pot. So to make my cheesecake I purchased a *7-Inch Springform pan and a *trivet with silicone handles.
(My Instant Pot came with a long-handled trivet but it was too small to work with my 7″ springform pan.)
Now that I have everything I need, let's see how easy it is to make my very own homemade cheesecake.
Quick Cheesecake Instructions
Abbreviated instructions for those who want to see how hard/easy it is before even attempting:
Make graham cracker crust (EASY!)
Mix 2 pkgs room-temperature cream cheese until smooth.
Add yogurt – mix. Add sugar – mix. Add eggs – mix. Add vanilla – mix.
Pour into crust & cook in Instant Pot for 38-40 minutes & let pressure release naturally.
Remove from the pan, chill, top with your favorite topping and BAM!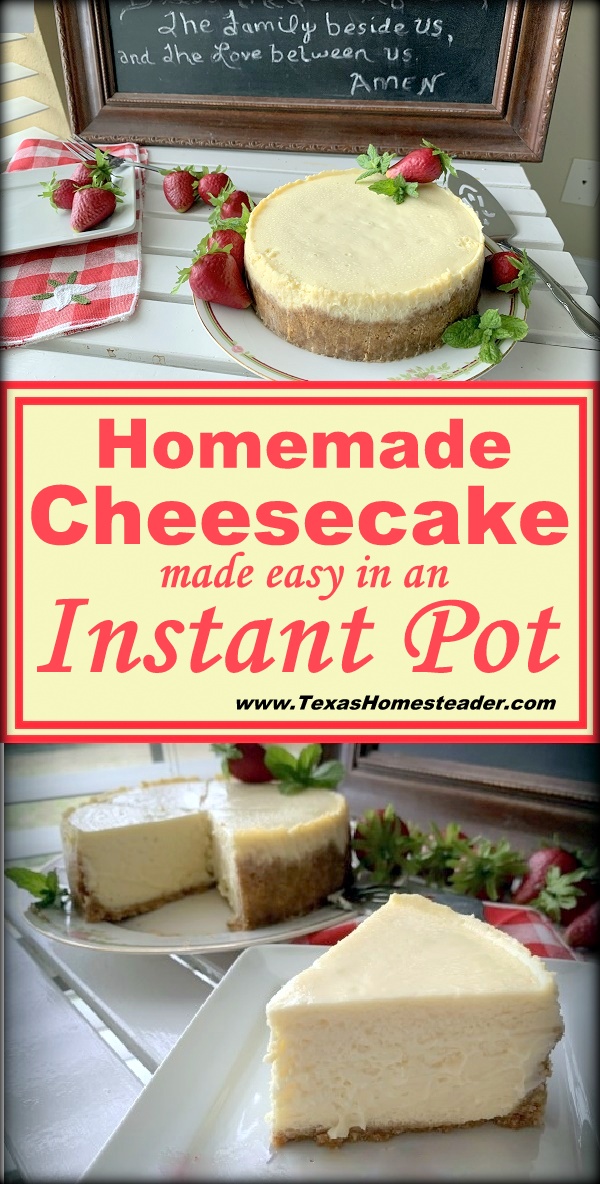 See what I mean? Easy! So here's how I made my cheesecake.
Making A Graham Cracker Crust
First I made my Graham Cracker Crust using only 3 ingredients:
8 crushed graham crackers,
4 Tablespoons butter,
1 Tablespoon sugar.
I pressed it into the bottom of my buttered springform pan and up the sides a little.
I pressed good and hard too, even using the back of my measuring cup. I don't want it flaking away when I'm serving it.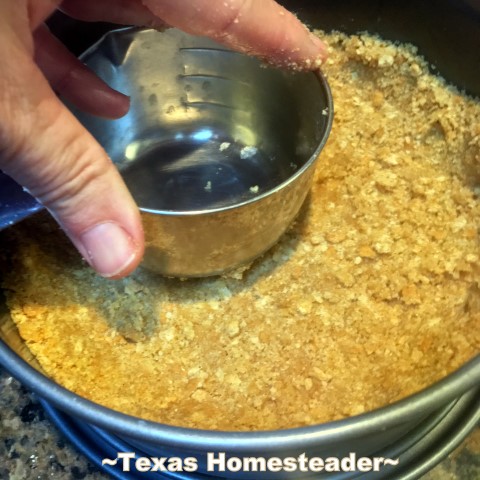 My recipe makes a nice thick crust because that's how RancherMan & I prefer it.
If you like a more delicate crust feel free to cut the crust ingredients below in half. Cook's choice!
Mixing The Cheesecake Filling
Then in my *KitchenAid mixer I placed two 8-oz packages of room-temperature cream cheese and mixed it thoroughly but slowly with the paddle attachment until no lumps remained.
Baker's Note: Mixing slowly keeps you from whipping too much air into the cream cheese. Too much air makes the cheesecake fluffy & spongy (in my opinion)
I like a nice, solid-textured cheesecake!
Then I added a small amount of my Homemade Yogurt, some sugar, a couple of eggs and a little vanilla. When all ingredients were mixed just until blended it's time to make the cheesecake!
Cooking Cheesecake In A Springform Pan
I poured the mixture on top of the crust in my springform pan. Then I tapped the pan on the counter a few times to release any air bubbles.
I placed the springform pan on top of my fancy-schmancy handled trivet.
To keep condensation off the top of the cheesecake, many people cover it with foil. But y'all know how I hate single-use waste. So I use a small metal pan lid on top of my springform pan.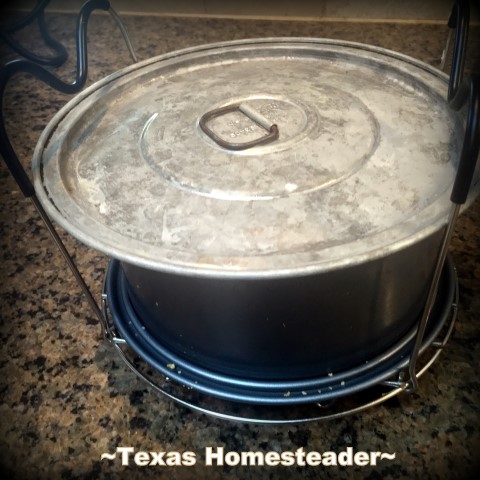 Then I add a cup and a half of water to my Instant Pot insert and carefully lower the trivet with my covered cheesecake inside.
Pressure Cooking An Instant Pot Cheesecake
The Instant Pot lid was secured, the lever placed to 'SEALING' and I'm ready to cook my cheesecake!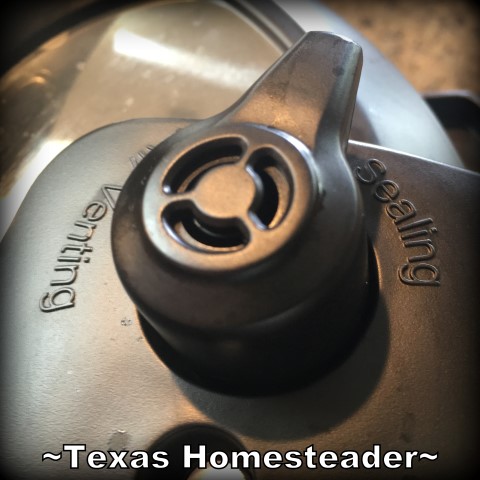 I pressed the 'PRESSURE COOK' button to cook on high pressure and then hit the ' -/+ ' button until it showed 38-40 minutes.
BAKER'S NOTE: I typically opt for 40 minutes, it just seems to make my cheesecake firm enough for me.
Then I spent a little time with RancherMan on the couch watching TV while the instant pot came up to pressure and then began the cooking countdown. Oh the drudgery of this recipe! LOL
When the IP notified me my cooking time was up, I hit 'CANCEL' and allowed the pressure to release naturally.
It usually takes around 15 – 20 minutes for all the pressure to be released. I'll set my timer so I don't forget about it. (ask me how I know. eh hemmmm…)
Cooling Your Cheesecake
I brought my cheesecake out of the Instant Pot and removed my metal cover.
At this point the cheesecake might look thin & lightly jiggly, but it will firm as it cools.
However you only want the very center to jiggle like jello. Occasionally for whatever reason my cheesecake seems a little too jiggly when I bring it out.
When that happens I'll pop it back into the Instant Pot and pressure cook on 'high' for about 5 more minutes. Then I'll pull it out of the Instant Pot and take the lid off my cheesecake.
(As mentioned above, I've started just cooking it for the longer time of 40 minutes and it seems to do well for me)
I allow the cheesecake to rest on the counter for an hour to cool.
After that time I place the lid back on my cheesecake and stick it in the refrigerator to chill overnight.
I suppose you could shorten this time if you were in a hurry. But you really want it chilled all the way through before removing it from the pan.
Removing The Cheesecake From The Pan
The next morning I bring my cheesecake out of the refrigerator and (just for good measure) I run a small flexible plastic knife around the cheesecake to make sure it's loosened from the pan.
To soften the bottom for easier removal, I place about a cup of very hot water in a pie pan and set my springform pan in the hot water for about 2 minutes.
Then I remove it from the water, flip the springform pan's latch, spread open the pan and lift the removable section of the pan away from the cheesecake.
With a plate at the ready I use a flat spatula to get beneath my cheesecake and transfer it to the plate. Oh wow – it's beautiful!
Homemade Cheesecake Topping Choices
Now you can eat this delicious dessert just as is – New York Style cheesecake. YUM!
Or you can top it with something to add even more decadence. I've drizzled caramel and Homemade Chocolate Drizzle and sprinkled chopped pecans for a turtle-flavored cheesecake.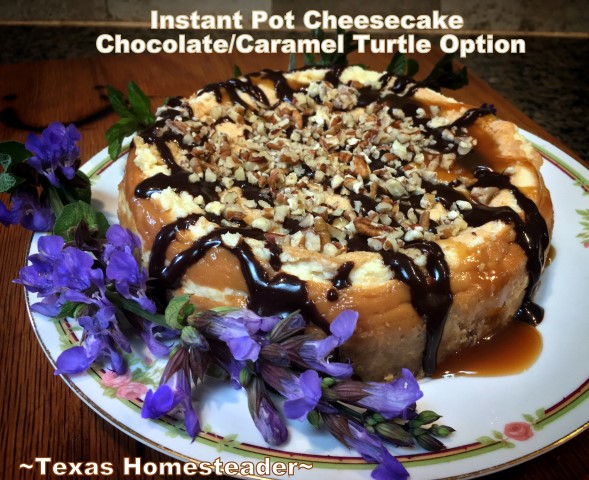 I've also made a honey-pecan glaze to top it. I just mixed honey, melted butter and brown sugar.
Then I tossed in chopped pecans – no measuring, just enough for my taste. It was really good as well.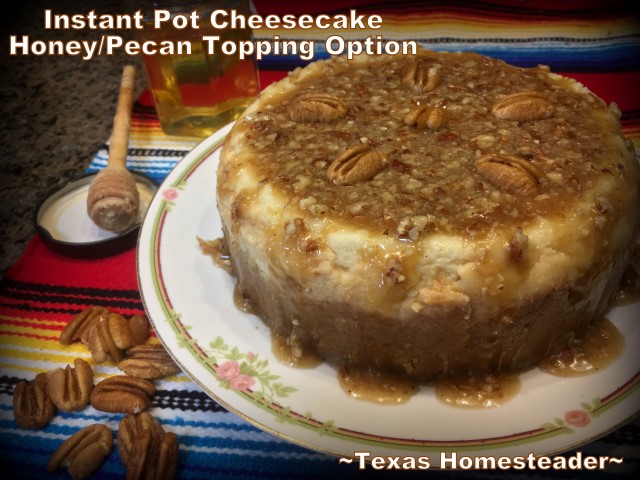 And of course who doesn't love strawberry?? I used strawberries in syrup here, but it would be good with strawberry (or cherry) pie filling too.
The world's your oyster for toppings!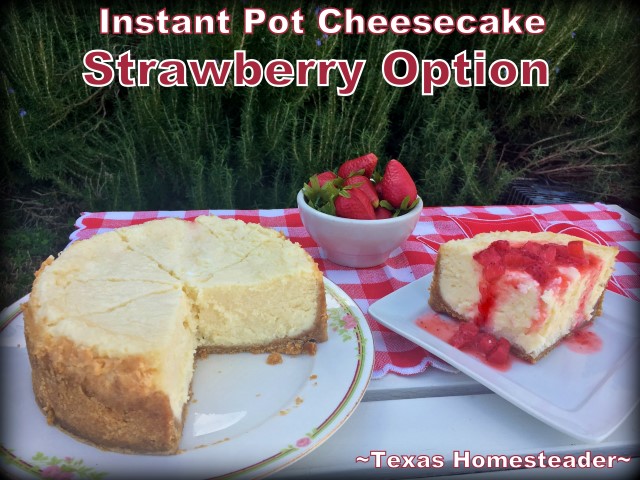 These days I make homemade cheesecake at the drop of a hat. I've made cheesecake for a from-the-heart homemade gift and as a delightful dessert at dinner parties. Why not? It's easy!
Let me tell ya, this Instant Pot cheesecake is not a finicky recipe.
Do it, do it, DO IT!!
Did you make this Pressure-Cooker Cheesecake? Please rate the recipe in your comment below!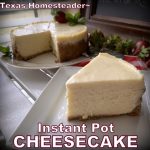 Pressure Cooker New York Style Cheesecake
Homemade cheesecake doesn't have to be intimidating. An electric pressure cooker makes this homemade cheesecake a snap. And there are so many flavor options too. Don't pass this one up! #TexasHomesteader
Chill Time 3 to 24 hrs
3
hours
Ingredients
Thicker Graham-Cracker Crust (cut ingredients in half for more delicate crust)
1.5

cups

graham cracker crumbs,

or 8 whole graham crackers, crushed

4

Tablespoons

butter,

melted

1

Tablespoon

sugar
Cheesecake
2

cups

(or (2) 8-oz packages) regular cream cheese,

softened (room temp for 1 hr to soften)

1/4

cup

plain unflavored greek yogurt

(can substitute with sour cream)

1

cup

sugar

2

large

eggs,

room temperature

1

teaspoon

vanilla extract
Optional Toppings
Cherry Pie Filling, chocolate drizzle, caramel drizzle, chopped nuts
Instructions
Instructions
Prep the pan: Butter the pan. Mix 1.5 cups graham cracker crumbs, 1 Tablespoon sugar and 4 Tablespoons melted butter. Then spread evenly across the bottom of the pan and pack down tightly, pushing the graham crackers up the sides a little.

Make the cheesecake filling: Soften the cream cheese by leaving it out at room temperature for at least 1 hour.

With a paddle attachment, blend the 2 cups cream cheese in an electric mixer on low to medium speed until smooth, about 1 minute. Stop the mixer, stir, then continue beating on low to medium speed for 1 minute. (do not over mix, but make sure the cream cheese has no lumps before moving to the next step)

Add 1/4 cup yogurt. Continue beating on low speed until blended, about 30 seconds. Do not over mix.

Slowly add 1 cup sugar and beat on low speed until the sugar is completely blended, about 3 minutes. Do not over mix

On low speed stir in 1 teaspoon vanilla, then add the eggs one at a time, continuing on low speed just until blended.

Pour into the cheesecake pan, then tap the pan on the countertop for about 30 seconds to get rid of air bubbles. Cover top of cheesecake with aluminum foil and crimp to seal to eliminate condensation drips.

Pressure cook the cheesecake: Put 1.5 cups of water in the pressure cooker's inner liner pot.

Place filled cheesecake pan onto a handled cooking rack. Lower the cheesecake rack into the pot.

Lock the pressure cooker, put vent on 'SEALING' and cook on high pressure for 38 - 40 minutes in the Instant Pot. I typically cook for the longer time of 40 minutes. (I've read it's only 30-35 minutes in stove top pressure cooker).

Then let the pressure come down naturally until no pressure remains.

Cool the cheesecake, then serve: Lift the cheesecake out of the pressure cooker & remove cover.

Cool the cheesecake in the uncovered pan at room temperature for an hour. Then refrigerate for at least 4 hours, preferably overnight.

If desired, top with pie filling, drizzle with chocolate, sprinkle with nuts, etc.
Recipe Notes
Notes:
1) Make sure all your ingredients (except the melted butter) are at room temperature.
2) To keep your cheesecake from being too air-filled & fluffy, beat on low speed. It's important not to over mix.
3) When cooking time is up, only the very center should jiggle slightly like jello. If it looks like it needs more time, I've put it back into the IP and cooked on high pressure 5 more minutes.
~TxH~
This post categorized in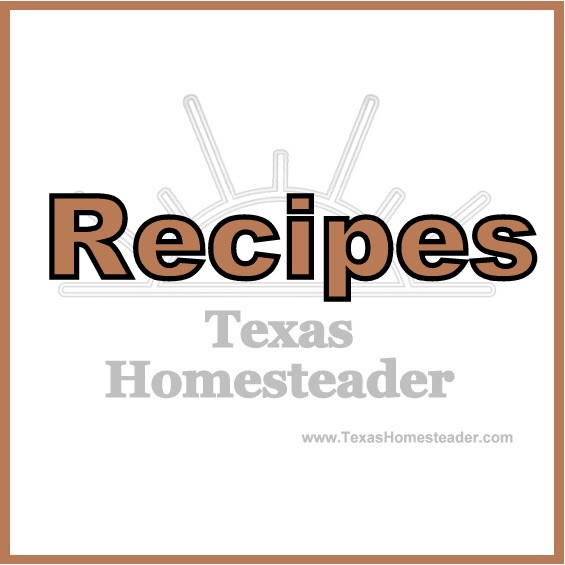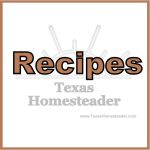 Other Instant Pot Recipes:
Other Easy Desserts


C'mon by & sit a spell! Come hang out at our Facebook Page . It's like sitting in a front porch rocker with a glass of cold iced tea. There are lots of good folks sharing! And you can also follow along on Pinterest, Twitter or Instagram
If you'd like to receive an email when a new blog post goes live,
subscribe to our Blog!
*Amazon affiliate