by Texas Homesteader ~
Did you know you can make single-serve cheesecakes in small glass canning jars? It's true.
This Instant Pot mason jar cheesecake recipe makes five servings with cute mason jar presentation and needs only a 8 minute pressure-cooking time. Easy, fast, delicious!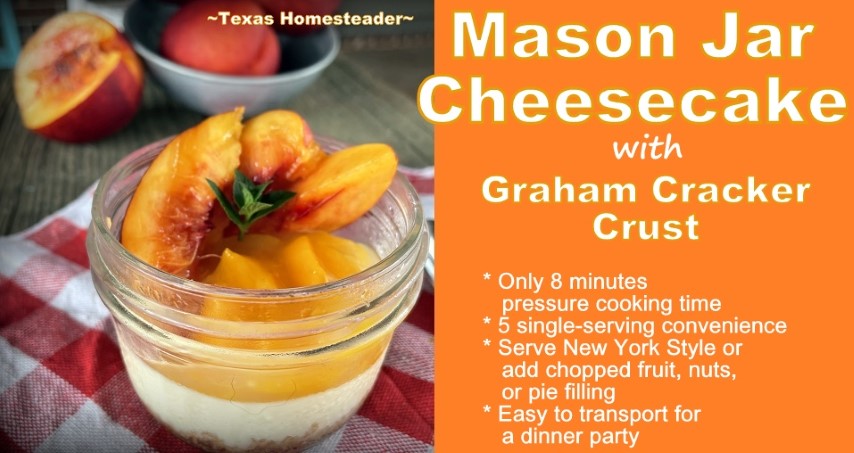 (Note: Some links in this post will take you to other related articles for further information. But links preceded with * are affiliate links. If you click and buy something I could receive a tiny commission.)
Instant Pot Cheesecake Simplicity
Don't get me wrong, I love the simplicity of making Whole Cheesecakes in my *6-quart Instant Pot using a *7-Inch Springform Pan.
But what about those times when a whole cheesecake is just too much? You know, like when you know you won't have enough willpower to just leave the leftovers alone. #askmehowiknow.
Here's a fantastic solution – single-serve cheesecakes made in cute little mason jars.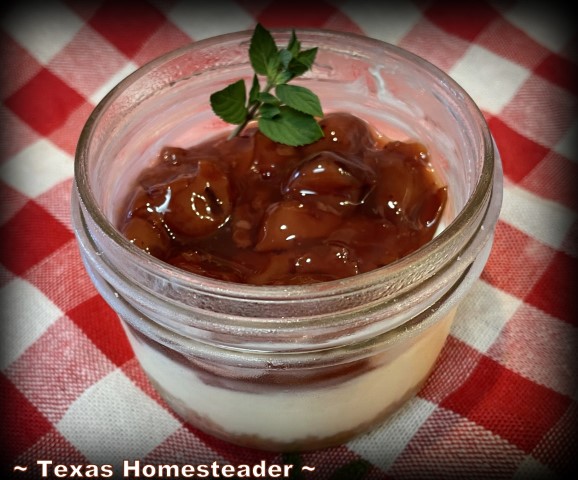 Benefits of Small Mason-Jar Cheesecakes:
Single-Serve Portion Control.

Cute Presentation For Guests.

Transports Easily.

Faster Cook Time – just 8 minutes pressure cooking time!

No Springform Pan Needed.
This recipe makes five individual servings of cheesecake. My pressure cooker will hold 4 of the jars on top of the trivet with one jar set atop the others.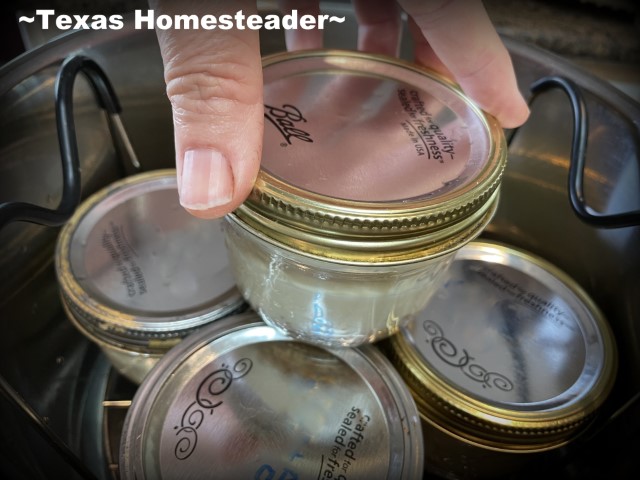 Stacking the jars always works great for me. My 6-quart Instant Pot pressure cooker lid still closes easily.
And using wide mouth ½ pint mason jars means there's room on top for you to add berries, chopped fruit, a fruit pie filling or whipped cream if you want.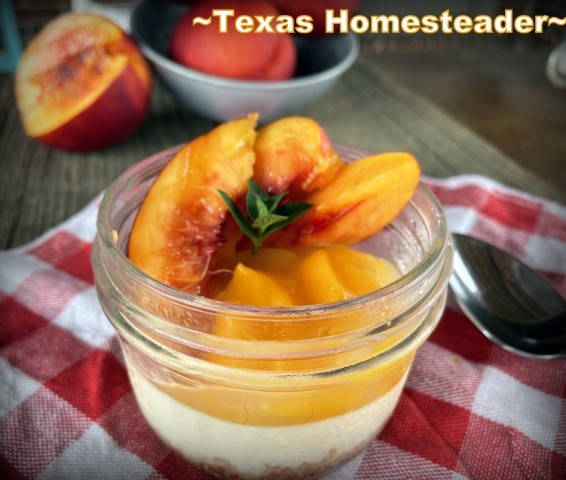 Plus I can invite my dad to join us for supper and we can all three enjoy our own individual cheesecake for dessert.
And afterwards there's STILL a serving each for RancherMan & myself the next night. #winning!
How To Make A Graham Cracker Crust
Typically when I make a full-sized springform pan cheesecake I use a homemade Full-Sized Graham Cracker Crust for the springform-pan.
Homemade graham cracker crust is easy & uses only 3 ingredients:
Graham crackers
Melted butter
Granulated sugar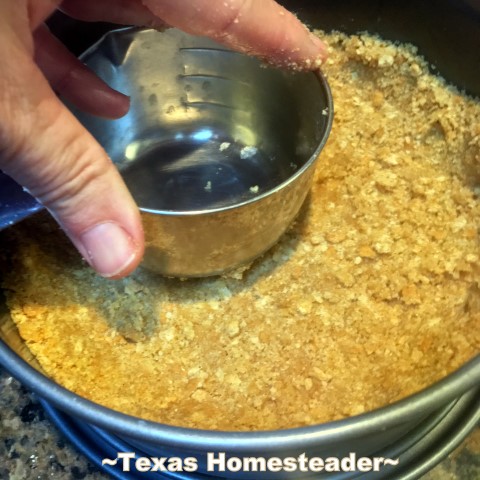 I use the same ingredients, but scaled down for my 5 Mason-Jar Cheesecakes. (complete recipe at the bottom of this post)
1/2 Cup Crushed Graham Crackers

1 Tablespoon Melted Butter

2 Tablespoons Granulated Sugar
I just mix the 3 ingredients together in a small food chopper until it's all blended. Then I divide it evenly into the 5 jars.
5-Serving Mason Jar Cheesecake Recipe
Now that the graham cracker crust is ready I make the cheesecake filling using the paddle attachment of my KitchenAid mixer using just 5 simple ingredients:
8-oz Cream Cheese

1/4 Cup Sugar

1/4 Cup Sour cream

1 Large Egg

1/2 teaspoon Vanilla Extract
After it's carefully mixed I divide the filling into each of the 5 jars (about 6.5 – 7 grams per jar). Now let's cook 'em up
Pressure-Cooking Mason Jar Cheesecakes
These little single-serve cheesecakes only need to be pressure cooked for 8 minutes.
When the cook time is up I allow the pressure cooker to depressurize naturally before moving them to the counter to cool.
After chilling them, I can serve these cute little cheesecakes just as they are if I like, or add some fun toppings.
The Best Cheesecake Flavor Options
There are many flavor options for I use for Instant Pot Mason-Jar Cheesecake:
Plain New York Style – it's hard to go wrong with this one!

Add fresh fruit such as chopped strawberries, blueberries, raspberries, sliced peaches, etc.

Whip up a fast

Peach Pie Filling

using plain canned peaches and add a dollop to your cheesecakes.

For turtle flavor a

dd a drizzle of chocolate and caramel and add chopped pecans or walnuts.

A dollop of whipped cream on top is a nice touch, maybe with a little grated chocolate.
Here's my mason-jar cheesecake recipe:
Did you make this Mason-Jar Cheesecake? Please rate the recipe in your comment below!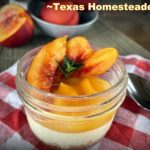 Single Serve Instant Pot Mason Jar Cheesecake
This Instant Pot cheesecake recipe makes 5 individual servings of cheesecake in wide-mouth mason jars. A delicious desert that requires only 8 minutes of pressure cooking and offers cute presentation. #TexasHomesteader
Natural Release
15
minutes
Ingredients
For the crust
½

cup

Graham cracker crumbs

about 3 full sheets of Graham crackers

2

Tablespoons

Melted butter,

unsalted (1 oz)

1

Tablespoon

Granulated sugar
For the cheesecake filling
1

8-oz block

Room temperature cream cheese,

¼

cup

Granulated sugar

NOTE: for sweeter cheesecake you may increase to 1/3 cup

¼

cup

Room temperature sour cream

1

large

Room temperature egg

½

teaspoon

Vanilla extract
Instructions
Graham Cracker Crust
Crush 3 sheets graham crackers. Combine graham cracker crumbs, 1 tablespoon sugar and 2 Tablespoons melted butter in a small bowl & mix well.

Divide the graham crumb mixture evenly between five wide-mouth ½-pint mason jars. (about 1.5 tablespoons each) Press gently against the bottom of the jars to make the crust.
Cheesecake Filling
Using a stand mixer use the paddle attachment on low speed, slowly mix 8 ounces of room temperature cream cheese and ¼ cup sugar until smooth. IMPORTANT: mix only on low speed & just until lumps are out of cream cheese. Over-mixing incorporates too much air into your cheesecake batter.

Add ¼ cup room temperature sour cream and ½ teaspoon vanilla extract and mix slowly just until incorporated.

Add one large room-temperature egg and mix on medium-low speed just until incorporated. (Don't over-beat the eggs.)

Divide cheesecake filling on top of the prepared graham cracker crust for each of the 5 jars. (about 6.5 - 7 grams each) Tap jar gently on a soft hot pad to remove any bubbles. Cover the jars with a 2-part wide-mouth canning lid & band - do not tighten band.
Pressure Cook Cheesecakes
To pressure cook add 1 ½ cups of water into the inner pot of the electric pressure cooker and add trivet. Place lidded jars filled with cheesecake on the trivet.

NOTE: 5th jar will need to be stacked on top of 4 jars on trivet.

Close the lid of the Instant Pot, and set the valve to 'SEALING'. Pressure cook on 'HIGH' for 8 minutes.

When cooking time is up let the pot depressurize naturally which takes about 15 minutes. When pressure has been naturally released, open the lid.

Using an oven mitt, transfer the jars to a wire rack. Cool the cheesecake then refrigerate the covered jars of cheesecake for at least 4 hours, preferably overnight.

If desired, top your cooled cheesecake with fruit-flavored pie filling, drizzled chocolate or caramel, sprinkle chopped pecans, etc. Enjoy cheesecake cold.
Recipe Notes
Notes:
All cheesecake filling ingredients should be at room temperature before preparing batter.
Only use low to medium speed to mix ingredients and only until ingredients are fully incorporated. Over-mixing or mixing at higher speeds can incorporate too much air into your batter and change the texture of your finished cheesecake.
If you're concerned about not being able to take out 100% of the lumps from cream cheese you can pour your prepared cheesecake batter through a sieve before filling jars.
Keep in mind additional time will be required for pressure cooker's pressure to build up and for the natural release.
~TxH~
Other Easy Desserts
Cakes, Pies, Cobblers
Muffins, Breads
Cookies
Puddings
Ice Cream & Other Desserts
Dessert Toppings


C'mon by & sit a spell! Come hang out at our Facebook Page . It's like sitting in a front porch rocker with a glass of cold iced tea. There are lots of good folks sharing! And you can also follow along on Pinterest, Twitter or Instagram
If you'd like to receive an email when a new blog post goes live,
subscribe to our Blog!