by ~ Texas Homesteader ~
This week gave me plenty of opportunities to stretch my frugal muscle. Everything from thinking outside the box for free repairs, an inexpensive date night idea, free garden soil and more.
Come see the 5 frugal things we did to save money this week.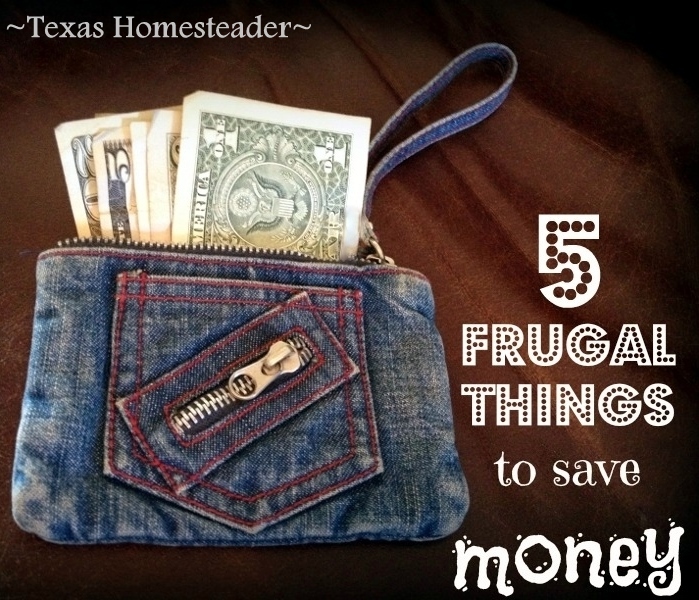 (Note: Some links in this post will take you to other related articles for further information. But links preceded with * are affiliate links. If you click and buy something I could receive a tiny commission.)
1. Ideas For An Inexpensive Date Night
RancherMan & I work hard here on the Homestead. And the work will never quite be done. So it's easy to get mired in all the work that needs to be done.
But our relationship is important too. So we purposely carve out Time to Spend Together even during the busyness. It's a full-on date night and an important way we Keep Spark In Our Marriage.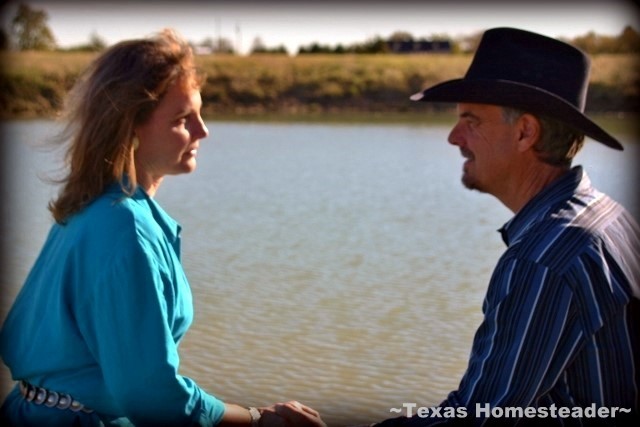 But unexpected expenses had crept up recently and we needed to be extra mindful of our spending. Still we didn't want to forego this important time together.
I stumbled upon a notice about an old historic theater in a nearby town that was offering a free showing of one of my favorite movies. So RancherMan & I scheduled a dinner & movie date night.
We went to a pub near the theater and enjoyed supper beforehand. We inquired about a senior discount (oh the benefits of being age 60 and over!)
We didn't hurry this time together. We sat and held hands, reminiscing about the first time we met each other as we enjoyed our meal.
Then off to the movie. There was a concession stand set up for buying snacks if desired. But the theater itself was offering water for free, which was all either of us wanted after having eaten a meal so recently.
We were like teenagers, and both commented that our date night was so much fun.
Proof it doesn't need to take loads of money to get away together for a date night.
2. How To Get Money Back With A Price Match
As you know, RancherMan & I use our cell phones a LOT for Homestead business.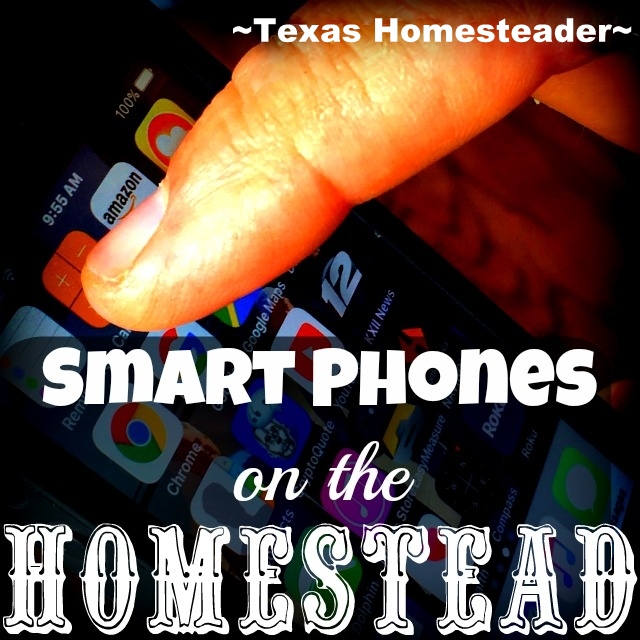 My phone was aging and it was time to replace it. So RancherMan researched the options thoroughly and purchased the best match for what I needed.
But after the phone was received he continued to monitor the prices online for my new phone model. Low & behold he found 2 weeks later the price had dropped on an identical phone through several other sellers.
So he contacted the company we purchased from and notified them, requesting to have the difference in price refunded to us.
They checked our report and then were happy to comply.
They credited $40 back to our credit card. SCORE!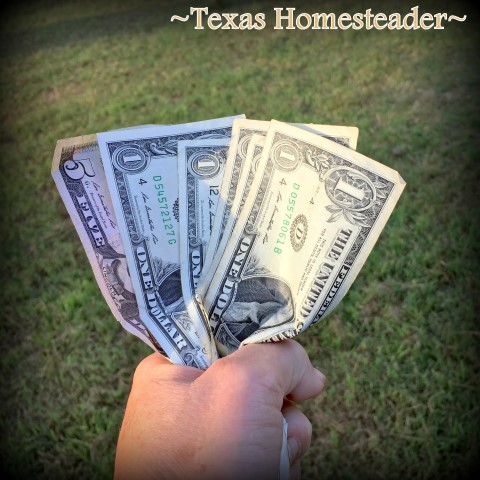 You see, the *Amazon 'Renewed' Program offers a 90-day guarantee with no questions asked free returns. The seller knew we could return the phone and buy through another seller to save that difference anyway at no cost to ourselves.
So in this case both buyer & seller benefitted from working together, plus we saved forty bucks!
3. How To Get Free Dirt For Raised Bed
This past spring I found & installed the Best Raised Bed of all!
That bad boy stands 18" tall so I filled it using the Hugelkultur Method using tree trunks and branches, animal bedding, dry leaves, manure, etc.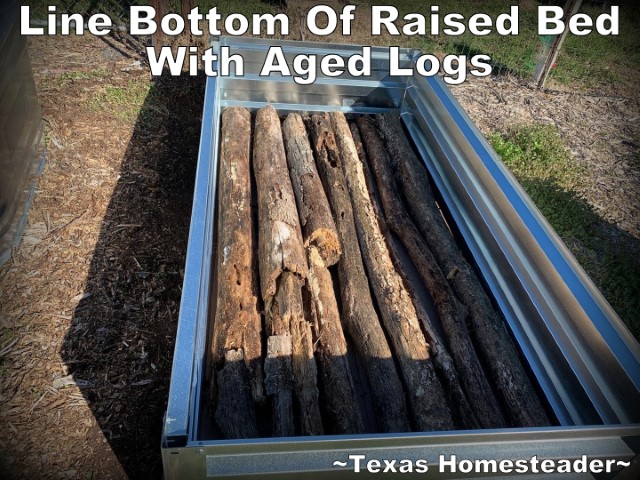 Then I purchased the actual planting soil in bulk so no plastic bags were required.
But apparently the quality of the soil I bought to go into the beds this past spring was not right. And it left me without a garden this year.
But remember, in a new raised bed the level of soil naturally shrinks & needs to be topped off each year. Especially after that first year.
But I won't go back to that soil company to buy again. So how will I top off my raised beds?
Since the drought has our ponds extremely low I'm scraping the fertile topsoil from the now well-exposed bank.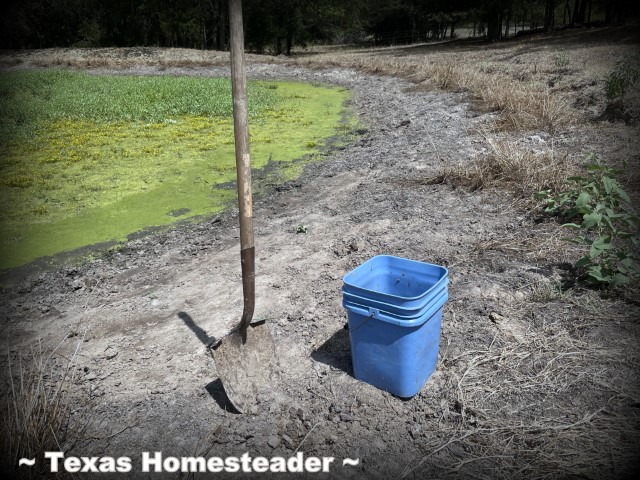 The soil was toted to the garden in buckets and deposited into my raised beds to top them off. Free and zero waste. But WHEW! It's a workout that's for sure!
I'm hoping it has all kinds of fishy goodness to give me a healthy garden next spring.
4. How To Repair A Damaged Mailbox
Someone using our driveway to turn around backed into and damaged our mailbox. They even left white paint from their car on our mangled mailbox.
The impact caused the metal mailbox to be ripped away from its back and the post was busted too.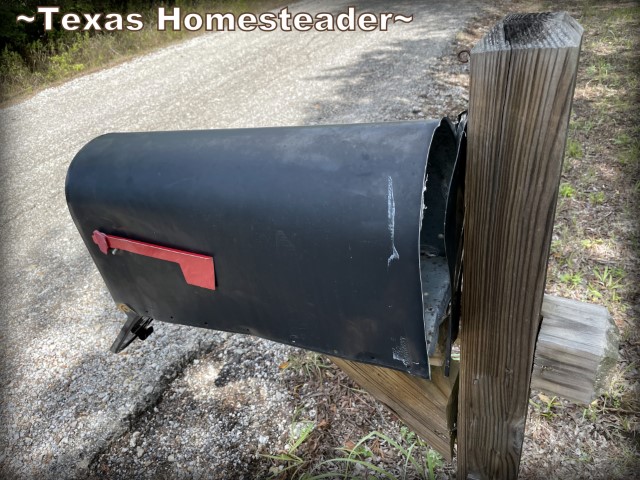 And then that person just drove away! What's wrong with people??!
We have a large rural *Jumbo-Sized Mailbox. Those larger mailboxes run between $50-$75 and don't include the mounting post which would be another $25 or so. (and all of this on the heels of those unexpected budget-busting expenses I spoke of earlier)
As you've read in my How To Get By Without A Corporate Paycheck post, we often utilize credit card rewards to buy things we need without any money coming out of our pocket.
We were planning to cash in enough points to pay for the mailbox and mounting post. And make no mistake that would indeed be a frugal thing.
BUT, we went one better. We found a leftover section of a 2×6 board and used it to repair & reinforce the broken portions of our wooden mailbox post. Then we used long bolts to secure it firmly in several locations.
Afterward we took the mangled mailbox and pounded it back into shape(ish) and rehung it, securing it with several screws directly into the new wooden brace.
Does it look like it's never been damaged? Probably not. But it looks pretty darn good if you ask me.
And at $0 cost? (plus saving $75-$80 for replacements) Well now that's a frugal step!
5. Preserving Fresh Apples
My aunt shared bushels of apples from her over-achiever apple tree. I shared a few bushels with others of course, but then I got busy making sure my share of fresh apples didn't go to waste.
I opted this year to focus on two things: Homemade Slow-Cooker Applesauce and also Dried Apples.
I use applesauce a lot in my Homestead Kitchen:
Applesauce Snack

– it makes a great healthy snack all by itself.

Healthy Popsicles

– I freeze homemade applesauce in popsicle molds for a healthy Apple Popsicle snack.

Replace Oil

– I use Applesauce To Replace Oil in much of my baking. Which means I'm buying less processed oil in disposable plastic bottles.

How To Enjoy Dried Apples
Although I love the applesauce, this year I mostly made dried apples.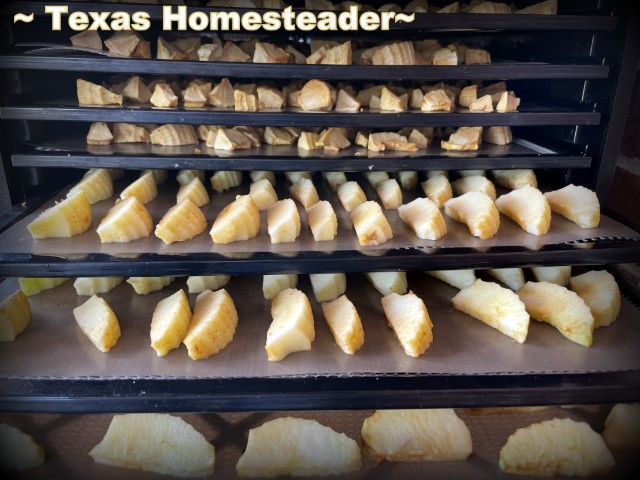 I love that dehydrated apples take no additional energy to store. Just store fully-dried apple slices in a lidded jar.
There are various ways I'll enjoy dehydrated apples.
Dehydrated Apple Slices – I'm hoping to rehydrate them for apple desserts this year such as Apple Crumble, mason jar Apple Pie and more. I'll let you know how it goes!

Cubed Dehydrated Apples – I use dry apple chunks as chewy sweet zero-waste & healthy

apple-flavored 'raisins'

to replace purchased raisins for my Homemade Pumpkin Granola.

Dehydrated Apple Pieces – OMGosh y'all, RancherMan snacks on these a LOT! He's not a big fan of snacking on a raw apple, but dehydrate them in chunky pieces and it's a stuff-his-face preferred (healthy) snack for him.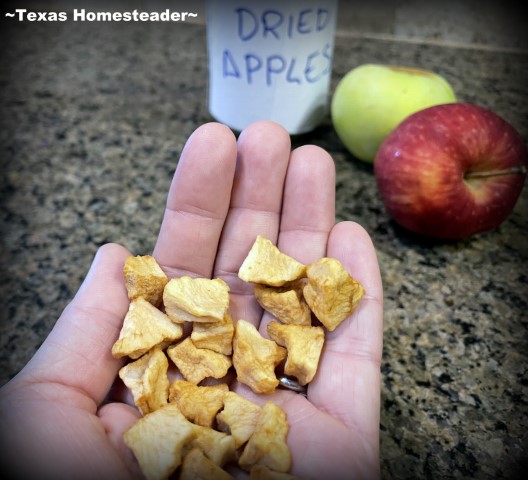 What Did You Do This Week To Save Some Money?
So there you have it – my list of 5 Frugal Things to save money (and oftentimes the environment too) this week. What about you? Did you do something you're proud of to save some cold, hard cash this week? We wanna hear!
~TxH~
This post categorized in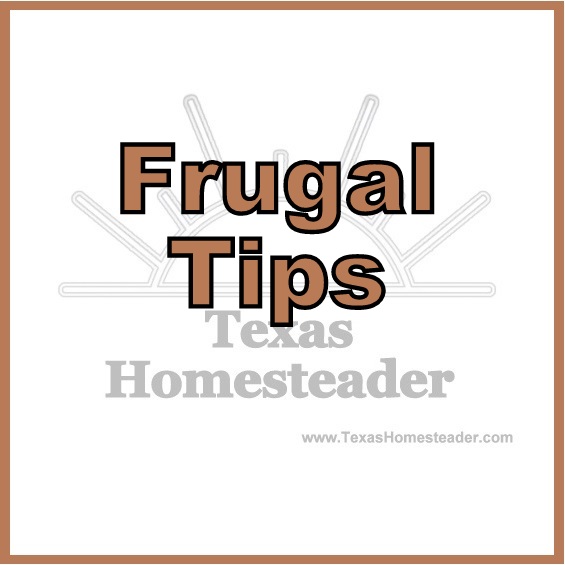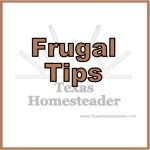 Other Frugal Tips
…and many MORE!


C'mon by & sit a spell! Come hang out at our Facebook Page. It's like sitting in a front porch rocker with a glass of cold iced tea. Lots of good folks sharing! You can also follow along on Pinterest, Twitter or Instagram.
If you'd like to receive an email each time a new blog post goes live it's EASY to
subscribe to our blog
Save