by Texas Homesteader ~
It's common for expenses to jump during the holidays. There are special gatherings to plan, gifts to buy, special foods, extra travel expenses and more. And then sometimes things happen that you just couldn't plan for. It's time to tighten the belt even more. Come see my tips.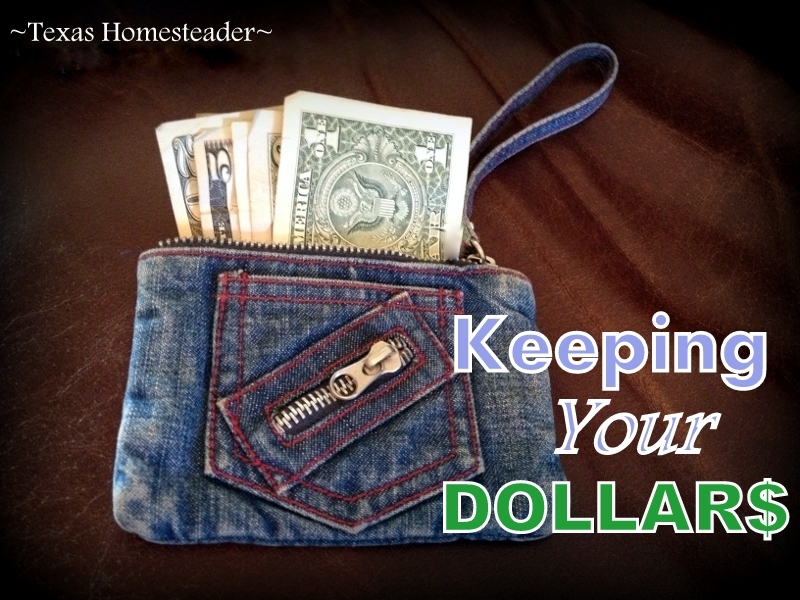 Financial Hit
If you follow us on Facebook you'll know RancherMan & I recently received a crushing hit to both our hearts as well as our budget. We lost a prime young heifer in a freak accident.
She'd already been weaned and was ready to be listed for sale – a hefty percentage of our meager annual income.
When you're self employed these losses crush not only your heart, but also your budget. A loss like this hits doubly hard for us. And at a really bad time of the year – leading into the holidays.
We're always very careful with our budget. But sometimes the belt needs to be tightened even more. For us, now is the time! Links below will take you to posts with more detail on those topics.
Here are a few things at the forefront of our minds for the next several weeks:
No Corporate Income?
I've written before about how we are able to survive without a corporate income. These important yet easy-to-follow tips are even more important now.

Saving Electricity
The weather is beginning to turn colder and that often means the electric bill goes up. RancherMan & I are careful with our electricity usage which saves money in our budget. It's not just about turning off unused lights, y'all!

Saving Food
Cooking meals from scratch using Cook-Once Eat-Twice is a valuable way we're making sure to keep our grocery budget intact. I'm also storing our leftovers in glass so they all get eaten & don't go to waste.

Make It Yourself
Staying out of the stores is important when your belt is tightened. I've written before about making our own laundry detergent and even a delightful scent booster for when I wanted a stronger fragrance for our clothes. I'm making my own sheer powdered makeup (and I love it, by the way!) Now's the time for us to look at anything we used to purchase and ask ourselves: "Can we make that instead?"
Simplified Christmas
Not only does our monthly budget need attention, but the expenses of the holidays need attention too. Thankfully this financial pop doesn't mean we can't continue with our comforting traditions.
We've been on a path of a simpler Christmas for the last several years. This means our Christmas is filled more with meaning, less with 'stuff'.
That's important y'all, read it again: More Meaning, Less Stuff.
Some of the easy ways we've simplified our Christmas season:

Homemade From The Heart
RancherMan & I typically make our own Christmas gifts every year. Gifts don't have to be expensive to be beautiful, heartfelt and well received. We've given honey from our hives, canned apple pie filling, hummingbird feeders, homemade pasta & sauce & more!

Low Waste (and Low Cost) Gift-Wrapping Options
I've always hated all the waste every Christmas morning, so I did something about it. Our gift wrapping is still beautiful, but now it's reusable. I've even made the cutest gift bags with repurposed denim!

Christmas Decorations
We significantly ramped down our exorbitant holiday decorations a few years ago. Since our decorations are small there's no need for the latest & greatest decorations to be added this year just so we can get rid of last year's elaborate display. And RancherMan is beyond happy with our quicker (and way cuter) outside decoration idea!
So although our budget has taken a hit, we'll incorporate these tips (and more) to get through it. What are some of your favorite ways to save money when times get tough?
~TxH~
Links In This Post
Other Frugal Tips
…and many MORE!


C'mon by & sit a spell! Come hang out at our Facebook Page. It's like sitting in a front porch rocker with a glass of cold iced tea. Lots of good folks sharing! You can also follow along on Pinterest, Twitter or Instagram.
If you'd like to receive an email each time a new blog post goes live it's EASY to
subscribe to our blog
Save
Save
Save
Save
Save