by Texas Homesteader ~
We all try to pay the bills and also build up a little nest egg for the future. But sometimes building up that savings account is difficult. I'm sharing some simple tips to build your financial security almost effortlessly.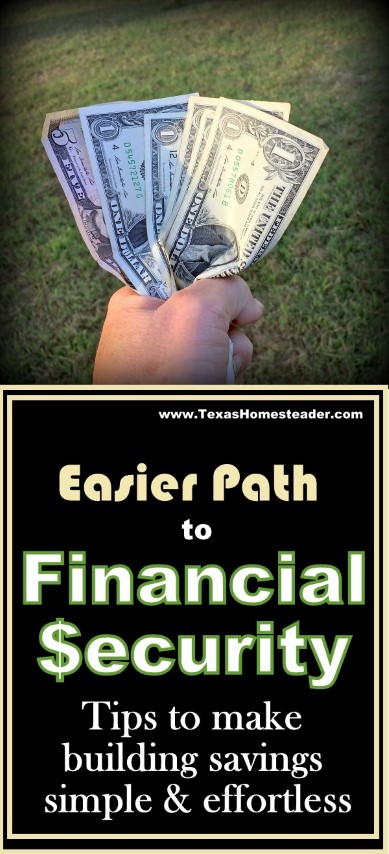 RancherMan & I had to change our mindset about building up savings. We leaned to employ a few simple tips.
But that mindset change made our march to financial security almost effortless. Now we are completely debt free! Come see how we did it.
Blending Two Homes
When RancherMan & I married I already had a house of my own. As a single mother I was making ends meet, but just barely. Of course he had his own home as well.
So when we married we sold my house since his house was an easier fit for our growing family. The kids and I moved in with him & his children.
Now of course with a larger brood the previous monthly household expenses I was used to paying on my own such as utilities were bound to go up. But certainly not by double!
I wondered if now might be a good time to take that first step to build our financial security for the future?
Most people would find this blending of homes, income and expenses as a way to finally relax the financial binds of barely getting by. And of course we certainly did, it was a breath of fresh air!
But I asked RancherMan,
"I'm already used to making a house payment of approximately $1,000 each month for my house before we were married. Why don't we continue to make that payment, but put it into a CD every month instead?"
The Power Of Systematic Saving
It was hard to wrap my brain around the potential of us having $12,000 worth of CD's in just one year! But we really wanted that financial security, so we decided to go ahead & give it a try. We were thrilled to find it was beyond effortless.
Of course at first it took discipline not to consider my previous mortgage payment budget just extra spending money for us now. Even though with our blended income we now had more wiggle room than before and could finally relax a little, we still had to be mindful of our budget.
But soon buying a monthly CD became a habit we no longer needed to even think about. One by one our CD's began to rack up.
After that first year of investing in a $1,000 CD each month, we knew that were never more than 30 days away from available money resulting from a CD maturity if for some reason we needed the cash. What a comfort!
With each new CD renewal if we didn't need the funds at that time, we would simply add this month's $1,000 payment to the renewing CD and put it back out there for another 12 months to earn yet more interest.
This was brilliant! And because it was using money we were already used to earmarking previously for a mortgage payment, it didn't even come out of our current budget. Now that's beyond effortless!
Building A Dream For Our Future
We both dreamed of a day when we'd have our own little place in the country. Was it just a dream? Could it actually be possible??
We contacted a real estate agent and found this piece of paradise in Northeast Texas. I fell in love with that old 1880's Barn & he loved the lay of the land and prevalent wild game. We decided to call it our own.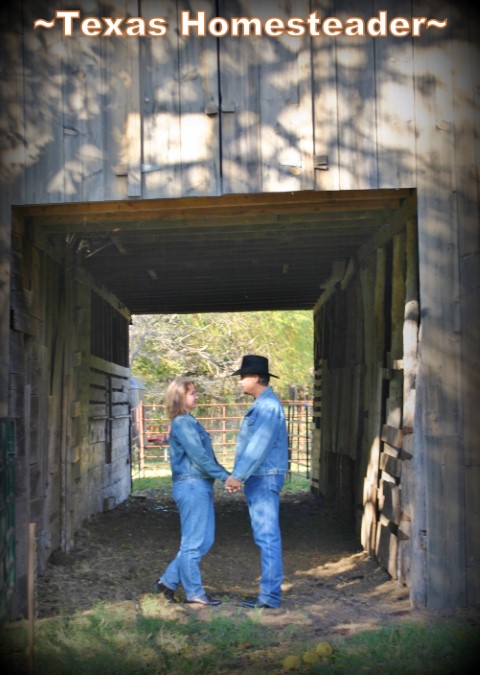 But we didn't want to risk our financial security by blasting through the nest egg we'd so carefully built up over the years.
Maybe there's a way to expedite paying for the note for our new property while still working our corporate jobs in the city to fund it. If we were successful we'd be keeping the nest egg intact, and that was important to us.
So even though the land payments were only a fraction of our monthly CD amount we'd been investing, we started rerouting those same $1,000 payments to the land mortgage company to pay for our new property instead.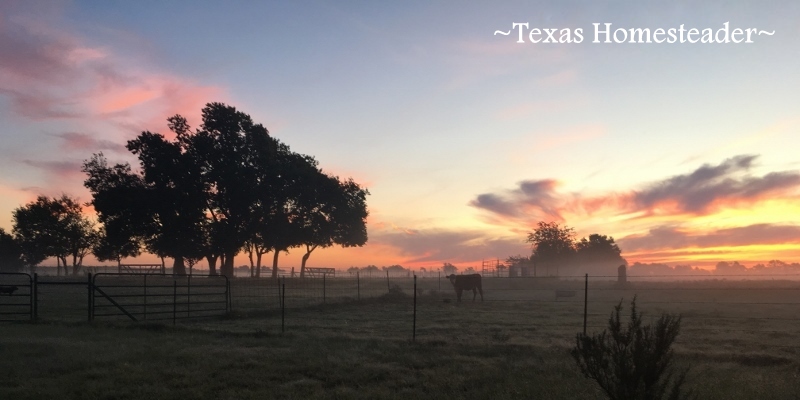 We paid off the note in record time, yet it still didn't come out of our built-up nest egg nor our current monthly household budget. Wow, that's exhilarating. NOW WHAT?
Expensive Homesteading Acquisitions Necessary
Well now we needed a tractor, storage buildings, fencing, ponds, etc. And all of that is going to cost money.
But these things one by one were all taken care of with that same effortless step started years ago. We simply continued to set aside that same amount equal to my old house payment that we were no longer making.
Our equipment and our pasture improvements were all paid using that method. And ponds were dug and fences were built using that method as well.
The beauty of it was that we weren't going into debt. And it still wasn't coming out of our monthly budget. Effortless!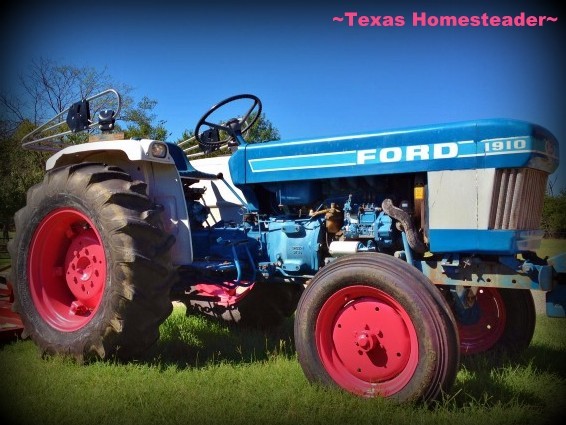 Living Our Dream… Debt Free!
Fast forward a few more years. We built our home here on the Homestead & moved from the big city to live our dream of country living.
And a few years later when we decided we wanted to pull the plug on corporate employment and both of us stay here to run the homestead full time we were able to do so. With no debt looming over our heads, our monthly income requirement was already low.
Wow, what a tremendous difference being debt free makes in your ability to make decisions. Those decisions are not based on your debt load, but on your CASH!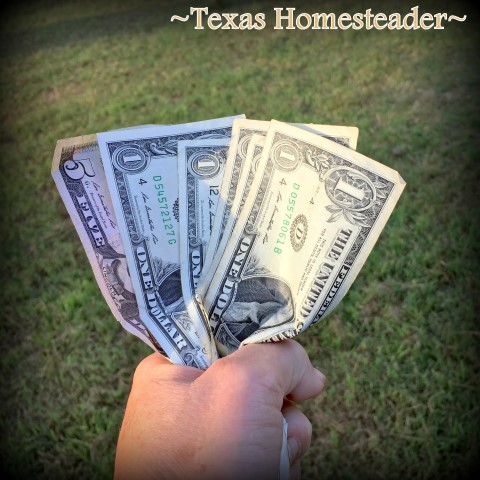 You Can Do This!
Are you longing for financial security? You can take the same steps we did. It's a more effortless way to build that nest egg. I urge you to try it in a way that works for your household.
Maybe start by making a small monthly payment to yourself into a savings account each payday, just like any other bill.
Then when one of your existing debts is paid off, add that amount to your monthly savings deposit too. And the same with the next debt paid. Soon the amount you're sending to your savings account will be adding up to some real money!
(Note: Some links in this post are for further information from earlier posts I've written. But links preceded with * are affiliate links. If you click them and buy something (almost anything, not just the item noted) I could receive a tiny commission. But the price you pay will NOT change. It's an easy way to support this blog without anything coming out of your pocket. So click often! Thank you!)
You won't even have to take it from your current budget if you can free up a little budget money by skipping a night or two of eating out each month, eliminating 'boredom shopping' or saving money by buying groceries cheaper in bulk from Amazon
.
When that washing machine goes out or the lawn mower dies, the money will already be in the bank to pay for its repair or buy a new one.
That means you won't be forced into debt to pay for repairs due to unforeseen circumstances.
If you start small and build on it you won't feel the pinch at all.
And the freedom of financial security is priceless!
~TxH~
This post categorized in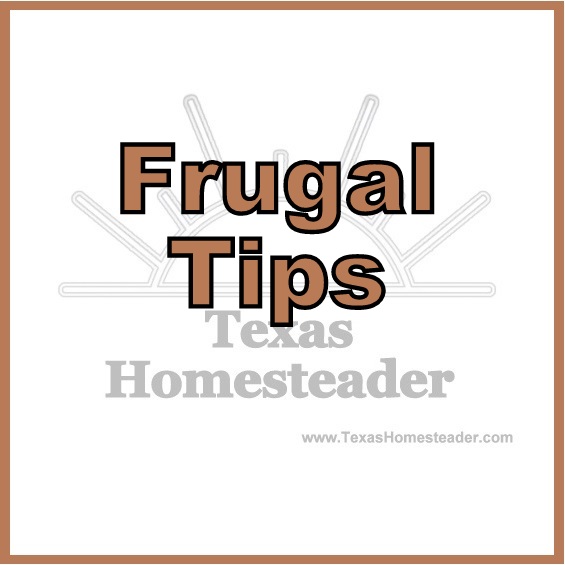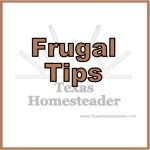 Other Frugal Tips
…and many MORE!


C'mon by & sit a spell! Come hang out at our Facebook Page. It's like sitting in a front porch rocker with a glass of cold iced tea. Lots of good folks sharing! You can also follow along on Pinterest, Twitter or Instagram.
If you'd like to receive an email each time a new blog post goes live it's EASY to
subscribe to our blog
Save
Save*Amazon affiliate
Save
Save
Save