by Texas Homesteader ~
Y'all know I started this little ole blog of mine back in 2013. It was a hard year for us, I'd just been diagnosed with breast cancer. But RancherMan suggested I begin writing about our lives here on our Homestead. So we started a blog, I started writing and even all these years later I'm still here. I love writing about our lives and sharing snippets of our days!
I started doing a feature at the end of each year where I share my post popular homesteading posts of the year. Of course I'll do that this year as well but I thought it would be fun to share a recap of all the post popular posts by year.  Each year's top 10 homesteading posts right here in one place!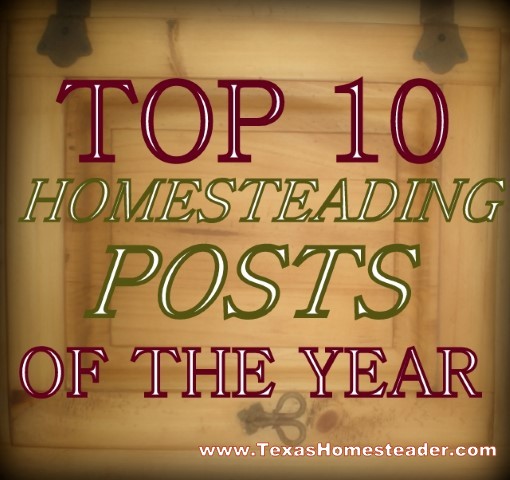 In  2018 y'all loved my recipe for Okra Fritters and also the roundup of holiday cooking Shortcuts & recipes. My super-easy Corn Tortilla Recipe was a hit too. You also were interested in going back to the simple ways wondering 'How Would Grandma Do This?"
You can see these & other Top 10 Posts of 2018 Here
~  ~  ~  ~  ~  ~  ~  ~

In 2017 Grandma-approved Cleaning techniques was a top 10 post, as well as a recipe for Cherry Pie Filling. You liked reading about gifts for your environmentally-aware friends, making Chalkboard Labels & Apple Pie Tortilla rolls. Oh, and the still-wildly-popular Carnitas Tacos made with leftover roast and MORE!
You can see these & other Top 10 Posts of 2017 Here
~  ~  ~  ~  ~  ~  ~  ~

Some of your favorite posts of 2016 involved Simple beauty making Homemade Light & Sheer Face Powder, making your own Low-Waste PVC Chicken Feeder, a quick & easy Mix-n-Pour Tortilla Recipe and one of the top posts on the blog to date – homemade Laundry Scent Booster. Of course there are still many others y'all loved that year too.
You can read all the most popular Homesteading Posts of 2016 Here
~  ~  ~  ~  ~  ~  ~  ~

In 2015 y'all were all over my soft, fluffy KitchenAid Sandwich Bread Recipe. You loved my Cream-of-Chicken Soup recipe too, along with Spicy Whole Chicken cooked in a slow cooker.  Y'all were seeking answers (like me) to Long-Term Potato Storage and getting to the bottom of the Truth behind Perfect Facebook Posts, among other thought-provoking articles.
You can read all the most popular Homesteading Posts of 2015 Here
~  ~  ~  ~  ~  ~  ~  ~

In 2014 y'all loved my homemade Buttermilk Biscuit Recipe and the alternate snappy version of them – Jalapeno Cheddar Biscuits. You were interested in the Custom-Made Headboard we made from reclaimed lumber of our 1880's barn too. And there was the Ranch-Style Beans recipe and Building Raised Beds, among other faves.
You can read all the most popular Homesteading Posts of 2014 Here
~  ~  ~  ~  ~  ~  ~  ~

Spicy, zesty & baked in cast-iron skillet, in 2013 y'all loved my Jalapeno Cornbread recipe. And you lapped up the post about Taking A BITE Out Of The Grocery Budget.  Many were interested in slowing life down a bit & enjoying Voluntary Simplicity. And of course one of my most popular posts on the blog still is the easy tutorial for Homemade Yogurt But, you know, there are even MORE great posts in 2013's Top 10 too!
You can read all the most popular Homesteading Posts of 2013 Here
Thanks For Following Along!
I'm so glad y'all have followed along this simple-living path RancherMan & I have been on. I hope that somewhere along the way you've picked up a little inspiration to use on your own path. And I look forward to seeing what next year holds!
~TxH~


C'mon by & sit a spell!  Come hang out at our Facebook Page . It's like sitting in a front porch rocker with a glass of cold iced tea.  There are lots of good folks sharing!  And you can also follow along on Pinterest, & Twitter
If you'd like to receive an email when a new blog post goes live,
subscribe to our Blog!