by Texas Homesteader ~
Back in 2013 RancherMan suggested I begin writing about our lives here on our Homestead. So we started a website and I started writing. I love sharing about our lives and glimpses into our days!
I began doing a feature at the end of each year where I share the top 10 posts that resonated with you the most, whether recipes, simple living or projects we've done.
I thought it would be fun to share a recap of what you readers have deemed all the most popular posts by year. You can see each year's top 10 homesteading posts right here in one place!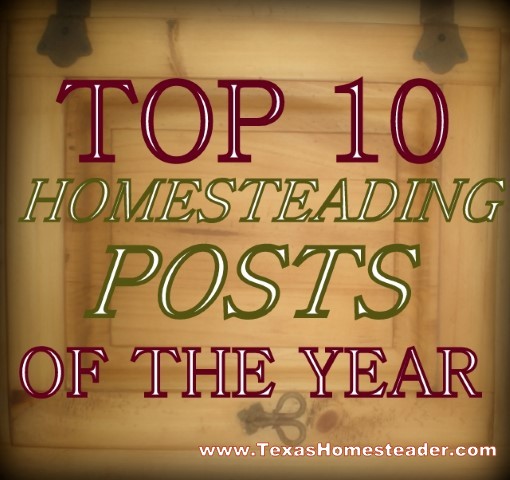 Click the title bar for each year below to see the complete list of top 10 homesteading posts for that year.
Ready to recap? Here we go!
---

Mason Jar Cheesecakes made in an Instant Pot, where we found the Best Raised Bed, a comprehensive list of ways to Be Prepared For The Storm, our favorite homemade Grape Jelly Recipe that uses no added pectin, and many MORE!
You can see these & the rest of the Top 10 Posts of 2022 Here
---

How to keep your sink's Soap Dispenser constantly refilled, a sweet homemade wood utensil and Cutting Board Conditioner and the easy (and cheap) way to make your own Homemade Jerky. as well as various clever money-saving tips, Homemade Peach Cobber and MORE! They're all included in Best of the Best of 2021 Here.
Grab a cup of coffee and settle in for some good reading, y'all.
---

The 2020 world-wide pandemic had many people searching for ways to be more self sufficient. Y'all were interested in simple homemade food such as how to MYO Pinto Bean Seasoning and even Homemade Breakfast Sausage Seasoning. You wanted to #UseWhatchaGot and Repurpose Coffee Cans For Deep Soak Watering in the garden. Also included in the top ten for 2020 was a simple recipe for Homemade Peach Ice Cream and a 3-ingredient homemade Dog Shampoo for your pooch.
You can see these & the rest of the Top 10 Posts of 2020 Here
---

In 2019 y'all were interested in such things as what to do with all those Empty Coffee Canisters and how to make Four 5-Frame Nuc Boxes for your beehives using a single sheet of plywood. Also included in the top ten for 2019 was a List Of Must-Haves For The Home Cook and a simple recipe for Homemade Chai Tea Mix.
You can see these & the rest of the Top 10 Posts of 2019 Here
---

In 2018 y'all loved my recipe for Okra Fritters and also the roundup of holiday cooking Shortcuts & recipes. My super-easy Corn Tortilla Recipe was a hit too. You also were interested in going back to the simple ways, wondering 'How Would Grandma Do This?"
You can see these & the rest of the Top 10 Posts of 2018 Here
---

In 2017 Grandma-approved Cleaning techniques was a top 10 post, as well as a recipe for Cherry Pie Filling. You liked reading about gifts for your environmentally-aware friends, making Chalkboard Labels & Apple Pie Tortilla rolls. Oh, and the still-wildly-popular Carnitas Tacos made with leftover roast and MORE!
You can see these & the rest of the Top 10 Posts of 2017 Here
---

Some of your favorite posts of 2016 involved Simple beauty making Homemade Light & Sheer Face Powder, making your own Low-Waste PVC Chicken Feeder, a quick & easy Mix-n-Pour Tortilla Recipe and one of the top posts on the blog to date – homemade Laundry Scent Booster. Of course there are still many others y'all loved that year too.
You can see these & the rest of the Homesteading Posts of 2016 Here
---

In 2015 y'all were all over my soft, fluffy KitchenAid Sandwich Bread Recipe. You loved my Cream-of-Chicken Soup recipe too, along with Spicy Whole Chicken cooked in a slow cooker. Y'all were seeking answers (like me) to Long-Term Potato Storage and getting to the bottom of the Truth behind Perfect Facebook Posts, among other thought-provoking articles.
You can see these & the rest of the Homesteading Posts of 2015 Here
---

In 2014 y'all loved my homemade Buttermilk Biscuit Recipe and the alternate snappy version of them – Jalapeno Cheddar Biscuits. You were interested in the Custom-Made Headboard we made from reclaimed lumber of our 1880's barn too. And there was the Ranch-Style Beans recipe and Building Raised Beds, among other faves.
You can see these & the rest of the Homesteading Posts of 2014 Here
---

Spicy, zesty & baked in cast-iron skillet, in 2013 y'all loved my Jalapeno Cornbread recipe. And you lapped up the post about Taking A BITE Out Of The Grocery Budget. Many were interested in slowing life down a bit & enjoying Voluntary Simplicity. And of course one of my most popular posts on the blog still is the easy tutorial for Homemade Yogurt But, you know, there are even MORE great posts in 2013's Top 10 too!
You can see these & the rest of the Homesteading Posts of 2013 Here
Thanks For Following Along!
I'm so glad y'all have followed along this simple-living path RancherMan & I have been on. I hope that somewhere along the way you've picked up a little inspiration you can use on your own path. And I look forward to seeing what next year holds!
~TxH~
Other Simple-Life Articles


C'mon by & sit a spell! Come hang out at our Facebook Page. It's like sitting in a front porch rocker with a glass of cold iced tea. There are lots of good folks sharing!
And you can also follow along on Pinterest, Twitter, Instagram
To receive an email when a new blog post goes live it's EASY to
Subscribe to our blog!