by Texas Homesteader
Several years ago RancherMan & I constructed three raised beds to hold my beloved veggie garden. The beds worked well and produced heavily for several years but after a while the wood began to rot and I had some problems with the design. It was hard to irrigate the three beds without 'jumpers' from one bed to the other creating a difficulty maintaining the walkways. And the walkways were a bit too wide anyway.
I wanted to connect all the beds to help make a continuous run for irrigation to correct that problem. Then Rancherman decided to enlarge the width of the beds just a bit, also shrinking the walkways. YEA!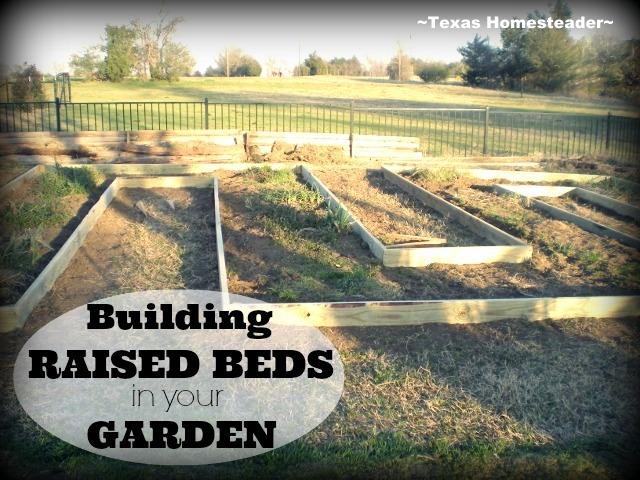 We decided to add one additional raised bed to the garden area since idle ground is just a lawn-mower chore, something I'd like to reduce if at all possible.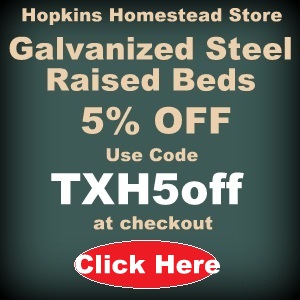 And of course the connecting beds on opposite ends of the long runs means more planting area as well. I'm going to LOVE this new design!
Buying Supplies
RancherMan bought rot-resistant 2×6 lumber and hardware – and when the big day came for us to demolish the beds I was beyond excited. The current beds were being overrun with late-winter weeds so there promised to be lots of work to be done but I was up to the challenge.
We started out by removing all the old wood that surrounded the current raised beds. I got busy the with the lawn mower & scalped down the late-winter grass to give us a good starting point. Then RancherMan got started swinging the sledge hammer to dismantle the old wood beds while I got to work removing nails & screws from the wood so I could repurpose it for my compost bed. He & I work well together, like a well-oiled machine.
When all the old wood was removed RancherMan ran the tiller along the lines of the previous beds, as the new beds would be slightly larger to fully utilize the entire lengths of the new wood with no waste. This tilling would also give him some soft ground to be able to better set the new boards in place.
Building New Raised Beds
When the area around the beds was tilled we got to work moving all the new wood into the fenced garden. RancherMan laid out the design I wanted & started placing the new boards in place.
He drilled a couple of holes in the end of each board and then used lag bolts to firmly secure the boards together. He declared "Now these babies so sturdy they aren't going ANYWHERE!"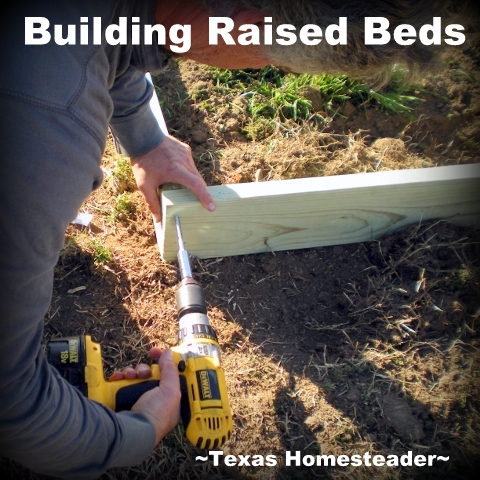 Using Gathered Building Trash
Here's an interesting side note: When our house was being built years ago we had a construction dumpster placed on the property to receive construction waste. We were to be billed by the weight of the dumpster after we filled it. And there was a pretty heavy additional fee if it went over a certain weight. Brick pieces and paint buckets and all manner of construction waste was placed in the dumpster. But to keep the weight down we decided we could make a burn pile with the wood cast-offs.
Many of these wood-cut angles were present and we decided to keep them for various uses on the ranch. I'm so surprised that we've used these angles a LOT as stakes for various things. Like when we plant new trees or need to anchor something in place. We also used them to stake the previous raised beds when they were initially built. And we're using more of them today as we're building these new raised beds. That really speaks to my crunchy-green heart!
One Continuous Raised Bed
Anyway after the beds were built and staked down we stood back to admire the hard work. Although I now need to get busy clearing the growth from my new beds and preparing the soil for planting, I'm amazed at the Before-N-After difference. Now C'MON SPRING!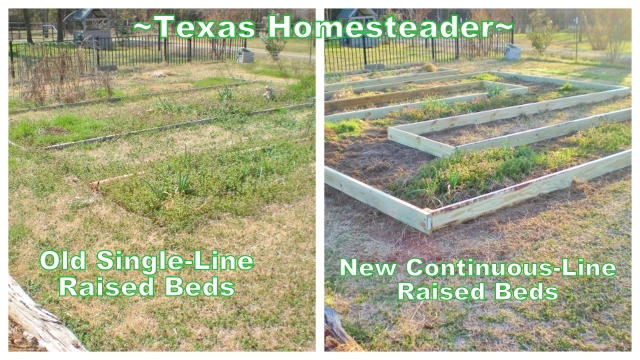 I'm going to love my new raised beds. And I've been daydreaming of warmer weather & spending some time laying out what will be planted there. Come see my veggie garden worksheet!
~TxH~
This post categorized in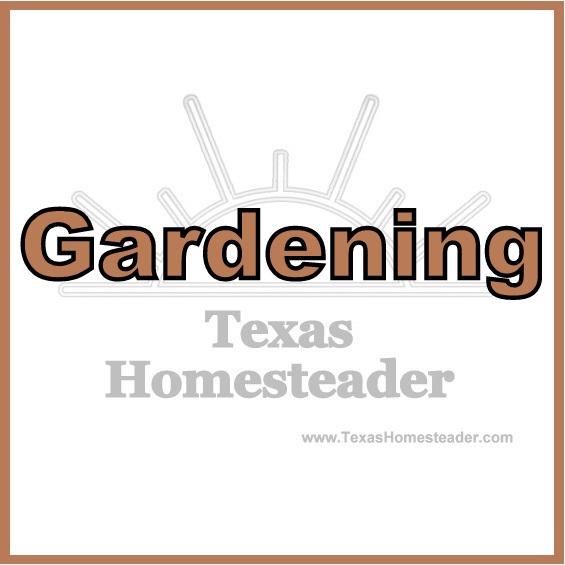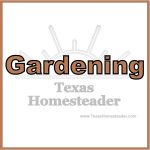 My Favorite Garden Hacks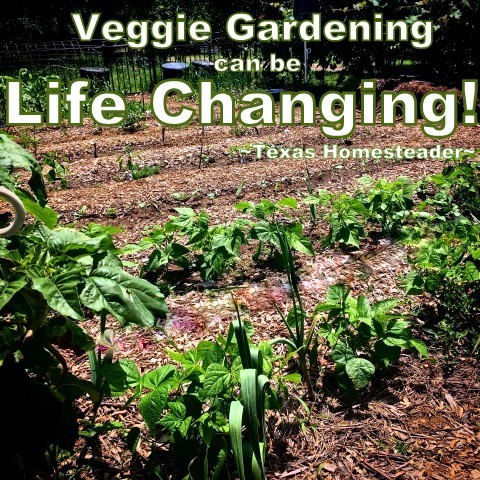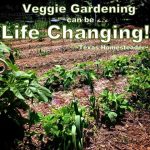 C'mon by & sit a spell! Come hang out at our Facebook Page. It's like sitting in a front porch rocker with a glass of cold iced tea – lots of good folks sharing! You can also follow along on

Pinterest

, Twitter or

Instagram

.
If you'd like to receive an email each time a new blog post goes live it's EASY to
Subscribe to our blog!